India gets long-awaited turn-by-turn directions for Apple Maps
Long a staple in places like the U.S. and Canada, turn-by-turn directions for Apple Maps have finally come to the world's second-biggest country, India.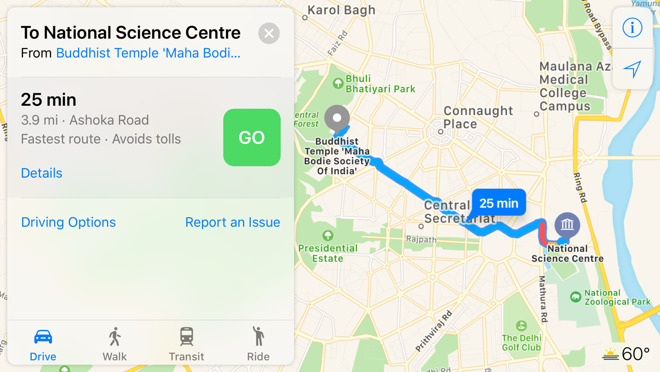 The option gives iPhone and Apple Watch owners a built-in way of navigating India's sometimes complicated road system. It remains to be seen how well Maps copes, as there are still periodic complaints about accuracy and guidance elsewhere.
Apple has simultaneously added the ability to hail
Uber
and
Ola
rides in-app, which previously required switching out.
Third-party navigation apps have of course been available in India for some time, but only Apple Maps has deep Siri and Watch integration. People can for instance ask their iPhone to "navigate home," then get custom alerts and haptic feedback on their Watch.
It's not clear why support has lagged in India. Turn-by-turn guidance has been available in places like China and Germany for some time, and even in small markets like Andorra, Gibraltar, and Vatican City.
Apple is a marginal player in the Indian smartphone market though, controlling just
1 percent
. iPhones are typically priced well beyond the means of the average shopper, to the point that Apple is still selling the iPhone SE and 6s there as a solution. Part of the problem is import costs, which could be solved if
Foxconn
and
Wistron
establish a solid footprint.