Hands on: Atmotube Pro, an iPhone-connected portable air quality alert system
Atmotube Pro is a wearable, portable air quality monitor that connects to your iPhone, and sends out alerts to bad conditions in real time.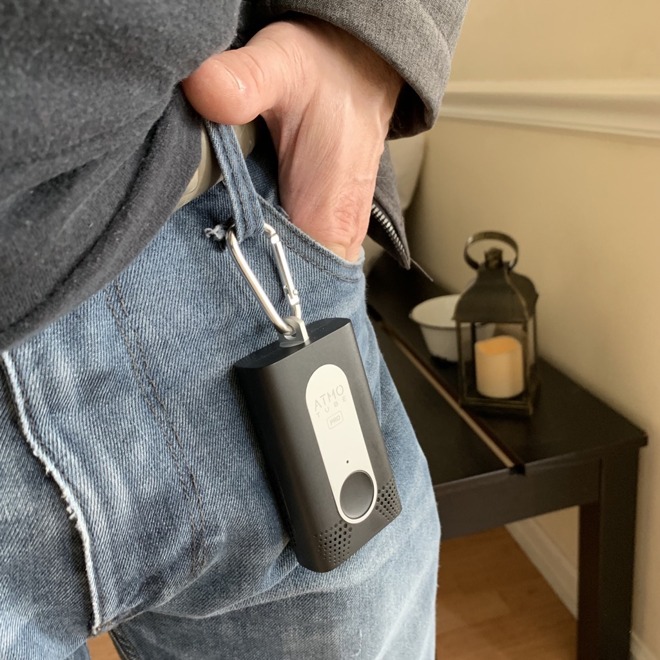 Atmotube is wearable, by clipping to a belt loop or possibly to a laptop bag
What is it
We're aware of bad air quality through odor or pollen, but we don't really know much more than that until we start having breathing problems. Atmotube PRO changes that a little by being an early warning system. It detects volatile organic compounds (VOC), plus particulate matter down to 1, 2.5, and 10 micrometers when detecting air pollutants. For general comfort and other information, it detects temperature, humidity, and atmospheric pressure, coupled with an altimeter.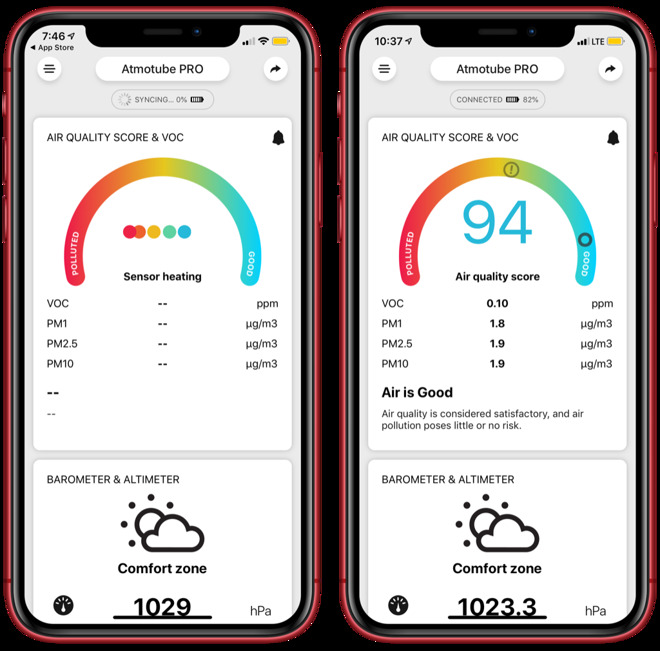 Atmotube warms up the sensor and detects air quality
Why would you want this
Most people think about VOCs when doing something like painting a room, or being around a car exhaust. The problem is that they're much more prevalent than you might think -- Office equipment, cleaning supplies, furniture, can all give off VOCs.
And it's not just VOCs. Particulate matter, little tiny particles of dust, soot, smoke, are in the air all the time. These pollutants change with the seasons throughout the year. People who burn woodburning fireplaces are more likely to experience soot and smoke in the winter, for example. Inhaling particulate matter has short term effects for people who have Asthma, and also long term effects like heat attacks and lung cancer.
Using Atmotube Pro
Atmotube has a carabiner mount, a button, a mesh grille for airflow to the sensor, and and RGB LED that indicates air pollution status. Green is good, red is severely polluted, with a range of aqua, yellow and orange in-between.
Setting up Atmotube was pretty easy. Opening the app launches a search for devices in range, or allows you to use a demo device to experience the app a little. It's a good idea to agree to notifications, so that you can get lock screen notifications for air quality alerts. The sensor warms up, and then you get a measurement. That's about it, until something happens.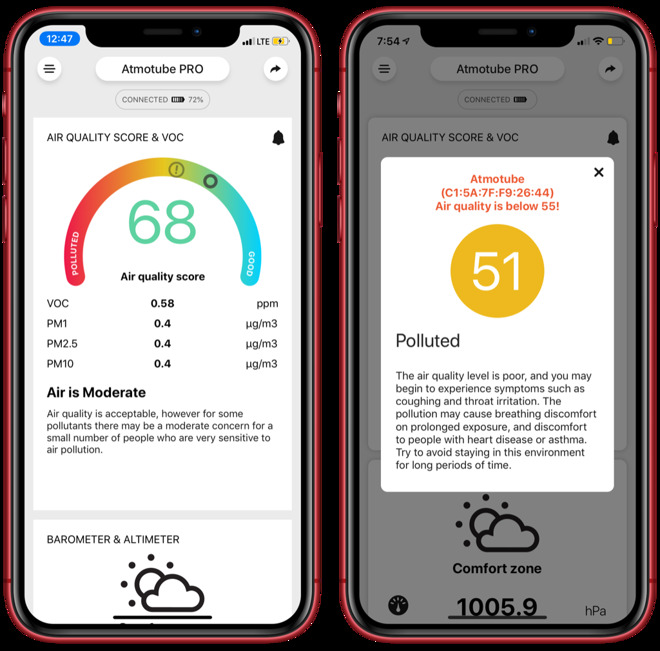 You can adjust the threshold for warnings.
There are actually three sensors inside, a laser-based PM sensor, a MEMS tVOC sensor, and the sensor for temperature, humidity and barometric pressure. A tiny fan pulls air across the sensors. Data is stored internally for 5 days, as well as being sent to the phone. The fan is only on for readings.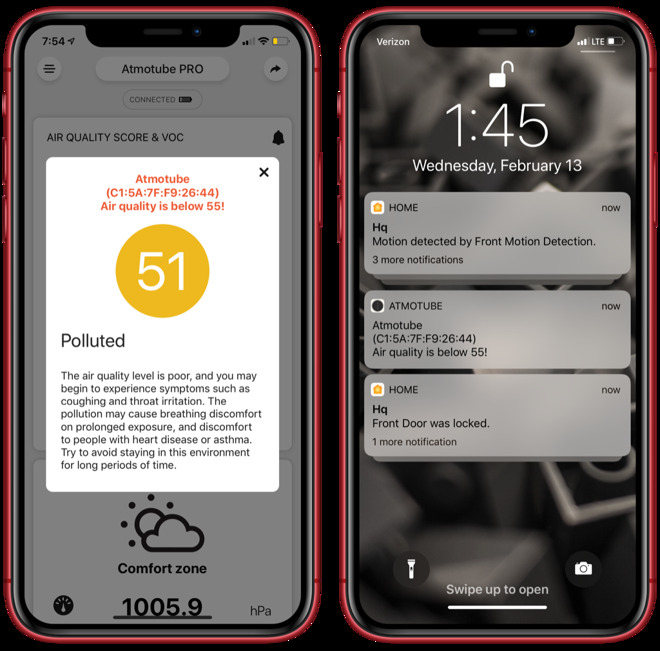 lock screen notifications are really useful.
With a user's permission, Atmotube stores anonymous, aggregated environmental data in the cloud to update and creates a global air quality map that's free to use.
In use
Atmotube charges via USB-C, and is about the size of a stack of business cards, 3.3" x 1.9" x 0.8". It felt a bit odd wearing it on our belt loop, but clipping to a backpack would be pretty convenient. Atmotube PRO is available for pre-order for $149 USD from
atmotube.com
.
Charge, and battery life, depends on how you set sensing -- always on (1 day of battery life), on for 5 min (4 days), 10 min (8 days), or 15 min (12 days). The fan runs for 1 minute of the 10 minutes, so it's really only sensing for one minute out of every ten, which is how it gets more battery life than being always on.
The real issue is convenience -- Atmotube PRO is a little large to wear every day. It's convenient to look at the LED and see what the status is, but we noticed we started being a little more concerned when quality dropped to 68 or 70 - should we leave? Should we relocate? Open windows? It was hard to know what the right action to take was.
And that's really the issue with this, or any other portable air quality monitoring kit. Know what you're looking for, and why, before you get into any atmospheric monitor. Do alter your behavior and your plans based on what you see, but it's easy to over-react, so temper what you see with appropriate action -- and this we leave as an exercise for the reader.
Atmotube Pro is
on pre-order for $149
. Full retail will be $189.