Apple redesigns Investor Relations webpage, incorporates Newsroom feed
Apple on Thursday pushed out a redesign for its Investor Relations webpage that provides easy access to current and historical financial data, and integrates a live feed from the company's Newsroom.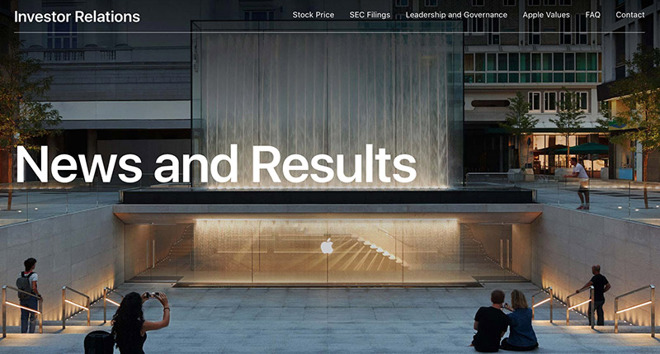 Sharing a general design theme with Apple's product pages, the updated
Investor Relations mini-site
is dominated by a "News and Results" header, below which are -- as described -- the company's most recent quarterly results and press releases. The banner was titled "Apple Investor News" in prior iterations of the site.
A section titled "Investor Updates" includes links to information covering the just ended fiscal quarter, specifically Apple's official press release and Form 10-Q Securities and Exchange Commission filing. Previously, the same links were presented at the top of Apple's Investor Relations webpage, but lacked the Investor Updates designation.
A second section presents a feed from Apple's Newsroom, which collects the company's latest press releases, photo galleries and corporate statements. More recently, editorial "features" penned by members of Apple's PR team provide insight into corporate initiatives and new products. For example, a feature in April highlighted Apple's efforts to
mangrove forests
, while a similarly labeled release in March
promoted AirPods
with the help of choreographer Hope Boykin.
Financial Data -- previously a separate page accessed through a tab at the top of the Investor Relations homepage -- is now included at the bottom of the front page. Past quarterly press releases, financial statements, data summaries and SEC filings are arranged by fiscal year, while a separate section breaks out annual 10-K filings dating back to 2015. Miscellaneous reports are also displayed and currently include a reclassification of net sales for fiscal 2018, capital return history, dividend history and an annual green bond impact report.
Also new is a revamped SEC Filings subsection, accessed through a dedicated tab on the Investor Relations homepage. Here, users can now subscribe to receive email alerts for Apple's latest SEC filings, insider transactions and quarter and annual reports.
An Apple Values tab redirects visitors to the company's various corporate initiatives: Accessibility, Education, Environment, Inclusion and Diversity, Privacy, and Supplier Responsibility. The mini-site's Stock Price, Leadership and Governance, FAQ and Contact pages also feature minor graphical tweaks.