Numbers, Keynote, Pages for Mac, iOS updated with text styles, face detection
Posted:
in iOS
edited June 2019
Apple has updated its iWork suite for both macOS and iOS users, with Numbers, Keynote, and Pages on both platforms gaining a variety of new features including face detection for photograph placement and new styling options.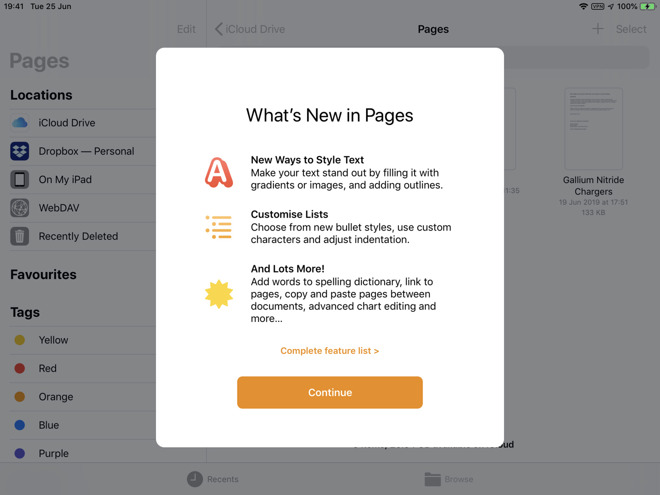 The changes splash screen for Pages on iOS
Released to users on Tuesday, the updates to the Apple-produced productivity apps for macOS, as well as iOS, share a few core changes across all of the apps. The highlight changes are those relating to image placement and for styling text and documents, though each also have their own unique changes.
When users place a photograph into an object or a placeholder space in a document, the face detection feature will attempt to position the image file as appropriately as possible so that the faces of subjects can be clearly seen. The change can save users from having to manually adjust the image to best fit their plans, and could help with large editing jobs where lots of images are being used.
Text styling is also a big change across the board, with users now able to fill the words with images or gradients, as well as being able to apply new outline styles to the letters. Also, users can place images, shapes, and equations inline in text boxes, allowing them to move with the text.
All of the iOS versions also gain extra Apple Pencil-related features, including being able to choose whether it is used to start drawing or to select and scroll. A double tap of the second-generation Apple Pencil can toggle between the two options.
The iOS apps also gain a "Learn Spelling" option to add words to the spelling dictionary, and to adjust the appearance of cell borders in tables.
The updates are available to download now, both for
Pages
,
Numbers
, and
Keynote
in the Mac App Store as well as the corresponding
Pages
,
Numbers
, and
Keynote
in the iOS App Store.
Keynote for macOS, bringing it up to version 9.1, gains the ability to edit master slides while collaborating on a presentation as the sole extra feature.
For iOS, Keynote version 5.1 gains the master slide editing along with new chart editing options for styling individual series, column spacing, trend lines. Lists can be customized with new bullet types, sizes and colors, custom bullets, indentation level adjustments, and other options.
For Pages 8.1 on macOS, users can create links from text to other pages in a page layout document, copy and paste pages or sections between documents, and to create books using new templates for novels. These changes are also included in the iOS app, version 5.1.
Numbers for macOS, version 6.1, adds in "greatly improved accuracy" when using the enhanced 128-bit calculation engine. There is also improved performance when editing and sorting tables, the option to create links from text to other sheets in a spreadsheet, and to add rows to filtered tables.
The iOS edition, Numbers 5.1, gains all of the macOS version's additions, as well as the chart editing capabilities outlined in Keynote for iOS.