Jimmy Iovine spent excessively as Apple Music head, current service growth slowing, report...
A profile of Apple Music chief Oliver Schusser includes claims that his predecessor, Jimmy Iovine, spent "excessive amounts of money," and adds that while the service is still growing faster than Spotify, that pace has slowed.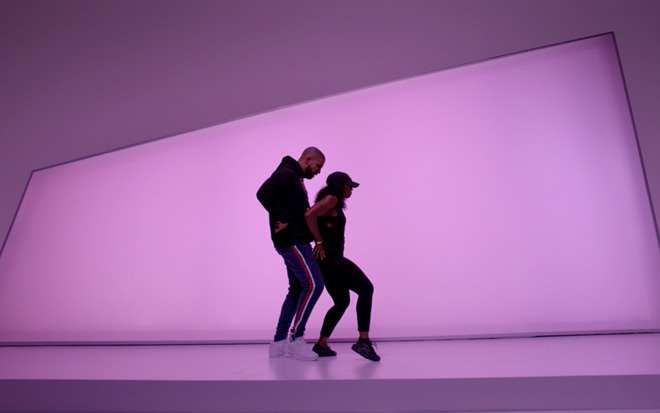 The Apple-funded video for Drake's "Hotline Bling."
Multiple people within
Apple Music
thought Iovine was
spending too much cash
on exclusives, music videos and documentaries, according to
Billboard
sources. Before his
2018 departure
a "rift" reportedly arose between "Apple traditionalists" and Iovine's followers, a situation that is only now resolving itself under Schusser's leadership.
Under Iovine the company was aggressive about securing exclusives from artists like Drake, Taylor Swift and
Chance the Rapper
, and
funding music videos
like Drake's "Hotline Bling." Many of
the documentaries
on Apple Music are effectively native advertising, but have also included less biased titles like "808" or "Bang! The Bert Berns Story."
Schusser is reportedly responsible for some of the major shifts in Apple Music since summer 2018, such as ending Connect, breaking out of a yearly app update cycle, launching Top 100 charts and adding more personalized playlists. He was also behind the push to
add support for Alexa devices
, and urging Verizon to offer the service free with some unlimited plans.
On the service's growth,
Billboard
said that "its momentum has slowed somewhat," even if it's still accelerating quicker than Spotify both in the U.S. and abroad, as well as dominating the market in the U.S. and Japan. The magazine cited "sources with knowledge of both companies" without offering precise figures.
Globally, Apple Music has topped
60 million paid subscribers
, although that's well behind Spotify's
100 million
, and the latter company has even more people listening on its free ad-based tier.
"We just want to be the best; that doesn't have to be the biggest," Schusser said in response.
The executive also defended Apple's mix of curation and algorithms for playlists, arguing that the company has "a responsibility to our subscribers and our customers to have people recommend what a playlist should look like and who the future superstars are." Spotify puts a stronger emphasis on algorithms, which can deliver fresh content faster, for instance through its personalized "Made for You" and "Release Radar" lists.
Apple is "actively looking" at increasing the use of personalized playlists, Schusser said.