Apple, Eli Lilly study seeks to determine whether iPhone and Apple Watch can detect dement...
A research paper published this week reveals Apple and pharmaceutical titan Eli Lilly and Company are working together to determine whether consumer devices like iPhone and Apple Watch can manage Alzheimer's disease and dementia.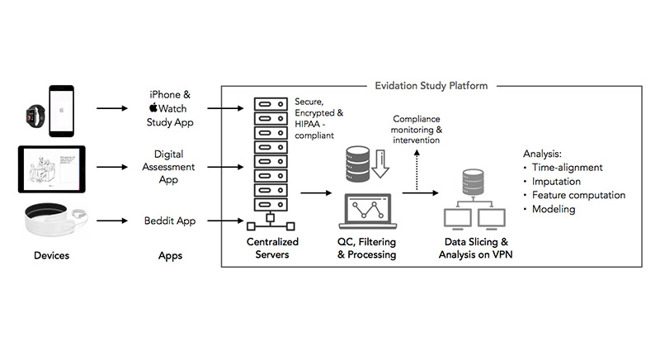 Conducted in collaboration with health-tech startup Evidation,
the study
describes methods by which consumer electronic devices are used
to detect signs
of cognitive impairments, reports
CNBC
.
"With this research, we looked at how everyday behavior data, such as those captured by iPhones, Apple Watches, and Beddit sleep monitors, may be effective in differentiating between individuals with mild cognitive impairment and early Alzheimer's disease, and those without symptoms," Evidation co-founder Christine Lemke said in a statement to the publication.
As noted in the report, the study lasted 12 weeks and involved 113 people who were provided an iPhone, Apple Watch and Beddit sleep tracker. A total of 31 people suffering from dementia and other cognitive ailments were tested against a control group of 82 people, with all participants asked to refrain from treating symptoms with medication during the test phase.
Sensors in iPhone were used to track steps taken, while data was pulled from apps that incorporate typing functions. The handset was also used to facilitate a daily survey. Apple Watch tracked movement, heart rate, workout sessions, app usage, Breathe sessions, hours standing and other metrics, while Beddit was employed to measure a user's circadian rhythm.
Using data from iPhone, the report's authors discovered participants with cognitive issues typed more slowly, more irregularly and did not text as often as those in the control group, the report said. Further, the symptomatic group began to show regular activity -- as measured by iPhone's accelerometer -- later in the day and displayed a reliance on helper apps and services like Clock and Siri suggestions. People with signs of cognitive decline also answered a daily one-question survey less often and later in the day than those in the control group.
Apple data scientist Richard Chen is cited as a lead author, while three other Apple employees with backgrounds in data science and and machine learning contributed to the report. Chen left the company in February, according to his LinkedIn
profile
. A member of Apple's special projects team, Andrew Trister, M.D., Ph.D., is also credited as a contributor.
The report's authors are cautious about the prospect of using iPhone, Apple Watch and similar devices to detect and monitor symptoms of mild cognitive impairment and Alzheimer's disease, saying additional research and validation is needed before such applications can become a reality.
Results of the study will be discussed at the
KDD 2019
conference in Anchorage, Alaska, on Thursday.
Apple is increasing investment into health-related technologies, an initiative currently spearheaded by technology integrated into Apple Watch. The latest version of the wearable boasts a next-generation heart rate sensor and includes the
first FDA-approved
over-the-counter electrocardiogram.