Garmin takes on Apple Watch with OLED-based Venu, Marvel wearables
Garmin has updated its smartwatch lineup to better take on the dominating Apple Watch, with the Venu GPS smartwatch equipped with a circular 1.2-inch AMOLED display, while the Legacy Hero Series scales up its earlier child-focused Marvel watches for adult wrists.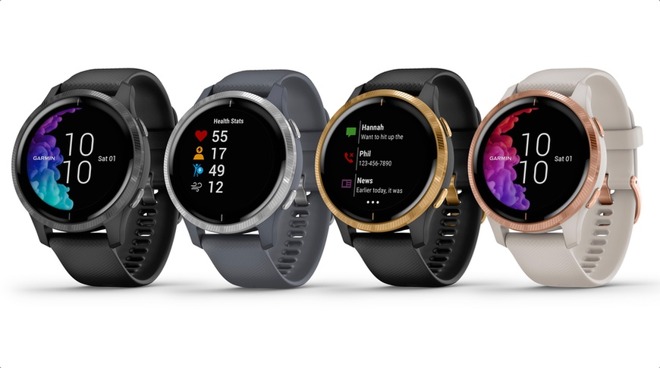 The Garmin Venu smartwatch collection
Launched at IFA in Germany, the
Venu
is the first smartwatch from Garmin to use an OLED 390-by-390 resolution screen, bringing it in line with the
Apple Watch
, protected by Corning Gorilla Glass 3 and a stainless steel bezel. Packed into a fiber-reinforced polymer case, the watch measures 43.2 millimeters (1.7 inches) in diameter with a thickness of 12.4 millimeters (0.5 inches).
Said to offer round-the-clock health monitoring, the Venu can track the user's energy levels throughout the day, as well as the user's breathing, blood oxygen saturation, stress, and heart rate. There are also features to log water intake and to monitor hydration, as well as the menstrual cycle.
For fitness, the watch includes a selection of animated cardio, strength, yoga, and Pilates workouts viewable on the screen, with more able to be downloaded from Garmin Connect's online community. More than 20 preloaded GPS and indoor sports apps are also included, allowing users to monitor a wide range of fitness activities.
Like other smartwatches, it is capable of displaying message notifications and alerts, play songs from Spotify, Deezer, and Amazon Music through wireless headphones, can install other apps from the Connect IQ store, and can be used for contactless payments via Garmin Pay.
While improved, the battery life of the Venu is a potential issue, with Garmin claiming up to five days of usage in smartwatch mode, but only up to six hours in "GPS + Music mode."
Garmin is shipping the Venu in September, priced at $399.99.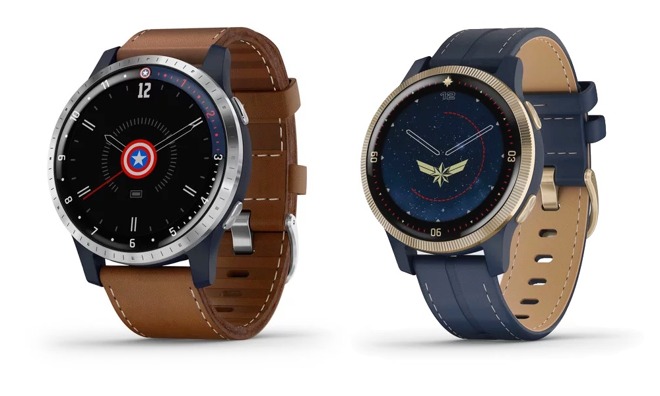 In a bid to capitalize on the Marvel Avengers popularity, Garmin is also updating its previously-for-kids Marvel-themed watch lineup with two versions aimed at adult users. The Legacy Hero Series consists of two round smartwatches with the
Captain Marvel
watch sporting a 1.1-inch 218-by-218 resolution display while the
First Avenger
version has a 1.3-inch 260-by-260 screen.
Many of the features seen in the Venu appear in these models, including 24-7 health monitoring, sleep tracking, respiration and hydration tracking, and menstrual cycle monitoring. Animated workouts, notifications, music playback, and Garmin Pay are also included, while battery life is said to be up to seven days for the Captain Marvel model, eight days for the First Avenger.
Both Marvel watches will be shipping in October, priced at $399.99.