iOS 13.1 is ready for prime-time, but you may still want to wait for macOS Catalina to jum...
It's not clear when in October Apple will release macOS Catalina, but what is clear that until macOS, tvOS, watchOS, iOS, and iPadOS are all updated, there's going to be some growing pains in a mixed-device environment.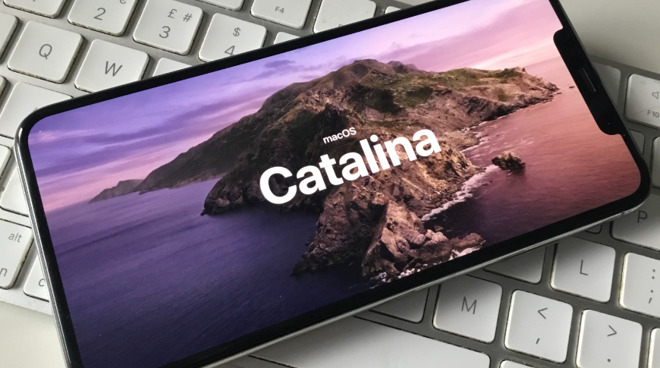 Waiting until macOS Catalina is out will save some temporary problems with iOS and iPadOS
It's not true that
Apple
's operating system updates for 2019 are being released all that much more messily than usual. But it feels as if it is because until we have the trio of
iOS
,
iPadOS
and
macOS Catalina
finished, we are seeing problems.
That's been exacerbated by how this is the first year that we got a separate iPadOS, and it's not actually all that separate from iOS. Then there have been all the issues of Apple doing an early beta test of
iOS 13.1
before shipping that as the solution to certain iOS 13 problems.
If you chiefly work on iOS and your
Mac
is the adjunct, you can go ahead and update. Again, it might be prudent to wait a couple of days until iPadOS is not only out but has been tested with millions of users in the real world -- but even if you jump today, you'll be (mostly) fine.
But, until macOS
Catalina drops sometime in October
, the now three main Apple platforms will remain just a little out of step with each other.
And it's enough that we have to say this. If your Mac is your main work machine, and your iOS devices are more like useful adjuncts, don't update anything until
macOS Catalina
is here.
Or more specifically, until a few days after macOS Catalina drops. We do always say this about any major software release, that you should hold off until any initial bugs are caught and fixed. In this case, it would be particularly wise to wait as Apple is spread a bit thinner than usual -- and that may account for some of the problems in iOS 13's initial release.
The concern this year is not that we now have three major Apple platforms, and it's not at all that the new releases are in any way disappointing. It's that all three share certain underlying technologies that have changed for 2019.
Interregnum
One of the most significant improvements promised for iOS 13 and iPadOS 13 was to do with
Shortcuts
. Even if you don't use Shortcuts yet, Apple has now taken steps to make this feature more available, more easy to use, and more powerful. If you do already use Shortcuts, the improvements are huge and guaranteed to make you race to update.
Only, if you did that and got iOS 13 on its day of release, you didn't get the complete package. We had to wait until iOS 13.1 to see Shortcut Automations, which is a particularly strong part of the update.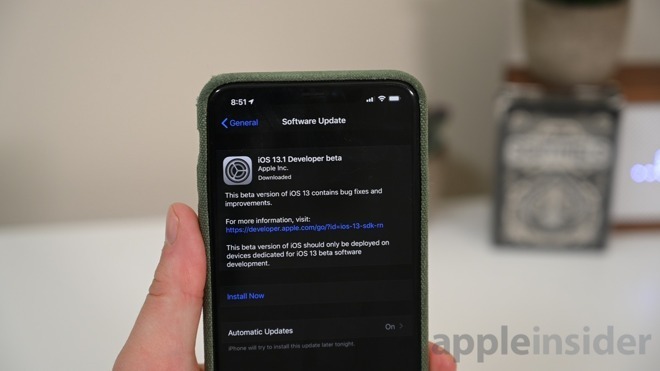 Shortcuts Automations didn't come out until iOS 13.1
What's much worse than having to twiddle our thumbs for a week, though, is what happens when your iPhone is on iOS 13 and iPadOS 13 hasn't been released.
The new Shortcuts app has changed the very form of these automation tools, and they sync between your devices. So you could have a new iOS 13 Shortcut on your phone that syncs over to your iPad where it won't run.
Or you could edit an existing Shortcut on your iPhone, and now the copy that used to work on your iPad doesn't.
Reminders and calendars
If Shortcuts is still not exactly as mainstream as Apple or even Shortcuts fans would like, there are similar issues with
Reminders
.
This, too, has been revamped and this, too, needs iOS, iPadOS and macOS Catalina installed before it all works together. Reminders syncs over iCloud and that iCloud syncing can't happen properly across everything until all three operating systems have the new version of Reminders.
Apple did put in a switch to Reminders on iOS that would, well, remind you of this issue. And there is an option to tell Reminders on iPhone not to try syncing yet, but if you get that option, you get it the first time you ever open Reminders.
Even if you delete it and reinstall, you don't get that option again. And if you fail to take up the option, this is what your Mac shows the next time you open Reminders there.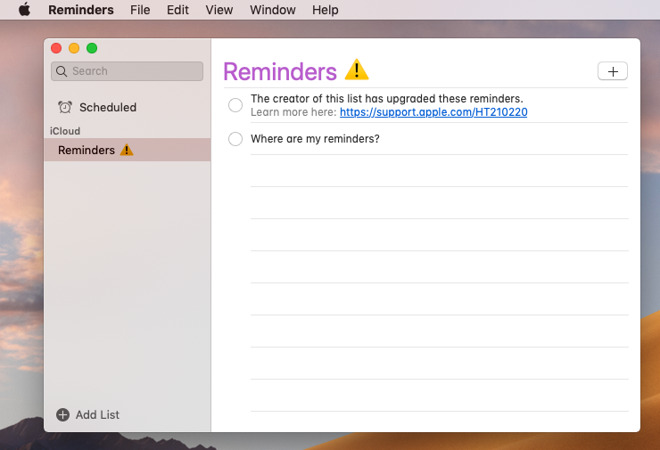 Not something you'd rush to see -- it's possible to lose all your Reminders on your Mac. Until macOS Catalina comes out.
What's happened is that you accepted the new iOS 13 Reminders upgrade, and Apple has taken all of your tasks off
iCloud
. For now, they are in their own space, initially accessible solely by that Reminders app on your iPhone.
It's a little worse than that, too. Since so many calendar apps include Reminder or To Do functionality, the tasks disappear from there too. The makers of
Fantastical
have a support document explaining this, and the makers of
BusyCal have one
but also urge you to complain to Apple about it.
Worth it in the end
All of this does color how iOS 13, iPadOS 13, and macOS Catalina seem. Throw in how you will lose access to your old 32-bit apps when you upgrade to Catalina, and you may start wondering whether you should bother.
Some people shouldn't. Check out what's on your Mac that
won't work in Catalina
and decide whether it's better moving to a new app or sticking on the old system.
However, this will all soon be forgotten. Once macOS Catalina is out, the Reminders format will again work in iCloud and so, presumably, will return to your third-party To Do or Calendar apps.
This isn't new. Back in 2013 and 2014, there was around a month between iOS 7 and macOS Mavericks, and between iOS 8 and macOS Yosemite.
They just didn't have a third platform, like iPadOS, to contend with. And they weren't making such significant changes under the hood as we're seeing in 2019.
It will be worth it. By the end of October, at the latest, we will have the excellent macOS Catalina out and polished. We'll have all the good features promised for iOS 13 and iPadOS 13, without any -- okay, without all -- of the bugs we actually got.
And we'll also have the new
tvOS
so we can take our minds off all of this.
Keep up with AppleInsider by downloading the AppleInsider app for iOS, and follow us on YouTube, Twitter @appleinsider and Facebook for live, late-breaking coverage. You can also check out our official Instagram account for exclusive photos.