DuckDuckGo Privacy Essentials extension returns to Safari
The privacy-focused search engine DuckDuckGo has relaunched its Privacy Essentials extension for Safari on macOS Catalina, with the add-on revived for Safari 13 after it was removed from distribution for Safari 12.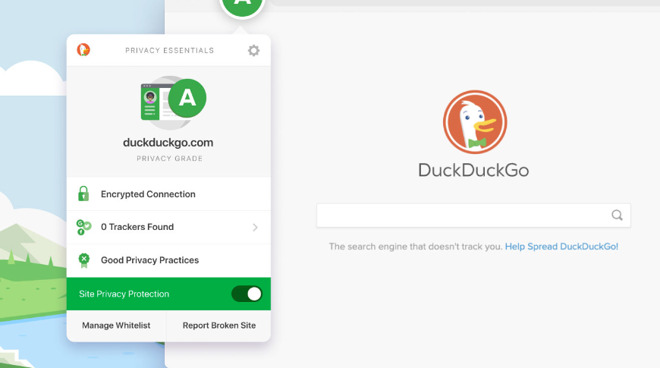 DuckDuckGo Privacy Essentials is an extension for
Safari
that aims to block third-party trackers hidden on websites, such as those used by advertisers, which are used to collect data and build a profile of the user. While the blocker is developed to protect users right after installation, DuckDuckGo advises it is possible to whitelist sites of a user's choosing, for example, to fix issues with session management for some online venues.
A second element of the add-on is the Privacy Dashboard, which informs the user of how their privacy is being protected. The dashboard explains how privacy is being enhanced for a site by the extension, as well as showing a "Privacy Grade" for each site.
Privacy Essentials was previously offered for Safari, as with other browsers, but had to cease distribution in the Safari extensions gallery
due to
"major structural changes in Safari 12" implemented by Apple. New functionality added in Safari 13 is credited with allowing the extension to return.
There are still some changes from the earlier implementation, such as the dropping of the Smarter Encryption feature, though it is hoped to be reintroduced in the future. The developers also took the time to increase its tracker blocking coverage, as well as making enhancements to its user interface.
To install the extension, users can download it from the
Mac App Store
, with it requiring
macOS
10.15 or later to function. While the extension isn't available on
iOS
, there is a
DuckDuckGo Privacy Browser
available which offers similar functionality.
DuckDuckGo has a long-term association with Apple, with the privacy-focused search engine available as a default search option within Safari. DuckDuckGo is also a user of Apple Maps, with Apple's
MapKitJS framework
used to provide location-based results to queries.
The launch of the extension arrives one day after Apple updated its own
official privacy site
, explaining to readers about how it works to ensure their privacy, as well as detailing hot-button topics like phone tracking and message interception.