Tim Cook talks Apple values, Steve Jobs, more at Salesforce conference
Apple CEO Tim Cook took part in a fireside chat with Salesforce co-CEO Marc Benioff at the latter's annual Dreamforce conference on Tuesday, where the pair discussed a range of well-trod topics ranging from Apple's values to human rights issues.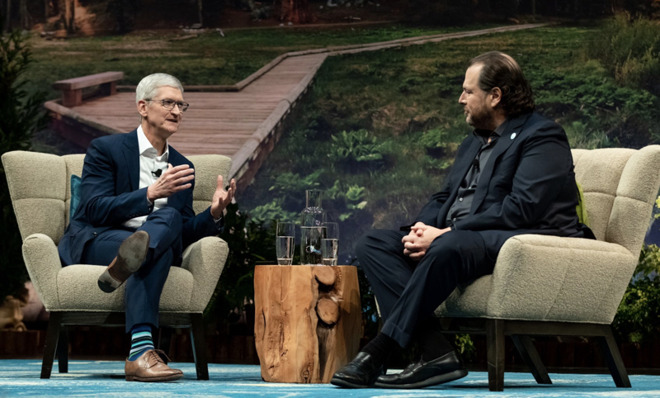 Source: Tim Cook via Twitter
During the casual one-on-one,
Cook
touted Apple's commitment to enterprise customers, an area of increased interest for the company as it branches out from mass success in the consumer market.
Of note,
iPhone
,
iPad
and
Mac
is now in use by all Fortune 500 companies, Cook said. How those firms leverage Apple's hardware and software package varies. Some use off-the-shelf solutions, others roll their own specialized apps and APIs, while a healthy number use products born of Apple's
partnership with Salesforce
.
Beyond Salesforce, Apple's venture to notch out a foothold in enterprise includes a 2014
partnership with IBM
, a linkup
with Cisco
a year later and, more recently, a joint
project with SAP
in 2016. Apple's iOS is at the core of its push into the enterprise, with partners often bringing cloud computing assets, SDKs and other first-party technology to the table.
Cook and Benioff briefly touched on the Apple and Salesforce partnership, which was bolstered last year with
Siri integration
for Salesforce's Einstein AI platform. For 2019, the
companies announced
revised Salesforce Mobile apps for iOS and iPadOS, as well as an iOS-only Trailhead Go education app.
Like most talks involving Cook, the half hour chat in Los Angeles mostly revolved around Apple, with the CEO discussing the usual assortment of environmental initiatives, corporate values, wider human rights issues and more.
On the environment, Cook talked up Apple's pledge to shift its entire operation to 100% renewable energy, a heady goal that was achieved
in April 2018
. The company is now pushing suppliers, as well as market competitors, to follow in its footsteps.
"We stretch ourselves well beyond what we're currently able do to and we want to leave the world better than we found it," Cook said.
Apple has made privacy a keystone feature of its major product lines over the past couple years. Cook noted such protections are not easy to implement, but pay dividends to end users.
"You don't bolt on privacy," Cook said. "You think about it in the development process of products. You can see what happens when companies wake up one day and decide they're going to do something privacy-wise. You just can't do it, you have to design it in."
The Apple chief went on to discuss immigration reform, same sex marriage and other hot-button issues.
Cook also touched late Apple co-founder Steve Jobs, who cultivated the company's core values. The executive said Jobs' ethos of making products of the highest quality available is still alive and well at Apple, adding that the company is out to make the best, not the most. "Think Different" is also still a guiding light, and Apple is committed to innovating while staying true to its values, Cook said.