New video shows what the iPad Pro's LIDAR scanner is capable of
Posted:
in iPad
edited March 2020
A new demonstration video has surfaced, showing how the new iPad Pro, with the help of its powerful new LIDAR scanner, can incorporate itself into the real world.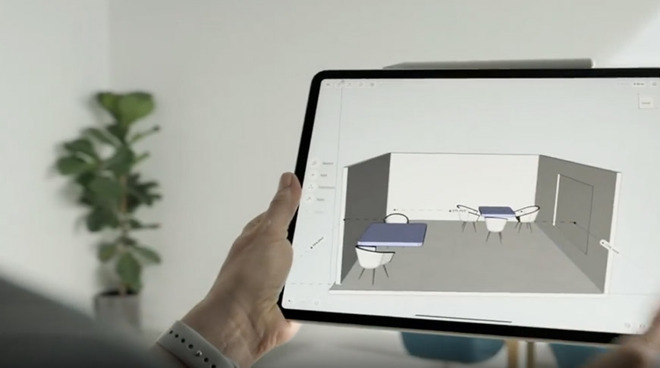 Apple has included a LiDAR scanner on the back of the 2020 iPad Pro
Apple
on Wednesday
unveiled two new
iPad Pro
models that come equipped with a
LiDAR Scanner,
which will offer major improvements to ARKit and photography.
Now, a new video has emerged, highlighting all the incredible things made possible by the new LIDAR scanner. In one clip, a user uses the LIDAR scanner and the
Complete Anatomy
app to measure the range of motion in someone's arm in real-time.
Another clip shows how with an iPad Pro and a bit of free space, a user could turn their living room into an immersive game of Hot Lava.
View this post on Instagram
A post shared by Rene Ritchie (@reneritchie) on Mar 18, 2020 at 6:58pm PDT
The
Shapr3D
app shows how the iPad Pro can scan a room and convert it into an accurate 3D model, which then can be edited and placed back into the AR space. It also shows off an improved AR-based retail experience, as a user utilizes the
Ikea Place
app to pick out furniture for their home.
The pair of
2020 iPad Pro
models and the new Magic Keyboard with Trackpad will launch on March 24, with pre-orders in process now. Broader mouse and trackpad support are coming in iPadOS 13.4, which arrives on March 24 as well.