Goldman Sachs sees iPhone sales tanking 36%, says sell AAPL shares
Veering on the side of caution, investment bank Goldman Sachs said Friday it's cutting its rating and price target on shares of Apple amid mounting uncertainty over the impact of COVID-19 on near-term consumer spending on items such as iPhones.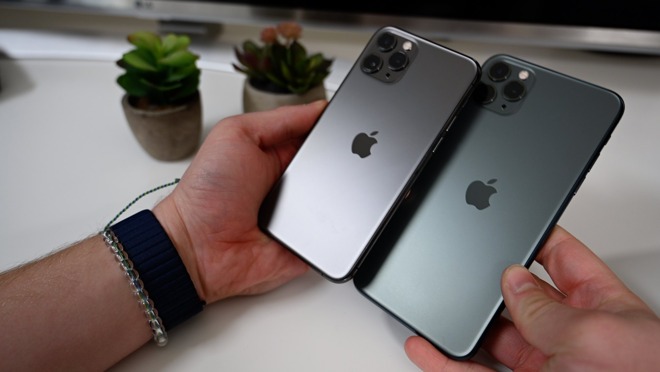 Apple's iPhone 11 and iPhone 11 Pro may need to make it a few extra months, if the "iPhone 12" is later than expected
In a note to investors, analyst Rod Hall cited a variety of risks factors that he believes may ultimately weigh on the iPhone maker, including the a lack of international travel to facilitate timely product launches and a looming recession with an unpredictable trajectory of recovery, all induced by the
coronavirus
pandemic.
"After two further GDP growth cuts from the GS Economics team and with much of the world in lockdown we are downgrading our rating to sell and reducing our Apple forecasts for a third time since February 17," he wrote.
Hall is now modeling a much sharper reduction in iPhone unit demand through mid-2020 with his view that a recovery will be shallow heading into 2021. The analyst also expressed concerns that the "
iPhone 12
" could see delays due to international travel restrictions, which could further impact Apple's financial perspectives.
"Limited global travel at this crucial point in Apple's 2020 iPhone final engineering and production process could result in a delayed launch this year," he said.
Meanwhile, Hall also predicts the macro economic situation could lead to stagnant Services growth in 2021 as consumers pull back on discretionary spending.
"We also assume some lingering ASP weakness as consumers look to economize similar to what we have seen in prior downturns," he said. "In addition to this we believe that Services growth slows substantially in 2021 and that Services as a percentage of revenue actually stagnates in that year."
All said, Goldman is now modeling for a 36% decline in iPhone unit demand during the third quarter and a 24% decline in the first half of calendar year 2020.
"Ultimately, we believe Apple is a mature cyclical company that is likely to trade in a calls range relative to the broader market," he said. "Because of that our view tends to be increasingly positive when we believe consensus earnings expectations for the company are overly pessimistic on a 24- month basis."
Hall cut his rating on shares of AAPL to "sell" from "neutral" while guiding down his twelve-month price target to $233 from $250. It's the analyst's third consecutive cut on the company's shares since February 17.
The downgrade on Apple to a sell rating is also the first from a major investment bank in recent times. In a surprising return to its Wall Street "darling" status, Apple shares had surged some 130% in the twelve months leading up to the COVID-19 crisis with many firms playing a constant game of catchup when it came to setting new target projections.
Shares of Apple were trading at $284.20 pre-market on the NASDAQ. This follows
upbeat, after-hours comments
from Apple CEO
Tim Cook
on Thursday regarding a gradual return to retail operations.