Most Australian Apple Stores to reopen this week [u]
Apple on Monday announced plans to reopen its retail fleet in Australia, with the tech giant set to return 21 out of 22 outlets to limited operating status on May 7.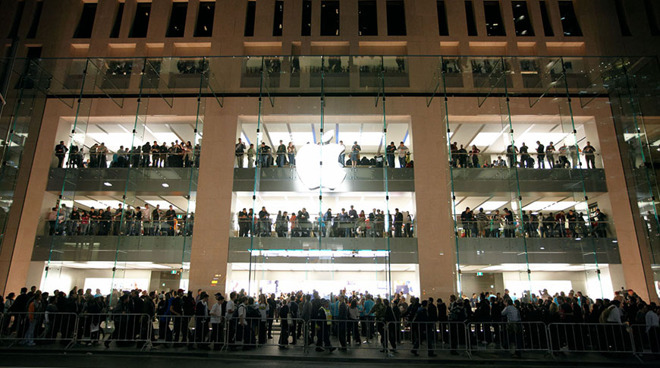 Apple Sydney is the only Apple Store not participating in the country-wide reopening this week.
With one exception -- Apple Sydney -- Apple's chain of brick-and-mortar Apple Stores will open to customers at 10 a.m. local time on Thursday, May 7, as part of the company's staggered
COVID-19
reopening strategy.
According to Apple's updated regional retail webpage, all stores in the country will adhere to strictly limited hours of operation between 10 a.m. and 5 p.m. daily. Apple Brisbane, another outlier, will close at 4 p.m. on Sunday, May 10.
The lone Australian Apple Store to remain shuttered is Apple's Sydney location in New South Wales. That outlet's dedicated
landing page
says the store is closed for "creative updates" and directs customers to online shopping options. No mention of coronavirus precautions or planned reopening dates are listed for the flagship.
"To start, we will open with additional safety procedures including temperature checks, social distancing and an adjusted schedule, to ensure customers and employees continue to stay healthy," Apple said in a
statement
to
Bloomberg
. "Our social distance protocol means a limited number of visitors in the store at one time so there may be a delay for walk-in customers."
News of Apple's Australian retail plans arrives a week after retail chief Deirdre O'Brien told employees the company intends to open "
many more
" Apple Store outlets that are currently closed due to COVID-19 concerns. At the time, O'Brien failed to offer specifics on the matter, but said Apple is "continuing to analyze this health situation in every location" and noted she anticipates the iPhone maker will "reopen up many more stores in May."
Apple CEO
Tim Cook
elaborated on the reopening initiative in an interview last Thursday, saying stores in Austria and Australia would open in
one to two weeks
.
Reports earlier today noted Apple Krntner Strasse in Austria is set to reactivate
on May 5
, representing the first European location to reopen after Apple shuttered all Apple Stores outside of China
in March
.
Apple is slowly reopening outlets around the world as countries begin to flatten the curve of new coronavirus cases. Stores in China began to reopen
in February
, with all 42 locations in the region returning to limited operating status
in March
. More recently, Apple Garosugil in South Korea reopened
in April
with reduced hours and a focus on customer service and order pickups.
Updated with statement from Apple.