One year later, the Apple Card is a huge but controversial success
On August 20, 2019, Apple officially launched
Apple Card
with any US citizen able to apply. Since then it's been a hit, but it's faced controversy over everything from low reward rates to alleged sex discrimination.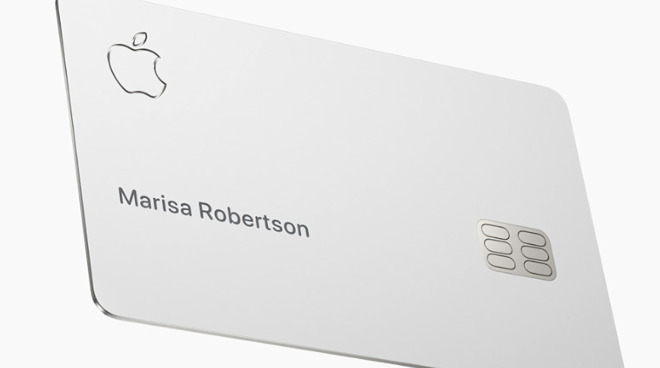 Apple Card
In every sense bar one, Apple Card is a typical Apple product. It was rumored for years, it launched to fanfare and criticism, plus it was even thought of first by
Steve Jobs
. The difference is that apart from its titanium card, it's not hardware, and apart from its app, it's not really software either.
When we all look back to see exactly when Apple really pivoted from being a hardware company to a services one, we're going to be sure it was 2019. It might even be
March 25, 2019
, when Apple eschewed its regular launching of new MacBooks, iPads or education products.
Instead, those products were hurriedly announced in press releases ahead of the event, so that the day itself could be devoted to services. Most of the event was the announcement of
Apple TV+
, but
Tim Cook
also confirmed that the rumored Apple Card was coming.
This is another departure from the Apple of old. It's now rare for the company to reveal anything and conclude with the words "available today," but most of this event left us waiting a long time.
While Apple News+ was announced and launched, Apple TV+, Apple Arcade, and Apple Card were all given the full launch treatment -- bar an actual date.
Apple Card pre-history
We would end up waiting 148 days before Apple Card was available. But in truth, we'd really been waiting for something more like 15 years.
Following the departure of the GE Capital Apple Credit Card, used to exclusively buy Apple products,
Steve Jobs proposed
an Apple-branded credit card. It wasn't a casual thought, either, as the company went very far down the line of making it a reality.

Original marketing materials for what would have been an Apple Card in 2004. Notice the name on the card: Richard O Croswell was an executive at MBNA at the time.
According to Apple's then advertising agent, Ken Segal, plans were sufficiently advanced that an ad campaign was mocked up and ready to go. Seemingly Jobs couldn't get the terms he wanted out of card companies like Mastercard, and he dropped the entire plan.
Tim Cook may not necessarily have got exactly the terms Apple wanted either, but he did negotiate a
deal with Goldman Sachs
that worked for both companies.
While Goldman Sachs has worked with Apple since Steve Jobs returned to Cupertino, it appears to have specifically negotiated about a credit card since
sometime in 2018
. The key difference between then and 2004, though, is that there was now
Apple Pay
.
Goldman Sachs reportedly wanted a consumer product, instead of its business-to-business financial offerings, and Apple had this extremely successful payment system. Launched in 2013, Apple Pay sees transactions across the US and 50 countries.
Waiting to launch
Based on the existing wide reach and high adoption of Apple Pay, the one group that didn't wait for the actual launch of Apple Card was the financial press. Investment banks such as HSBC predicted that the "large potential captive market" would mean a windfall for Apple and Goldman Sachs.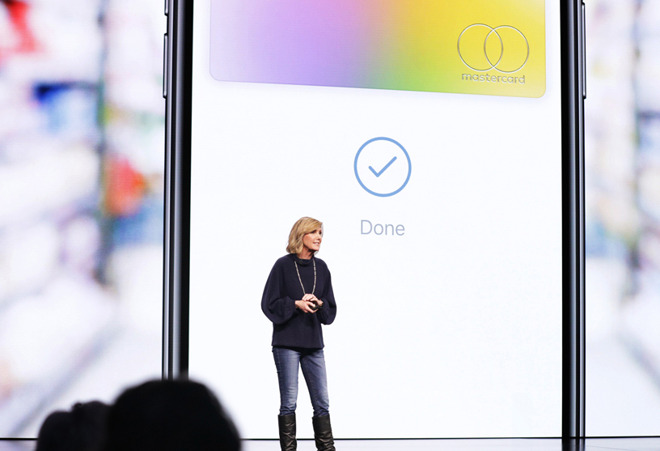 Jennifer Bailey, Apple's Vice President of Internet Services, and Apple Pay, announcing Apple Card
Basing calculations on the idea that around half of Apple's then 146-million adult users in the US could qualify, HSBC predicted net income up to $300 million in the first year and up to $1.5 billion by 2025.
We're now a year on from estimates and guesses, but Apple is unlikely to ever confirm details. However, it appears that Goldman Sachs' investment in Apple Card was serious, working out at
$350 per user
.
And Goldman Sachs specifically told its investors in October 2019 that Apple Card had
gone quite well
. It was "the most successful credit card launch ever," said the company.
Tim Cook said much the same in an Apple earnings call in July 2020. Asked about how buyers had adapted to the
coronavirus
lockdowns, Cook said that it was clear from Apple Card how things had moved.
"We saw changes in consumer spending as the shutdowns occurred and store closures occurred, we could we could see that across the Card," he said. "It affected the categories that you would guess the most like travel and, and entertainment etc."
"But overall," he continued, "if you sort of pull the lens out on the Apple Card, we're we're very happy with the number of people that have [one]."
"We believe based on what we've heard that it's the fastest rollout in the history of credit cards and so we feel very good about that," he concluded.
The controversies begin
Back when that rollout was beginning, Apple may have opened applications to all US citizens in August, but there were many people using it before then. They consisted of various trial runs, some Apple staff, and selected beta users. And some of them had problems.
Specifically, very shortly after the launch, they were already able to say that after a month's use, the titanium Apple Card
showed wear
. Apple's legion of support documents for Apple Card user quickly added one about how to take care of it -- and
clean the titanium
.
Speaking of titanium, though, it turned out that the card wasn't entirely made of that material,
not absolutely entirely
. For a start, the white finish is a coating, but people with a scanning electron microscope and not enough real work to do, dug further.
The University of Berkley reports that Apple Card is 90% titanium. The remainder is an alloy that chiefly comprises aluminum.
Vastly more serious was the controversy that began in November 2019 where Apple and Goldman were accused of sex discrimination. The first accusation came from David Heinemeier Hansson, then best known for creating Ruby on Rails, but now perhaps better known for complaining about the
App Store
and its treatment of his
Hey email app
.
The @AppleCard is such a fucking sexist program. My wife and I filed joint tax returns, live in a community-property state, and have been married for a long time. Yet Apple's black box algorithm thinks I deserve 20x the credit limit she does. No appeals work.
Although Apple promotes the card as having been "created by Apple," it's really curated by Goldman Sachs. That company, along with unspecified other partners, is the one that determines eligibility for the card and sets credit limits.
"We have not and never will make decisions based on factors like gender," responded Goldman Sachs Bank CEO Carey Halio
said in statement
. "In fact, we do not know your gender or marital status during the Apple Card application process."
As Goldman Sachs denied any gender bias in its credit ratings, Apple co-founder Steve Wozniak claimed to have seen a
similar disparity
between him and his partner. And then US Senators
got on the case
.
Goldman Sachs's Halio asked Apple Card holders to contact the company if they had received unexpected credit limits. "If you believe that your credit line does not adequately reflect your credit history because you may be in a similar situation, we want to hear from you," she said. "Based on additional information that we request, we will re-evaluate your credit line."
The New York Department of Financial Services announced in November 2019 that it would be formally conducting an investigation. As of August 2020, there has been no report.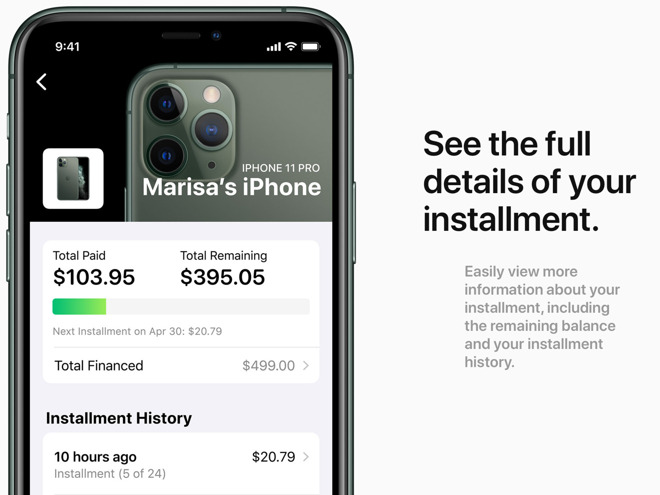 You can now pay for an iPhone in instalments using Apple Card
Positives and negatives
In good news about Apple Card, December 2019 saw Apple add the ability for users to buy iPhones on their cards and
pay in instalments
. Apple Card
offers 3% Daily Cash
on purchases made from Apple, and despite the instalment plan, buying an iPhone counts as one purchase.
So this was both a long term aid to spreading the cost of a new iPhone, and it was an immediate benefit, too. Then in June 2020, Apple
extended the programme
to mean you can buy almost any Apple devices this way, just not an Apple Watch or an iPod touch for some reason.
There was also the way that to help people during the COVID-19 situation, Apple allowed Apple Card users to defer their March 2020 payments. The company continued to do that through April, June, July and so far
including August too
.
Similarly, depending on your point of view, Apple also launched a way to help people whose poor credit scores meant they were
refused an Apple Card
-- or Apple found a way to get more users. In July 2020, the company launched "Path to Apple Card," a program that helps them assess and improve their financial situation.
Included in the four-month program is advice that ranges from how reducing debt and paying on time helps. At the end of the program, users are invited to apply again for an Apple Card.
This launched alongside a new
Apple Card financial health website
. So there's definitely an educational element here, but arguably it was prompted by allegations that Apple and Goldman Sachs were
accepting applicants
with "sub prime" credit records.
Apple iterates on the Apple Card
We'll never know what changes or improvements Apple and Goldman Sachs may have done to their internal processes across the first year of Apple Card. However, as that year was coming to an end, Apple did launch a couple of new features that were surprisingly absent in the original release.
Specifically, it made some online changes. Whereas before, you could
only pay off
your Apple Card via your iPhone, from July 2020, Apple added a way to
do it online
.
Then Apple added a feature you could've sworn must've been there from the start. As of August 12, 2020, you can now use Apple Card to buy from the
online Apple Store
.
Apple Card 2.0
Although Apple could
offer better rewards
for using Apple Card, otherwise it's hard to see what could be added next.
Right now Apple Card appears to be working for potentially millions of people, perhaps undertaking billions of transactions. It's bringing those people some rewards, and some convenience, while presumably earning Apple a nice amount.
If it's only tenuously hardware, and tenuously software, this Apple Card service represents the new Apple in every way -- bar one.
Apple Card remains exclusively available in the United States. That's despite an
early promise
from Goldman Sachs, made before the card had even officially launched.
"We're going to start in the US," said Goldman Sachs International CEO Richard Gnodde, "but over time, absolutely, we will be thinking of international opportunities for it."
Whenever Apple has its "
iPhone 12
" September or October
launch event
, you know that Tim Cook will rattle off some figures about
how great Apple is doing
.
He's unlikely to break down any details, any more than Apple has during its legally-required earnings calls. But if Apple is to roll out Apple Card to more countries, and if it isn't going to announce that with a press release, maybe this event is when it will be revealed.
Keep up with AppleInsider by downloading the AppleInsider app for iOS, and follow us on YouTube, Twitter @appleinsider and Facebook for live, late-breaking coverage. You can also check out our official Instagram account for exclusive photos.