Facebook, Luxottica will team up on AR glasses slated for 2021
Facebook on Wednesday announced a research project that will gather data for a pair of AR glasses created in partnership with Luxottica, the makers of Ray-Ban.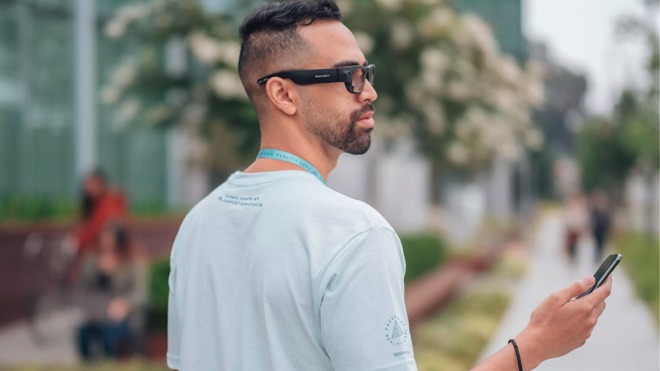 Credit: Facebook
Amid rumors of Apple developing its own "
Apple Glass
" or
Apple AR
wearable, Facebook and Luxottica
said
they plan to release the first pair of smart glasses in 2021.
"After spending time with their team and visiting their factory, I knew that they were the right partner for us to help bring the best technology together with the best glasses," Facebook CEO Mark Zuckerberg said. Along with Ray-Ban, Luxottica owns brands such as Oakley and Persol, and makes eyewear for brands ranging from Versace to Brooks Brothers.
The multiyear partnership was announced at the Facebook Connect conference, where the social media giant also debuted an AR wearable research device dubbed Project Aria.
Project Aria is a research project aimed at helping Facebook develop the first generation of AR wearables. The physical product is a device that Facebook says "will help us understand how to build the software and hardware necessary for AR glasses."
Although not a consumer-facing product, Facebook has outlined some of the steps it's taking to ensure Project Aria and subsequent AR devices are privacy-respecting. That includes training on where and where testers should collect data, and encryption to protect any data captured by the project.
The Project Aria test device will be limited to about a hundred employees and contractors in the San Francisco Bay Area starting in September. Those testers will go about their day wearing the glasses and collecting data while wearing prominent clothing identifying them as Facebook staffers. Facebook hopes that the video, audio, eye-tracking and location data that Project Aria collects can aid its development of "real, working AR glasses."
Apple's own AR endeavors currently focus on its
ARKit
platform, but the company is rumored to be working on a product dubbed "Apple Glass." Although primarily powered by an iPhone, "Apple Glass" is expected to offer heads-up AR capabilities in a lightweight, head-worn form factor. It may also be compatible with prescription lenses and could retail for $499.