Some Apple Watch Series 3 owners dealing with crashes after watchOS 7 update
Some owners of the
Apple Watch Series 3
have complained about the update to watchOS 7 causing crashes and shutdowns, in what could be early teething issues for the operating system.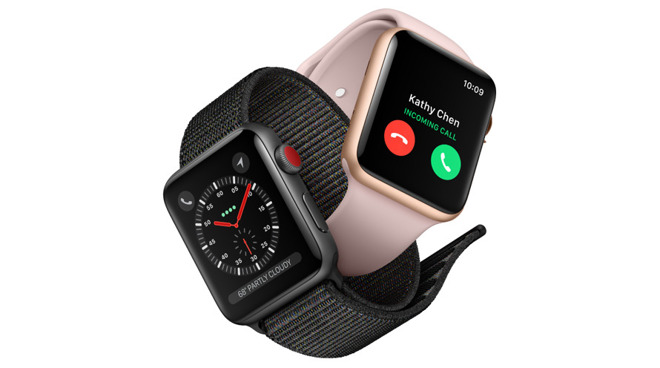 The Apple Watch Series 3.
The launch of a new operating system or a milestone version update usually brings with it some initial problems, which are usually fixed in initial patches and updates post-launch. For
watchOS 7
, it seems that the Apple Watch Series 3 is suffering the lion's share of issues.
In a
thread
in Apple's support forums, a group of Series 3 owners are griping about stability issues with watchOS 7 on their devices, endured since the
update's installation
. Common complaints include unprompted crashes and reboots, as well as battery drainage problems.
One user on September 18 reported
by
9to5Mac
said their Apple Watch "shut itself down at least 3 times, locked itself while on my wrist 4 times, failed to load complications on multiple faces," and disconnected from the iPhone at least twice, all in one day. The same user also observed the battery capacity was down to 50% capacity after around 8 hours, far lower than the usual 80% level they previously saw.
Other users mention being forced to reset the Apple Watch to get watchOS to install, repeated restarts and slow complication reloads following reboots. Some also reported delays in weather updates and a need to re-enter their passcode while they are still wearing the Apple Watch.
In a few cases, users had taken the step of clearing the Apple Watch to a factory reset before updating, due to having a limited amount of storage capacity remaining on their devices, but the problems still surfaced.
The events are also seemingly limited to the model of Apple Watch without age being a factor. One user claimed they had bought the Series 3 only one month ago, making it an Apple Watch with minimal wear or usage, and it too was enduring supposed battery drain issues.
The release of
watchOS 7.01
on September 24 doesn't appear to have fixed any of the issues for those affected by it. Apple is also currently beta-testing an update for
watchOS 7.1
, but it is more probable that a smaller incremental update will be released first specifically to fix bugs.
It is unclear if Apple is aware of the Apple Watch Series 3 issues with watchOS 7, but given the number of complaints on the thread, including 649 people clicking the "I have this question too" button, it is probable that the company knows about them.
This particular incident is only slightly above the rate of other battery-draining and crashing issues experienced by a small percentage users in the first few weeks after a big operating system update. In previous similar issues, either waiting out indexing or a clean reinstall of the operating system in question generally fixes the problem, but at present, neither of those solutions appear to work to solve the problem reliably.
AppleInsider
is not able to reproduce the problem.