Comparing AT&T, T-Mobile, and Verizon's unlimited 5G wireless plans for iPhone 12
Posted:
in iPhone
edited October 2020
The three major US carriers all offer "unlimited" 5G plans for the many
iPhone 12
owners set to enjoy faster speeds.
AppleInsider
cuts through the noise to compare plans and help you find the best wireless network for your new iPhone.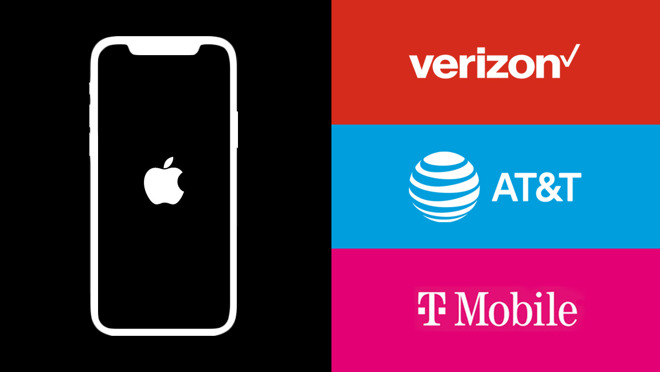 Keep in mind that "unlimited" has caveats. Every carrier plan includes the possibility of throttling your data to slower speeds after you reach a certain level of usage. Additionally, some plans have limits like lower-quality video streaming or slower hotspots after hitting a separate tethering cap. Each plan also discounts its per-line pricing when you add additional numbers to your plan.
The three carriers each have subscription-based extras to lure you towards their service and entice you into opting for a pricier tier. For example, T-Mobile bundles Netflix with some family plans, AT&T uses HBO to lure you in, and Verizon adds Disney services and
Apple Music
to its most expensive package.
Let's take a look at each network's options and the extras that go along with them to help you pick the best plan for your new iPhone 12.
AT&T for iPhone 12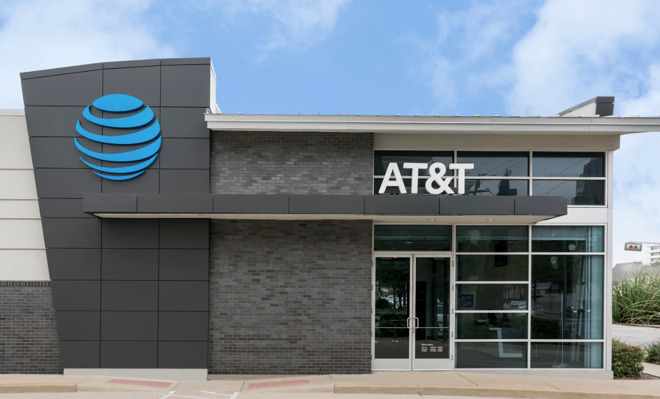 AT&T offers 5G in both standard (sub-6GHz) and mmWave, which it calls "5G+", in select cities. The network gives you the
choice of three "Unlimited" plans
that all include 5G access.
The highest-tier plan, at $85/month for one line, is called Unlimited Elite. It offers 100GB of data before possibly throttling down to much slower 2G speeds. That is the highest total of any of the carriers' plans, so this may be the best choice if you stream loads of content on the go.
AT&T takes advantage of its purchase of Warner Media, including an HBO Max subscription in this highest-tier bundle. Unlimited Elite is also AT&T's only plan with HD streaming. The other two plans are limited to standard-definition (SD) video streams.
| AT&T | Throttle After | Hotspot Data | Video | 1 Line | 5+ Lines |
| --- | --- | --- | --- | --- | --- |
| Unlimited Elite | 100GB | 30GB | HD | $85 | $45 each |
| Unlimited Extra | 50GB | 15GB | SD | $75 | $35 each |
| Unlimited Starter | Anytime | N/A | SD | $65 | $30 each |
Unlimited Extra is AT&T's middle tier, offering 50GB of data before possible throttling. At $10 cheaper than Unlimited Elite, this middle-ground plan makes other concessions like a lower hotspot cap (15GB vs. 30GB), SD video, and no HBO.
Unlimited Starter is AT&T's cheapest 5G plan, and it has significant caveats. The carrier reserves the right to throttle your data to 2G speeds at any time based on network congestion. While this may not cause concern in more rural areas, that plan isn't wise for anyone living in or near cities.
Unlimited Starter also doesn't offer any hotspot data or the Advanced Mobile Security, which includes spam and fraud call blocking, safe browsing, and identity monitoring that the other two plans include. It's a little cheaper at $65/month for one line but is too great a compromise for urbanites who need reliably fast data speeds.
Verizon for iPhone 12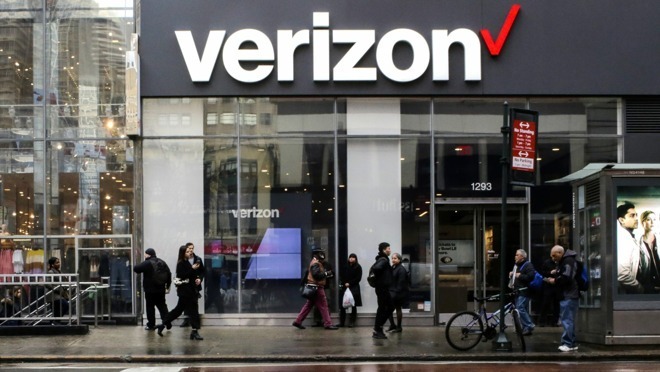 Verizon has four
pricing tiers for its "Unlimited" 5G plans
. It's the most expensive of the three carriers, though not by a wide margin.
Verizon calls its premium tier Get More Unlimited, costing $90/month for one line. The plan supports both sub-6GHz 5G ("5G Nationwide") and mmWave 5G ("5G UltraWideband") where supported. On this plan, Verizon may throttle your data to 3G speeds after 50GB of high-speed usage.
The carrier includes 30GB of 5G or LTE hotspot tethering in its most expensive plan. It adds a
Disney Bundle
, including subscriptions to Disney+, Hulu, and ESPN+. Verizon also throws in an Apple Music subscription and 600GB of Verizon Cloud, its phone-backup service. However, iPhone owners may find it easier to stick with Apple's integrated
iCloud
backups.
| Verizon | Throttle After | Hotspot Data | Video | 1 Line | 5+ Lines |
| --- | --- | --- | --- | --- | --- |
| Get More Unlimited | 50GB | 30GB | HD | $90 | $50 each |
| Do More Unlimited | 50GB | 15GB | HD | $80 | $40 each |
| Play More Unlimited | 50GB | 15GB | HD | $80 | $40 each |
| Start Unlimited | anytime | N/A | SD | $70 | $30 each |
Verizon's next two tiers cost the same ($80 for one line) but accentuate different perks. Do More Unlimited and Play More Unlimited each offer 50GB of data use before possible tethering. Do More Unlimited prioritizes Verizon Cloud (600GB), and 50% off tablets, hotspot devices, and smartwatches. Meanwhile, Play More Unlimited replaces those perks with a Disney bundle subscription.
Verizon's entry-level plan, Start Unlimited, rings up at $70 for one line. Like the other entry-level plans, it may revert to throttled speeds at any time, so avoid this option if you want reliable data speeds. It also doesn't include mmWave 5G, though Verizon will add that for an extra $10/month. Start Unlimited doesn't include any hotspot data, and its subscription add-ons (Apple Music and Disney+) are only six-month trials.
T-Mobile for iPhone 12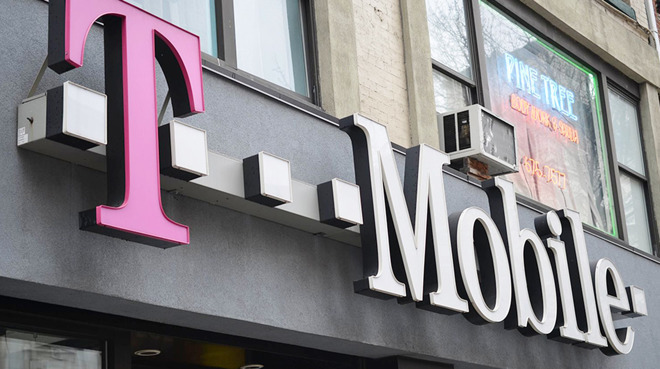 After completing its Sprint purchase this year, T-Mobile is the last of the three major US carriers. The company offers three pricing tiers for 5G service:
Magenta Plus, Magenta, and Essentials
. Unlike the other carriers, T-Mobile includes taxes and fees in its prices and may end up being a better deal than would appear at first glance.
Magenta Plus costs $85 for one line and will possibly throttle data after 50GB of use. In this plan, T-Mobile includes HD video streaming, 20GB of hotspot data (reverting to 3G after that), a Netflix subscription (standard, two HD screens) for family plans, 5GB of LTE in Canada and Mexico, and Gogo in-flight texting and Wi-Fi.
| T-Mobile | Throttle After | Hotspot Data | Video | 1 Line | 5+ Lines |
| --- | --- | --- | --- | --- | --- |
| Magenta Plus | 50GB | 20GB | HD | $85 | $40 each |
| Magenta | 50GB | 3GB | SD | $70 | $32 each |
| Essentials | anytime | N/A | SD | $60 | $27 each |
The Magenta tier offers $70 for one line and has the same 50GB cap before throttling. It only offers SD video streaming, drops the hotspot cap to 3GB before throttling, and offers a lower-tier Netflix subscription (basic, one SD screen).
The Essentials plan costs $60 for one line and doesn't include any 5G or LTE hotspot data. Like AT&T's and Verizon's, T-Mobile's cheapest plan also may throttle data any time networks become congested, making it another poor choice for city dwellers.
Which do you choose?
None of this makes any difference if you can't get a 5G signal. Signal reception is the most critical factor in your decision, so be sure to check each carrier's coverage maps, including 5G rollouts, before making a decision. If you're able, asking friends in your area what their real-world coverage is like or borrowing their devices to do speed tests would give you an even better perspective.
Verizon has the best rural sub-mmWave coverage, so if you're far from a city, that alone may settle your decision. Carriers prioritize urban and suburban areas for 5G towers, and, regardless of carrier, the fastest speeds will reach less-populated areas much more slowly.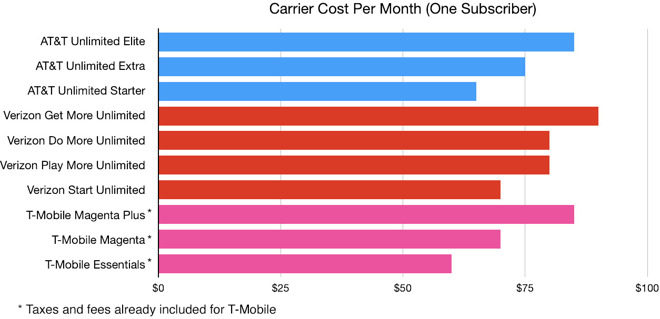 While indoors, you will almost never see the faster speeds that mmWave can deliver. But, the 5G network can have some routing improvements leading to faster real-world speeds, in good conditions.
Faster 5G speeds will mean eating through data more quickly. While 50GB is more than enough for most people, you may consider the 100GB in AT&T's most-expensive plan if you worry about passing that. As we saw in our individual-carrier breakdowns, none of the plans offer truly unlimited high-speed data.
Here's a look at the data caps before each plan is subject to throttled speeds. Blank lines mean they can lower your speeds at any time.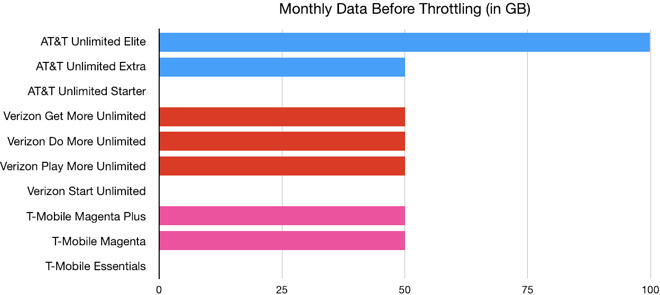 If you plan on using your iPhone 12 as a personal hotspot for other devices, those limits may weigh into your decision as well. Verizon and AT&T offer more hotspot data with their premium plans, though T-Mobile provides an extra 10GB for an additional $10/month. None of the providers include hotspot data on their cheapest tiers.
The media-subscription add-ons for each plan are also worth considering. For example, if you're a Verizon customer who already subscribes to Disney+ and Hulu, bundling them with your phone plan may end up being worth it. However, if you're considering these options, take a moment to add up what those subscriptions would cost separately and weigh that against a pricier phone bill.
Carriers will discount extra lines on your plan, with the cost of each dropping more with each additional line. Families will save money if they have all of their lines on the same carrier through a single account.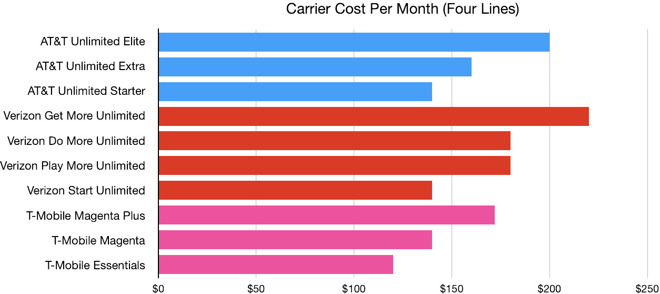 5G is a moving target, as carriers only started rolling out their next-gen networks within the last two years. All three providers regularly add more areas to their 5G maps, and their coverage may look quite different when we revisit this comparison for the
iPhone 13
.