13-inch MacBook Pro with Apple Silicon M1 review: Unprecedented power and battery for the ...
Apple's new M1 powered
13-inch MacBook Pro
is so outrageously fast and stunningly power efficient that it feels like it's visiting from the future. But can it run your apps?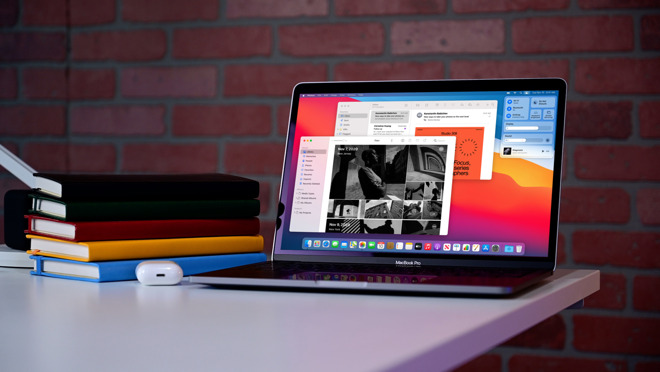 M1 MacBook Pro is the same on the outside, all new inside
With its new
M1
chip, Apple is introducing an unusually early update to the 13-inch MacBook Pro that it last enhanced in May. The refresh isn't just early, it's radical -- delivering an entirely new silicon architecture that's as fundamentally rethought as the new look and feel of the freshly released
macOS 11 Big Sur
.
The new architecture draws its lineage from the custom work Apple has been doing over the last dozen years to develop a fast, ultra-power efficient silicon powering its mobile devices. My impression of setting up and using an M1 Mac is very similar to new iPad -- everything feels intuitively quick and responsive, from the moment you lift the lid and the machine instantly wakes.
Until now,
Apple Silicon
has been constrained by the tight thermal limits of iPhones and iPads. With the larger batteries, and the potential for active cooling with a fan, the efficient M1 architecture can scale up its processing power, without losing its efficient by design nature.
It's the software
No matter how great Apple's new M1 Macs are at blazing through benchmarks and remaining alive while playing movies across 14 hours of a transatlantic flight, they are never going to become broadly popular if they are not able to run the software that users want and need to run.
Previous attempts to compete with conventional Intel PC notebooks, from Linux netbooks to Microsoft's Surface RT, to Google's Chromebook concept, have previously tried to use cheaper or more mobile-efficient chips to cut one of the most expensive PC components: its Intel brain. But while they were indeed much cheaper, their biggest fault was nearly always that they couldn't run enough of the apps users needed. Buyers largely weren't enticed.
Right out of the gate, Apple has done a tremendous amount of work to translate existing Mac apps written for Intel in real time on M1 Macs. The most obvious component is
Rosetta 2
, a software feature of Big Sur that adapts apps to run on the M1.
Mac software ready for M1
Users don't generally have to think a lot about Rosetta 2 because it works seamlessly in the background. The Mac App Store doesn't even call out if an app runs natively on Apple Silicon or not. The Finder's 'Get Info' panel does indicate whether an app is Intel, Apple Silicon (typically coming directly from iOS), or Universal (contains binaries for both).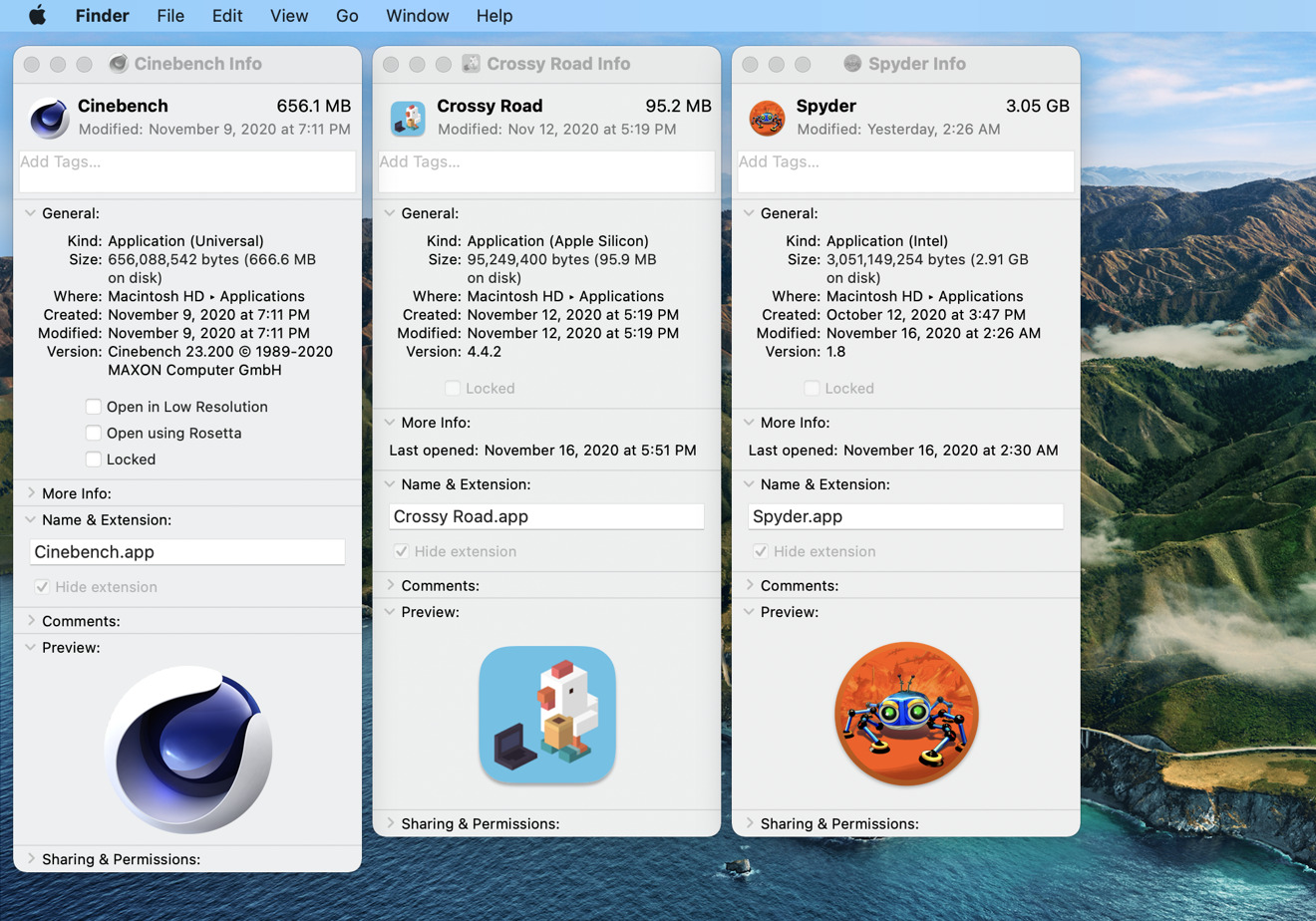 M1 Macs can run Universal, Apple Silicon and Intel apps, without users even thinking about it
Users can force a Universal app to 'Open using Rosetta' by checking the box, but in general, they shouldn't even have to think about this. The only obvious indication that Rosetta is working is that an Intel app will take as much as an extra 10-20 seconds to start on its first launch. Once this happens, an Intel app subsequently launches immediately.
I was able to compare some Intel apps before and after they were updated for M1 by Rosetta because Apple initially shipped review models with some of its own apps that had updates waiting in the App Store to add full Universal support for Apple Silicon.
Apple's bundled Intel apps, including Pages, Numbers, Keynote, iMovie, and GarageBand, all worked fine before updating, apart from several extra bounces in the Dock at first boot. I tried transcoding the same 12 minute test video in iMovie before and after updating to the new version of iMovie optimised for Apple Silicon, but there was not a huge difference in performance.
That's largely because Rosetta 2 is leveraging Metal and other modern frameworks that have already prepared modern apps for portability. Because modern Mac apps use Metal 2 to handle their graphics, macOS on M1 can assign Metal tasks to its own Apple GPU rather than the Intel GPU that would handle them on existing entry level Macs, or the external AMD GPU or eGPU that users might have installed on higher end Intel Macs.
Fast but also super efficient
It was even more impressive that this new M1 MacBook Pro could scream through such a task even faster than my year-old Intel
16inch MacBook Pro
equipped with an 2.9GHz 6 core Intel i9, and with 32GB of RAM -- twice as much as the M1 Mac. Yet the M1 still finished in 4:22 compared to 6:22 on the Intel Mac.
Even more impressively, the M1 MacBook Pro never got hot enough to kick on its fan, remaining entirely silent through the entire process. The Intel Mac started up its fans after just a couple minutes, and continued to run for several minutes after it finished the task.
I monitored the surface temperature of the two machines using an infrared thermometer. The M1 MacBook Pro reached a peak surface temperature of 97F (36C), while the i9 MacBook Pro was already at 104F (40C) just sitting at idle, and creeped up to 114F (46C) after 5 minutes into the task.
That indicates that the new M1 MacBook Pro isn't just more conservative with using its fan than previous Intel Macs. Instead, it actually doesn't need it as much. Apple ships the same chip in its new
MacBook Air
without a fan at all.
The result is not only a quieter computing experience, but also a much cooler back surface. Intel MacBooks can quickly get to the point where they are uncomfortably warm on your lap. In most of my testing, the MacBook remained nearly cool to the touch.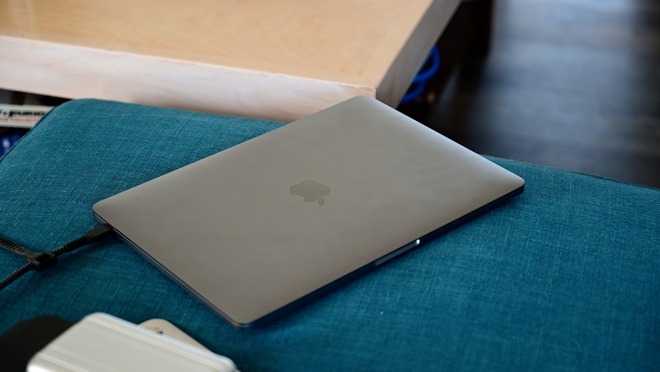 13-inch MacBook Pro
And of course, with less energy wasted on generating heat and turning on the fans to dissipate it away, the new M1 MacBook Pro can also run much longer without being recharged. Apple claims up to 20 hours while watching videos, twice that of its already impressive battery life on existing MacBook Pros.
This new massive jump in battery life really opens up how you can use the machine, making it much more convenient to use on the road and in situations like a remote job site, on a commute, or in a meeting where you might not have access to power.
However, note that while you are running on battery power the system will automatically take steps to conserve it, in some cases dialing back performance and dimming the display.
Even running conventional benchmarks like Geekbench 5, Affinity Photo's new graphics benchmark, and the newly updated Cinebench R23 for Apple Silicon didn't cause the MacBook Pro's fan to turn on.
Fast and efficient by design
There are a lot of factors contributing to the M1's impressive trifecta of computing power, battery power and software compatibility. And it all comes together through Apple's unique integration of its silicon, its software macOS platform, and its custom hardware engineering ranging from the battery to its internally developed storage and IO controllers.
Another factor is all the work Apple has done to rid itself of legacy. Back in 2008 when Apple first released its MacBook Air, there were complaints that it was using super expensive SSD storage with no cheaper option for mechanical hard drive and that it had no built in option for an optical disc and no provision for a wide variety of ports, nor the ability to open the case to install more RAM.
However, these "courageous" decisions allowed the company to pursue major leaps in speed and efficiency that couldn't be achieved while using older, cheaper and more conventional or modular methods. Today's new M1 powered Macs take Apple's refined experience in tight integration to a whole new level.
New Apple Silicon Macs adopting the breakneck advancement of iOS
Macs have sometimes languished as the most irregularly updated of Apple's offerings, with some models sitting for years between upgrades. As the company's most lucrative and popular models, MacBook Pros have been accorded more attention, getting updates on an annual basis like Apple's new macOS releases.
With all the pandemic's upheavals and all the economic uncertainty of 2020, you might imagine that this pace would slow down and take a breather this year. Instead, Apple has radically revolutionised the 13-inch MacBook Pro, alongside its svelte MacBook Air and its cheapest, entry level
Mac mini
, delivering a whole new class of machines.
These three new Macs are getting a fundamental upgrade on par with the major annual upgrade cycle of iPhone, iPad and
Apple Watch
. Mac upgrades haven't always attracted that same level of hyper excitement, largely because each year delivers more subtle refinements. A significant part of this is due to Apple historically relying on Intel for its silicon updates.
When I finally moved from my trusty old 2011 MacBook Air to get a new MacBook Pro capable of running
macOS Catalina
last year, the upgrade felt utilitarian. Everything was much better, from the screen to the storage to WiFi. But it certainly wasn't anything like upgrading from a 2011 iPhone 4 to 2019
iPhone 11
, or from iPad 2 to one of Apple's latest tablets.
On the software side, Apple has advanced the Mac experience tremendously over that same period. My old Mac initially shipped with Snow Leopard, which now looks absolutely ancient compared to the modern macOS Big Sur that Apple is shipping today. The thing that's really been holding back the Mac is the plodding innovation of Intel's x64 chips.
There hasn't been much Apple could do to about the Mac's central processor or its baseline integrated graphics, both delivered by Intel. The result has been modern software struggling to run on Intel silicon. Playing even basic new
Apple Arcade
games or navigating Maps in 3D Flyover kicks my relatively new Intel Mac's fans into overdrive.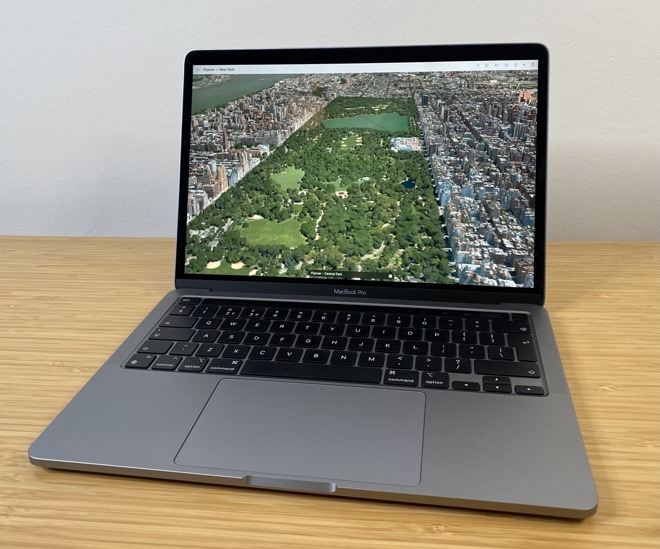 That's now changing in a very big way. Apple has taken everything it knows about building custom silicon for iPhone and iPad and is giving the Mac a major brain transplant with M1, its new "System on a Chip" (SoC) that packs multiple sets of CPU cores, Apple's own graphics architecture, its latest generation 16-core Neural Engine and specialised ML accelerators, along with a variety of other custom developed components handling security, camera imaging, media codecs, storage, and even in-house Thunderbolt and USB 4 support.
The results are astounding.
The Mighty M1
M1 is of course Apple's first SoC developed specifically for handling the full functionality of the Mac. It shares some generational similarities with the A14 powering this year's iPad Air and the new iPhone 12 family.
Both new chips take advantage of TSMC's latest 5nm manufacturing technology to pack incredibly shrunken-down logic components into an extremely dense package. All by itself, this results in a faster and more power efficient chip. Apple's close relationship with global chip fab leader TSMC has given it a huge leg up in catching up to Intel.
Even ignoring the architectural differences, Intel's own silicon process for fabricating its 8th Generation "Coffee Lake" Core i5 that shipped in the now discontinued base model 13-inch MacBook Pro introduced in May was 14nm. Even Intel's newer 10th Gen "Ice Lake" Core i5/I7 chips that Apple still offers at a significant premium is built at 10nm.
This represents chip fabrication technology years behind TSMC, which was building Apple's A11 Bionic at 10mn back in 2017 for
iPhone 8
. Of course, TSMC's technical edge in silicon manufacturing isn't the only reason why Apple is making huge strides in silicon.
Apple's own expertise in aggressively advancing the development of its increasingly sophisticated CPU cores is also a major factor. While critics try to demean Apple's work as little more than licensing ARM IP, that's not actually true. Apple's custom CPU cores have destroyed other ARM-based competition from Samsung and others who have either tried to design their own custom cores or use the generic reference designs drawn up by ARM itself.
Beyond CPU cores, Apple has also developed generations of its own unique performance controllers that manage how parallel cores function together. This is important in being able to ramp up processing speed and then just as rapidly shift to less powerful cores or idle unnecessary logic to save battery life.
Like A14, the new M1 uses two sets of CPU cores: high performance Firestorm and energy efficient Icestorm. The A14 supplies two faster and 4 slower cores while M1 uses four of each. That's twice the number of CPU cores as the Intel chip it previously used, but more importantly the 4x4 arrangement allows for new power optimisations that Apple has been perfecting for its mobile devices.
The result is an insane 20 hours of maximum functional battery life from the same MacBook Pro battery package, with the latent capacity to quickly crunch numbers faster than Intel and then idle back down in between for longevity.
Also like A14, the M1 uses Apple's custom graphics cores, but these new Macs get eight GPU cores rather than 4 GPU cores for iPhones and iPads. Apple is offering M1 MacBook Pro models with 8 GPU cores, but it only manufactures one M1 chip. Selling a seven-GPU core MacBook Air model most likely makes use of chips that can't pass a full eight-core quality test, enabling Apple to still use the part but pass through some cost savings to the user. Our MacBook Pro has the eight cores, and there's no way to manually turn one off to test the difference. It's probably safe to say that casual users wouldn't see any major difference in this regard.
While A14 reportedly uses 11.8 billion transistors, M1 has 16 billion, likely inflated by its extra CPU and GPU capacity. A14 is packaged with 4 or 6 GB of RAM on iPhones, but the M1 accommodates 8 or 16 GB of RAM on Macs. The way these are packaged together with the SoC increases efficiency, but also makes it impossible to upgrade RAM later. This is certainly a limitation, but it's not new to MacBooks. It is however a change for the Mac mini, which continues to be sold in an Intel version for users who need more RAM or expansion options.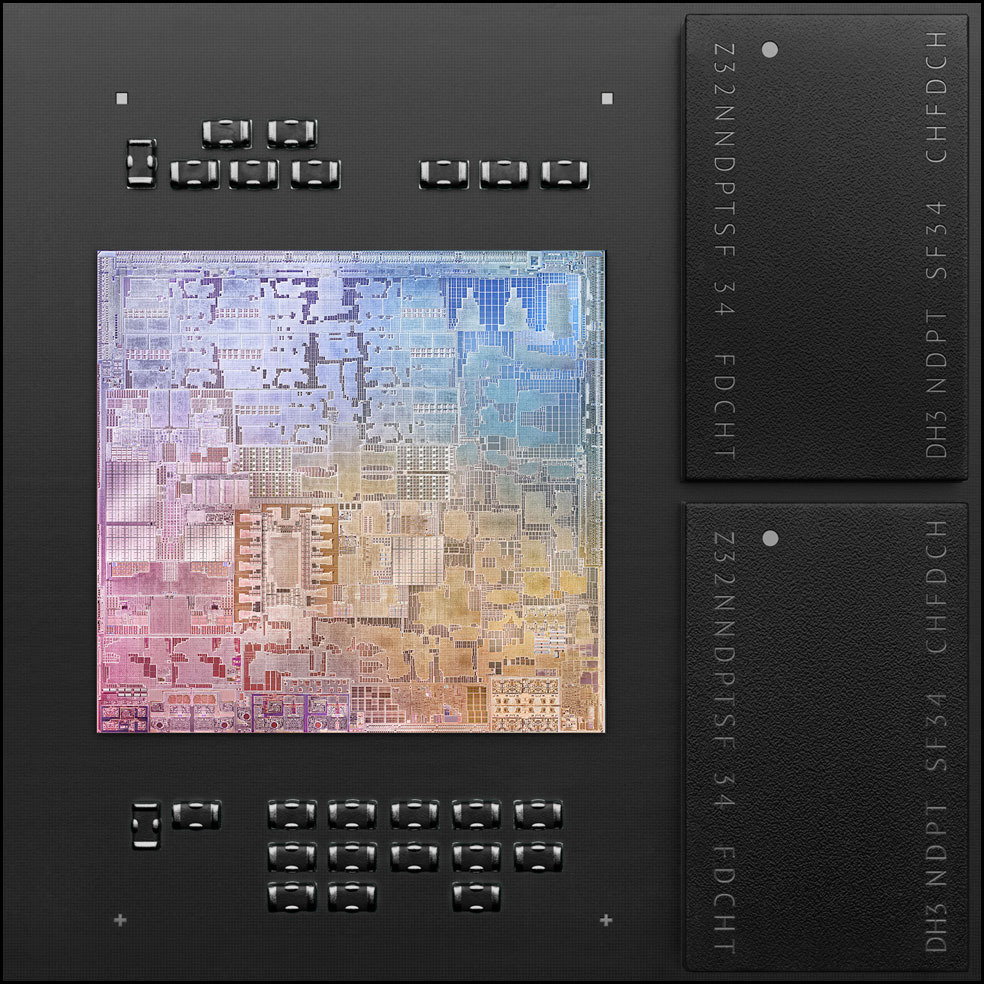 M1 packs its RAM right on the same package
In order to work with more than 16GB of RAM, it appears Apple will need to develop a new chip design. The limitation is likely one reason why M1 is only being supplied across the lower end of Apple's current Mac lineup. And at the same time, the intended design of the M1 is clearly targeting the lowest hanging fruit for Apple to power with its first generation Mac SoC.
A similar cause and effect loop exists in relation to Thunderbolt. Apple incorporated an internally-developed 40Gb/s Thunderbolt controller with support for the new USB 4 specification, supplied on two USB-C ports. These support a single external display, either via DisplayPort over Thunderbolt 3 using USB C, or VGA, HDMI, and Thunderbolt 2 displays with an adapter. The new M1 machines do not support eGPU external GPUs over Thunderbolt.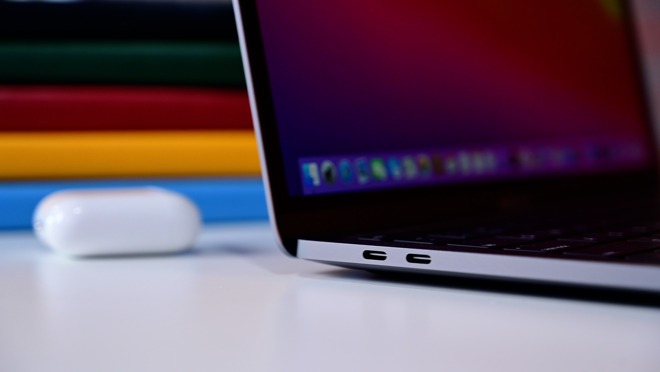 USB Type-C ports on 13-inch MacBook Pro
Most mobile users can get by with a couple Thunderbolt USB-C ports -- as with the existing design of the base model Intel 13 inch MacBook Pro -- particularly with the array of Thunderbolt docks that are now available. We'd prefer to have a ports on the left and right of the machine though, particularly as it makes plugging into power a bit more flexible and convenient.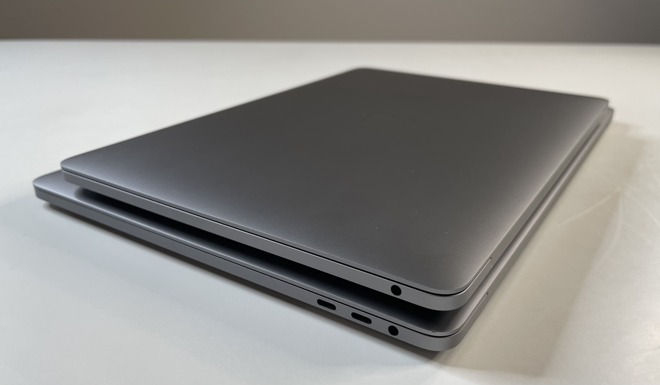 The M1 MacBook Pro only has two Thunderbolt 3 ports, positioned only on one side, opposite the headphone jack
Adding additional Thunderbolt connectivity and ports -- such as are available on the Intel version of the four-port 13 inch MacBook Pro -- will also require a new M chip design that adds additional serial controller logic. The silicon budget of M1 involves a variety of engineering tradeoffs that closely optimise the chip with its intended purpose. The decisions Apple made both limit what it can do but also maximise how efficiently it can run.
One benefit of initially creating just one M1 chip design and then using it across these three different, popular Mac models is to create economies of scale in volume production of a single chip.
Apple's first A4 chip in 2010 similarly resulted in one chip the company could use in the original iPad, then in iPhone 4, and also in an updated
Apple TV
. Rather than designing three different chips and having the extra expense of designing and fabricating each one, Apple could mass produce a single part more efficiently, then use the best components in more expensive devices and recycle slightly defective chips in the production of Apple TV, which lacked the same requirements.
A4 even included some camera logic for iPhone 4 that wasn't used in the original iPad or Apple TV. This flexibility makes it feasible to create a more sophisticated chip than if multiple custom parts were designed in parallel at higher costs.
Unified Memory Architecture
On PCs, "integrated graphics" has historically meant basic graphics performance when compared to "discrete graphics," where the GPU is delivered on a separate chip from the CPU. Apple's higher end machines, for example, have paired Intel's CPU with a more performant GPU from AMD.
On its mobile devices, however, Apple took an integrated design that paired the best mobile CPU with the leading mobile GPU architecture. This Apple GPU is based on a unique lineage that uses
Tile-Based Deferred Rendering
, an approach that only efficiently renders elements that will be visible on screen.
This architecture also pairs the CPU and GPU with the same memory architecture, avoiding a lot of costly graphics-related copying operations. By working smarter rather than harder, Apple's Unified Memory Architecture redefines the concept of integrated graphics and delivers high performance rendering with exceptional efficiency in both memory use and battery use.
Among other things, this allows the M1 MacBook Pro to perform a lot better than you might expect with just 8GB or 16GB of RAM -- an advantage Apple has long held in its iOS devices. The M1-based MacBook Pro can even comfortably drive Apple's Pro Display XDR 6K display with just 8GB of RAM, without needing extra video-only memory.
T2 features on the M1: Storage Controller and ISP
The T2 chip Apple has been using in recent Intel Macs had already brought some silicon features from its iOS platforms to the Mac. M1 continues this but more tightly integrates all of this functionality right on the same chip as its CPU and GPU. The new M1 architecture Macs provide the latest version of Apple's Secure Enclave, working around the vulnerabilities in earlier T2.
M1 also includes the latest version of Apple's custom high-performance storage controller for managing SSD storage. It also handles cryptography acceleration for line-rate storage encryption to safeguard access to your files if your machine is stolen.
Keep in mind that like the Intel product it replaces, this MacBook Pro has no provision for expanding SSD storage. That means you need to buy as much storage as you need when you order the machine. Both iCloud and other forms of external storage, from local network attached storage to USB and Thunderbolt disks can take the pressure off needing to buy large -- and very expensive -- SSD for many users.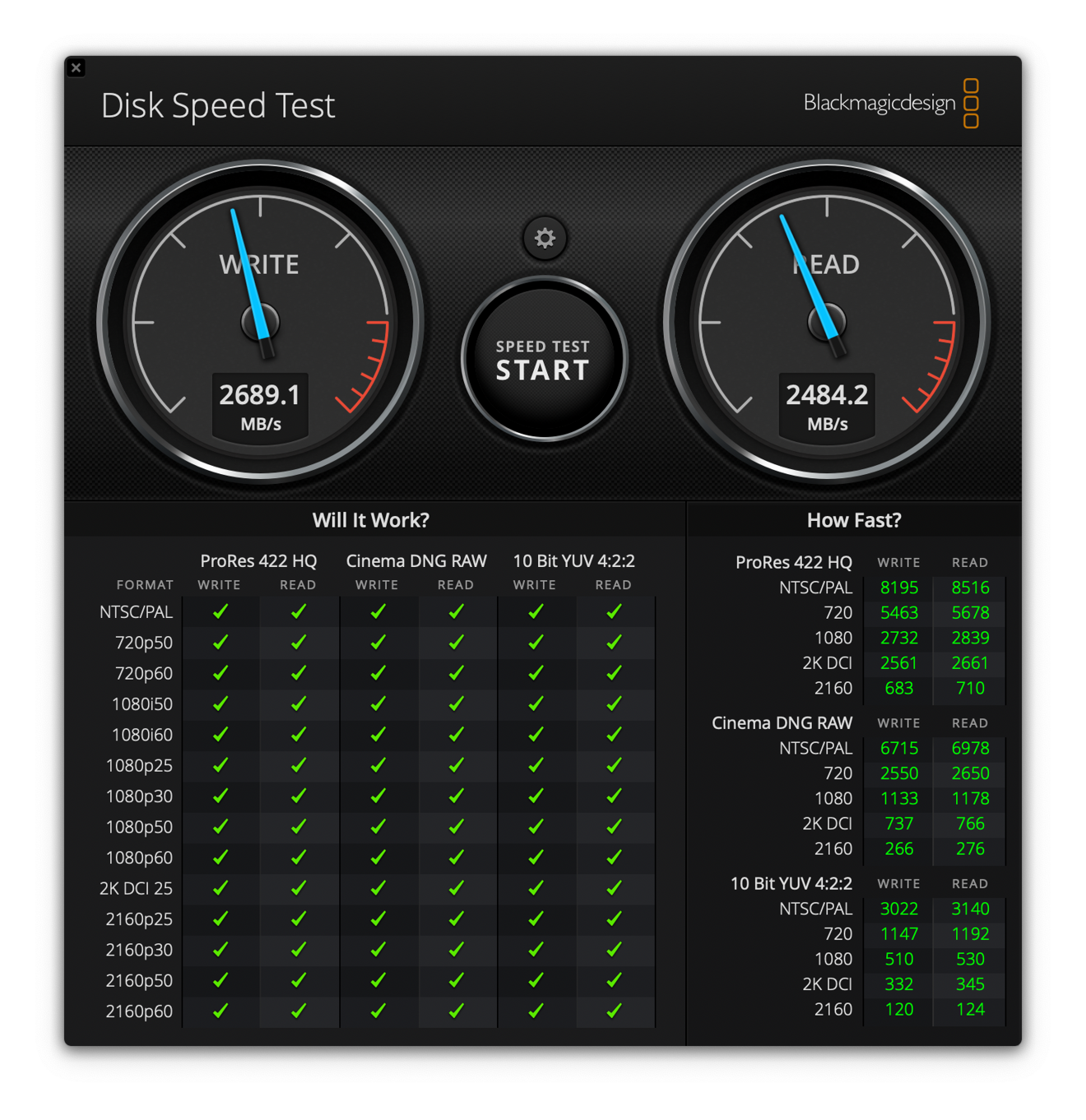 M1 also incorporates Apple's latest Image Signal Processor technology for delivering better images from the FaceTime camera. Quite remarkably, this advanced MacBook Pro still uses a 720p camera, which has now been unchanged for about a decade of Apple's notebooks. The new ISP helps to get noticeably better images and video from this sensor, which most users are primarily going to be using for basic Zoom and FaceTime calls, but it really seems like the MacBook needs a better camera sensor.
Camera on Apple Silicon M1 MacBook Air and MacBook Pro
Apple says that while the resolution remains 720p, the new ISP found in the M1 bumps up the quality drastically. Apple's statement is fine and good, but the FaceTime camera is still the weak spot in the entire package.
When we did a side-by-side test our biggest takeaway was that it was still a 720p image, served up in an area smaller than the size of an index card -- but it is a better 720p image than it was. In normal lighting, the M1 ISP had much better balance in the shot. The background was more exposed and our face wasn't blown out as much as it was on the Intel Mac. The old camera had some bad highlights on our face and the background was very dark.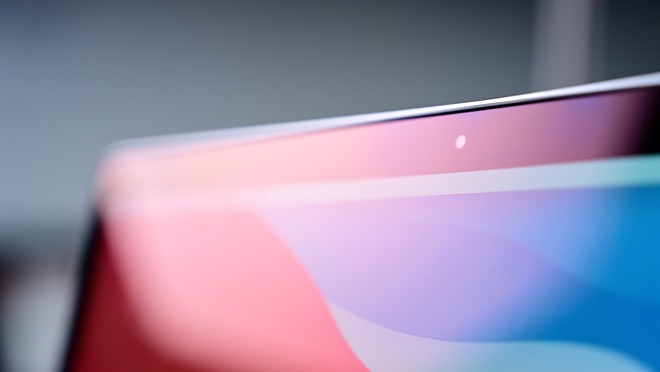 The camera is still 720p, but it looks better
When we turned off those lights and moved to a more "low-light" scenario, we again saw the power of the M1 ISP. Both cameras had noticeable noise, but the M1 easily bested its predecessor in smoothing the noise out and creating a more appealing picture. It doesn't make us forget the camera is 720p and we won't stop hoping Apple is eventually going to give us something better in the portable Mac, but it at least is some recognition that the integrated cameras were lacking.
The MacBook Pro's aging front camera is partly made up for by macOS' Continuity camera feature, which lets users wirelessly access the much better camera in their iPhone or iPad to insert snapshots or scan documents in a file or message.
It appears Apple was focused on bringing its new M1 Macs to market without making lots of other changes to the hardware itself. The keyboard, trackpad, Touch Bar, Touch ID, external port configuration, and display all appear to be unchanged, with all attention focused on the improvements related to its new internal architecture.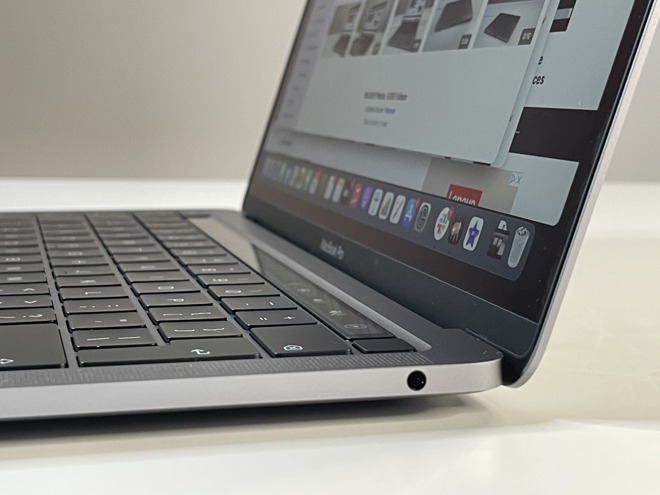 The new Mac Book Pro does get enhanced support for USB 4 and for the Wi-Fi 6 (802.11ax) wireless networking specification up to 1.2 Gbps. It doesn't share the same Wi-Fi antennas as the higher end MacBook Pros however, so despite its enhanced protocol support, it can't support the faster data transmit rates available on recent Intel MacBook Pros.
And while it can now support up to a 6K display, it only supports one external display of any kind. Earlier 13 inch MacBook Pros could handle two external 4K displays, or a single 5K display.
Apple does call attention to new "studio-quality mics," its depiction of a new configuration of new three microphones for recording audio with significantly less background hiss. If you really expect to do any serious recording however, you will probably want to invest in a wireless or minijack microphone.
For users in a pinch or casual uses such as FaceTime calls, the built in microphone enhancements should help deliver cleaner audio.
Like the last year's worth of MacBook Pros, the new M1 model offers impressively wide stereo sound and support for Dolby Atmos playback for immersive audio in movies and other video that supports the format.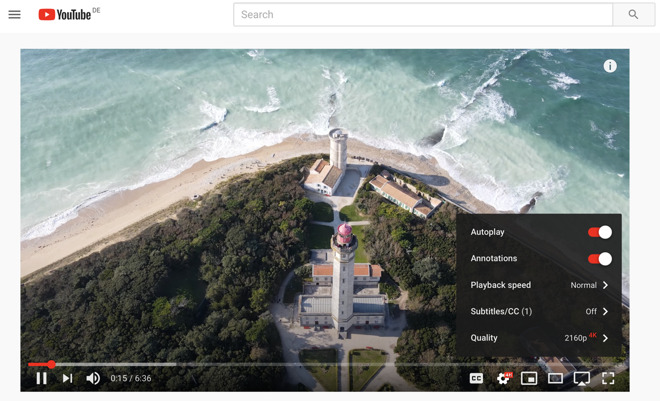 M1 also takes over media encoding features of the T2, incorporating support for hardware accelerated playback with high efficiency. In addition to supporting its preferred formats including H.265 HEVC, Apple is also supporting Google codecs including VP9, enabling 4K playback from YouTube.
Importantly for users who are stuck inside during the raging pandemic, the efficient M1 codecs not only support twice the video playback time, but also double the time users can spend using FaceTime and other conferencing solutions including Webex.
New Mac features for M1 Macs
The new macOS 11 Big Sur takes full advantage of the M1 architecture to deliver a not only performance, but a functional and aesthetic update to the Mac that feels modern and spry on the new MacBook Pro. The updated new interface looks like it came from the company developing iOS and iPad, rather than clinging to the classic look of the historic Mac desktop.
Because Apple now manages hardware and software right down to the silicon, it can greatly optimise the performance of the interface and subtle animations that make it feel responsive and snappy. Apple is also extending its integration up into the cloud, with services ranging from its newly expanding Apple TV app to its internal Apple Maps and the new translation service that makes it easy to browse foreign language websites.
iOS apps for M1 Macs
Across the last several years, Apple has been preparing the way for iOS developers to bring their work to Mac users. In addition to the abstracted, efficient graphics portability delivered by Metal 2, Apple has delivered frameworks like Swift UI to help make it easier to adapt to the Mac's unique user interface conventions, as well as Catalyst to support iOS apps in macOS.
While Catalyst updated the macOS software platform to run the code developed for iOS apps, M1 upgrades the Mac hardware to run that code natively on the same class of processor. That means even less work for iOS developers who would like to bring their tools, games and utilities to the Mac App Store.
This isn't a solution for every iOS app. Many make special use of features unique to iPhones or iPads that really only make sense on a small mobile device, such as GPS or gyroscopes and barometers.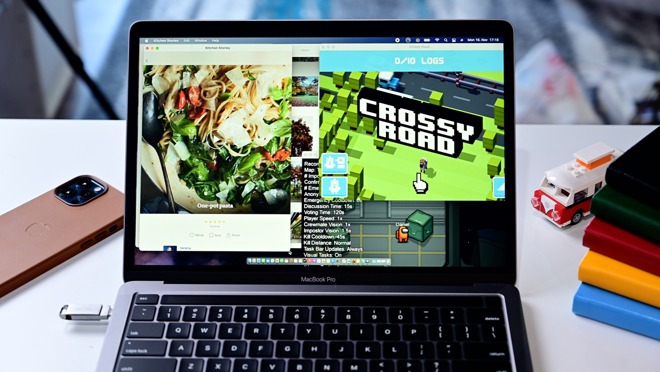 Running iOS apps on the 13-inch MacBook Pro
However, there are tremendous numbers of titles that would be very useful to bring to the Mac. Currently, many cross platform utilities have resorted to the web or web-like solutions such as Electron to develop a Mac version. Being able to bring iOS apps directly to the Mac will deliver better apps that look and feel more like real Mac apps because they are now native apps.
Developers with iOS apps can decide which titles make sense to offer to Mac users, and straightforwardly deploy them to the Mac App Store. Titles already available range from things like games to education content, banking and shopping services, health, and creative apps.
Running iPad apps on the large Mac screen might sound like a stretch, but many popular Mac apps are already designed and intended to run in a window or full screen with a similar interface.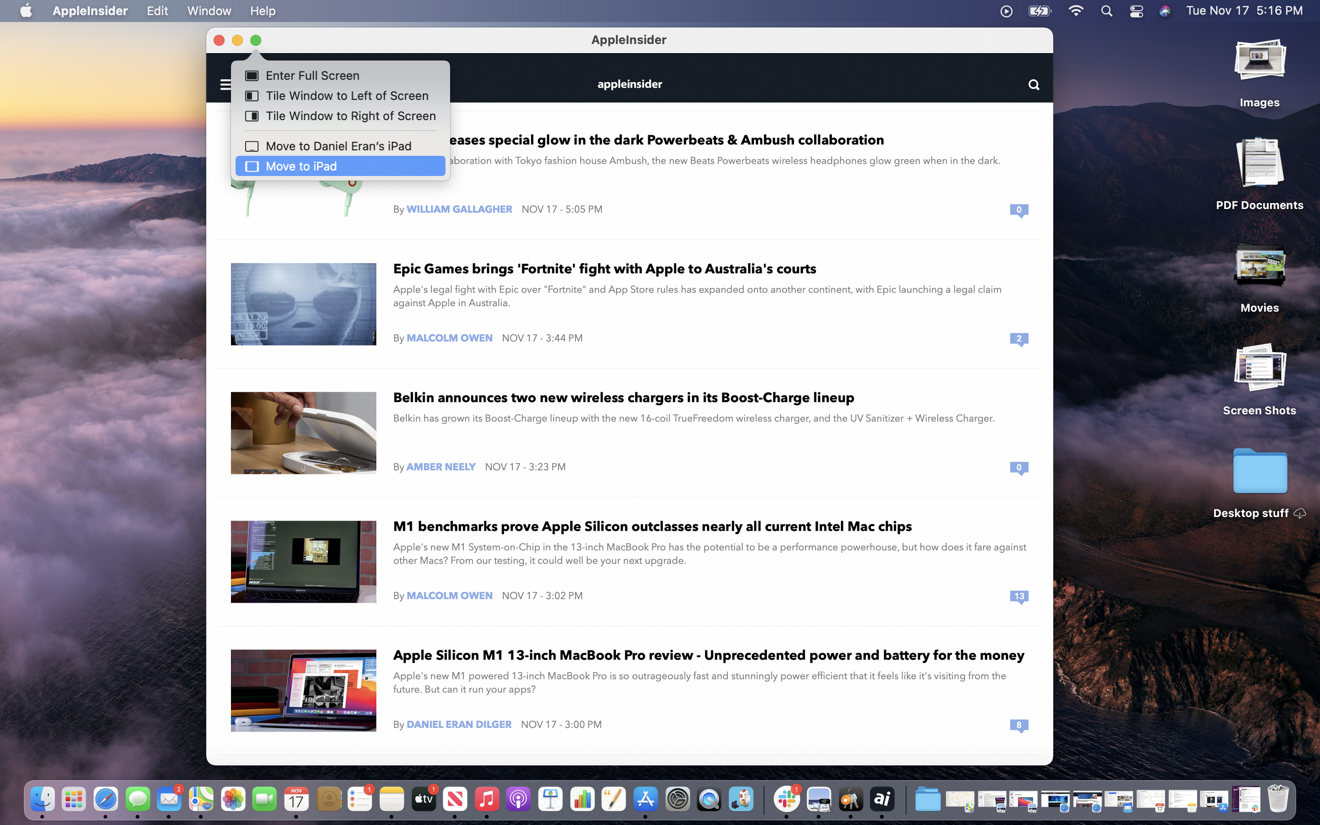 Running iPad apps on M1 Macs automatically provides the standard window controls. iPhone apps remain in a fixed, floating window
Adapting existing iPad apps to the world of the Mac's precise pointer is preferable and much easier than rewriting them using web tools and requires much less specific platform expertise than starting from scratch as a new Mac app.
Some kinks still exist, but developers have already been thinking about how to adapt their apps in ways that make sense for Mac users since the release of Catalyst. There are however, likely to be some rough edges as hundreds of thousands of iOS apps become newly available in the Mac App Store.
Expect developers to take some time to adapt their games to the Mac, as we've seen with Apple Arcade. This experience, along with recent support for cross platform game controllers on both iOS and the Mac, should help ease this process.
One area where iOS developers can really hit the ground running with M1 Macs involves their experience with the Neural Engine, ML acceleration blocks and other features unique to Apple's A-series mobile chips. The M1 now brings that hardware to the Mac, enabling developers to reach new audiences with work invested in fully exploiting Apple hardware features.
For example, Algoriddim's djay DJ App & AI Mixer app makes special use of Apple's Core ML to deconstruct and mix music in real-time via the firm's Neural Mix. Users can isolate beat loops, vocals, or instrumentals to mix components of different songs together during a live performance.
Windows on an M1 Mac?
One feature of Intel Macs that goes away with M1 is support for Boot Camp to run Windows natively on the hardware. Microsoft has already done the work to port its Windows platform to ARM hardware, but it currently only licenses this to hardware makers. It's up to Microsoft to decide whether it wants to sell its software to M1 Mac users individually. It might not do this initially because M1 MacBooks are direct competition to its hopes for "always on PCs" running its Windows on ARM.
Both Parallels and VMWare have announced that they are
working on virtualisation solutions
for Apple Silicon Macs, but no timelines are yet being shared on when those tools might be offered.
The pressure to run Windows titles is decreasing as more users get what they need from iOS and as more developers bring their full set of software tools to the Mac. However, if running Windows apps is an important feature for you, you'll have to stick with an Intel Mac for the time being.
To M1 or not to M1
If you love the latest and greatest tools, are a mobile Mac professional or student, and are already invested in the iPad and iPhone ecosystem, the M1 MacBook Pro was built for you. Apple's new M1 architecture effectively erases all sorts of legacy attached to previous decades of PCs and brings the Mac up to date with Apple's iOS and SoCs. Everything feels as unhesitatingly fast as an iPad, from waking from sleep to scrolling through thousands of Photos to zooming Maps from outer space right down to a street-view Look Around.
Yet the new MacBook Pro is still a Mac, with full support Mac-specific workflows from Xcode to Final Cut Pro. Existing Intel apps should run without intervention, and the new Apple Silicon opens up fresh capabilities with its Neural Engine and Machine Learning--features already being exploited by developers from Algoriddim in audio to Pixelmator Pro in photography. M1 also cracks open a vast world of iOS apps, games, and tools to augment the existing platform of Mac apps. Its incredible power efficiency also stretches the limits of work-anywhere mobility. And it simply feels like the future.
For users with less demanding and more casual computing needs, you might instead consider the slightly lighter and thinner M1 MacBook Air, which delivers most of the same M1 advantages but without the full throttle performance afforded by the MacBook Pro's active cooling system. It's also less expensive, although its lighter thinner case also carries less battery capacity, which gives is a bit less mobility than this MacBook Pro -- and only a bit, as it still delivers an incredible 15-18 hours of use.
If you have solid needs for virtualizing Windows or Linux, for running BootCamp, or are still using an older version of macOS and have some need for legacy 32-bit Mac apps or want to run old games from the dawn of time, you should be clear that this is not the Mac for you. Apple has been working with developers to update their apps into the modern era, but some tools are still not ready for the M1, including support for virtualization.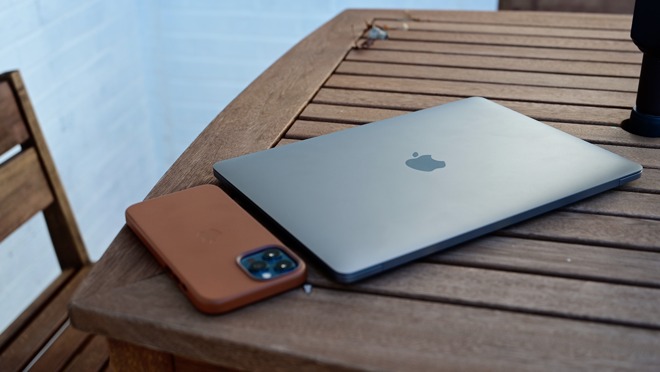 A great portable machine
As the first Apple Silicon SoC for Macs, the new M1 stakes a solid foothold on the Mac platform but does carry some hardware limitations. All of the M1 machines are limited to 8 or 16GB RAM, and while they seem to make much more efficient use of memory than standard Macs, pros with specific needs for lots of RAM and storage will likely be better suited sticking with one of Apple's other MacBook Pros using Intel chips and offering more Thunderbolt 3 expansion, including support for eGPU options and multiple external displays.
For users new to Macs -- including the roughly 90% of iPhone and iPad users who've never used a Macintosh -- the new M1 MacBook Pro offers a clean entry into the fresh world of macOS 11 Big Sur, while enabling users to download a growing Mac App Store library of the iOS and iPadOS apps they already use. iPad users in particular will find the new M1 Macs feel like a full desktop computing environment from the same company that designed their tablet.
From Sidecar and Sketch to Continuity features for sharing documents and seamlessly sliding activities from tablet to notebook and back, the new M1 MacBook Pro offers a modern take on formal desktop computing -- including app development in Apple's Xcode -- that should be a familiar leap in sophistication for a generation that grew up with iPads and iPhones.
Pros
Blistering performance


Battery life


Cool and quiet
Cons
Limited I/O


Reduced external monitor support


Presently limited virtualization coupled with...


No X86 native code execution
Rating: 4.5 out of 5
Apple's first M1 Apple Silicon Macs are remarkable in just how incredibly fast they are, how long their batteries last, and in how well macOS Big Sur is suited to them. If you don't need extra RAM or storage options, and if you don't need to run virtual Windows PC apps, they are ideal.
M1 MacBook Pro deals
Apple's Late 2020 13-inch MacBook Pro with the new M1 chip is already discounted, with exclusive promo code savings available only at
AppleInsider
. Coupon details and discounts are at your fingertips 24/7 in the
AI
13-inch MacBook Pro Price Guide
, with prices and deals updated throughout the day.
It's worth checking the price comparison guide before you buy as many exclusive offers can save you a substantial amount of money on your Mac purchase, with bonus savings on AppleCare as well.