MagSafe Duo Charger limited to 11W with 20W adapter
Although the single
MagSafe
Charger can provide wireless charging up to 15 watts, Apple now says that the MagSafe Duo cannot reach that rate, and is instead limited to either 11W or at most 14W, depending on the power adapter used.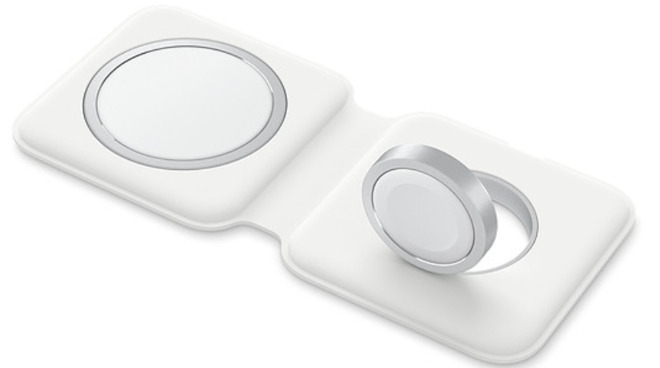 Apple's forthcoming MagSafe Duo Charger
Although the
previously-announced
MagSafe Duo Charger
is listed
on the Apple Store site, it remains shown only as coming soon. However, Apple has now updated the product information on the store's listing, and revealed that the device will charge at less than the regular MagSafe Charger.
Specifically, if users have or separately buy a 20W USB-C power adapter, they will only get up to 11W of charging on compatible devices. The iPhone 12, iPhone 12 Pro, and iPhone 12 Pro Max can in theory be wirelessly charged up to 15W. The iPhone 12 mini is limited to a
maximum of 12W
.
If a user instead buys a 27W USB-C power adapter, they still won't get the full 15W. Instead, the charger will provide a maximum of 14W.
The MagSafe Duo Charger is to retail for $129, and in comparison the regular MagSafe Charger is $39. Apple says that this single MagSafe Charger can provide up to 15W.
Apple recommends a 20W power adapter --
with good reason
-- and does sell one separately for $19. It does not sell a 27W adapter, but it has a 30W USB-C one for $49. Apple says that can be used with "select iPhone and iPad models to take advantage of the fast-charging feature."