Artellia Monno review: a simple, solid wireless charger for multiple devices
The Artellia Monno is a wireless
iPhone
or AirPods charging solution aimed at simplifying a desk setup, with the ability to power to up to five devices at once.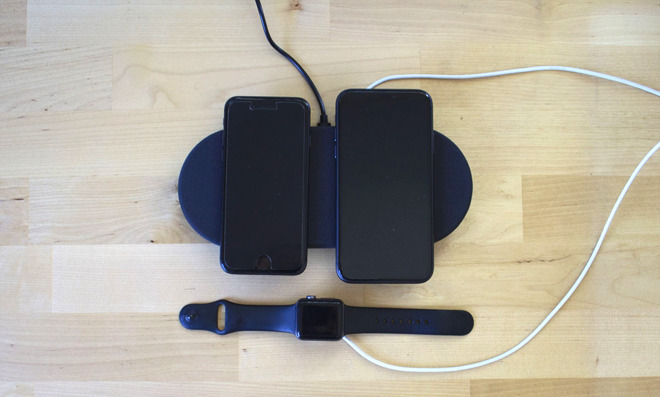 Credit: Mike Peterson, AppleInsider
There are other multi-device charging solutions on the market that can provide power to multiple devices at once, but the Monno has a few design considerations and details that help stand out in a crowded market.
Simple design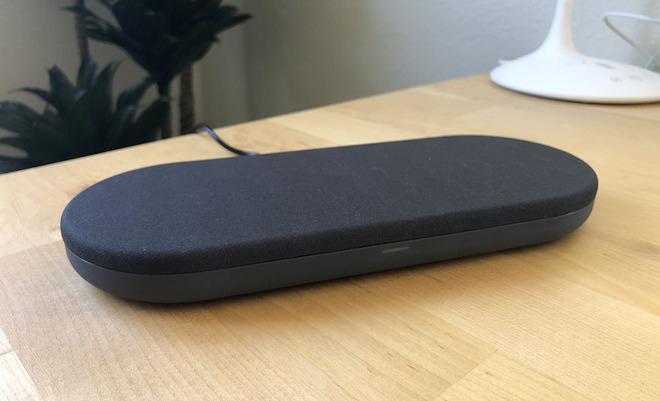 The Monno features a simple, no-frills design.
The Artellia Monno features a simple, no-frills design. It's a pill-shaped charger with a soft and stretchy fabric -- described as non-slip -- covering its charging surface.
While the fabric provides protection to devices on the top, there are rubber pads on the Monno's bottom side that should keep it from sliding around on slick surfaces.
The materials appear sturdy enough for its intended purpose. It's lighter than you would expect, but still manages to feel solid in the hand.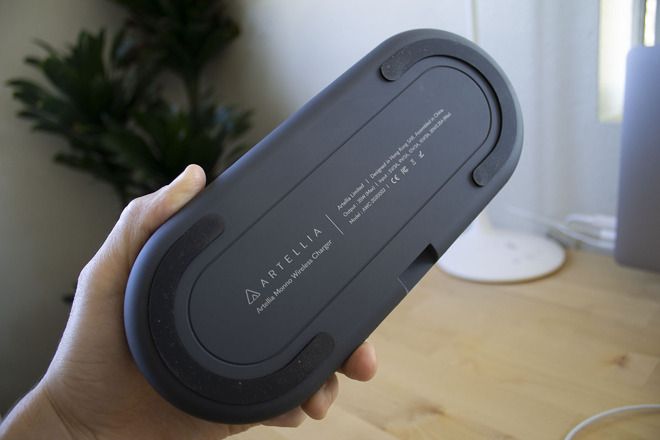 The rear of the Monno features rubber pads to keep it from sliding around on a surface.
On the interior, the Monno delivers wattage wirelessly through a total of seven overlapping coils. That means you'll be able to pop a device almost anywhere on its surface and get a charge.
There's a small indicator light on the front that's enabled when charging is taking place. It "breathes" similarly to the old sleep lights on the MacBook models of yesteryear. It's a small, but nice, detail.
As far as ports, there are two USB-A ports on the rear for power output to other devices like an
Apple Watch
charger, and a single
USB-C
port for power input.
Charging capabilities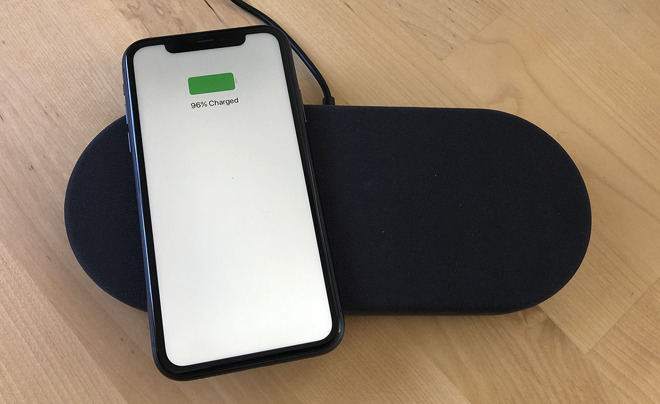 With 7.5W of wireless charging, the Monno charged an iPhone 11 in about three hours.
The Artellia Monno can provide wireless charging to up to three devices, including iPhone models and
AirPods
charging cases that support the Qi standard.
Of course, since the Apple Watch uses proprietary charging technology, you won't be able to pop one of the top surface of the Monno. There are, however, two USB-A ports on the rear of the pad that you can plug the Apple Watch charging puck into.
Rated at 35 watts, the Monno can deliver up to 7.5W of power to an iPhone and up to 10W to Android devices.
Artellia advertises the Monno as being able to support up to five devices at once. To be clear, it can charge three devices wirelessly with an additional two via the USB-A ports on the rear.
In our testing, the Monno stuck to its 7.5W promise pretty reliably. With about 30 minutes of charging, an iPhone 8 gained another 20% of battery. Your own mileage may vary.
Additional details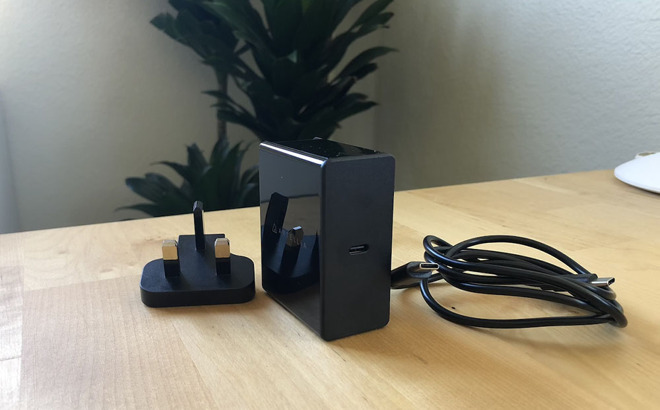 The Monno comes with a USB-C to USB-C cable, a 45W power adapter, and a UK-style wall plug.
The Monno features two cooling fans on the interior to manage heat. In our first test, they turned on almost immediately after we placed an iPhone down. They're not the quietest fans, but they're not overly obnoxious either.
In the box, there's a 45W wall adapter and a USB-C to USB-C cable. Artellia also included a UK-style electrical plug, but it isn't clear if all models will, too.
A good solution for multi-device setups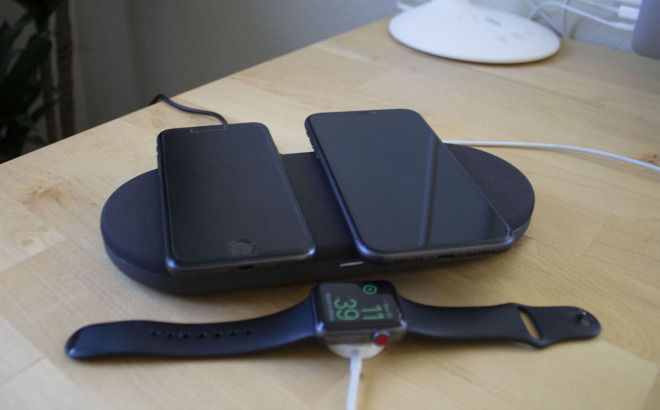 In addition to Qi-equipped smartphones, you can also charge an AirPods case on the Monno (not pictured).
If you'd like to simplify your charging hardware with a single device, the Artellia Monno is a good option.
For those solidly in the Apple ecosystem, the Monno isn't a perfect solution for an all-in-one charging mat like AirPower was supposed to be. You won't be able to charge your Apple Watch on the charging surface, for example.
However, it's still a solid wireless charging solution for Apple users. The design is sleek, it delivers on its promises, and it gives users options when it comes to charging.
Pros
Multiple charging coils make phone placement a breeze


Two USB-A ports allow for non-Qi charging


Good build quality and simple design


Fabric cover keeps phones from slipping, provides a soft surface for devices


Charging speeds were good, though 7.5W isn't the fastest


Cons
No built-in Apple Watch charging


Fans can be a bit loud in a quiet environment


Larger size may not work in all setups


More expensive than other wireless charging solutions on the market


Rating: 4.5 out of 5
How to buy an Artellia Monno
The Artellia Monno is currently being
crowdfunded on Kickstarter
. Users can grab one for a pledge of $79 -- a "super early bird" price.
When it launches, the Monno will be available for $129. It's available in White and Black.
As a reminder, this is launching as a Kickstarter which isn't the same as a full-fledged preorder. There isn't a guarantee that your pledge reward will be delivered. That said, we were able to test the product ourselves which ensures a degree of viability and that the production process is far enough along to give you the best chance of receiving your charger.