Tim Cook: 2020 was 'Apple's top year of innovation ever'
Apple CEO
Tim Cook
sat down for an interview with a student from the Beijing University of Posts and Telecommunications and covered topics from iPhone to innovation.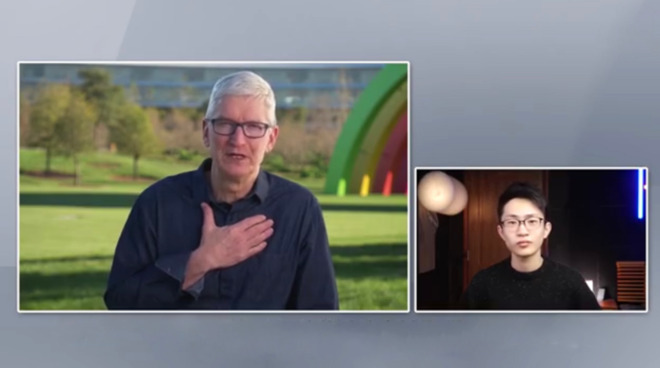 Apple CEO Tim Cook interviewed by Chinese college senior He Shijie
Tim Cook makes
public appearances
on a regular basis to cover Apple's usual talking points and on Friday morning he talked with a 22-year-old Chinese college senior. The
interview
covered Tim Cook's morning routine, his visits to China, and how technology affects our lives.
Interviewer and university student He Shijie started by asking Cook how he and the team at Apple deal with the stress of coming up with new products every year.
"There's no one formula for innovation," Cook said. "What we do is we have a culture of creativity and a culture of collaboration. These two things together, when they intersect, create enormous innovation." He said that diversity and inclusion foster an environment for innovation, that diverse people feed off of each other.
Shijie commented on the
iPhone 12
and congratulated Cook on the new devices and features. Cook responded by commenting on the innovations Apple released throughout 2020.
"We're having an incredible time with it (iPhone 12)," Cook continued. "I really believe that 2020 was our top year of innovation ever," "between the phones and the Watch and the iPad, and M1."
Shijie said the
M1
processor in his
MacBook Air
has long-lasting battery life, "it just lasts forever." He said Final Cut performs much better on the MacBook Air than on his older
16-inch MacBook Pro
.
The conversation turned to technology and how it has been implemented to improve lives. Cook discussed some of the innovations that were inspired by China, like alternate keyboard options, night mode photography, and QR code scanning. Cook said that it is important for everyone to learn how to use their device because "everything is on the phone."
Tim Cook said he loves visiting China and meeting developers. "The largest reward we get for our work is seeing what other people do with it," he commented, inviting Shijie to discuss his work process.
Shijie said that the Notes app is one of his most used apps. That having one place to jot down thoughts and having it sync between his
iPad
and
iPhone
via
iCloud
is an amazing tool.
The conversation then turned to Cook discussing his involvement on the SEM Board, educating people on coding, and Everyone Can Code. He says that coding and creativity are important skills for the future.
The interview concluded with a short conversation about
Steve Jobs
and advice for graduates seeking employment. Cook cited a quote from Jobs in answering the question, saying "you'll know it when you find it. And if you haven't found it yet, you should keep looking."