AMD debuts $479 Radeon RX 6700 XT aimed at 1440p workflows
As expected, AMD has announced the Radeon RX 6700 XT, a more affordable $479 GPU that could eventually be used in the
Mac Pro
or Thunderbolt eGPU solutions.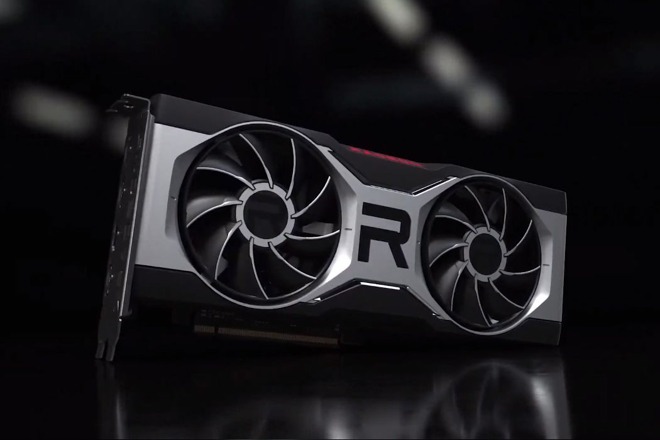 Credit: AMD
The
graphics card
sports 12GB of VRAM and 40 compute units, and is aimed at providing maximum settings for 1440p PC gaming experiences. AMD says it can provide "up to 2X higher performance in select titles" than the current base of older generation graphics cards.
AMD says users will be able to fit 212 frames-per-second on "Overwatch," 272 fps in "League of Legends," and 360 fps in "Rainbow Six Siege." At 1440p, the company says the RX 6700 XT should be fast enough to support ray tracing. It will require 8-pin and 6-pin power connectors, which the Mac Pro can have, and most eGPU enclosures have.
The RX 6700 XT features the same two-fan design as the RX 6800 and RX 6800 XT. It'll also be available from third-party providers, likely in three-fan setups.
Overall, it's a mid-range entry to the AMD RNDA 2 graphics card lineup. It competes with NVIDIA cards like the RTX 3060 Ti and RTX 3070, which are priced between $400 and $500, respectively. AMD's own specifications suggest that it pulls ahead of both of those cards in some games.
The Radeon RX 6700 XT will launch on March 18 from AMD's board partners, 40 different system builders, and the company's own website. Prebuilt systems, like the HP Omen 25L and 30L, will launch later in the spring.
Given that Nvidia cards are
no longer supported
, it's likely that the card could be a future upgrade option for the Mac Pro or Mac users with
Thunderbolt 3
eGPUs. Drivers for the RX 6000-series don't yet exist in macOS, but given historical support trends, they are expected to arrive shortly.