Compared: Apple AirTag vs Tile Pro and Chipolo One Spot
Apple's launch of
AirTag
puts it into a growing market of tracking accessories, but how does it compare against the Tile Pro and the Find My-enabled Chipolo One Spot? We compare the trackers.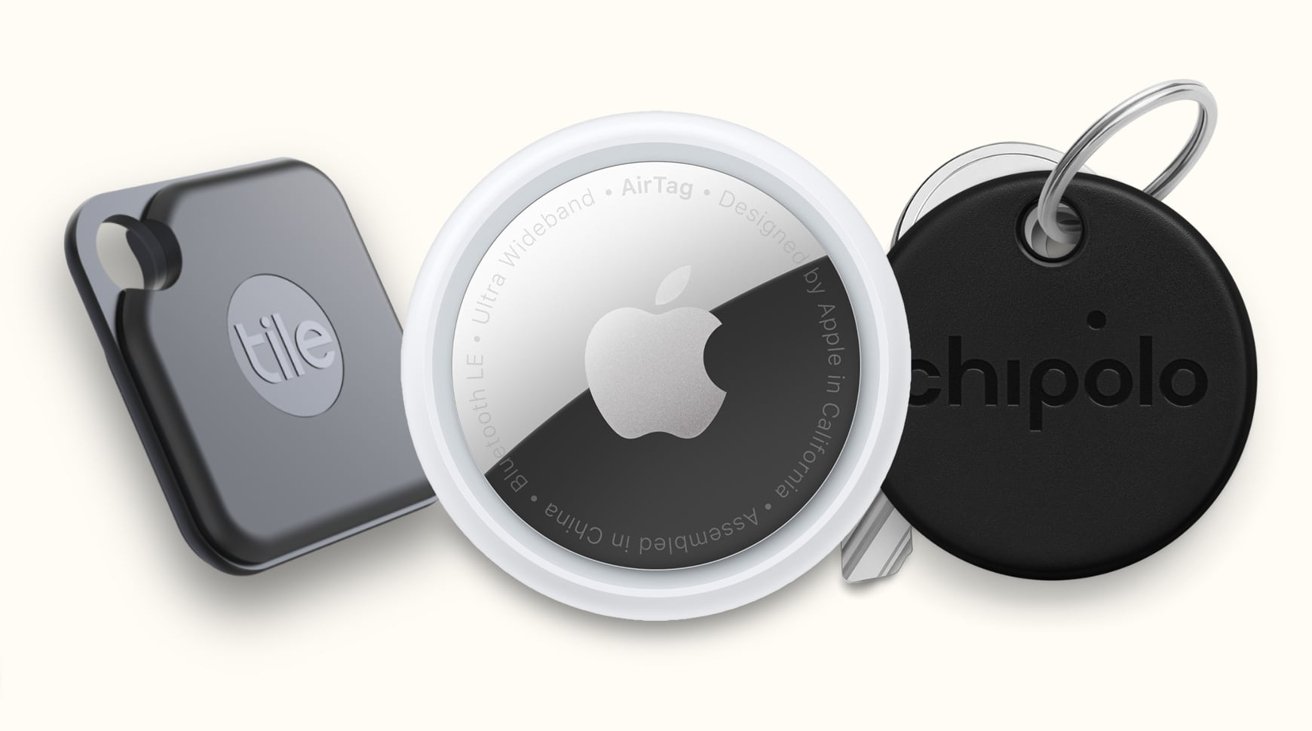 The AirTag is a long-awaited tracking chip that garnered quite a lot of attention, both before and after the "
Spring Loaded
" event. Leveraging Apple's existing
Find My
app to allow customers to recover practically any physical item it can be attached to is a big deal to its customers.
However, Apple arrives in a market that is already well serviced by several companies, and while it will most probably fare well, it still has to take on its main rivals in the market.
Arguably its biggest competitor is Tile, a company that has been around for quite a few years and has multiple tracking devices on the market. While it is best known for its clip-on accessories, it has also attacked Apple with numerous
antitrust complaints
over the years.
Given Tile
issued a statement
citing Apple's "history of using platform advantage to unfairly limit competition" hours after AirTag was officially launched, and that Tile also testified against Apple at the Senate one day later, it's safe to say there's no love lost between the two companies.
As Tile has many products already on the market, for the purposes of this comparison, we will be dealing with the
Tile Pro
.
While Tile is the main target for Apple, it's not the only one on the market that Apple has to be concerned about.
Find My network arrives and Chipolo
On April 7, Apple officially launched its
Find My network
accessory program, which allows for third-party companies to take advantage of Apple's Find My network to provide similar device-tracking capabilities. This enabled established tracking-centric companies, accessory producers who didn't typically specialize in tracking, and other newcomers to use Apple's platform to track their devices.
By using Apple's platform, third parties didn't have to build out their own system for item tracking, significantly simplifying the development process by using an already-available and proven technology. It even eliminated the need to develop an app, with users able to take advantage of the existing Find My app they already use to track down other Apple devices.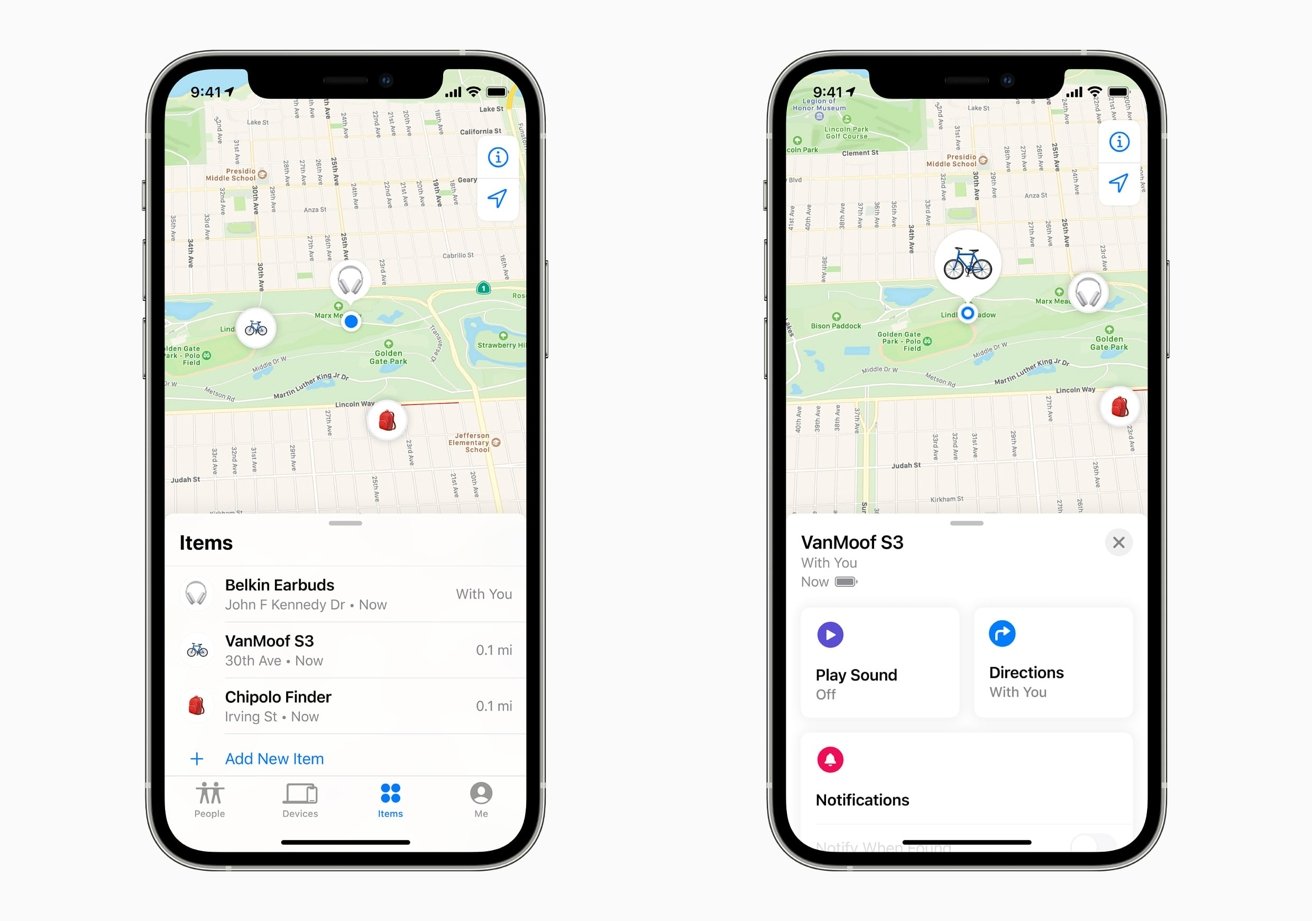 You can now use the Find My app in your iPhone to track down lost third-party devices with Find My network support.
The initial list of vendors adding Find My support included e-bike producer VanMoof and Belkin, with the latter using it to track down wireless earbuds. Chipolo was the first third-party vendor to come up with a pure tracking chip that works on the Find My network, which also makes them an ideal third candidate for this comparison.
In this case, we are going to look at the
Chipolo One Spot
, a product that works exclusively with the Find My network.
Specifications
Apple AirTag
Tile Pro
Chipolo One Spot
Battery Life
1 Year+
1 year
1 year
Item Discovery
Find My, Lost Mode
Tile App, Community Find
Find My, Lost Mode
Connectivity
Bluetooth LE, Ultra-Wideband, NFC
Bluetooth LE
Bluetooth LE
Water Resistance
1 Meter, 30 minutes
1.5 Meters, 1 Hour
Splash-proof
Range
Unknown
400 feet
Unknown
Noise
Built-in speaker
Built-in speaker, 128db
Built-in speaker, 120db
Keyloops
No
Yes
Yes
Pricing
$29 each,
$99 for four
$34.99 each,
$99.99 for four
Unknown
Physical differences
The AirTag is coin-sized, measuring 1.26 inches in diameter and with a height of 0.31 inches. The Tile Pro is bigger at 42mm (1.65 inches) tall and wide, but it's slightly slimmer at 6.5mm (0.26 inches).
The Chipolo One Spot is 1.49 inches in diameter and 0.25 inches thick, making it slightly larger than the AirTag, but marginally thinner.
One styling difference is that the Tile is made up of a square with rounded corners, while the AirTag and Chipolo opt for a circular appearance. This also means that the Tile Pro takes up a lot more physical space simply because it's a square rather than a circle at these measurements.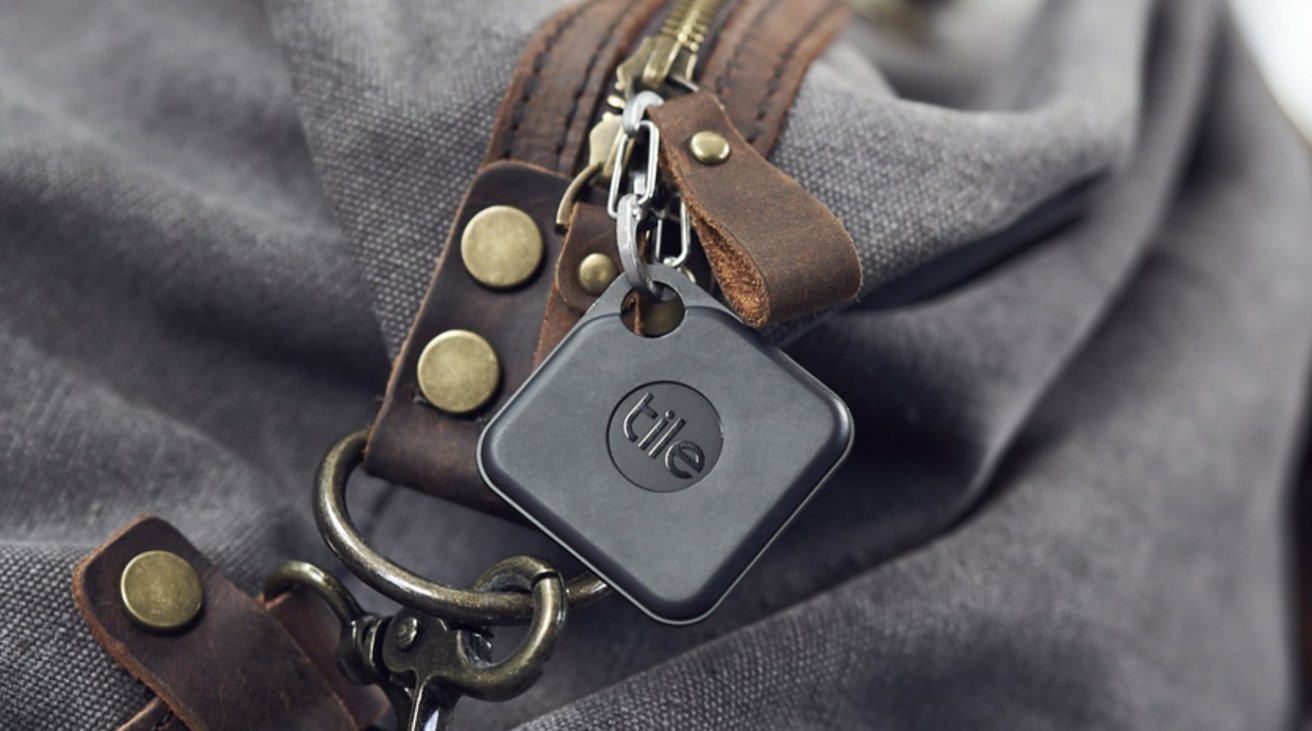 Tile is the current major competitor to AirTag.
There's also a difference between the tags in terms of how you will attach them to your chosen item. Depending on what you go for, this could be easier said than done, and not everyone wants to simply glue the tracker in place.
In the case of AirTag, Apple has gone down the route of deciding that users will have to
buy an accessory
if they want to carry the tag around. There are no holes or hooks on the tag at all, so it has to be either carried loose or placed within one of many different accessory holders, which are naturally
already available
.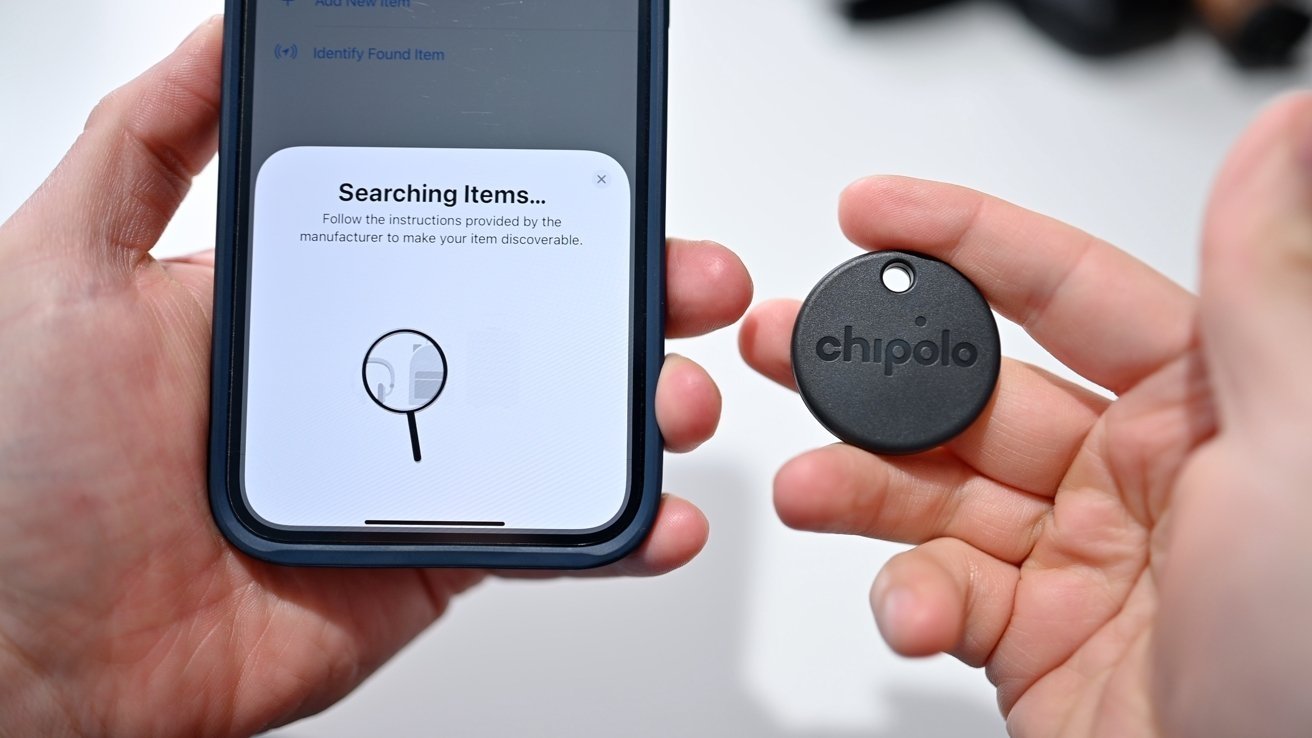 The Chipolo One Spot is a third-party tracker with Find My network support.
Both Tile and Chipolo incorporate a hole, which could be used to attach the tracker to a hook, to tie it in place, or to attach it as a keyring. This makes both Tile and Chipolo more immediately usable without needing any extra attachment assistance in many cases.
There are also variances in terms of how well the different trackers handle the rigors of the real world, especially for water. Apple's AirTag is able to handle a depth of 1 meter (3.2 feet) for up to 30 minutes, and Tile Pro can deal with 1.5 meters (4.9 feet) for 1 hour.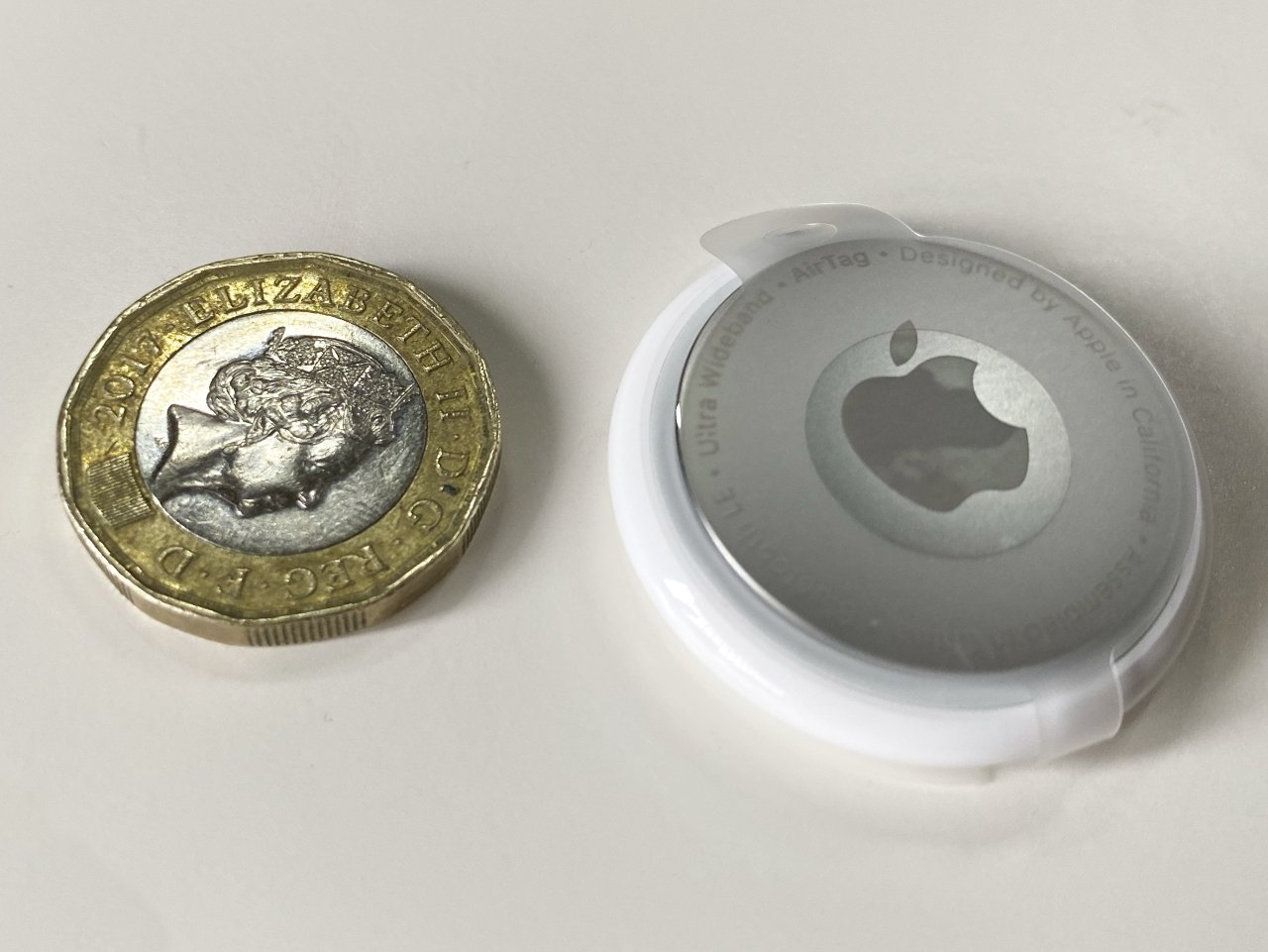 AirTag is truly tiny (One Pound coin for scale)
Chipolo's less able to handle wet environments, as it is only rated to IPX5. This is described as splash-proof, so it should be able to handle rain showers fine, but not total submergence.
Signal and Noise
All three of the trackers offer Bluetooth LE connectivity at the very least, allowing them to be sensed at a distance, though there may be some variance in this between producers. Tile has said its Tile Pro's Bluetooth LE will work at ranges of up to 400 feet.
Neither Apple nor Chipolo have said how far Bluetooth detection will work for the AirTags or One Spot, but it is likely to be in a similar range to Tile's version.
Aside from Bluetooth LE, Apple's AirTags benefit from two other communications technologies built into the hardware: Ultra-Wideband and NFC.
The addition of NFC on AirTags enables a more direct form of communication with anyone who finds it. You can set up a message that will be displayed if the finder of the AirTag taps their NFC-enabled smartphone against it, which could provide extra information like contact details.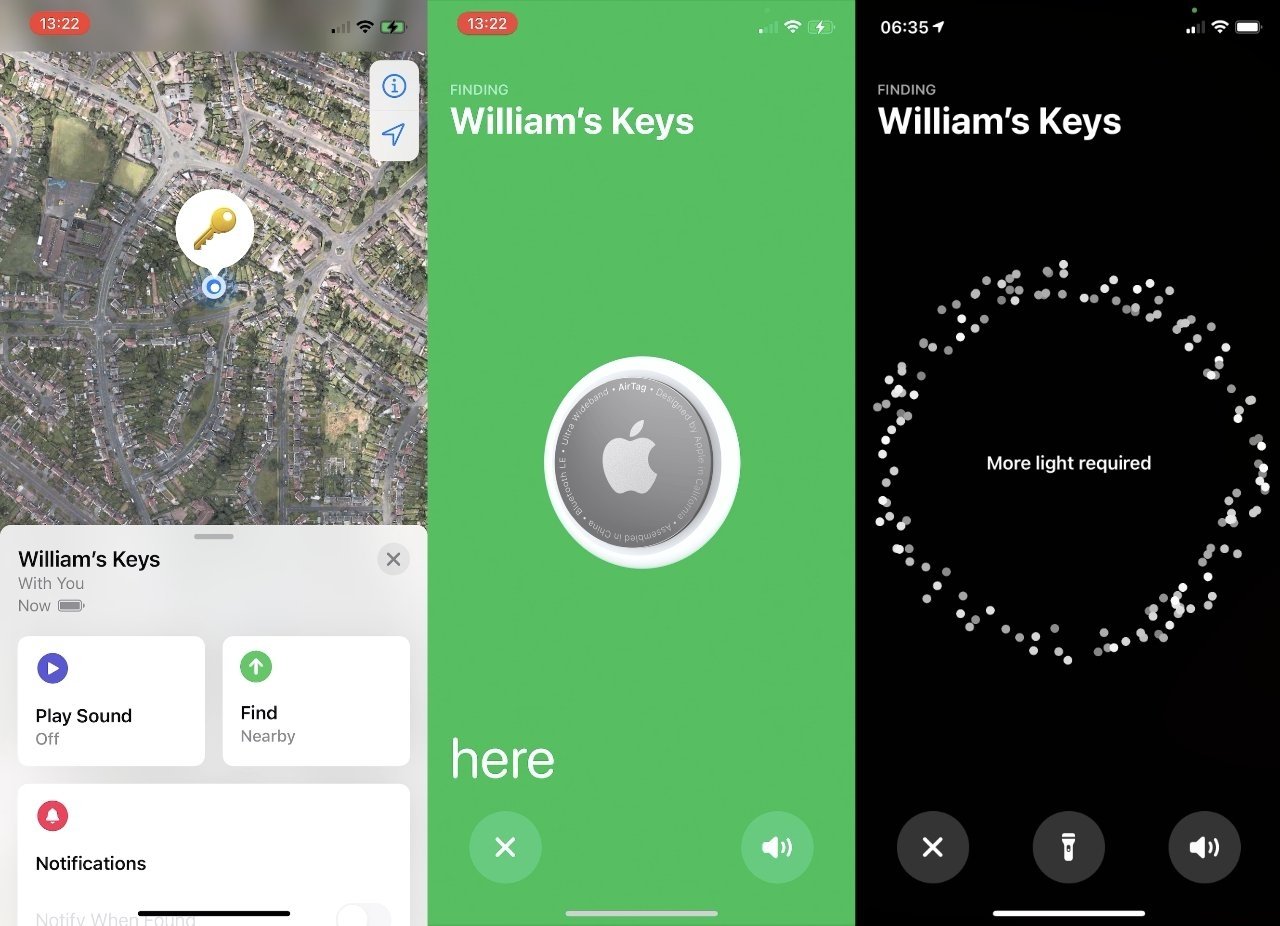 What it looks like to search for an AirTag, though environmental light could be an issue for the app sometimes.
For
Ultra-Wideband
, this enables for highly accurate positional data to be acquired by a supported
iPhone
, dubbed Precision Finding. This is extremely handy at room-scale device losses, as it will tell you roughly how far away the AirTag is from the iPhone, as well as what direction it seems to be located.
This feature is only available for iPhones with UWB support, which consists of the
iPhone 11
and
iPhone 12
generations. Other
earlier iPhone models
can still use Bluetooth as before, but without the Precision Finding mode.
While neither Tile nor Chipolo benefit from Ultra-Wideband, they join Apple in using a more low-tech way of telling someone where a tag is nearby: sounds. All three can be triggered to make a noise that could be heard by the user, telling them whereabouts the tag is located.
Both the Tile Pro and Chipolo One Spot offer volume figures of 128 decibels and 120 decibels respectively, which is more than enough for it to be heard at a fairly decent range. AirTag does include a speaker, but while the volume is unknown, it is likely to be loud enough to do the job.
Find My network versus Tile Network
Both Apple's AirTag and Chipolo's One Spot use Apple's Find My network to keep tabs of the tracker's location. When in Lost Mode, the tracker repeatedly sends out an encrypted Bluetooth ping that can be detected by any nearby iPhones.
In turn, that iPhone relays the location anonymously to the Find My network with encrypted location data, which is then passed along to the user. The last-spotted location can then be seen within the Find My app.
While a separate system, Tile Network uses a similar approach, where the Tile sends out Bluetooth pings, which are again picked up by passing smartphones. The data, which Tile assures is anonymized and encrypted, is then used to update the user about the Tile's location.
On the face of it, the two systems boast privacy and security and offer the same basic functionality. However, there are still some crucial differences between how the two operate that may not land in Tile's favor.
In the case of the Find My network and its Lost Mode, the transmissions from the trackers are picked up by any supported iPhone without needing any apps to be preinstalled. All iPhones are automatically part of the network and will report back via Apple's platform.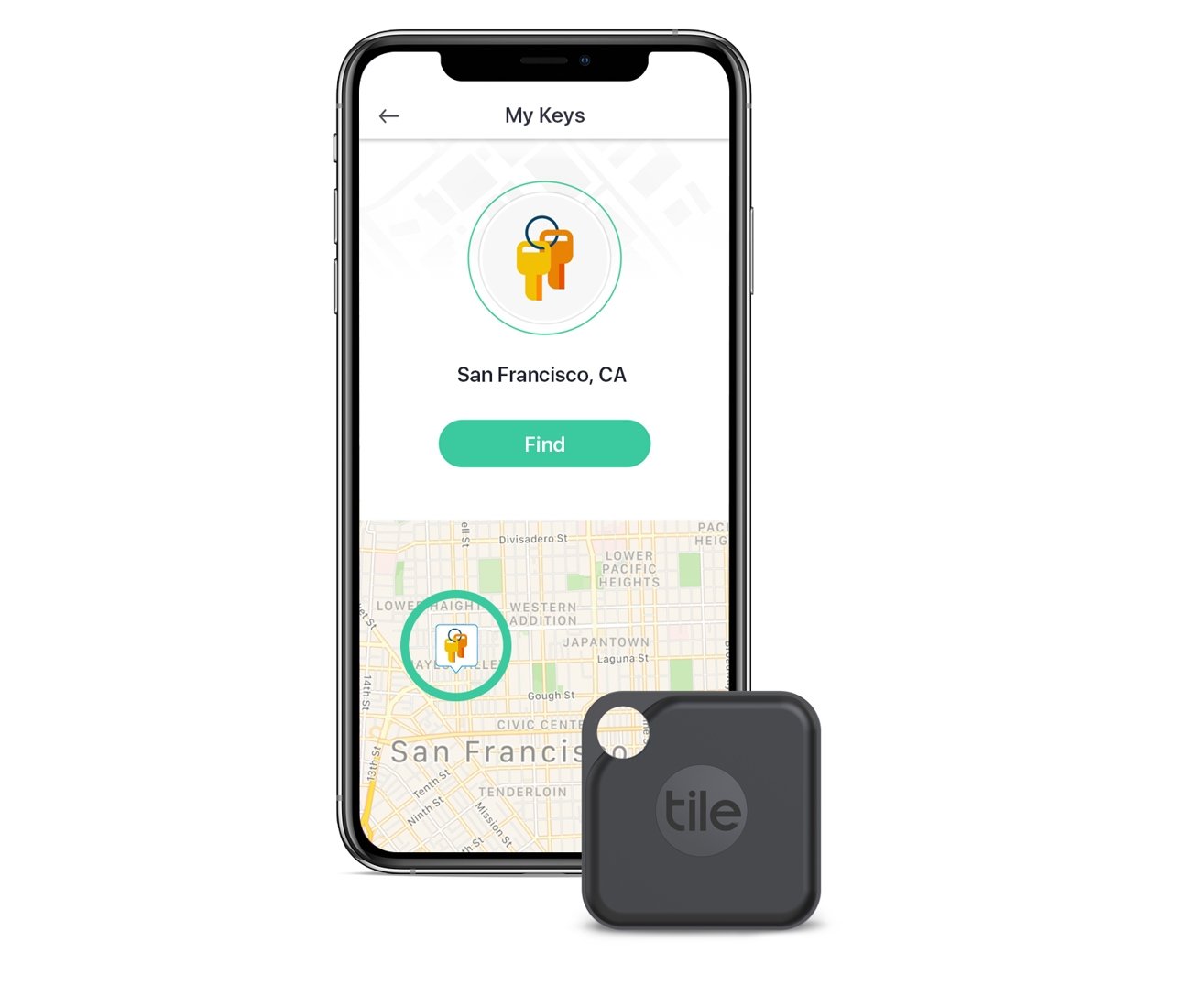 Tile Pro uses its own app platform to track down lost items, not Apple's Find my network.
For Tile, the Tile Network's Community Find feature relies on the
Tile app
being installed on all user's devices, and that Bluetooth pings are only picked up on smartphones that have the app installed. In Tile's favor is that the app works on both iOS and Android, so there's a potentially larger pool of devices that could happen upon the tracker, but that relies on everyone installing the app.
Though the two systems are similar at their core, it's a case of Tile's network being those who use its app versus Apple's Find My network relying on hundreds of millions of Apple devices around the world. The Find My network is simply going to be much larger and more capable of tracking down lost items than Tile.
One highlight feature of the Find My network is that it will warn users if someone else's AirTag finds its way into their bag or pocket and is traveling with the user. This is effectively an
anti-stalking feature
, preventing someone from using AirTag to track another person without their knowledge.
Other Features
All three models are powered by a CR2032 coin cell battery, one typically used in watches, which can be replaced by the user. Battery life is generally 1 year for each model, though Apple says it can be used for longer than a year per battery.
Of the three, you will have an easier time tracking down a wider variety of accessories designed for AirTag over the other models. This is partly due to Apple's initial wave of first-party and third-party accessories at launch, but mostly because Apple products are a common target for third-party vendors to produce accessories for, and it is highly likely that AirTags will have the same treatment.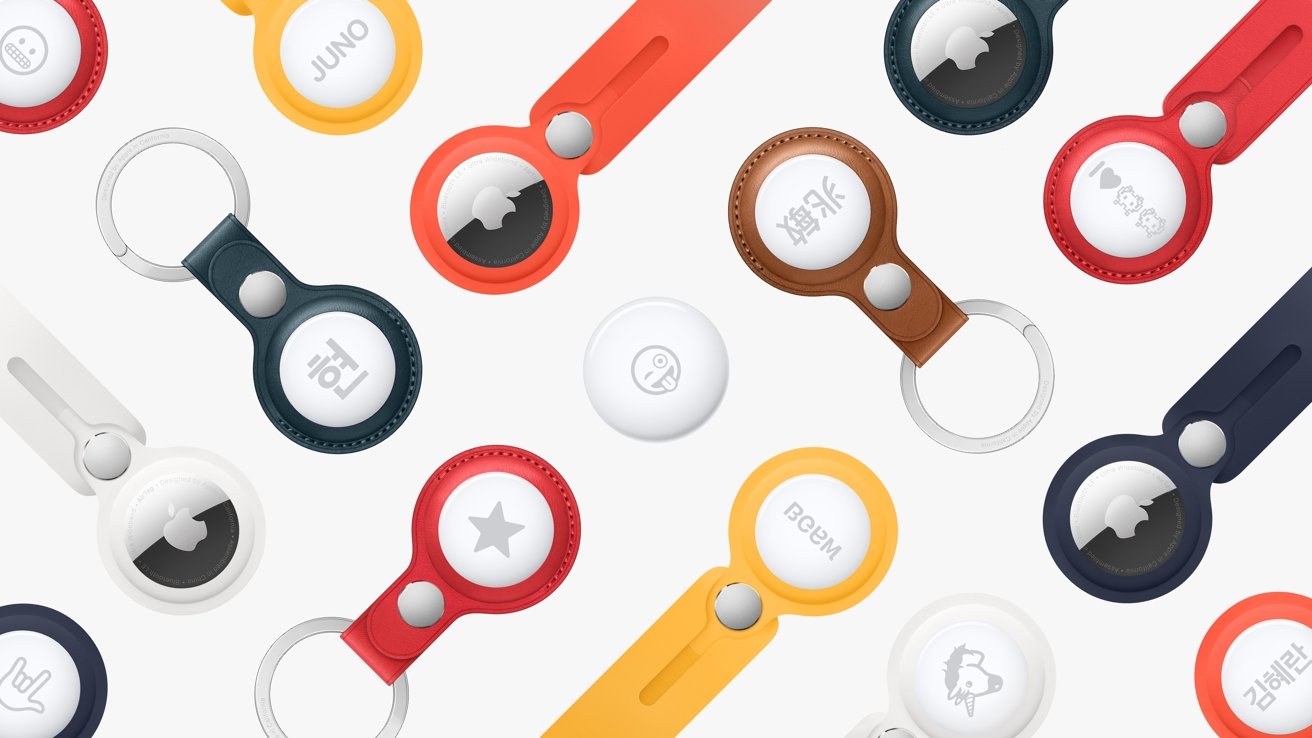 There's already quite a few AirTag accessories announced and available to order.
There are various accessories and covers on the market for Tile products, but it is unlikely it will be long to wait before AirTag eclipses Tile for accessories. Chipolo doesn't seem to have as many accessories produced for it compared to its rivals at this time.
You can acquire the Tile Pro in five different colors, and while it is unclear how many options the Chipolo One Spot will ship in, it's likely to be similar in number to the six options for the existing Chipolo One. Apple only sells one color of AirTag, but you could customize it with an engraving, or even buy one with a special engraving along with a high-priced Hermes accessory.
Both Tile and Chipolo have a variety of different tracker options beyond the Chipolo One Spot and the Tile Pro, in case you want something more specific to your needs.
Chipolo offers the Chipolo One, the Chipolo Card, the
Ocean Edition
made from recycled fishing nets, and various bundles, with all working from Chipolo's app rather than the Find My network. Only the Chipolo One Spot will work with Find My.
Tile sells other models, including the cheaper Mate, the small Sticker, and the Slim. Again, various combination packs and limited-edition versions are also available.
Tile has also taken time to integrate itself with other products and services, such as the Nomad Passport Wallet with a built-in Tile tracker. This could be analogous to third-party firms signing up to Find My, but while Tile has the initial advantage here, Apple will most likely quickly catch up with other integrations.
Of the three, Tile is the only one to offer
premium services
. For $2.99 per month or $29.99 per year, Premium provides smart alerts when you leave something behind, free battery replacements, unlimited sharing of Tiles with friends and family, a 30-day location history, an extended 3-year warranty, and premium customer care.
For $99.99 per year, Premium Protect offers the same thing, but Tile will also offer up to $1,000 to reimburse the lost item if it cannot be found.
Pricing and Availability
Apple's AirTag is
offered
for $29 as a single unit, or $99 for a four-pack, with free engraving. First-party accessories start from $29 for the AirTag Loop, with the Belkin Secure Holder with Key Ring a cheaper option at $12.95. Hermes leather accessories start from $299, including the custom engraved AirTag.
Tile Pro can be bought now at
$34.99 for one
, $59.99 for two, or $99.99 for a four-pack. Limited-edition versions are available for higher prices, and as part of bundles.
Chipolo will start shipping the tags from June and has created a
waitlist for preorders
One tag costs $28, while a four-pack is $90.
Keeping track of what's best
There's not necessarily a right answer here, as choosing the right tracker depends on a few factors.
If you are heavily invested in the Apple ecosystem, either the AirTag or Chipolo One Spot seem to be good options, simply because of Find My network's vast potential reach over Tile's version. The sheer number of Apple devices out there that can feed data back into the Find My network makes any devices using it more attractive than competing systems.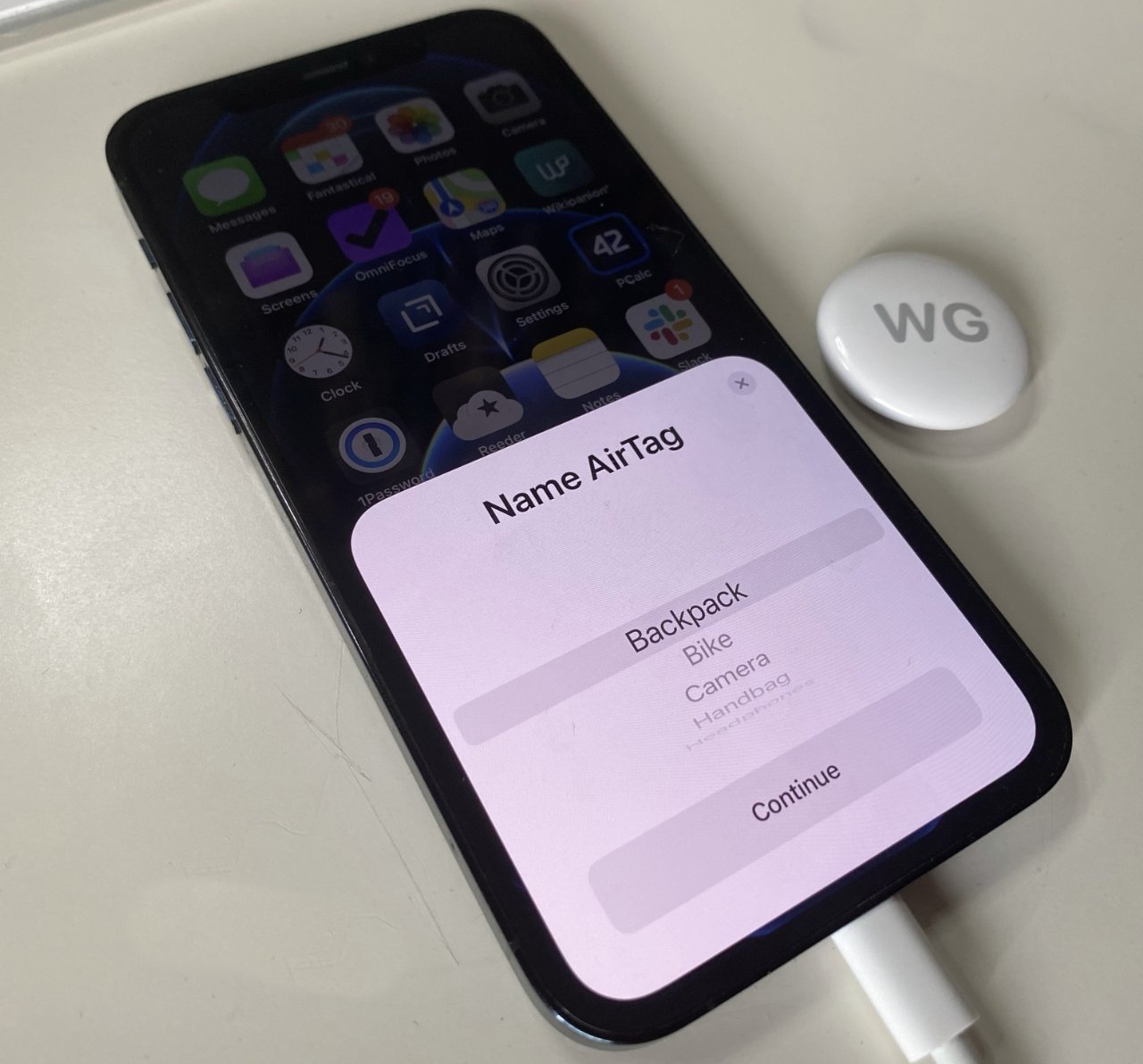 If you've heavily invested into the Apple ecosystem, you're probably going to get AirTag over Tile.
Between AirTag and Chipolo, it also becomes a case of priorities. Anyone who has brand loyalty to Apple will steer that way, but also anyone with a new-enough iPhone that has UWB if they feel they will get good mileage out of its Precision Finding function.
Conversely, if you want to save a few dollars and don't care about having hyper-accurate in-room tag locating capabilities, the Chipolo One Spot may be good enough for you, if all you need is Find My network support.
That being said, there's still some attractiveness to Tile. While its network of devices may be limited, it will be more useful for households with a wider mix of devices, such as those where other family members use Android smartphones. There's also being able to trust a major name in tracking that's been on the market for quite a while.
The key here is asking yourself if you will be able to find your lost keys using your tracker of choice. For most Apple users, that answer will be positive for most of the trackers, but the UWB accuracy for local environment searches will turn that into a definite "Yes."