Compared: Microsoft's Surface Pro 8 vs 12.9-inch iPad Pro
Microsoft unveiled its latest slate of Surface computers, with the Surface Pro 8 appearing to be a direct competitor to Apple's
12.9-inch iPad Pro
. Here's how Microsoft's new productivity tablet stacks up against Apple's long-standing offering.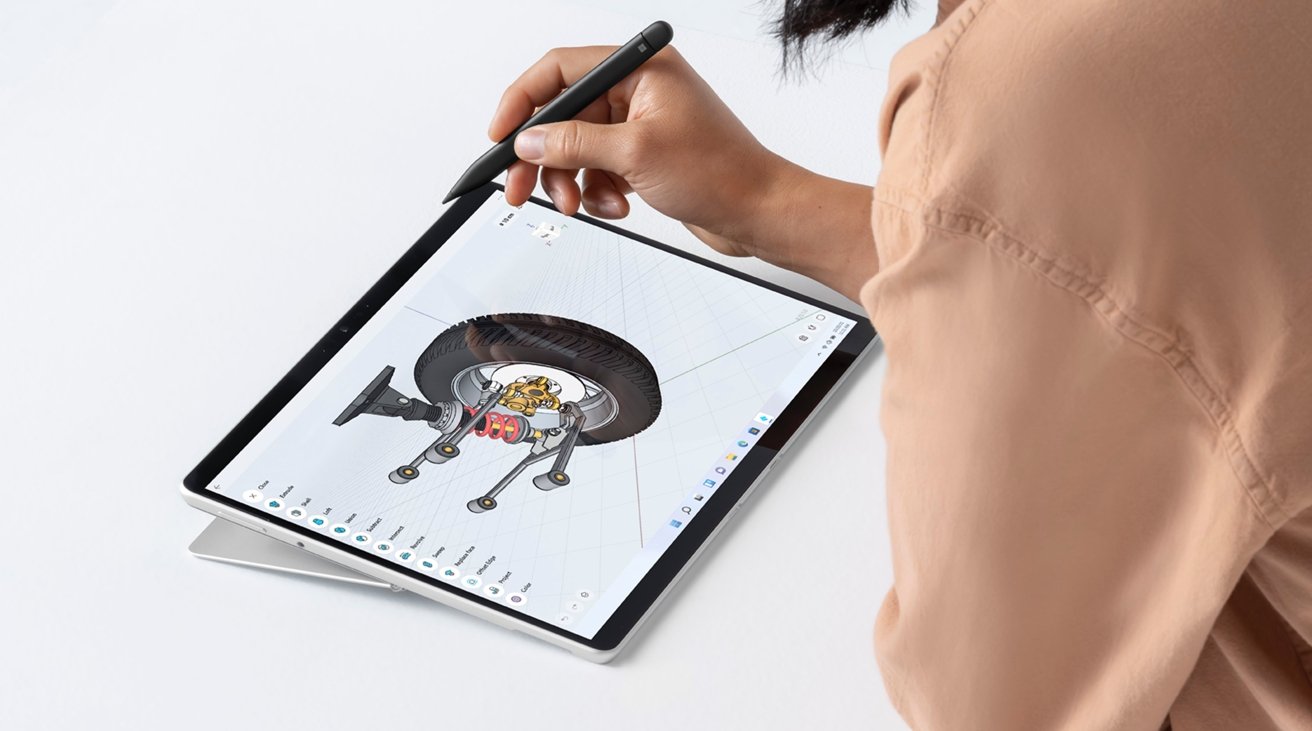 The Surface Pro 8 is close to being an iPad Pro, albeit one with a built-in kickstand.
Microsoft's
updated Surface lineup
includes various options for potential users, including the
Surface Duo 2
and the
Surface Laptop Studio
. The cheapest of the range, the Surface Pro 8 shipping on October 5, is also seemingly gunning for the iPad Pro, at least with its name.
Packing Core i5 and Core i7 processors and in a thin package, the Surface Pro 8 could easily be a portable workstation for some people. However, it does so in territory that Apple practically governs with its iPad family.
Whether it does enough to stand up the iPad Pro as a productivity workhorse in its own right is another matter.
Specifications
Surface Pro 8
12.9-inch iPad Pro (2021)
Base price
$1,099.99
$1,099
Screen Size (inches)
13
12.9
Resolution
2,880 x 1920
2,732 x 2,048

Pixel Density (dpi)
267
264
Display type
Pixelsense Flow,
3:2 Aspect Ratio,
Dolby Vision,
120Hz max, 60Hz default
Mini LED,
Liquid Retina,
ProMotion,
True Tone,
Wide color (P3),
Fully Laminated
Processor
Quad-core 11th-gen Intel Core i5-1135G7,
Quad-core 11th-gen Intel Core i7-1185G7
M1
Graphics
Intel Iris Xe
M1
Memory
8GB, 16GB, 32GB (LPDDR4x)
8GB (128GB, 256GB, 512GB models), 16GB (1TB, 2TB models)
Stylus Support
Surface Slim Pen 2
Apple Pencil (Second Generation)
Dimensions (inches)
11.3 x 8.2 x 0.37
11.04 x 8.46 x 0.25

Weight (lbs)
1.96
1.51
Capacities
128GB, 256GB, 512GB, 1TB
128GB, 256GB, 512GB, 1TB, 2TB
Rear camera (MP)
10
12 wide, 10 ultra wide, LiDAR
Front camera (MP)
5
12, TrueDepth
Video recording
4K (rear), 1080p (front)
4K at 24/30/60fps (wide) and 60fps (ultra wide), 1080p 60fps (front)
Biometric
Windows Hello
Face ID
Battery Life
16 hours
10 hours
Speakers and Mics
2W stereo with Dolby Atmos,
Dual far-field studio mics
4 speaker audio,
5 studio-quality mics
Wireless Connectivity
Wi-Fi 6,
Bluetooth 5.1
Wi-Fi 6,
Bluetooth 5.0
5G Cellular
Ports
2x USB 4.0/Thunderbolt 4
3.5mm headphone jack
Surface Connect port
Thunderbolt 4,
Smart Connector
Surface Pro 8 vs 12.9-inch iPad Pro - Physical dimensions
For the 2021 release, Microsoft slimmed down the bezels of the Surface Pro 8, which brings the overall size closer to the 12.9-inch iPad Pro. Not identical, but certainly quite comparable.
The iPad Pro is slightly shorter in length, at 11.04 inches to 11.3 inches, but slightly wider at 8.46 inches to 8.2 inches. There's a difference in both directions, but given that they're small, it pretty much evens out between the two.
What cannot be as easily dismissed is the thickness. Apple has continued with its impossibly-thin design concept, with the iPad Pro squeezing into a 0.25-inch-thick enclosure.
Meanwhile, Microsoft's tablet is a rather chunky 0.37 inches thick, just under 50% thicker than the iPad Pro.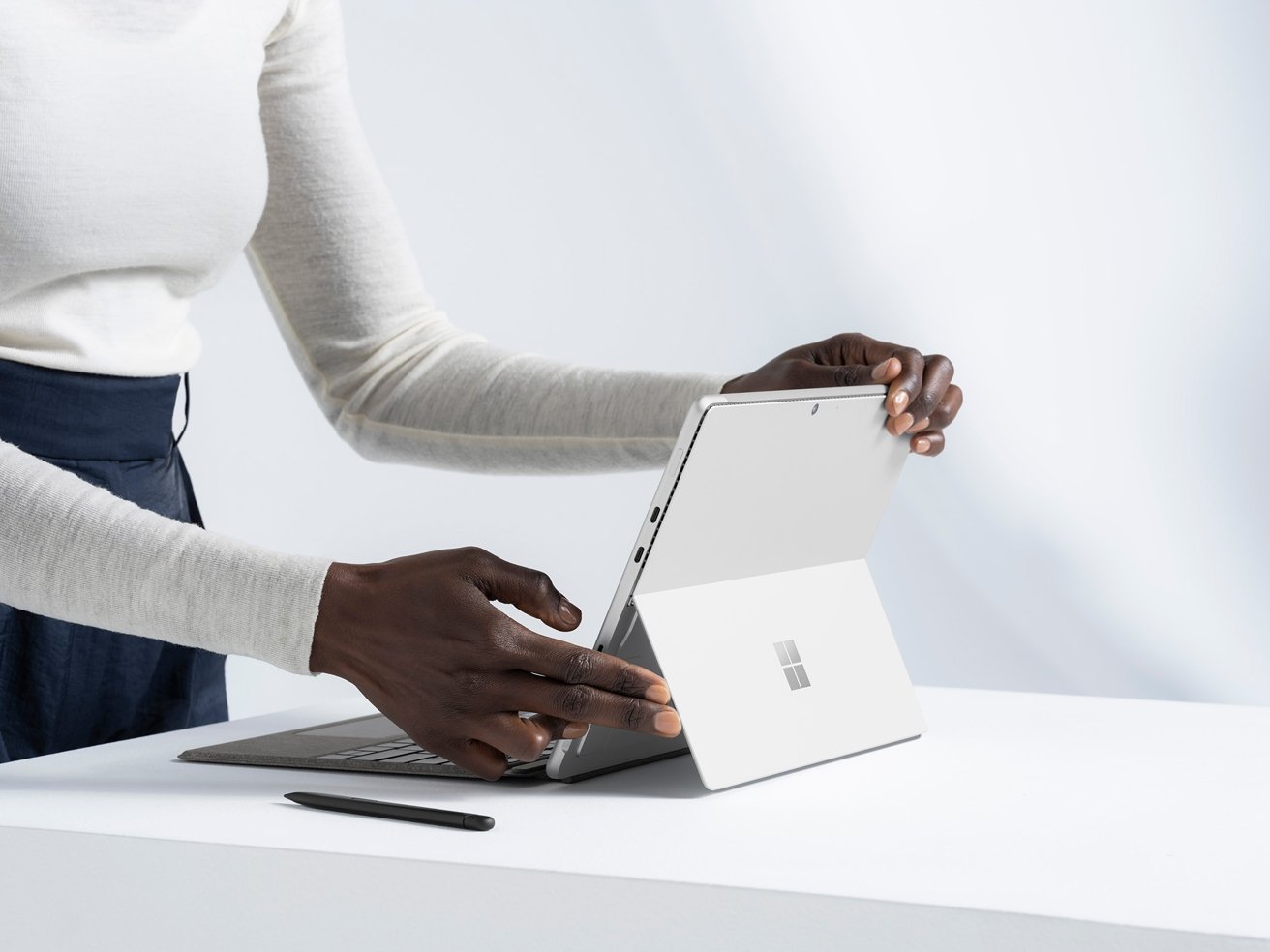 It's arguable that a few millimeters could be shaved off by getting rid of the kickstand.
Adding to the dimension comparison is the weight, as again, the iPad Pro wins here. While the iPad Pro is 1.51 pounds, the Surface Pro 8 is a heftier 1.96 pounds.
While the width and length may not be a factor, the weight certainly will be one for users.
Surface Pro 8 vs 12.9-inch iPad Pro - Display
One of the reasons for the difference in width and length between the two tablets is Microsoft's insistence on using a different aspect ratio of display.
Microsoft's 13-inch Pixelsense Flow screen has a 3:2 aspect ratio, with a resolution of 2,880 by 1,920. The iPad Pro uses a 12.9-inch Liquid Retina display, which has a ratio of 4:3, and a resolution of 2.732 by 2,048.
Much like the physical dimensions, the iPad screen resolution isn't as long but a tad wider. The Surface Pro's pixel density of 267ppi is marginally higher than the iPad Pro's 264ppi, but the difference is marginal at best.
Speaking of margins, the thinner bezels of the Surface Pro 8 mean two edges have minimal bezels, while the other two are slightly thicker. The iPad Pro uses fairly consistent bezels around all edges, which may be more aesthetically pleasing to some.
The Surface Pro 8's screen offers features comparable to Apple's, such as being able to vary between 60Hz and 120Hz, which the iPad Pro has with ProMotion. There's also Dolby Vision support, so it will be able to handle HDR content fine.
Microsoft doesn't disclose the kind of backlighting used on the Surface, but it probably doesn't use the same
mini LED backlighting
as the iPad Pro. As such, we also don't know how bright it can get versus the iPad Pro's 1,000-nit full-screen brightness and 1,600 nits of peak brightness for HDR.
There's not even a suggestion about the contrast ratio of the Surface Pro 8. For reference, the iPad Pro manages 1 million to 1.
Surface Pro 8 vs 12.9-inch iPad Pro - Performance
Apple uses the
M1
chip in its iPad Pro lineup, bringing over its desktop-class chip to its mobile computing platform. That includes the eight processing cores, split between four high-efficiency and four high-performance cores, the eight-core GPU, and the 16-core Neural Engine.
Microsoft gives users the choice of two processors, the
Intel Core i7-11785G7
and the
Core i5-1135G7
. Both are 11th-generation Tiger Lake chips with four cores and eight threads, with the Core i5 clocked at 4.2GHz under Turbo and the Core i7 at 4.8GHz.
Apple uses 8GB of memory for the sub-TB models,16GB in the TB-capacity versions.
Microsoft has 8GB, 16GB, and 32GB capacity options, potentially giving more memory for the Surface Pro 8 to play with, depending on the configuration.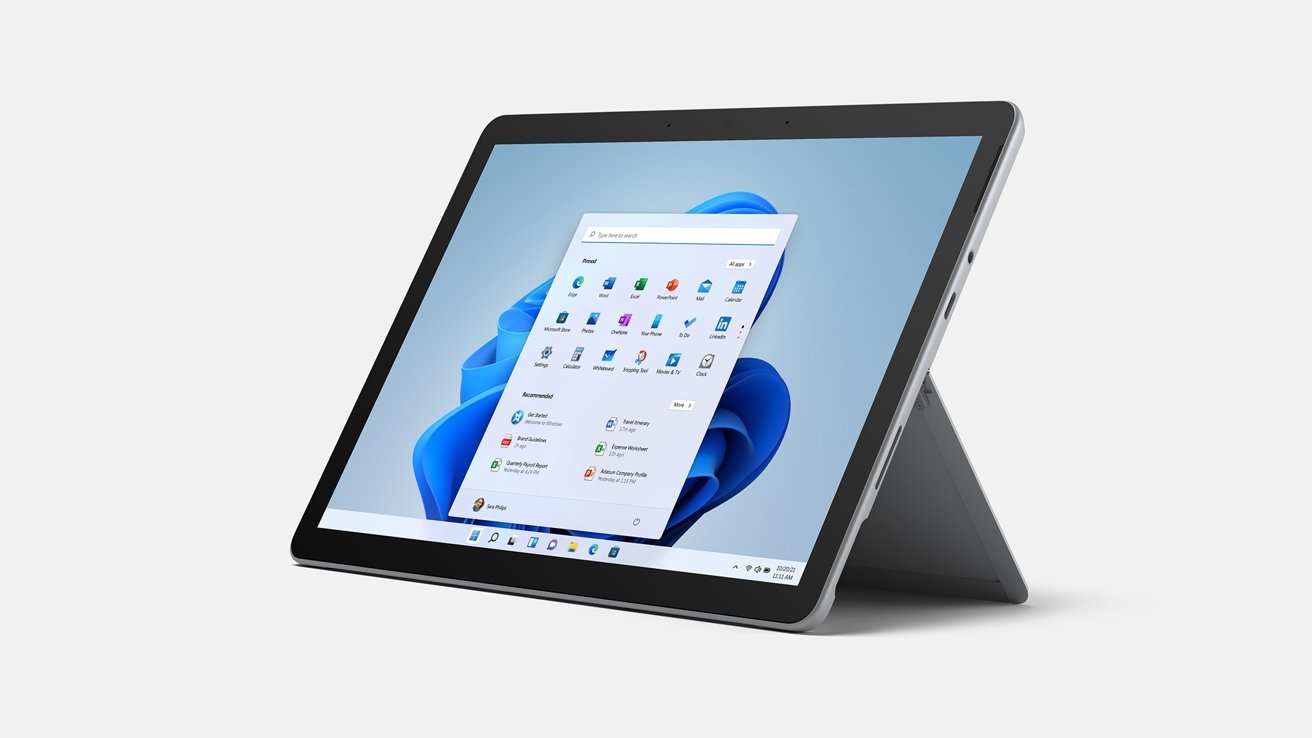 As a tablet, the Surface Pro 8's biggest draw for some users probably is that it runs Windows.
Given how Apple manages memory in its mobile devices, Microsoft's highest memory capacity option may not necessarily be a benefit overall.
In terms of benchmarks, the 12.9-inch iPad Pro manages 1,707 for single-core Geekbench tests and 7,212 for multi-core.
Since Microsoft hasn't benchmarked the new models yet, and they haven't been released, we have to compare using similar hardware for a ballpark figure.
Searches for notebooks with the same processors as Microsoft's selections offer single-core results of around 1,500 for the Core i7, 1,300 for the Core i5. On multi-core, it's about 5,000 for the Core i7, 3,600 for the Core i5.
While this is more an educated guess, it certainly doesn't bode well for the Surface Pro 8's performance once the benchmarks arrive.
On the graphical side, Microsoft's using Intel Iris Xe, namely integrated graphics. Geekbench's OpenCL benchmarks score Iris Xe at 14,413, which is a decent result.
The problem for Microsoft is that the M1 managed 18,260.
It seems that the iPad Pro is the more powerful of the two tablets at this stage. At least, until benchmark comparisons are made on sold hardware.
Surface Pro 8 vs 12.9-inch iPad Pro - Cameras
Photography has always been a strong point for Apple's devices, and in a shootout between the 12.9-inch iPad Pro and the Surface Pro 8, Apple has the far greater firepower.
On the back of the Surface Pro 8 is a single 10-megapixel camera, which Microsoft says can shoot 4K video, and has autofocusing capabilities.
Naturally, Apple fares a lot better by adding both a 12-megapixel Wide camera along with a 10-megapixel Ultra Wide version. Not only is there optical zoom to play with on the iPad Pro, but one that also adds a 5x digital zoom, autofocus, 4K video at 60fps, 240fps 1080p Slo-mo, and cinematic video stabilization.
Microsoft adds a pair of far-field studio mics for recording, though Apple matches it with stereo recording for video.
That's all before you consider that Apple includes LiDAR in its tablet, enabling advanced AR applications and improving its photographic capabilities further.
Around the front, the story's not much better for Microsoft, as it packs a 5-megapixel camera with 1080p video support and Windows Hello face authentication.
By contrast, Apple uses a 12-megapixel TrueDepth camera array, which includes depth mapping-based features like Face ID for increased security. There's even Center Stage, the auto-reframing feature for tracking people during a video call.
If you're looking for a tablet with great photographic potential, your best bet is still the iPad Pro out of these two.
Surface Pro 8 vs 12.9-inch iPad Pro - Capacity
Apple offers the iPad Pro 12.9-inch in five capacity options: 128GB, 256GB, 512GB, 1TB, and 2TB.
Over on Microsoft's side, it offers 128GB, 256GB, 512GB, and 1TB of storage. However, while not reaching the high of 2TB, the Surface Pro 8 has the potential to get there in a roundabout way.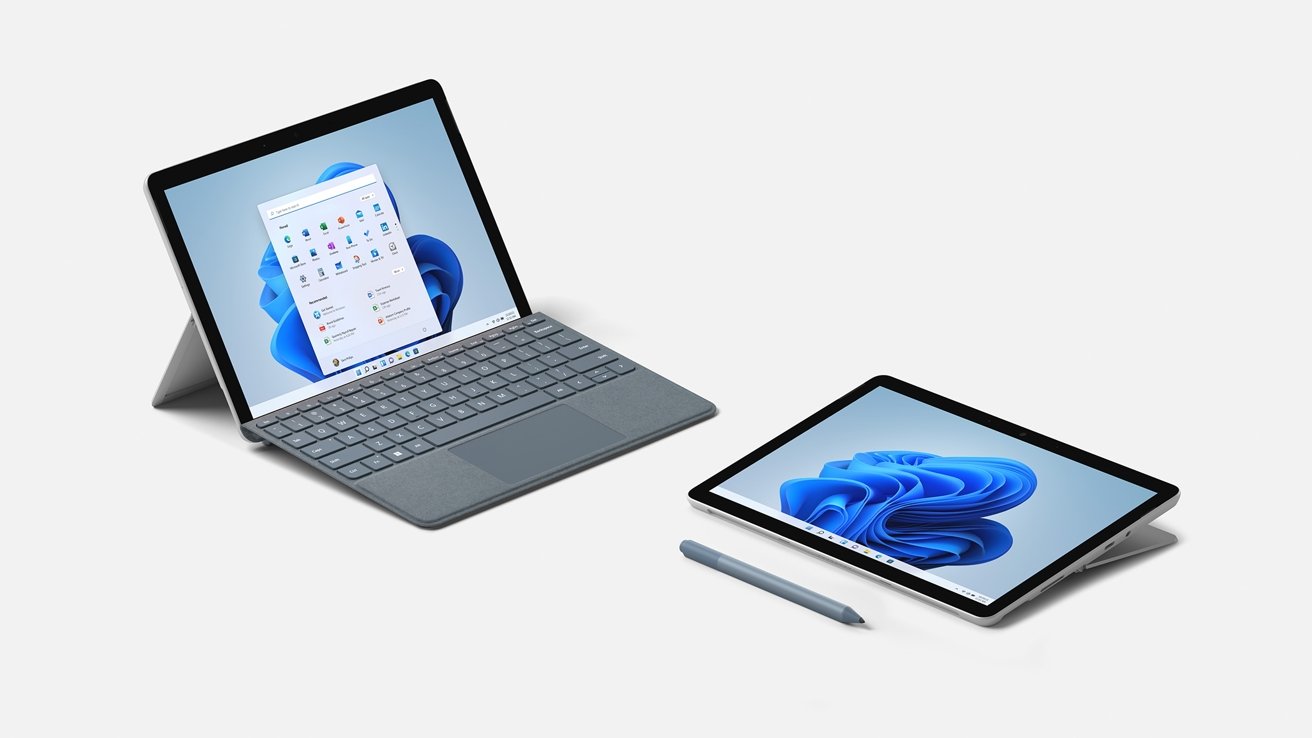 One key benefit of the Surface Pro 8 is that you can switch out the storage on some models.
While the 512GB and 1TB options are fixed storage, both the 128GB and 256GB models are marketed as "Removable SSD" versions, which means they could be pulled and replaced with larger drives.
This simply isn't possible on the iPad Pro. Sure, you could take advantage of external drives, but it's not the same as having the extra capacity built-in.
Surface Pro 8 vs 12.9-inch iPad Pro - Connectivity and Power
At face value, it seems that Microsoft has a longer battery life, as it claims 16 hours to Apple's 10 hours. Again, this isn't completely straightforward.
The iPad Pro's 10 hours is claimed to be for "up to 10 hours of surfing the web on Wi-Fi or watching video." Meanwhile, Microsoft's higher figure is "based on typical Surface device usage," defined as a web-browser test with eight tabs open, a productivity test using Office apps, and "a portion of time with the device in use with idle applications."
Benchmarks post-release will probably determine how valid Microsoft's 16-hour claim is.
On the connectivity side, Microsoft simultaneously goes one stage better than Apple, but also one worse.
In the Surface Pro 8's favor, it does include two USB 4.0/Thunderbolt 4 ports, while the iPad Pro offers just one. Combined with Microsoft's inclusion of a headphone jack, that makes the Surface Pro 8 better for those not wishing to live the dongle lifestyle.
Both tablets offer Wi+Fi 6 connectivity, and while the iPad Pro has Bluetooth 5.0, the Surface goes to Bluetooth 5.1. Microsoft also has the Surface Connect port, its own take on Apple's Smart Connector for attaching accessories.
One area of connectivity that the Surface Pro 8 severely lacks is cellular.
Apple incorporates the option for 5G connectivity in the iPad Pro. The consumer edition of the Surface Pro 8 does not have any cellular options, but Surface Pro 8 for Business, a version for enterprise customers, does have LTE.
Microsoft may offer an LTE-equipped variant to consumers directly at some point, but it's not doing so at launch, which is disappointing.
Surface Pro 8 vs 12.9-inch iPad Pro - Other Details
Both tablets support styluses from their own ecosystems, with Apple using the Apple Pencil 2 while Microsoft goes for the Surface Slim Pen 2.
Likewise, there are also keyboard covers and accessories on both sides. The iPad Pro has the Mart Keyboard Folio and Magic Keyboard, while the Surface Pro 8 has the Surface Pro X Keyboard and Surface Pro Signature Keyboard.
Keyboard covers and styluses are separate purchases or add-on items.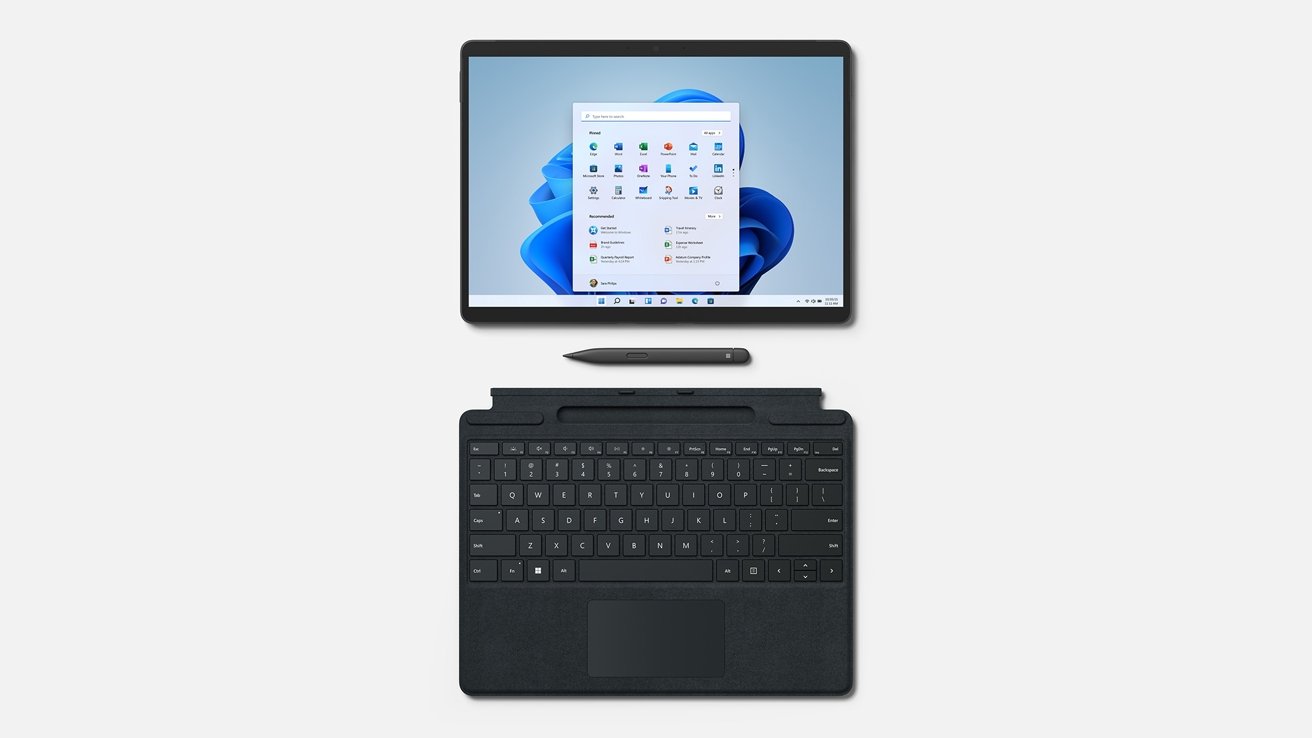 You can get a stylus or a keyboard cover for the Surface Pro 8, though as add-on items.
The Surface Pro 8 is available in Graphite and Platinum colors for its anodized aluminum casing. Apple's iPad Pro can be acquired in Space Gray or Silver.
Surface Pro 8 vs 12.9-inch iPad Pro - Configuration Pricing
If you want an iPad Pro, Apple has fairly explanatory pricing. The Wi-Fi edition starts from
$1,099 for 128GB of storage
, rising to
$1,199 for 256GB
,
$1,399 for 512GB
,
$1,799 for 1TB
, and
$2,199 for 2TB
.
Adding cellular to that is very simple, as it's an extra $200 regardless of capacity. That makes it $1,299 at the low-end, $2,399 at the high.
Microsoft's pricing structure has fewer options, at eight instead of ten, but it's a little more confusing.
On the Core i5 side, it
costs $1,099.99
with 8GB of memory and 128GB of storage, rising to $1,199 for 256GB, and $1,399 for 512GB. There's also an option to go for 16GB of memory and a 256GB SSD for $1,399, too.
Moving to the Core i7, that starts with 16GB of memory and 256GB of storage for $1,599, rising to $1,899 for 512GB, and $2,199 for 1TB. If you want 32GB of memory, your only option is the Core i7 with 1TB, which costs $2,599.99.
Apple's decision to leave out memory from the equation certainly streamlines what it offers, despite there being more options. As we have seen previously with Surface releases, Microsoft's structuring isn't exactly easy to understand.
Not quite "Pro" enough
The Surface Pro 8 is Microsoft's attempt to provide users with a highly portable workstation in tablet form, one that can handle workplace tasks while on the go. On that front, Microsoft has achieved its aim for Windows users.
The problem for Microsoft is that the iPad Pro exists, and is also a product that the vast majority of potential Surface Pro 8 customers will be keenly aware of.
As the Surface line has evolved over the years, it's undoubtedly gotten closer to what Apple offers in its iPad Pro, and that isn't necessarily a bad thing. Road warriors want light, attractive, and powerful devices that can get things done then be slipped into a backpack as they move on to the next task.
For years, the iPad and iPad Pro have provided that lifestyle, and Microsoft's probably the closest competitor to that in 2021.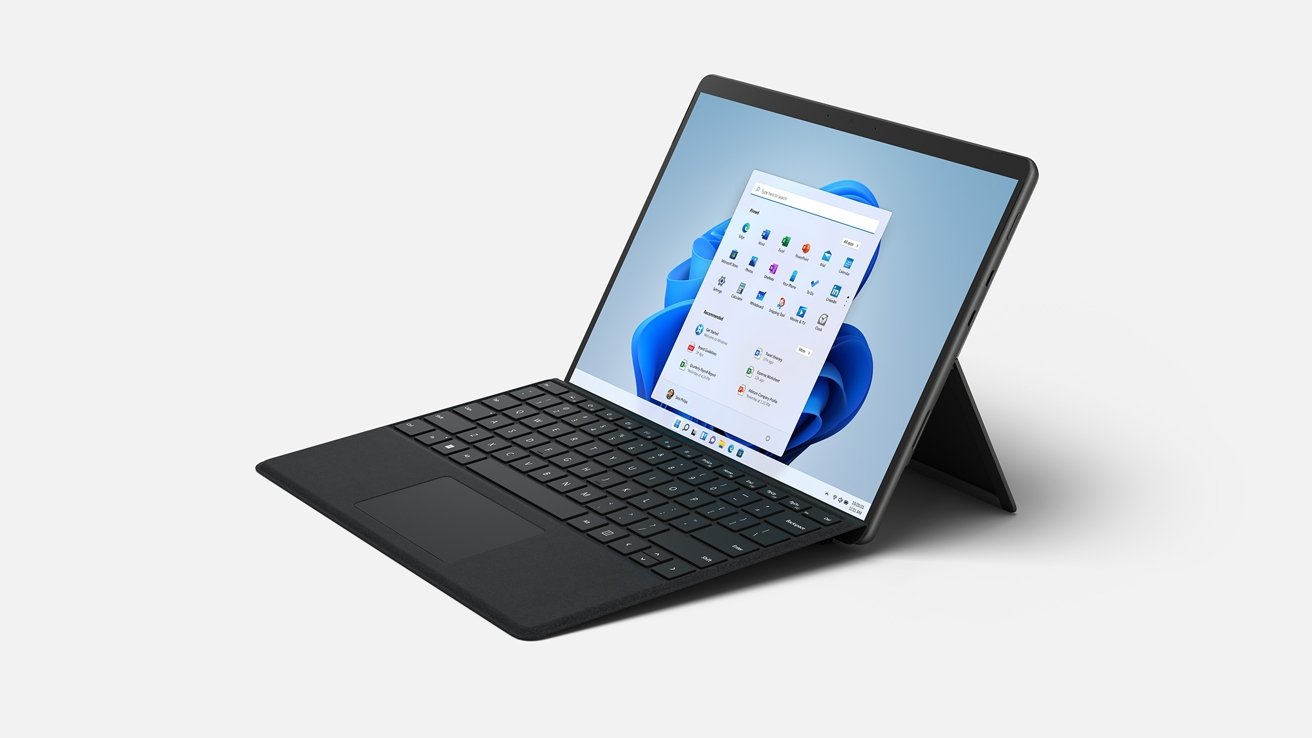 It's a tablet running Windows, which may be enough for some to buy the Surface Pro 8.
In Microsoft's favor is, sadly, Windows. There are so many people who still use Windows for work, be it through software or business requirements, or simply from being used to it.
It used to be the case that a company would have to go to great lengths to allow an employee to use an iPad for work, but that's not applicable in 2021. The argument that you must use Windows for work doesn't really hold water anymore, which is to Apple's considerable benefit.
For the current crop of Pro tablet devices, the 12.9-inch iPad Pro wins against the Surface Pro 8. What clinches it is that Microsoft has gotten close to making an iPad Pro, but it's stopped short.
A lot of what it's created is excellent on paper, and that's something that cannot be taken away from Microsoft.
However, the lacking camera, the performance against
Apple Silicon
, the pricing structure, the complete absence of 5G even in cellular-equipped enterprise versions, and the thicker and heavier form all add up against the Surface Pro 8.
It's "Pro," but not iPad Pro yet.
Where to buy
Microsoft's new Surface lineup is available for purchase
from Amazon
and
Microsoft directly
.
The latest
iPad deals
deliver double-digit and even triple-digit savings on 12.9-inch iPad Pro models. You can compare prices across popular retailers in our
12.9-inch iPad Pro Price Guide
.
Read on AppleInsider