Native Union Watch Puck review: Ultimate portable Apple Watch companion
The Native Union Watch Puck is the best way to power up your
Apple Watch
while on the go using your Mac or iPad's USB-C port.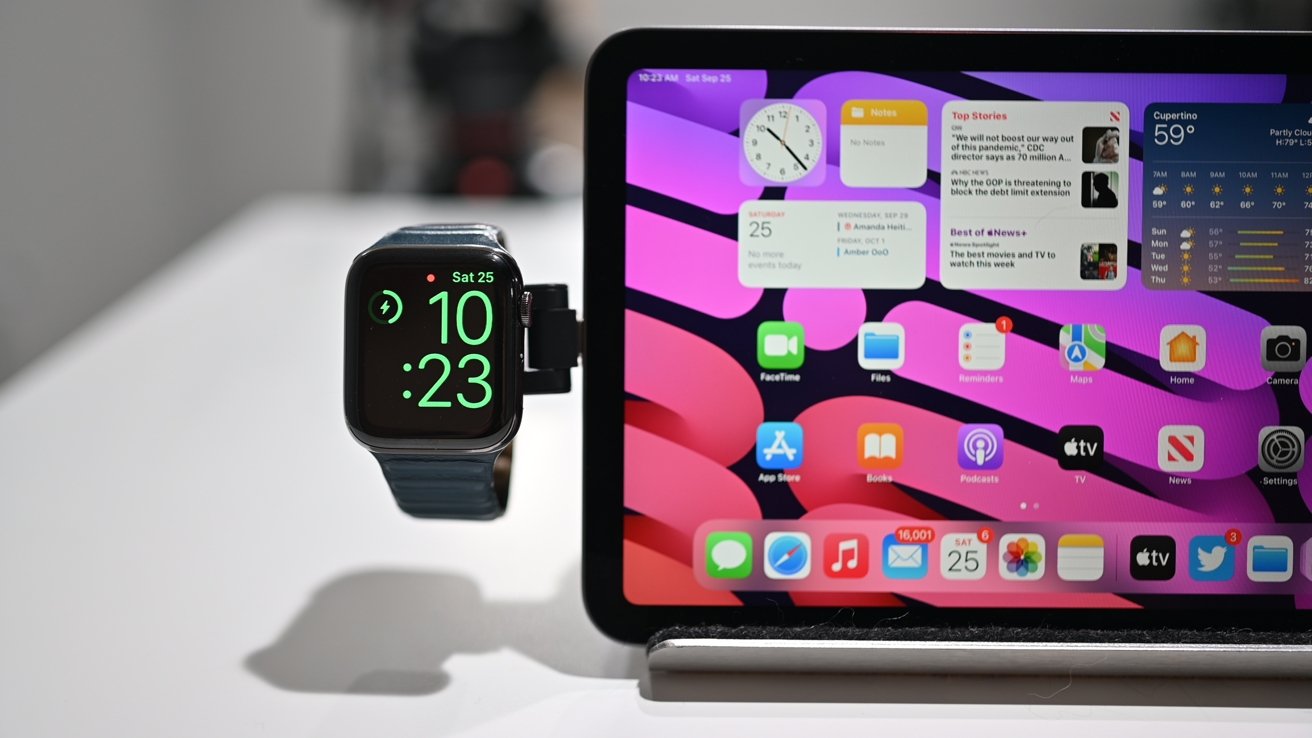 Native Union Watch Puck
Portable power for Apple Watch
Apple Watch almost feels like an afterthought with accessory makers. We see the occasional cable, but otherwise Apple Watch is just integrated into larger, multi-device chargers. There are very few compact chargers out there.
The Native Union Watch Puck stands out as something designed explicitly for Apple Watch and is a perfect companion for Apple's larger ecosystem.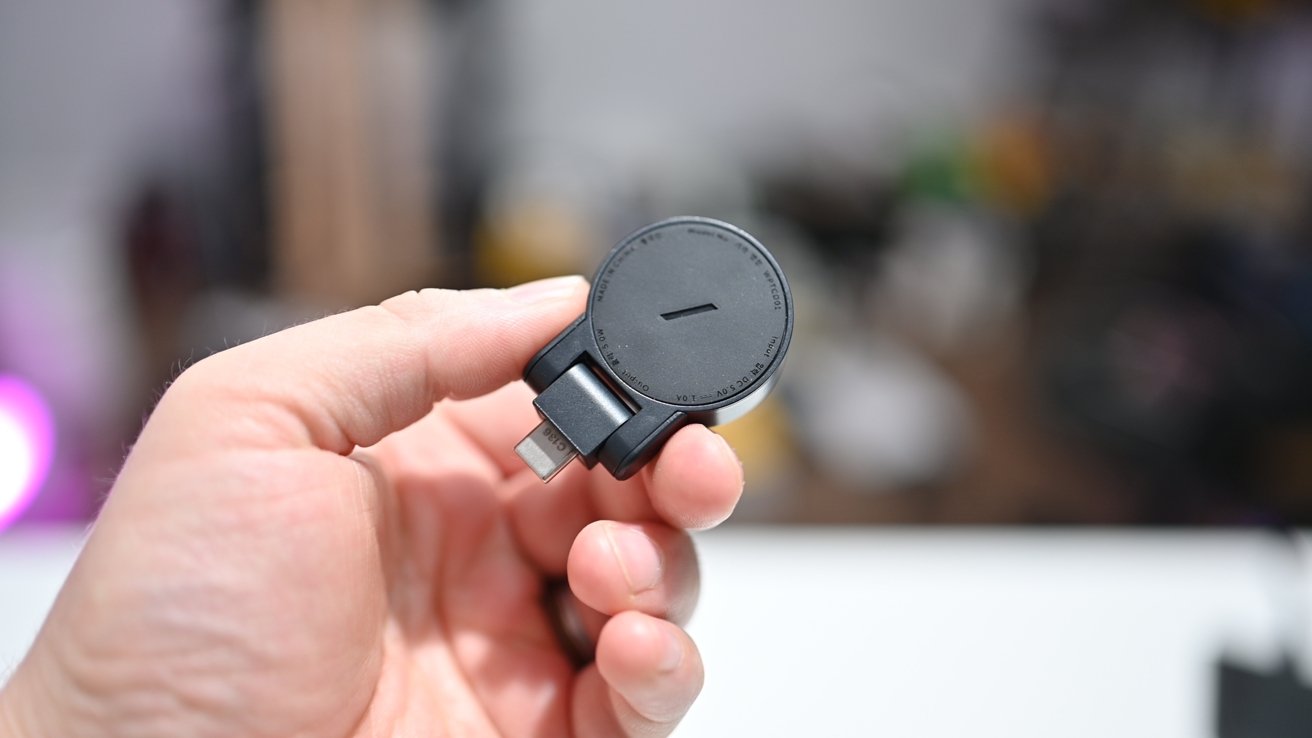 Native Union Watch Puck has a rubber back
Watch Puck is small. Very small. It's effectively the round puck itself with a tiny hinge protruding from one end. This little hinge is home to a male USB-C connector. With this connector, Watch Puck can be inserted into the USB-C port of an iPad Pro, iPad Air, MacBook Pro, MacBook Air, or even the new iPad mini.
That hinge can flex 90 degrees, allowing you to lay the watch perfectly flat, at a 45-degree angle, or at a 90-degree angle. At each of these intervals, the Watch Puck locks into place.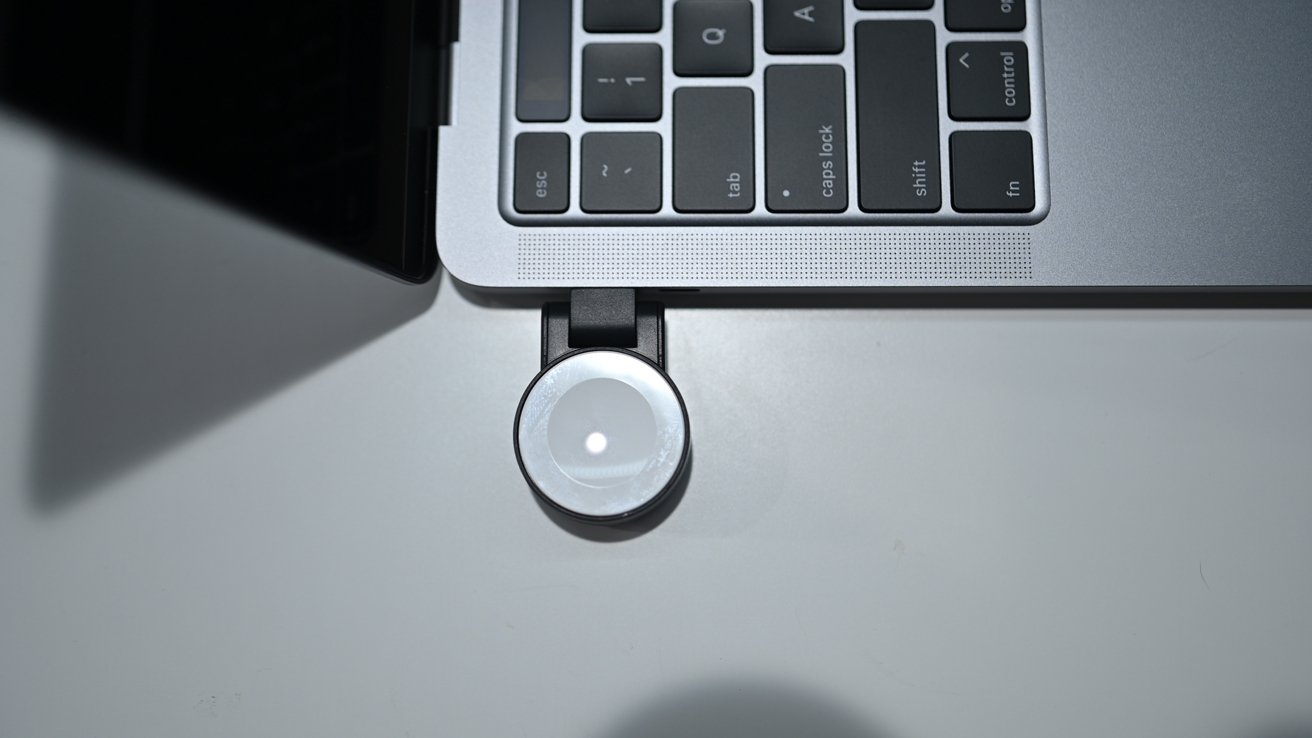 Native Union Watch Puck in MacBook Pro
The body of the Watch Puck is made of plastic and is a dark gray color which was a good choice. It is the one color that fits between a space gray and a silver, allowing it to look good no matter which device color you have to accompany it. The back is covered in silicone with a slant recessed into it, Native Union's logo.
Why such a tiny charger?
This charger is incredibly compact. It is as small as you can get when it comes to an Apple Watch charger. It can be connected to multiple Apple devices or even connected directly into a wall adapter. Native Union has several multi-chargers it can slot into but you could use any USB-C wall charger. It takes up the least amount of space while being an Apple-certified device.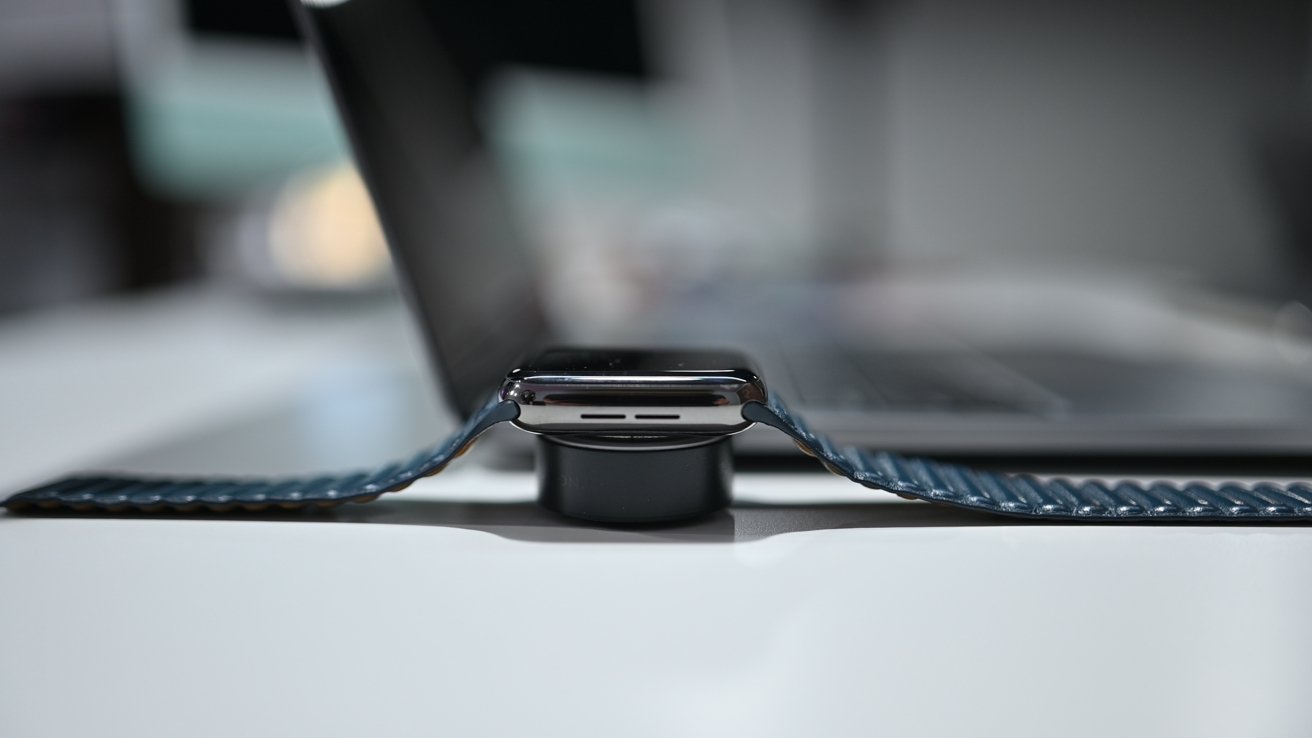 Native Union Watch Puck from the side
Other companies make similar chargers, but this one feels the most solid, and USB-C makes it the most versatile. Third-party USB-C Apple Watch chargers are still hard to come by.
If you travel or just want a more compact way to charge from your portable Apple gear, the Native Union Watch Puck is the solution.
Should you buy the Native Union Watch Puck?
If we were reviewing this a couple of weeks ago, it would be a no-brainer to buy. We love nearly everything about it.
Since then though, things have changed. Apple has introduced the Apple Watch Series 7 which includes a new fast charging feature. With a fast charger, you can get an 80% charge in a paltry 45 minutes, and only eight minutes are needed for a full eight hours of sleep tracking.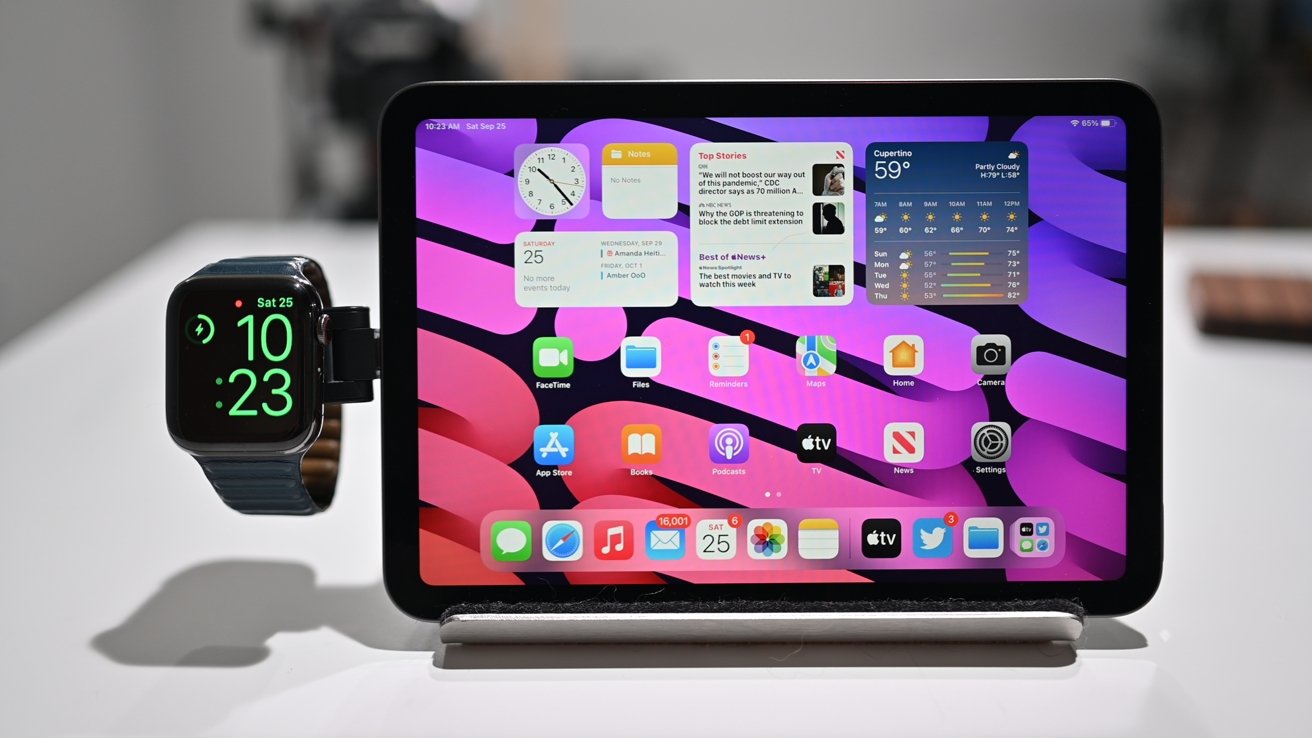 Connected to iPad mini
That represents a roughly 33% faster charge rate than what we've seen on prior Apple Watch models. But here's the rub: those incredible speeds can only be achieved with an updated Apple Watch charging module, one that is as of yet unavailable to third-party accessory makers.
So as it stands, this charging puck will
not
be able to fast charge an Apple Watch Series 7. This is what gives us the smallest amount of pause in wholeheartedly recommending the Native Union Watch Puck.
If you have an existing Apple Watch and do no plan to upgrade to the Apple Watch Series 7, there's nothing stopping you from picking this up. It is perfect for existing Apple Watch users.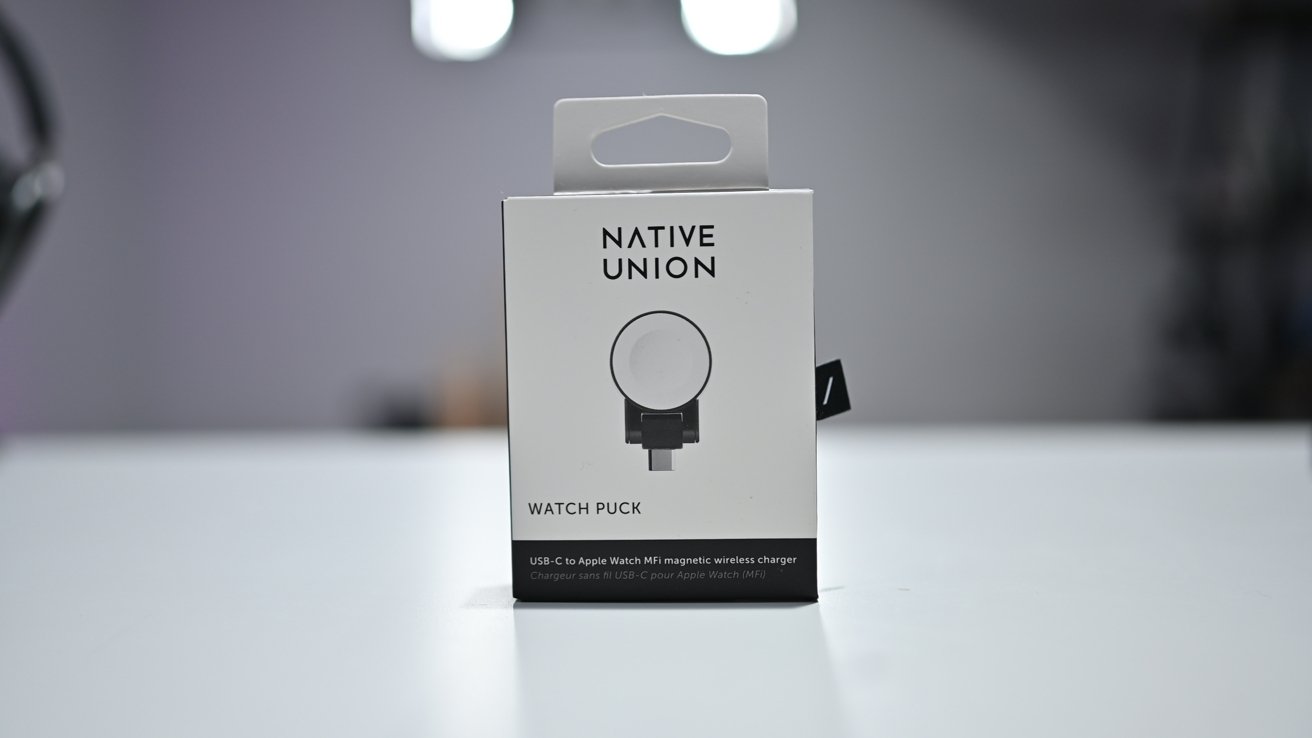 Native Union Watch Puck box
The only people that should think twice are those who are planning to get the Apple Watch Series 7. Even if you are getting the Series 7, there are still no other fast-charging options out there outside of Apple and third-party products are unlikely to arrive for quite a long time. As long as you understand the standard charging speed limitation, go ahead, grab one of these guys.
Pros
Super compact design


Rubberized back


Official MFi Apple Watch module


Locking positions at 180 and 90 degrees


USB-C connectivity


perfectly paired with new iPad Pro, iPad Air, iPad mini, MacBook Air, or MacBook Pro
Cons
Won't support fast charging on Apple Watch Series 7
No extension cable included
Not cheap
Rating: 4 out of 5
Where to buy
The Native Union Watch Puck for Apple Watch can be had
off Amazon for $52.99
Read on AppleInsider