Beware of fake Apple event streams touting bitcoin scams
Apple will not be offering free Bitcoin to anyone watching the "Unleashed" event -- but scammers are trying to make people believe they are.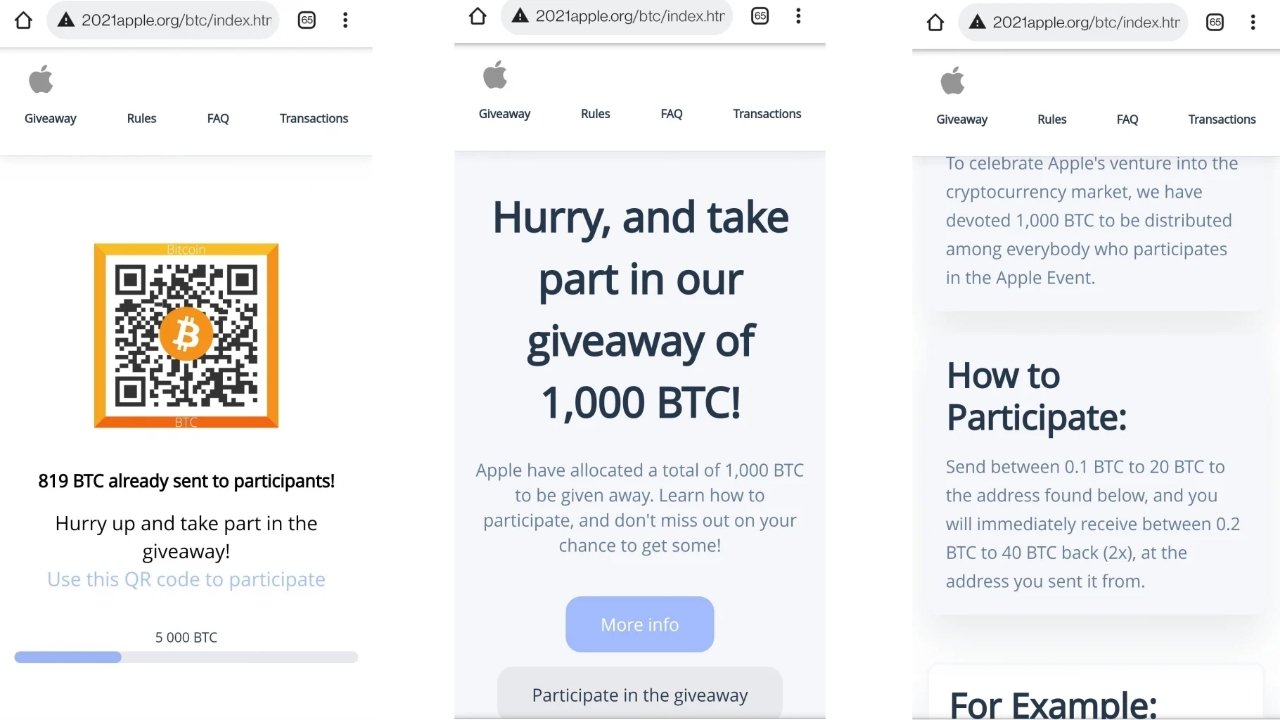 This obvious scam earned $69k in Bitcoin. Image source: Zscaler
Bitcoin scammers jumped on the launch of the
iPhone 13
in September to
defraud users of $69,000
. They are doubtlessly going to try the same stunt during Apple's October 18 "Unleashed" event -- and they're probably going to do it better.
Whatever lessons they learned about fooling people last time, their September scam centered on streaming a series of genuine interviews with
Tim Cook
. Culled from anywhere they could, the interviews started streaming early specifically so that they were live exactly when people were looking for the real Apple event.
Overlaid on the interview videos were pop-up messages telling users to visit a special website, www.2021.apple.org. This site was designed to look like Apple's, except it was extolling bitcoin and promising a giveaway.
The scam involved claiming that Apple would double a donation of bitcoins. If a user sent between 0.1 and 20 Bitcoins via a link in a QR code, Apple would purportedly send twice the amount back.
That particular site was soon taken down and is unlikely to reappear. Having earned nearly $70k from it, the same or other scammers are trying it again.
Apple will not give away Bitcoin. Apple won't run interviews with Tim Cook or anyone else ahead of the "Unleashed" event. And Apple will not direct anyone to anywhere except apple.com or maybe to its own Youtube channel.
There are multiple ways to
be sure of watching
the legitimate Apple event streaming. Users electing to watch via YouTube should only watch the version embedded here.
Read on AppleInsider