AirPods 3 review: An excellent AirPods evolution, but fit can be problematic
Posted:
in iPhone
edited November 2021
AirPods
as a whole have earned their status as the most popular true wireless earbuds, and the AirPods 3 brings more new features, but they fit in a strange spot in the Apple and Beats lineup.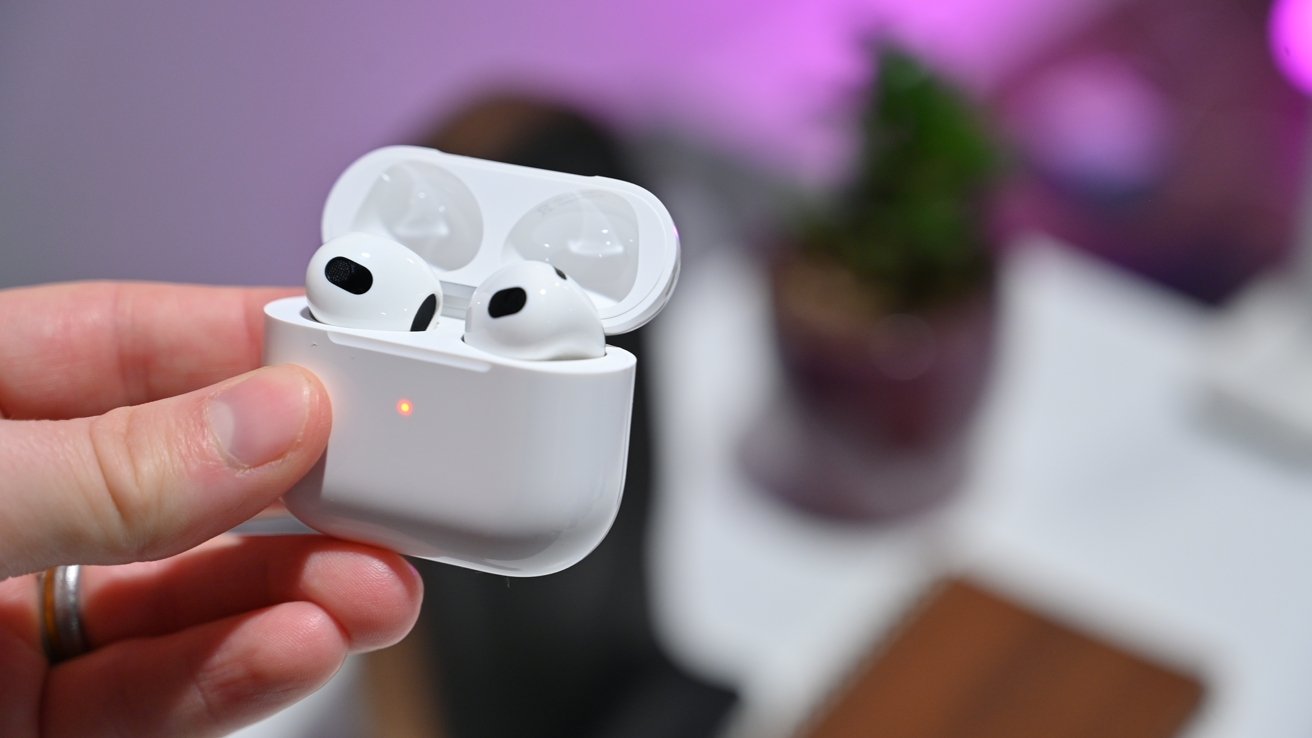 The new third-generation AirPods
New buds, same AirPods
Even though the new AirPods 3 have a new design wholly unique to them, they're still instantly recognizable as AirPods. They come in a white charging case -- yes, only white -- that can flip open to reveal the earbuds within. It still retains that fidget factor and satisfying click of previous models. It also seems to acquire light scratches just as quickly too.
The new case is as thin as the original but shorter and wider. This more squat size is right between the original AirPods and the
AirPods Pro
.
For the earbuds, they've once again crossed AirPods with AirPods Pro. They are much shorter and have replaced the tapping control gestures with force stems. After having the shorter stems for so long on the pro model, the longer stems on standard AirPods were looking a bit ridiculous, so we're glad to see them go in this revised version.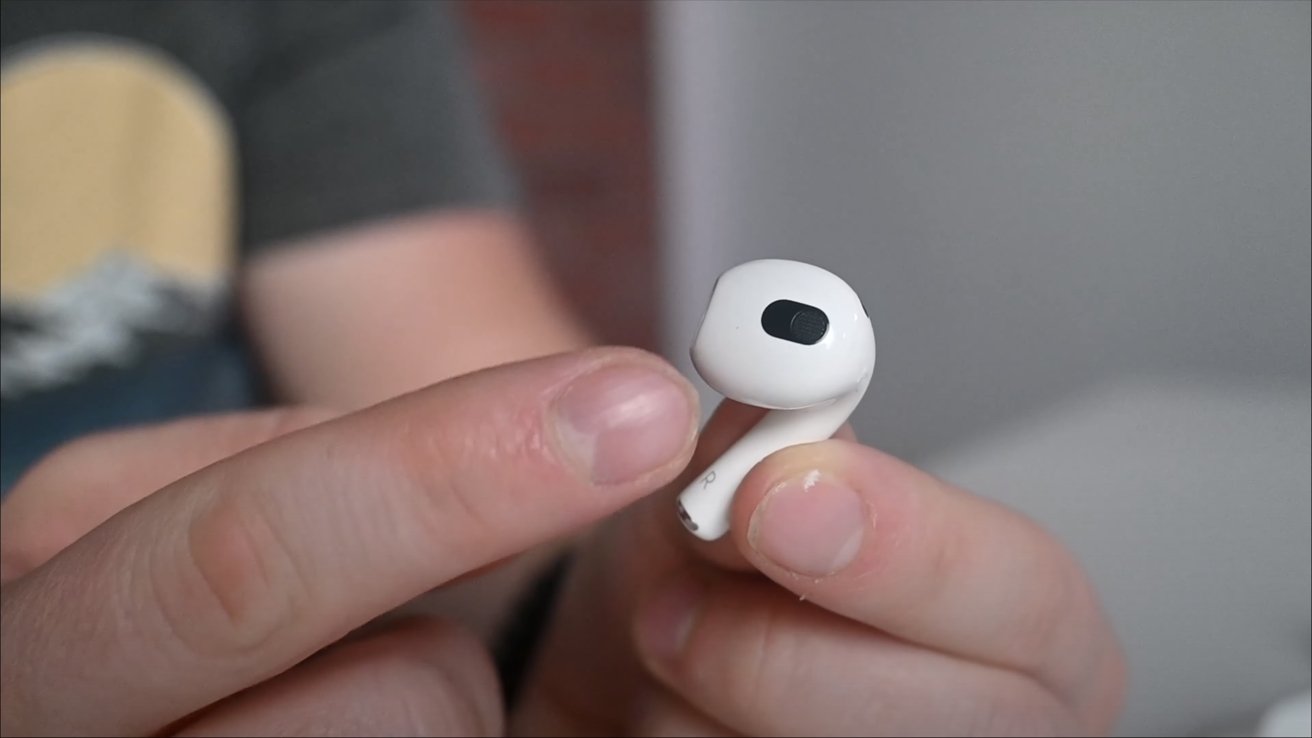 Skin detection sensor on the new AirPods
One new enhancement here that is unique to the AirPods 3 is the skin detection sensor. Apple always used an optical sensor to determine whether or not the earbuds were in your ears. As you'd remove your AirPods, your content would pause. As you placed them back in your ears, it would resume.
This worked well, but one issue that would arise is that your content would inadvertently resume if placed in your pocket without the case. To correct this, Apple designed a new skin detection sensor that won't falsely cause your content to start back up.
It works better for us, but there were still times when we'd be holding our earbuds, and the music would start.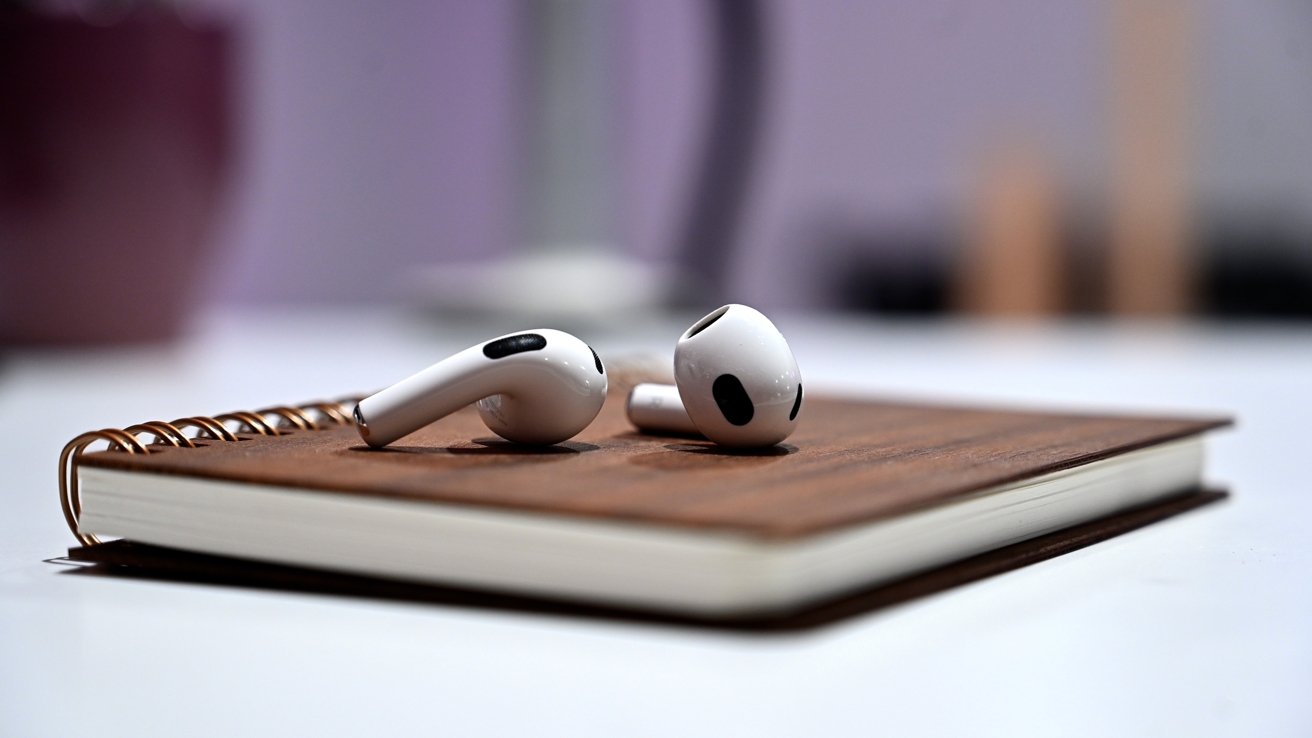 The new AirPods earbuds
Apple is made official the resistance rating on the new earbuds, going from unspecified to IPX4. This will allow the earbuds to withstand rain and sweat, but they will not survive submersion.
Fit: It's personal
Creating earbuds that universally fit is a struggle. Standard AirPods had plenty of detractors, and AirPods Pro solved this to a certain degree with the swappable silicone ear tips.
AirPods 2 (left) and AirPods 3 (right)
The new third-gen AirPods have an all-new shape that differs from the previous models. It's more bulbous, sits slightly further into your ear than AirPods, and lacks the silicone tips of AirPods Pro.
We've heard from many users who have said the AirPods 3 are exceptionally comfortable and sit well in their ears. For us, while we found them very comfy, they didn't stay put all that well.
They seemed too large for our ears and took only some light jostling for them to shift free. Apple's previous earbud designs fit better for us.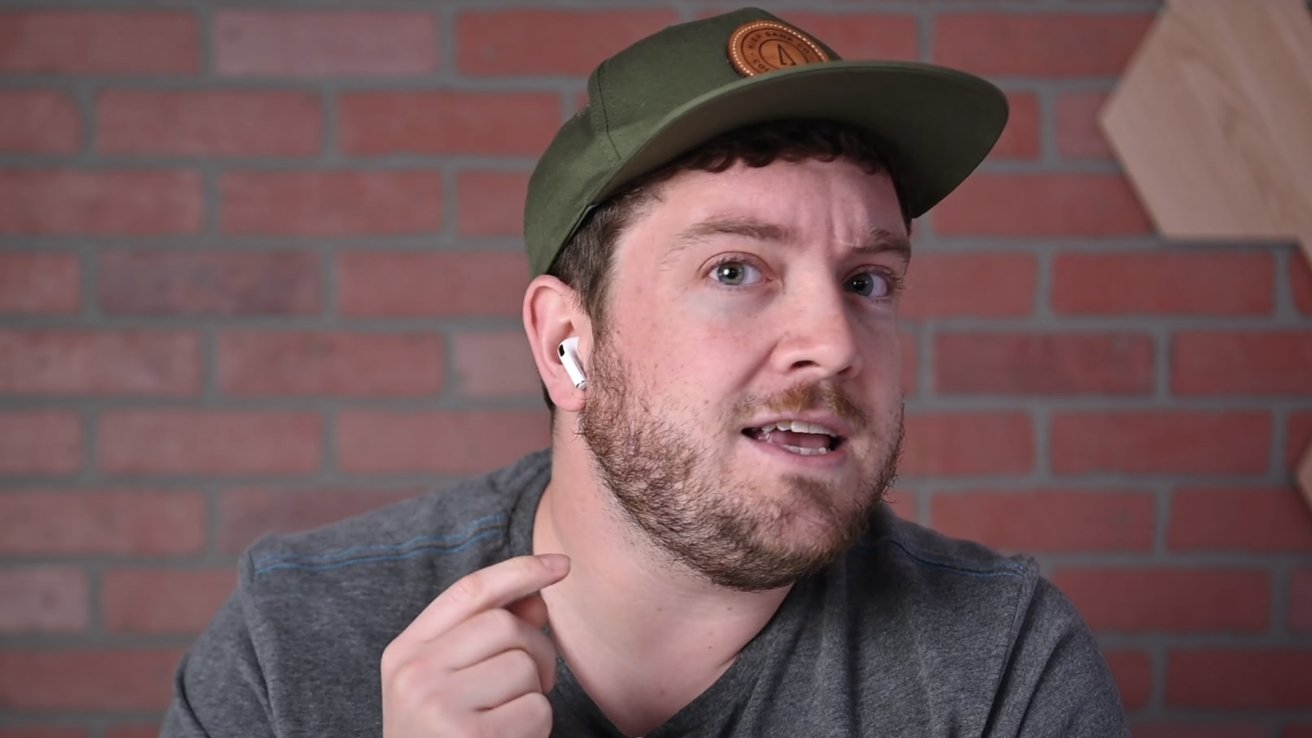 The fit seems just slightly off for us
Since these don't have silicone tips, the fit is closer to regular AirPods in that it doesn't block out much external noise. Depending on your use and preference, this is either a good thing or a bad thing. As a general rule, we prefer this looser fit -- it can be more comfortable for extended wear.
Despite the less-than-ideal fit for us, sitting at the desk all day, these put less stress on our ears. We can listen for hours in the morning, charge during lunch, and go for hours again in the afternoon without any aches or pain in our ears.
AirPods Pro, though comfortable, exert just a slight amount of pressure on our ear canals and can start to hurt after hours of extended use.
Of course, this varies from person to person. One
AppleInsider
staffer eschews earbuds entirely because of universal ear pain across any make and model.
Charging and battery
AirPods 2 with the wireless charging case could charge over
Lightning
as well as Qi.
MagSafe
, Apple's latest connectivity standard, was backward compatible with Qi. Therefore, AirPods 2 could wirelessly charge with a MagSafe charger.
What they lacked, though, was the magnets. If you had a flat MagSafe charger, this was a non-issue. But if you used any angled or vertical MagSafe charger, they'd slide right off.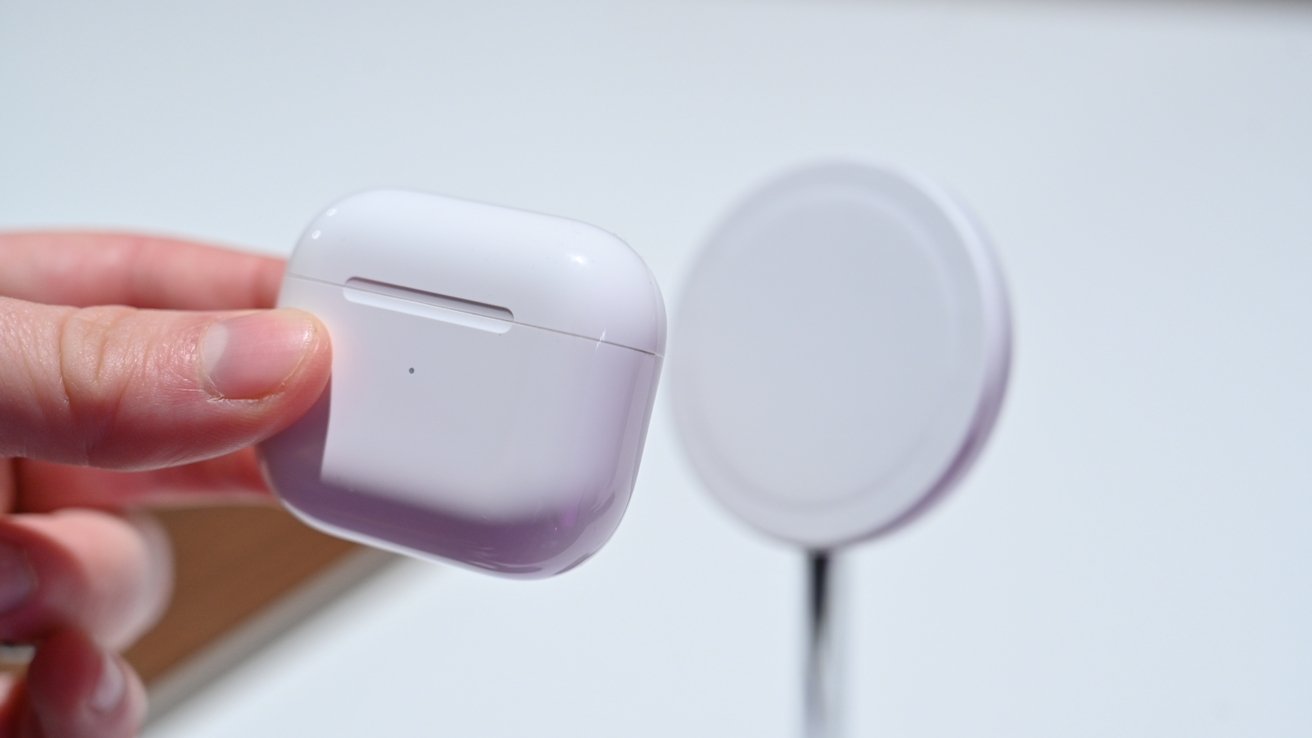 AirPods support Lightning, Qi, and MagSafe
Belkin's
BoostCharge Pro
, the Native Union
Rise Dock
, or Nomad's MagSafe
Mount Stand
are all popular solutions that have a non-flat MagSafe charger. That doesn't count the large array of MagSafe car chargers that are exclusively vertical.
The new AirPods solve this issue by including proper MagSafe support, including the magnet ring. Now AirPods 3 will properly align themselves on any MagSafe charger. This ensures the alignment is perfect for the fastest possible charge and allows them to support any vertical MagSafe charger.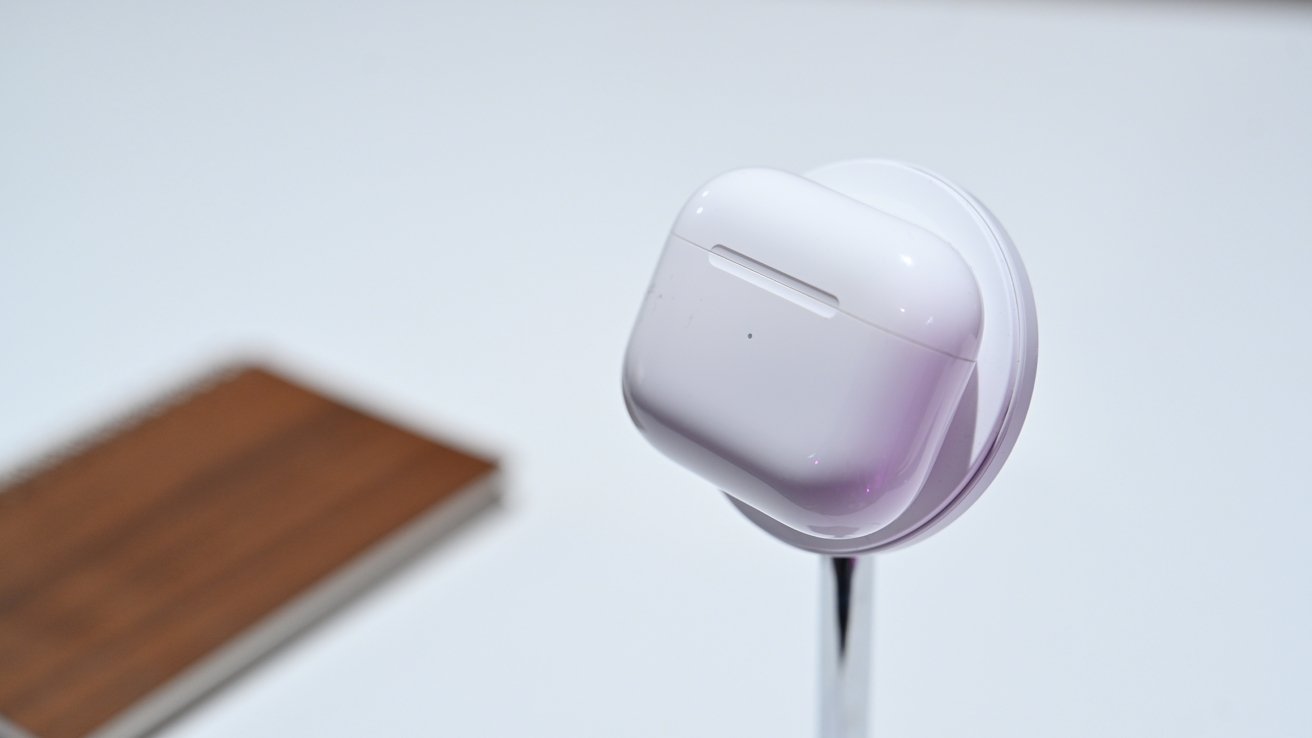 AirPods on the MagSafe Belkin BoostCharge
There isn't a substantial magnetic pull -- but it is enough for the case to stay on that charger regardless of orientation. After using the AirPods 3, this has been a surprise favorite feature. It makes it much easier to slap them down on any of the MagSafe chargers we have around without them sliding off or not charging at all because of misalignment.
Apple now includes a MagSafe-compatible case with the current-generation AirPods Pro as well.
Battery life on AirPods is the best Apple's had to date and arguably a big reason to upgrade. On a single charge, the earbuds will last up to six hours. AirPods second-generation only would last five hours while AirPods Pro could barely muster 4.5 hours.
It doesn't stop there. If you combine the hours in the earbuds and the remaining capacity in the charging case, AirPods third-gen can last up to 30 hours away from an outlet. The other two sets of AirPods maxed out at 24 hours.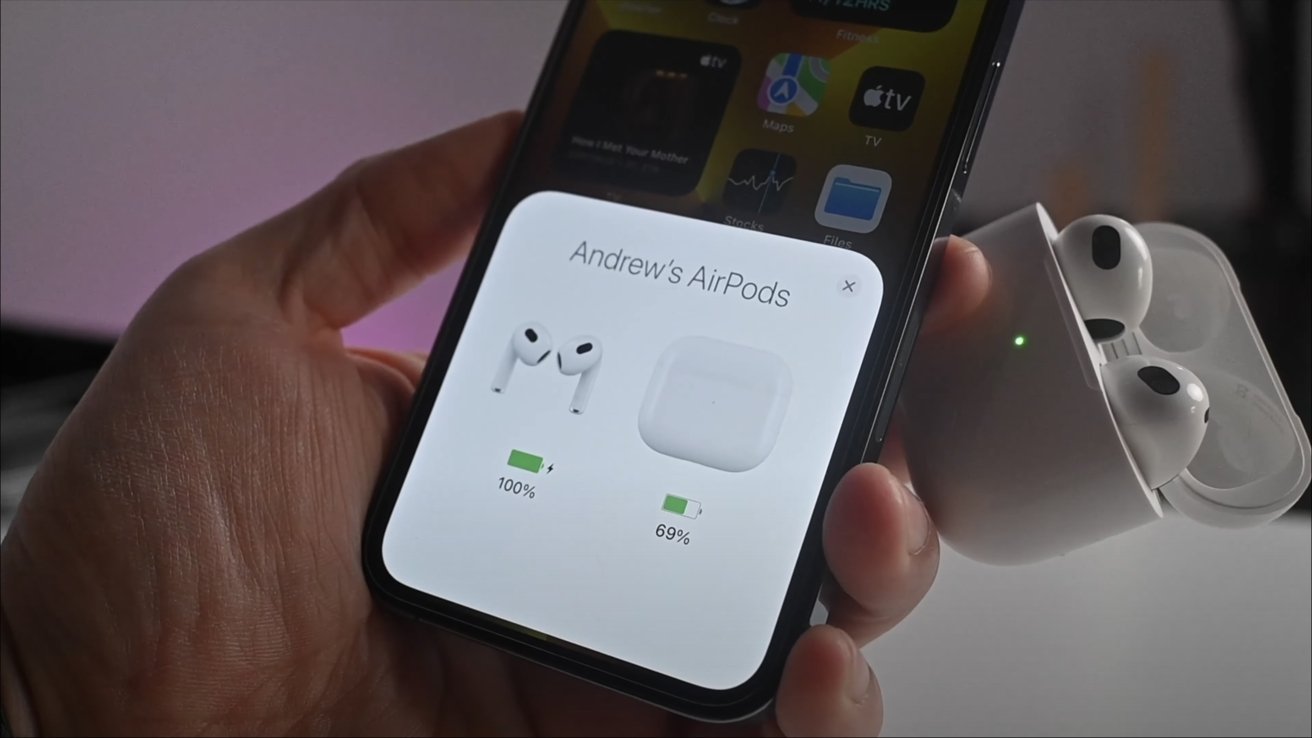 AirPods have great battery life
Without starting and stopping a stopwatch each time we listened to the audio, we noticed a difference. With only a couple of breaks during the day, we were able to listen to AirPods throughout a typical eight-hour workday.
On our AirPods Pro, especially after more than two years of use, we are getting less than four hours on a charge. Using AirPods is like a night and day difference by comparison.
Spatial Audio
For the uninitiated, Spatial Audio with head tracking allows 3D sound to come from all around you, based on a fixed point.
The best example is while watching a movie while facing a screen. The dialogue will come from directly in front of you. Sound effects and other sounds may come from behind you, above you, as well as from your left and right. It's a much more immersive experience than standard stereo audio.
The head tracking comes into play because the audio seems to come from a singular point in the space around your head focused on the presentation screen. As you're watching that movie, if you turn your head to the left, the audio will shift around you, so now, when someone talks, it will sound like it is coming from your right side -- mimicking how sound is in the real world.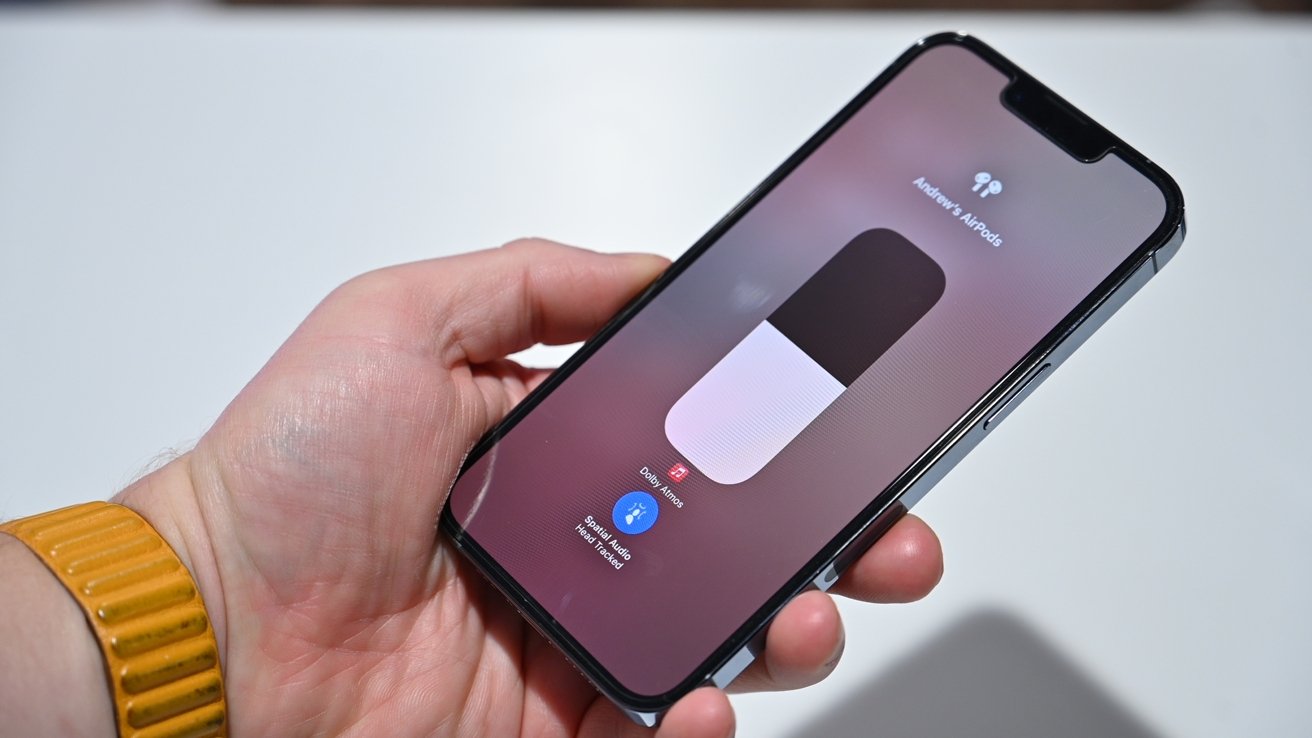 Spatial Audio and head tracking can be controlled from Control Center
Similarly, if you move your phone, the audio will follow where the phone is. As if the audio is coming right from the character on screen. Apple pulls this off by using the gyroscopes in the earbuds and your phone to track both locations and adjust the audio accordingly.
You can use this feature on all your Apple devices. That includes
iPhone
,
iPad
,
Mac
, and even
Apple TV
. Apple TV may be perhaps the most impressive.
Your Apple TV is farther away, so it can't use Bluetooth or anything else to detect the direction of your TV from your head as it does with iPhone and iPad. So instead, it uses the gyroscopes to tell when you're walking around versus sitting.
Once it detects you're sitting and your head stays fixed in a specific direction, it will begin head tracking as it knows you're watching TV. As soon as you get up, head tracking is disabled. This is all even better as Apple TV now automatically has AirPods detection and will pop up in the corner of the screen if you open them nearby. A very seamless experience indeed.
Spatial Audio and Dolby Atmos are supported in a wide variety of TV shows and movies available on your devices. There are still some apps that don't support it but more and more have added support since Apple originally introduced the feature.
Beyond videos, Apple has brought Spatial Audio to Apple Music. This is also a neat experience, but less so than video. Not compelling on its own, but a nice-to-have on top of video support.
Audio quality
Spatial Audio aside, Apple has improved the audio here a decent bit from the original AirPods but don't expect a drastic difference.
Sure enough, Apple touts an all-new audio system and new custom drivers. But just because they're new doesn't mean they are magically going to outpace the higher-end AirPods Pro. Apple seemed to ensure that AirPods third-gen would sound better, but too much better. We'd still say other comparable earbuds sound better.
Precisely what has improved here is an increase in the bass -- possibly because of the large earbuds themselves -- and less distortion in the highs at high volumes. AirPods Pro has more clarity, and the new Beats Fit Pro is more bass-heavy.
To be clear, these sound
far
better than cheap earbuds that flood the market. But, there are wireless earbuds that perform better in the same price range.
Still the AirPods magic
With AirPods, and we're talking the whole lineup here, this ineffable magic makes them so compelling to users. It is an experience that is difficult to put into words and hard to comprehend for those who haven't used them.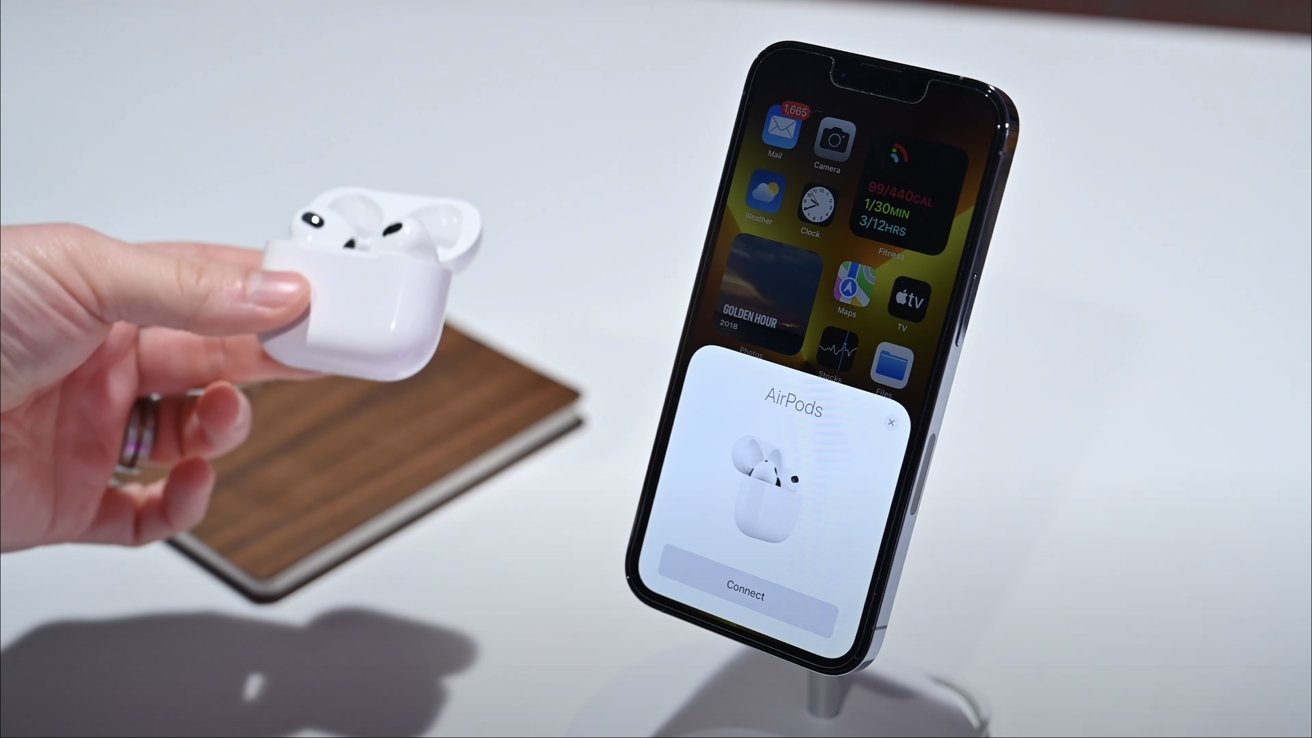 Effortless pairing for AirPods thanks to the H1 chip
Apple has been perfecting this expense over the years, and all of Apple's earbuds have gained new features with each iterative iOS update.
This year, Apple added
several new features
to various sets in the lineup such as improved Find My support, background audio, ambient noise reduction, Conversation Boost, auto-switch with Apple TV, and more.
We expect Apple to act similarly with the new AirPods and update them over time with new enhancements. Only Apple knows what the future plan is, though.
Not all of those new features arrived for AirPods. Many were exclusive to AirPods Pro, such as the improved
Find My
support and Conversation Boost. Conversation Boost stays with AirPods Pro, but the more impressive Find My experience did make it to the new AirPods.
With Find My, AirPods are tied to your Apple ID. You can enable left-behind alerts that alert you should you leave a location without your earbuds. You can define areas, so you don't get an alert every time you leave your house or leave them in a different room.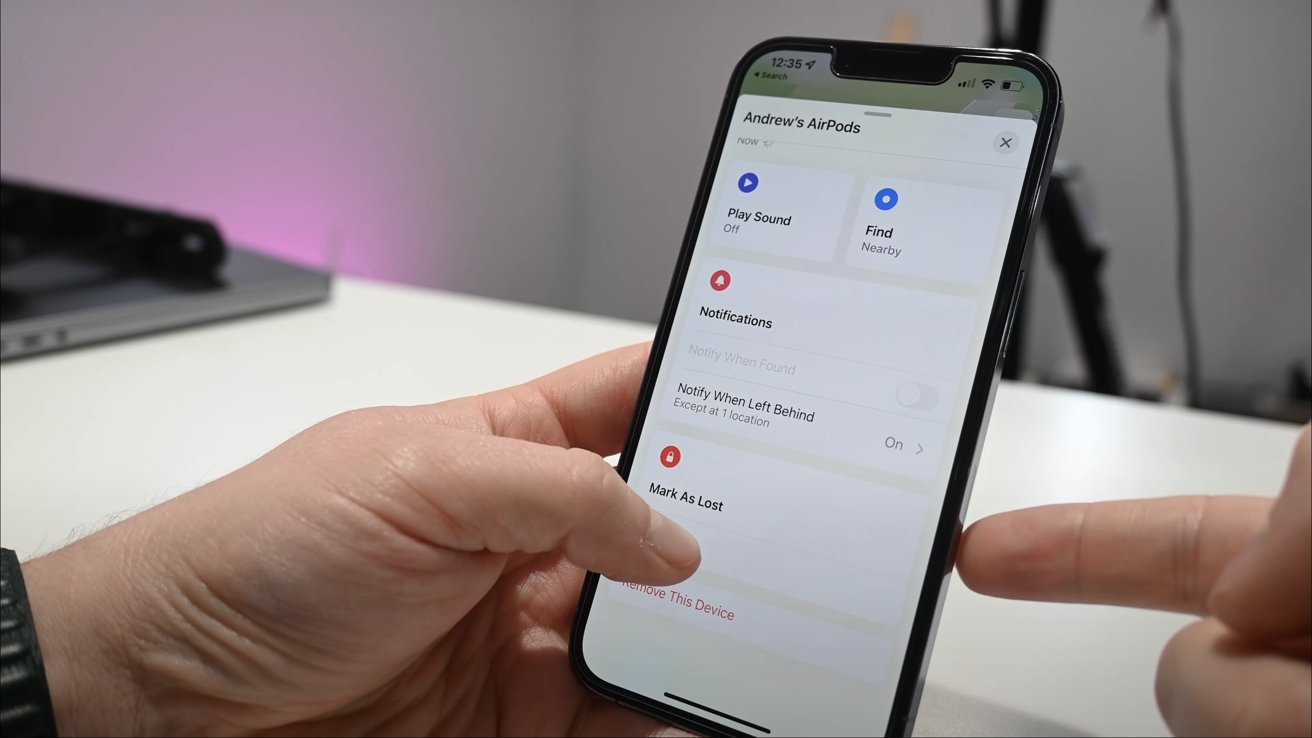 Full Find My support comes to AirPods
AirPods can be put into lost mode, and leverage the larger Find My Network of Apple users to help you find where your earbuds were left. When marked as lost, you'll get a notification if they are found, they will be locked so no one else can pair them with their device, and you can leave a message on them with your phone number or email for a good samaritan to use to reach out.
And sure, if they are nearby, you can use the Find My app to help get close to them or play a rather-quiet tone and locate them.
Everything else about Apple's magical experience is here too. Automatically switch between devices as you use them. Hands-free "hey Siri" support. Effortless pairing and integration into Control Center.
Should you buy the new AirPods?
If we were talking about Apple's AirPods here, then yes. You should pick them up. Assuming they fit your ears, these are an easy buy. Unfortunately, the question isn't as easy these days.
Even since Apple released the new AirPods, they've released a new set of Beats, the Beats Fit Pro. This joins the AirPods second generation, AirPods Pro, PowerBeats Pro, and Beats Studio Buds. All of these include the Apple experience and varying degrees of support for Apple's features.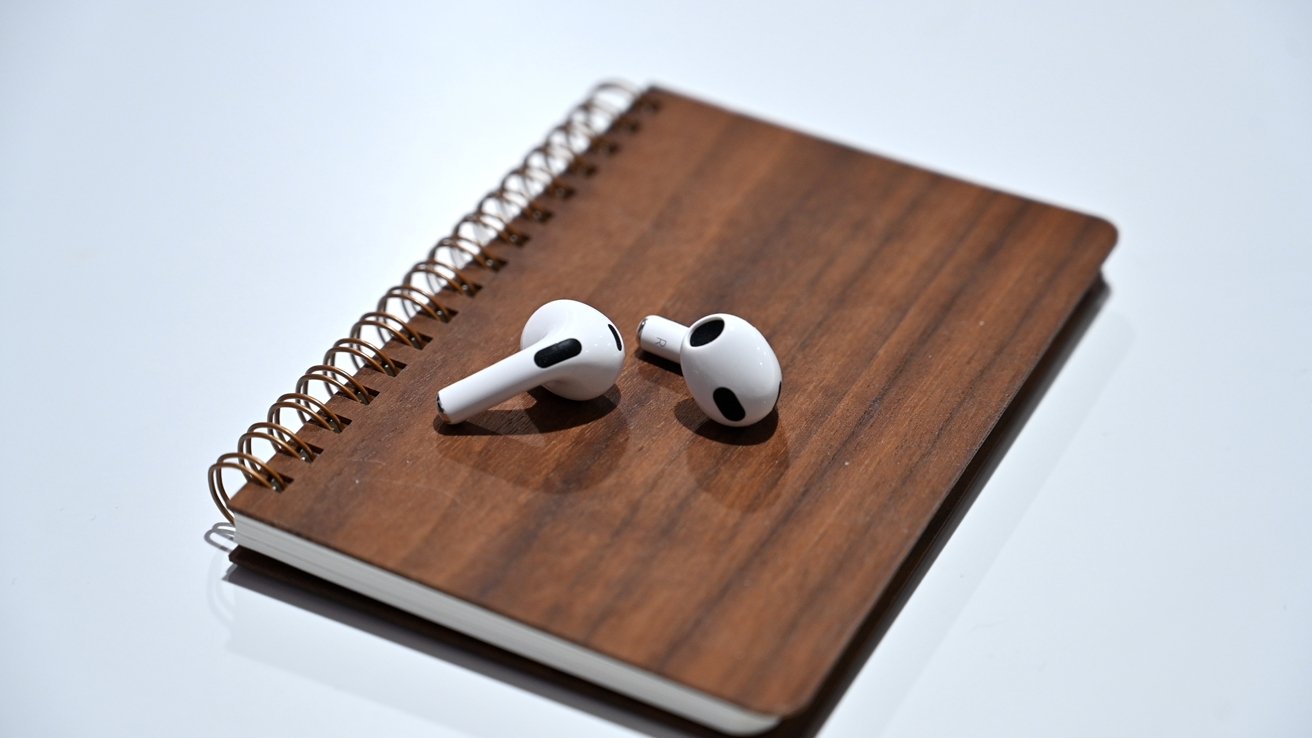 The new AirPods
Beats Fit Pro costs only $20 more, includes active noise cancellation, transparency mode, and fit wings for a secure hold. That said, they don't have the same social clout as AirPods, don't fully support Find My, and don't support MagSafe -- or wireless charging at all for that matter. Their total battery, including the charging case, is only 24 hours, below AirPods 30 hours.
Some people also prefer the fit of AirPods. They don't want the tight seal. The same goes when compared to AirPods Pro. AirPods Pro, being over two years old, frequently goes on sale. We've seen them as low as $189, making them quite comparable but with more features. As the third-gen AirPods are brand new, we haven't seen too many sales for them.
Regardless, AirPods hold their own. Like in every crowded market, you, the user, need to decide which feature set and integrations are the best for your particular needs.
Pros
Improved audio quality


Smaller stem


Force stems replace the fickle tapping controls


MagSafe charging is wonderful


Smaller stems look better while wearing


Very comfortable


Adaptive EQ tunes audio automatically


Spatial Audio with head tracking is great for movies, sometimes audio


IPX4 resistance helps for workouts or weather


Skin detection sensor helps prevent audio starting inadvertently


Battery life is fantastic
Cons
No tight seal in your ears


Case still scratches easily


Hard market position between second generation AirPods, AirPods Pro, and new Beats


No color options
Rating: 4 out of 5
Where to buy
AirPods 3 are already discounted at popular Apple resellers, with the
best AirPods deals
at your fingertips in our
AirPods Price Guide
.
Read on AppleInsider