Compared: AirPods vs AirPods Pro vs Beats Fit Pro
The new Beats Fit Pro offer Active Noise Cancellation in a package that's cheaper than the
AirPods Pro
. Here's how they fare against the AirPods Pro and its lower-priced stablemate, AirPods.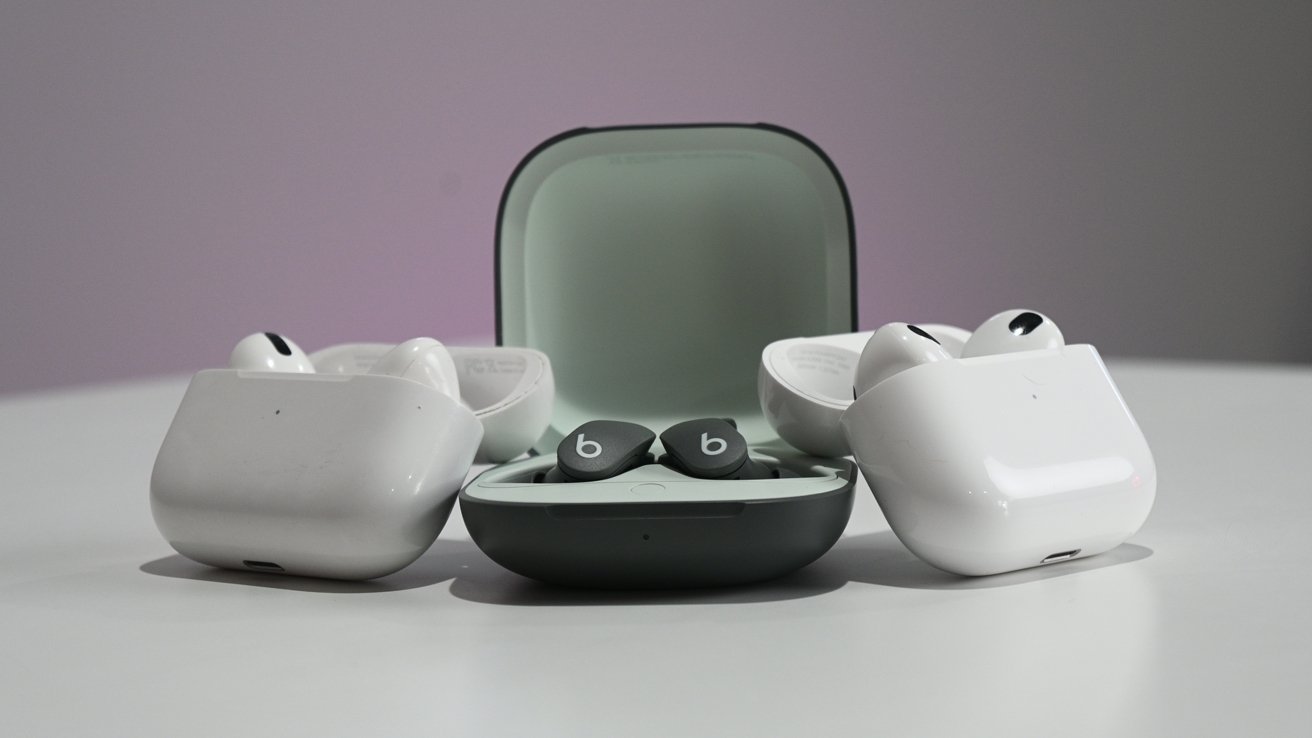 AirPods 3, AirPods Pro, and Beats Fit Pro
Fall has been quite an active period for Apple's audio products, with the third-generation
AirPods
nearing the AirPods Pro in terms of features, but still missing out on Active Noise Cancellation.
With the
introduction
of the Beats Fit Pro from Apple's personal audio subsidiary, the company offers another option for those who want to have ANC, but not necessarily in AirPods form. The compact earphones boast the same H1 chip technology and many of the same features as its Apple counterparts, with the addition of Beats styling, among other elements.
In theory, the Beats Fit Pro fits somewhere between AirPods Pro and AirPods in the Apple product catalog, but it remains to be seen whether it will do enough to impress would-be AirPods Pro buyers.
Specifications
Beats Fit Pro
AirPods (Gen 3)
AirPods Pro
Price
$199.99
$179
$249
Dimensions (inches)
1.18 x 0.94 x 0.75
1.21 x 0.75 x 0.76
1.22 x 0.86 x 0.94
Weight (ounces)
0.197
0.15
0.19
Case Dimensions (inches)
2.44 x 2.44 x 1.12
1.83 x 2.14 x 0.84
1.78 x 2.39 x 0.85
Case Weight (ounces)
1.94
1.34
1.61
Battery Life (earbuds)
6 hours with ANC
6 hours
4.5 hours with ANC
Battery Life (with case)
Up to 24 hours
Up to 30 hours
Up to 24 hours
Connectivity
Class 1 Wireless Bluetooth
Bluetooth 5.0
Bluetooth 5.0
Microphones
Dual beamforming microphones
Dual beamforming microphones,
Inward-facing microphone
Dual beamforming microphones,
Inward-facing microphone
Sweat and Water Resistance
IPX4
IPX4
IPX4
Active Noise Cancellation
Yes
No
Yes
Spatial Audio
Yes
Yes
Yes
Colors
Beats White,
Beats Black,
Stone Purple,
Sage Gray
White
White
Beats Fit Pro vs AirPods vs AirPods Pro - Physical Features
The third-generation AirPods and the AirPods Pro are quite similar to each other in terms of appearance. Both are white and consist of an earpiece with a descending stalk, complete with black vents in a couple of spots.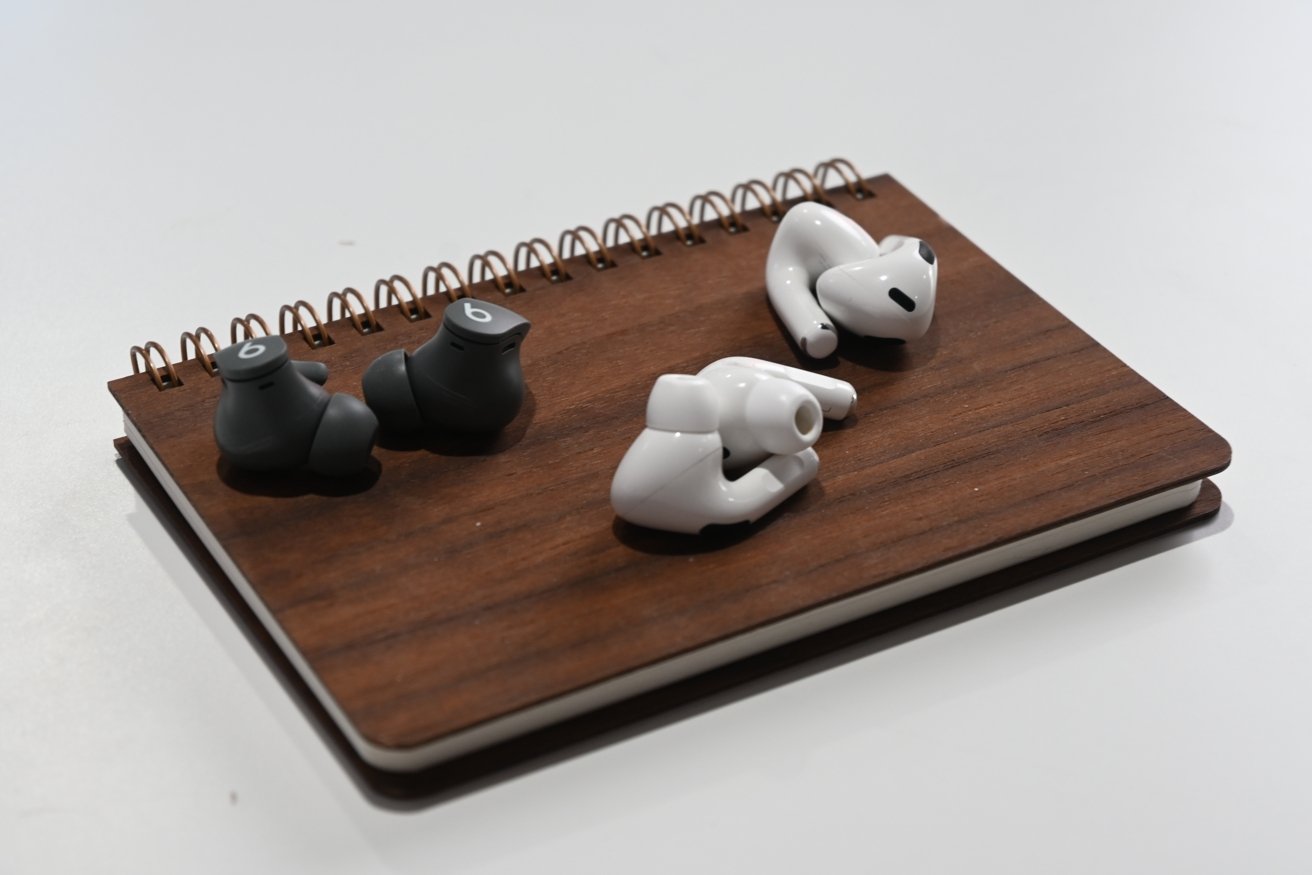 AirPods 3, AirPods Pro, and Beats Fit Pro earbuds
The main visual difference is that the AirPods Pro use silicone tips, whereas the third-gen AirPods rely on the head section sitting properly at the entrance to the user's ear canal. That silicone tip gives the AirPods Pro a snug fit in the ear canal itself, as well as aiding its ANC features.
Like its other designs, Beats went its own direction away from Apple's usual choice. Instead of a descender, you have an earbud with the "b" branding prominent on the outside. A silicone tip is used for a snug fit, while the wingtips flex to fit into the folds of the ear.
Beats also included vents to relieve pressure and to make the Fit Pro comfortable to wear for long periods. There's also a setup process available to make sure they're fitting snugly and to achieve a proper acoustic seal.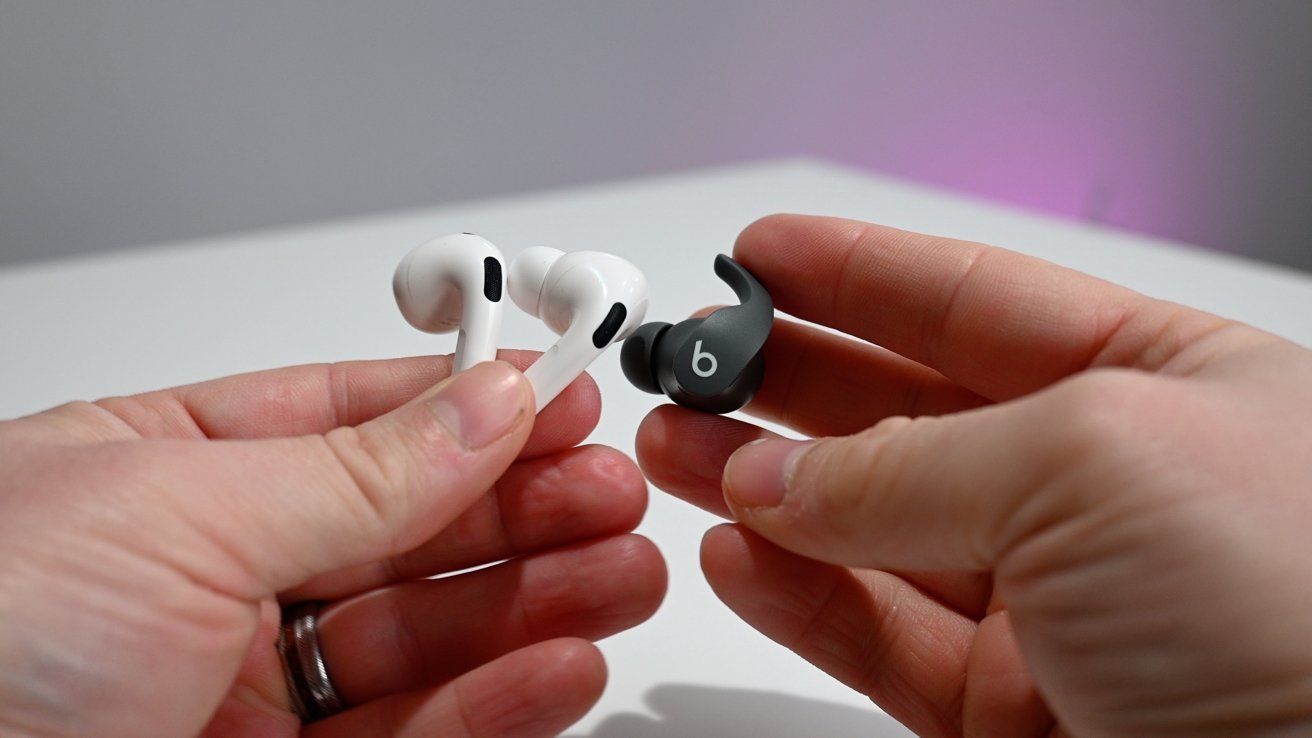 AirPods 3, AirPods Pro, and Beats Fit Pro earbuds compared
With the AirPods range intended as the premium end of the personal audio spectrum while the Beats are intended as a more mass-market offering, that is a little bit noticeable when feeling the earbuds. You can feel the Beats Fit Pro are "cheaper" than AirPods.
In terms of physical dimensions, the Beats Fit Pro are in the same sort of ballpark as the two AirPods lines. The Beats Fit Pro measure 1.18 inches by 0.94 inches by 0.75 inches.
By contrast, the AirPods are 1.21 inches by 0.75 inches by 0.76 inches, and the AirPods Pro are 1.22 inches by 0.86 inches by 0.94 inches.
You could say that the Beats are nearest the AirPods in size, but where it benefits from a lack of that stem, the flexible ear hook works against it.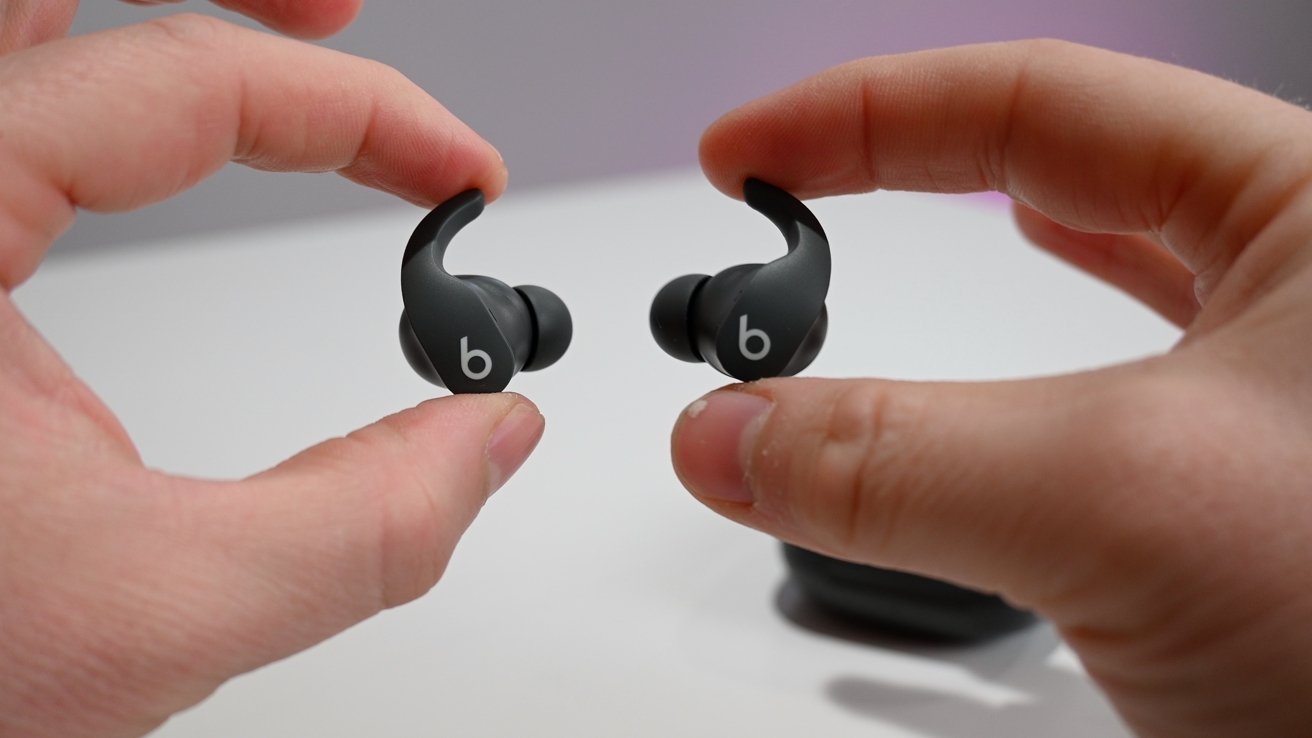 Beats Fit Pro
On the weight side, the AirPods are lightest at 0.15 ounces, while AirPods Pro is 0.19 ounces. The Beats Fit Pro are heavier at 0.197 ounces, but not by much.
One definitive benefit that the Beats Fit Pro has over the AirPods is a choice of color. While Apple's earbuds are available only in the standard white, Beats offers four options: Beats White, Beats Black, Stone Purple, or Sage Gray.
All models offer some level of environmental resistance, with each of them being rated to IPX4. While not able to handle submergence, it does mean all should be able to handle splashes, sweat, and light rain.
The dangling stalks of the AirPods and AirPods Pro are used for controls, with taps and squeezes providing control over calls and features.
You don't get that sort of tap-based interface with the Beats Fit Pro, but you can press the Beats logo on each earbud as a button for similar controls.
Beats Fit Pro vs AirPods vs AirPods Pro - Cases
All three sets of wireless earphones have cases that can recharge the accessories when they're stowed away.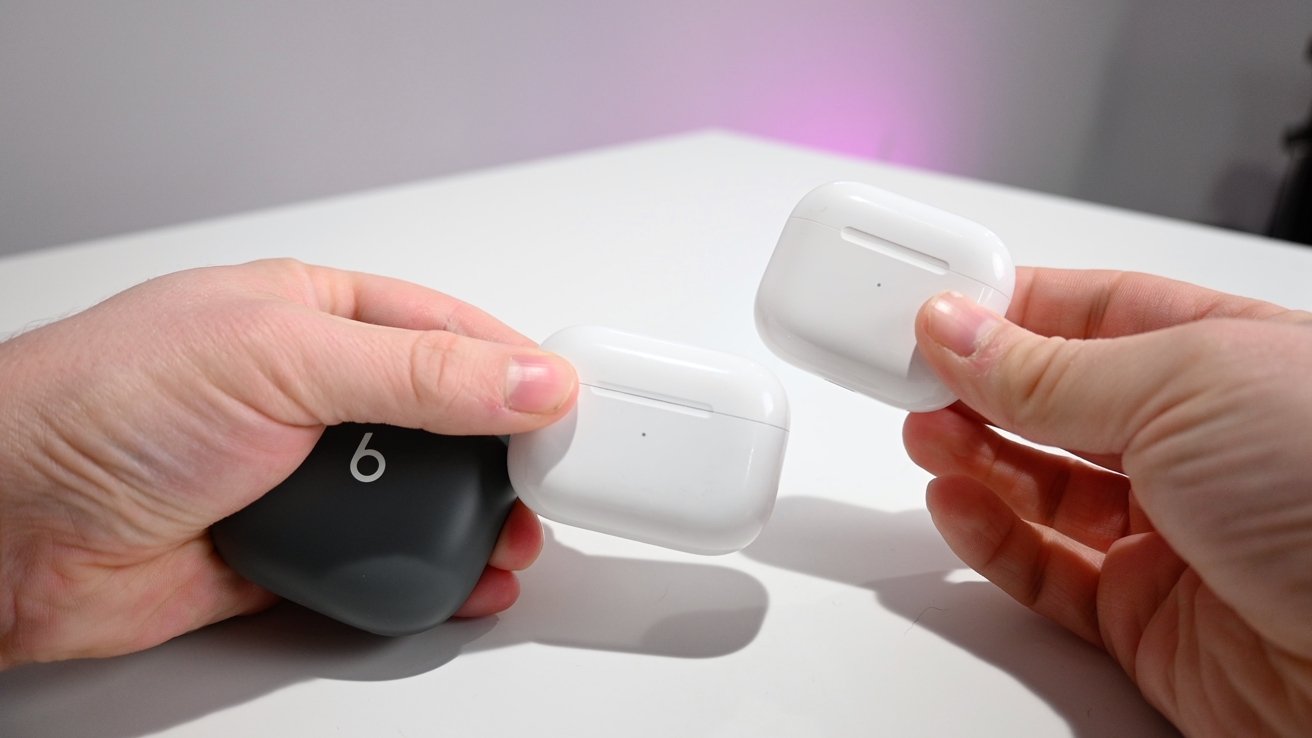 AirPods 3, AirPods Pro, and Beats Fit Pro cases
From the outset, you can tell that the cases for Apple's earbuds are considerably smaller than the Beats offering. The case used for the AirPods measures 1.83 inches by 2.14 inches by 0.84 inches, while the AirPods Pro case is 1.78 inches by 2.39 inches by 0.85 inches.
The Beats Fit Pro case is a round square at 2.44 inches in length and width, and it's also the thickest at 1.12 inches.
Opening up the cases, you can tell that Apple didn't waste any internal space, whereas there's a lot of seemingly spare room in the more spacious Beats case. Internally, the Beats case is also nice to look at, with its light interior contrasting against the darker color options for the Fit Pro, while AirPods and AirPods Pro opt for a white-on-white appearance.
Beats doesn't include wireless charging in its case, whereas both AirPods sets do. Instead, you're forced to use the USB-C cable to regain power to the case.
Beats Fit Pro vs AirPods vs AirPods Pro - Main Features
By borrowing Apple's engineering knowledge and components, there's obviously going to be a lot of crossover between the three sets of earbuds. They all use the same H1 chip, which affords a pretty similar set of features across the board.
That means you're getting deep integration with iOS, one-touch pairing, automatic switching between Apple devices, audio sharing with another pair of Beats or Apple audio accessories, and support for "Hey Siri." There's also Spatial Audio support across the board, complete with dynamic head tracking, and Find My support for tracking down lost earphones.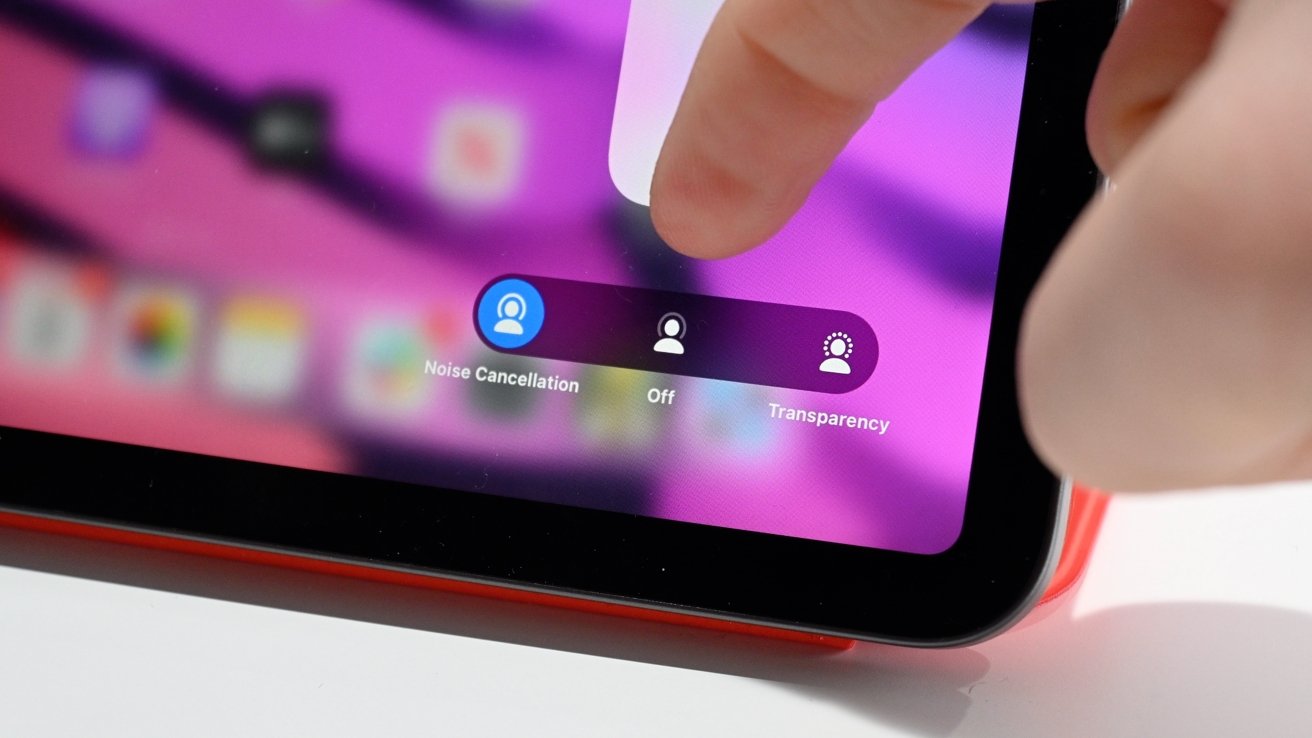 AirPods Pro and Beats Fit Pro have ANC
The big difference is that the AirPods lack ANC. Both Beats Fit Pro and AirPods Pro can block out some of the environmental sound for a more optimized listening experience.
That also means the Beats Fit Pro and AirPods Pro have Transparency Mode, which allows some environmental sounds to pass through ANC, enabling users to keep aware of their surroundings.
As for how well the Beats Fit Pro sound, they include a custom acoustic platform that uses a dual-element diaphragm driver in a two-chamber housing, along with an advanced digital processor for optimizing audio.
In use, the Beats Fit Pro sound better than the AirPods, thanks to the silicone tip. It results in a less airy sound with more clarity and more substantial bass.
Beats Fit Pro vs AirPods vs AirPods Pro - Battery Life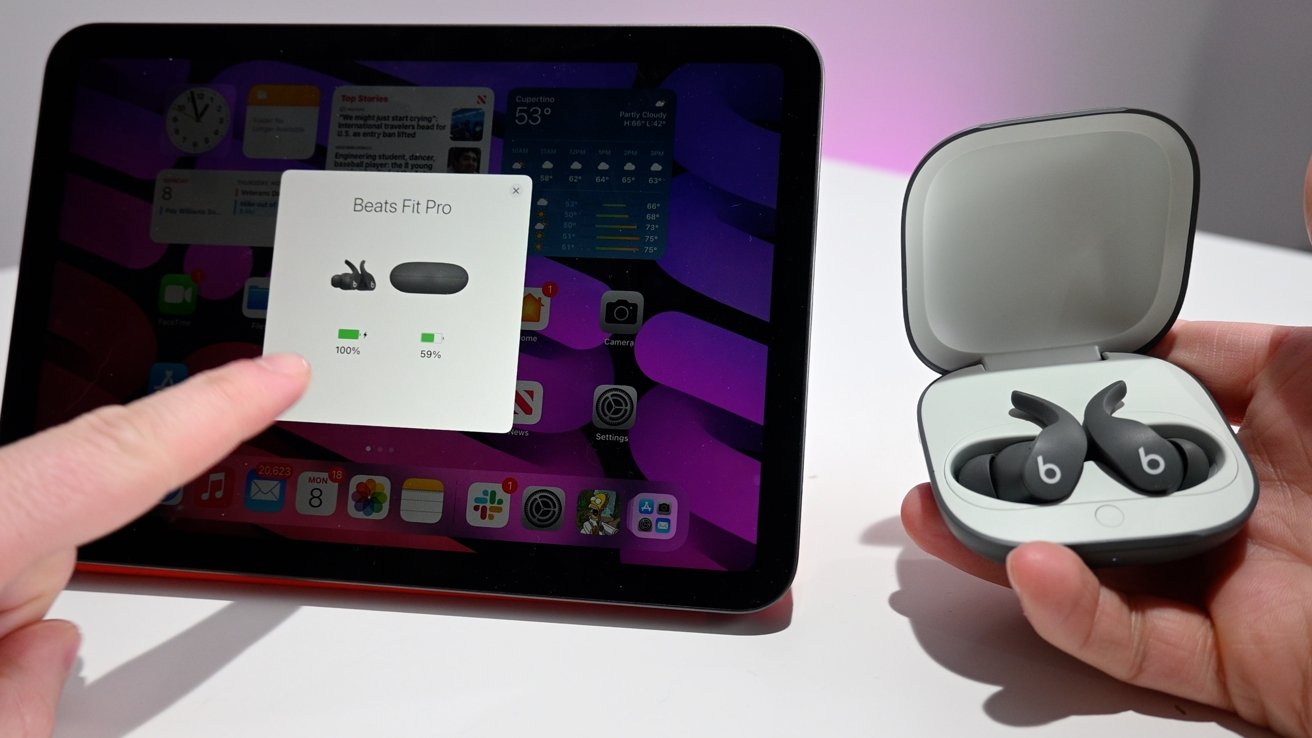 Checking battery life on Beats Fit Pro
Apple markets the AirPods as having up to six hours of battery life from a single charge, five if you are using Spatial Audio, for listening to music. The time drops down to 4 hours for talk time.
AirPods Pro offers up to 4.5 hours of listening with ANC turned on, but that goes up to 5 hours with ANC and Transparency turned off. For talk time, the battery sinks down to 3.5 hours.
Beats Fit Pro excel here, as you can get up to 6 hours of listening time with ANC turned on, with the time growing to 7 hours with ANC and Transparency off. Apple doesn't offer what the talk time is for the earphones.
On the battery side, the Beats Fit Pro and AirPods Pro cases can help extend the total usage time to 24 hours, while the AirPods can last for up to 30 hours. All three offer a fast-charging capability, where 5 minutes in the case provides an hour of usage, with Beats branding it as Fast Fuel.
Beats Fit Pro vs AirPods vs AirPods Pro - Connectivity and Android
As said earlier, you don't have wireless charging in the case of the Beats Fit Pro, so you're stuck using the supplied USB-C to USB-C cable instead of Qi charging. Both AirPods and AirPods Pro cases use Lightning, and are supplied with a Lightning to USB-C cable, though they also support MagSafe.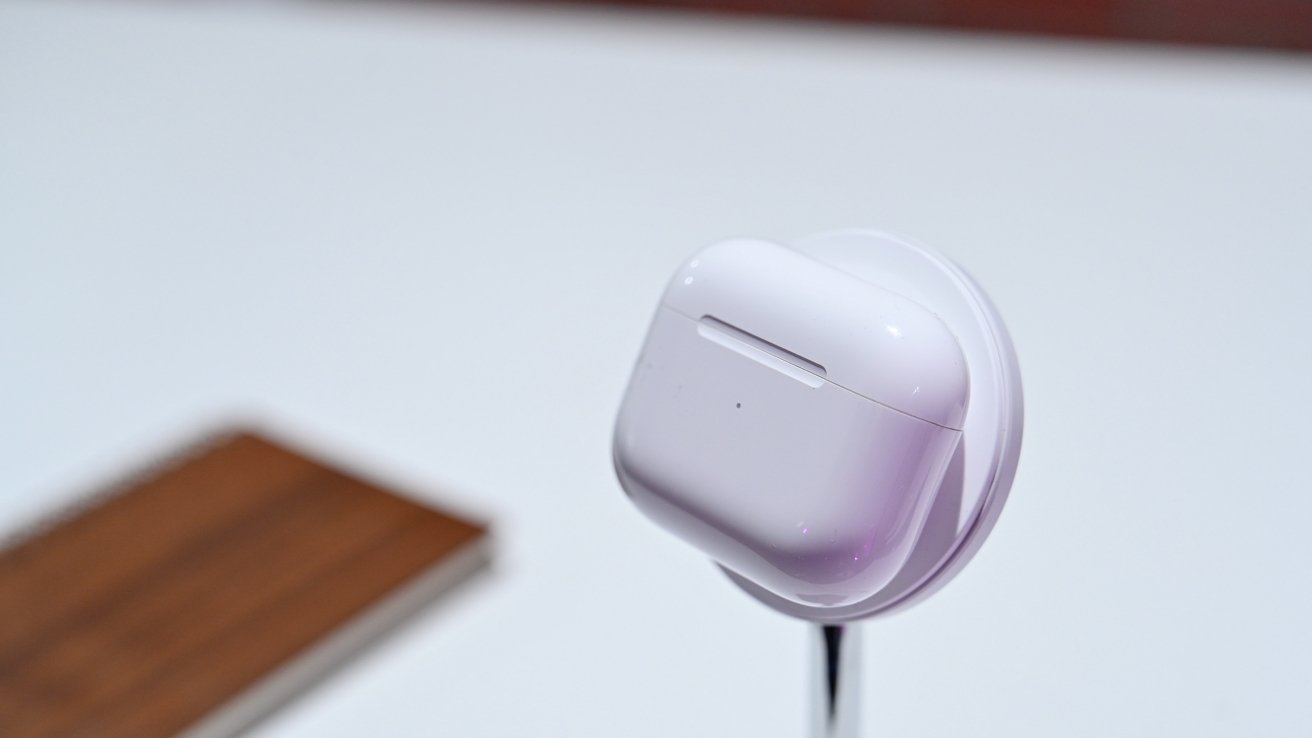 MagSafe support arrives on AirPods 3 and AirPods Pro
The entire lot connects over Bluetooth 5 and Apple is continuing to use Class 1 Bluetooth for this connection. Class 1 audio is a much more robust signal than the commonly used Class 2 Bluetooth audio though it is more power-hungry. It does have incredible range, with all connecting at more than a hundred feet.
One connectivity area the Beats Fit Pro certainly does better in is with Android connectivity. While Apple's earbuds can connect to an Android smartphone or tablet through usual Bluetooth pairing, Beats goes the extra mile in offering some of the same iOS-based features on Android for its audiowear.
That means that if you have the Beats app for Android installed, you can use one-touch pairing, customized controls, firmware updates, the Fit test, and even be informed of how much battery is left remaining.
Beats Fit Pro vs AirPods vs AirPods Pro - Pricing
With the introduction of the third-generation AirPods, Apple simplified the pricing options by making the wireless case the only one available to consumers, rather than offering a wireless-free case option as well as a separate Wireless Charging Case. Apple charges $179 for the latest model.
The AirPods Pro, again offered in one configuration, costs $249.
The Beats Fit Pro are priced at $199.99.
A great option for ANC
Just looking at the specifications of the Beats Fit Pro, it's easy to see they would stand up against AirPods and AirPods Pro, especially since there's so much shared technology. Using the same H1 chip and offering identical ANC, Transparency, and other iOS connectivity features makes the Beats seem on par with the Apple-branded options.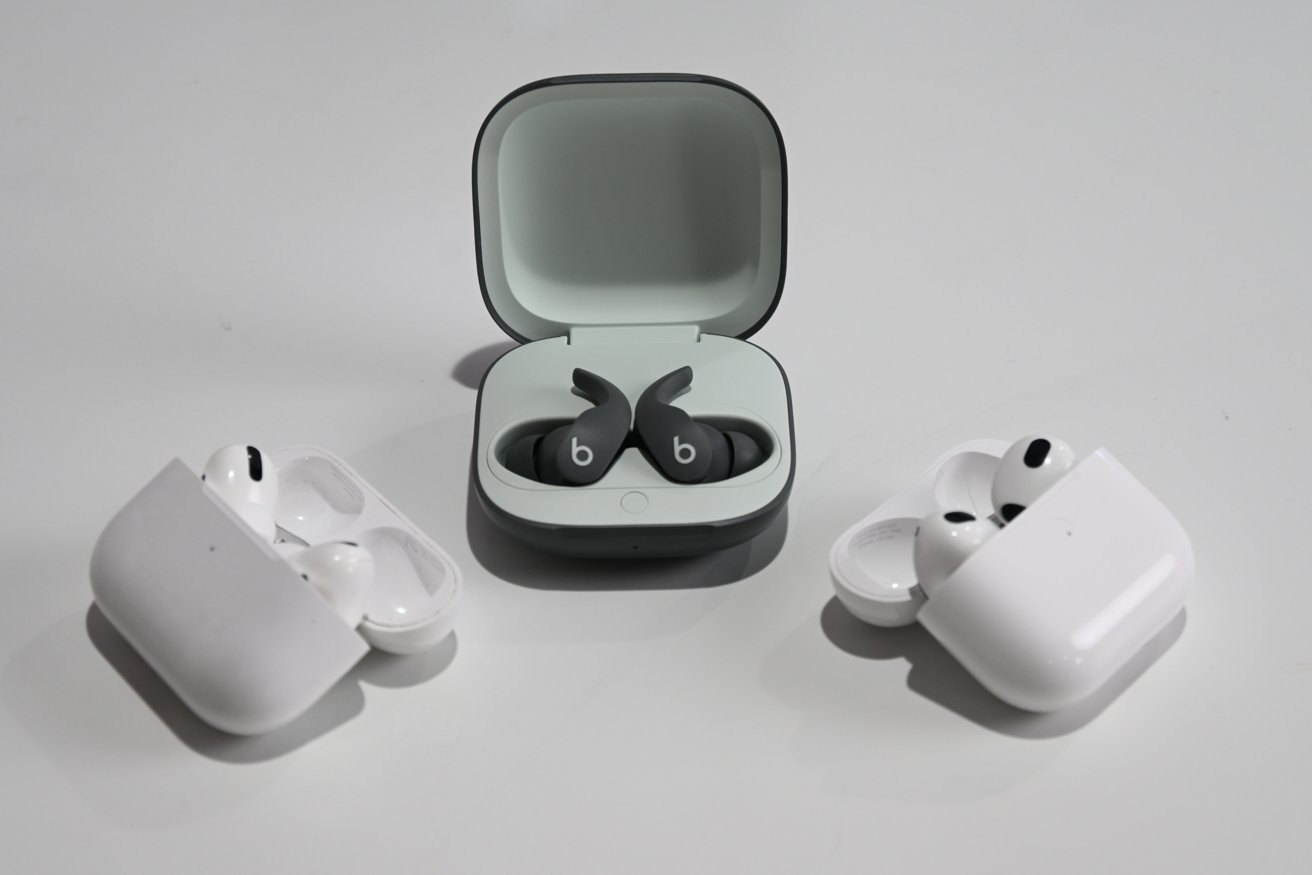 AirPods 3, AirPods Pro, and Beats Fit Pro
Indeed, while you could knock it for the feel of the product over the premium AirPods range, as well as the gigantic charging case without wireless charging, there's so many aspects where it improves. The per-charge battery life may not be as great as AirPods, but it does better than AirPods Pro by quite a bit.
That's before you even consider it as a more viable option for Android users as a form of AirPods Pro that works better with their hardware. This benefit could easily be negated by Apple producing its own form of Beats app for its own audio lineup, but that seems unlikely to happen for quite some time.
Beats Fit Pro provides AirPods Pro-style ANC and Transparency, as well as color options, at a price that's just $20 more than AirPods. When put like that, it makes a very compelling argument to go for Beats over AirPods Pro.
Where to buy
AirPods 3 and AirPods Pro with MagSafe are already discounted at popular Apple resellers, with the
best AirPods deals
at your fingertips in our
AirPods Price Guide
.
Beats Fit Pro are also
available now for $199.99
, with the latest prices in our
Beats Earphones Price Guide
.
Read on AppleInsider