MacBook Air with M2 processor review: The sweet spot for Mac portables in 2022
Apple's redesign of the
MacBook Air
incorporating the M2 Apple Silicon processor makes it the best option for most people who want to own a portable Mac.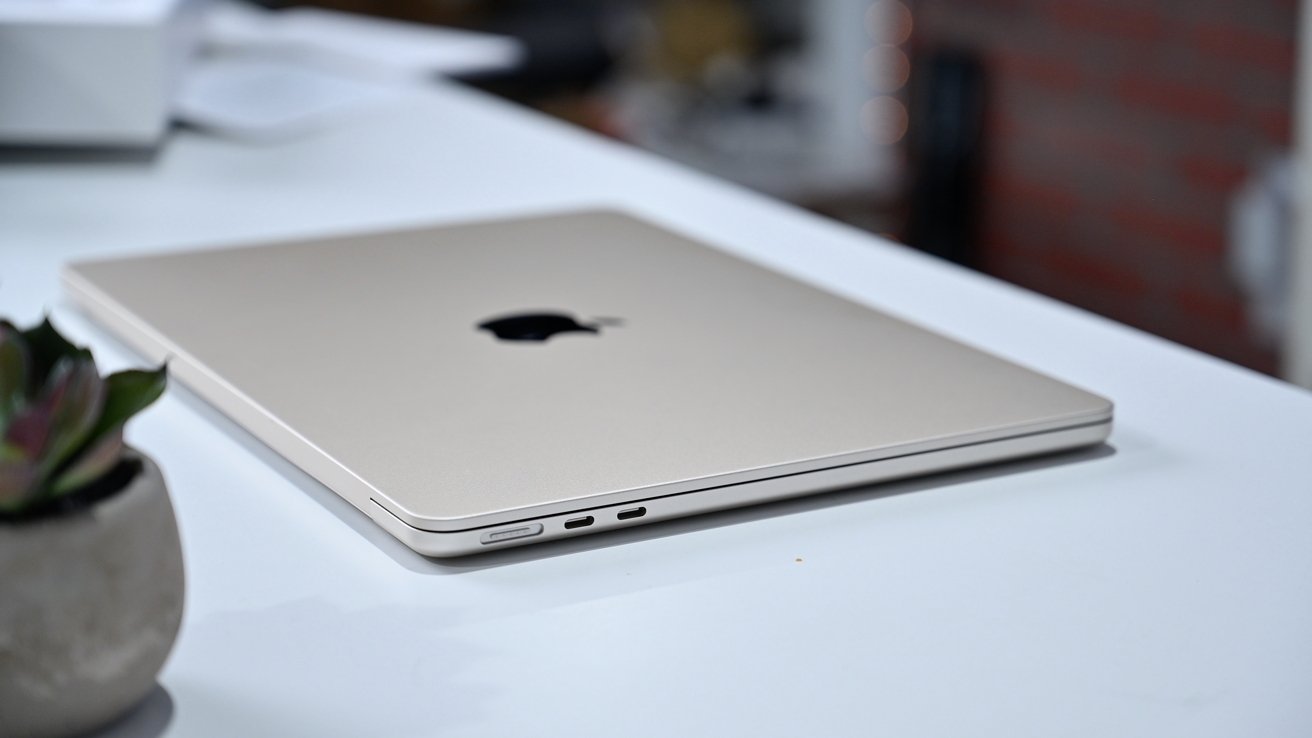 The 2022 MacBook Air
The
M2 MacBook Air
is, once again, one of the initial
Macs
to be released as part of an
Apple Silicon
generation. After leading the charge for the
M1
, Apple's using it again for the
M2
.
This time though, things are very different.
The
M1 MacBook Air
was decidedly an internals-only update, with the vast majority of the specifications sheet left untouched. What did change was the core components driving the processing.
For the M2, Apple did what it arguably should've done for the first release. Instead of giving the performance benefits to users in a tired and old package, Apple has taken the opportunity to utterly overhaul the design of its most compact notebook.
Specifications
Specifications
MacBook Air (2022, M2)
Starting Price
$1,199
Best M2 MacBook Air prices
Dimensions (inches)
11.97 x 8.46 x 0.44
Weight (pounds)
2.7
Display
13.6-inch Liquid Retina,
Wide Color (P3),
True Tone
Resolution
2,560 x 1,664
Brightness
500 nits
Processor
Apple M2
Graphics
8-core GPU,
10-core GPU
Memory
8GB,
16GB,
24GB
Storage
256GB,
512GB,
1TB,
2TB
Battery
52.6Wh lithium-polymer,
Up to 15 hours web, 18 hours video
Networking
802.11ax Wi-Fi 6
Bluetooth 5.0
Touch ID
Yes
Camera
1080p FaceTime HD
Audio
Four-speaker sound system,
Three-mic array with directional beamforming,
Headphone jack with high-impedance headphone support,
Dolby Atmos support with Spatial Audio
Ports
Two Thunderbolt/USB 4,
3.5mm headphone,
MagSafe 3
A taper-less Pro appearance
The first big thing about the MacBook Air's design is that it doesn't really look like a MacBook Air anymore. The old design used a wedge tapered from a thick side to a thin edge, giving its signature appearance.
For the M2, the MacBook Air no longer goes for the tapered look. Instead, we have an aluminum enclosure that's uniformly flat, and one that seems to take a lot of style cues from the
14-inch MacBook Pro
(
check deals
).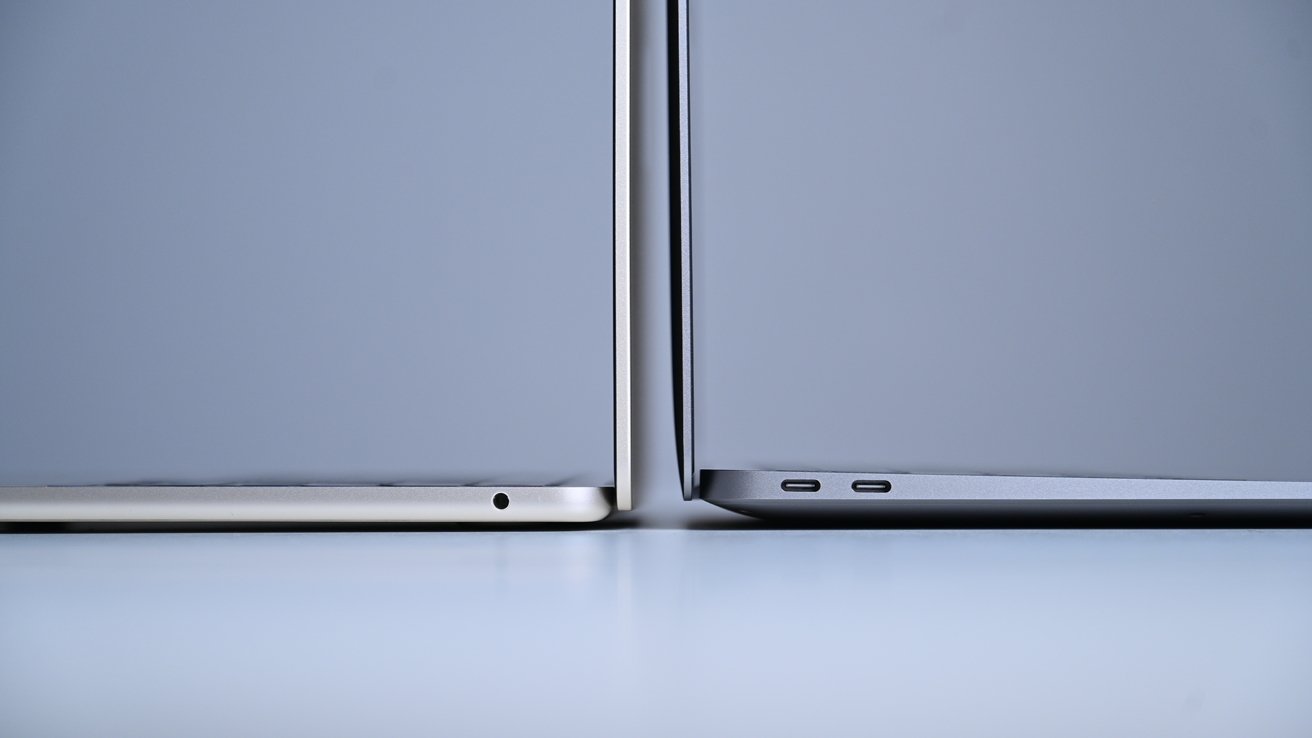 2022 MacBook Air (left) and 2020 MacBook Air (right)
It's still almost the same footprint as the old model at 11.97 inches by 8.46 inches, if a smidgeon bigger, but instead of a 0.63-inch to 0.16-inch taper, it's a flat and straightforward 0.44 inches.
It's still the smallest and thinnest MacBook in Apple's range and also the lightest at 2.7 pounds. It's even lighter than the previous model.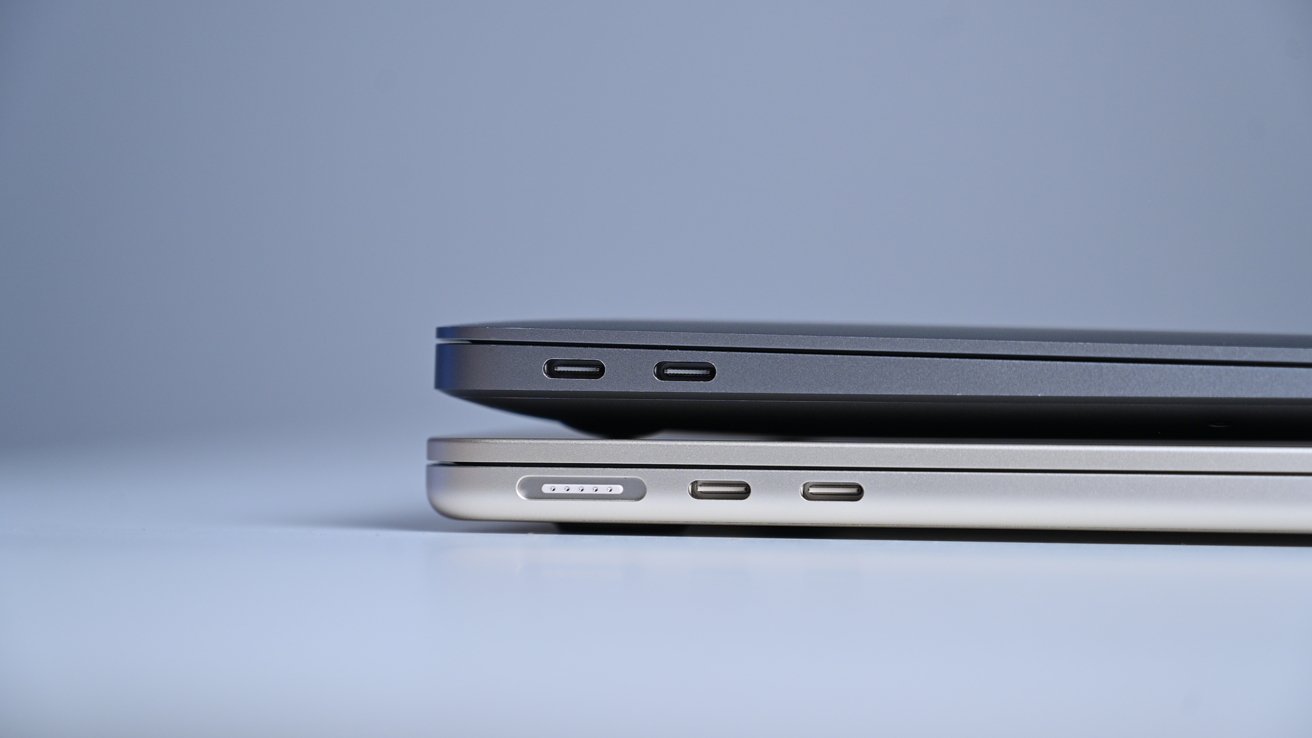 Type-C and MagSafe ports
Continuing the external tour, there is a pair of Thunderbolt/USB 4 ports and a 3.5mm headphone jack. Though it could be considered a holdover and a missed opportunity, given the plethora of ports you get in the larger
MacBook Pro
models, you do still get one additional port.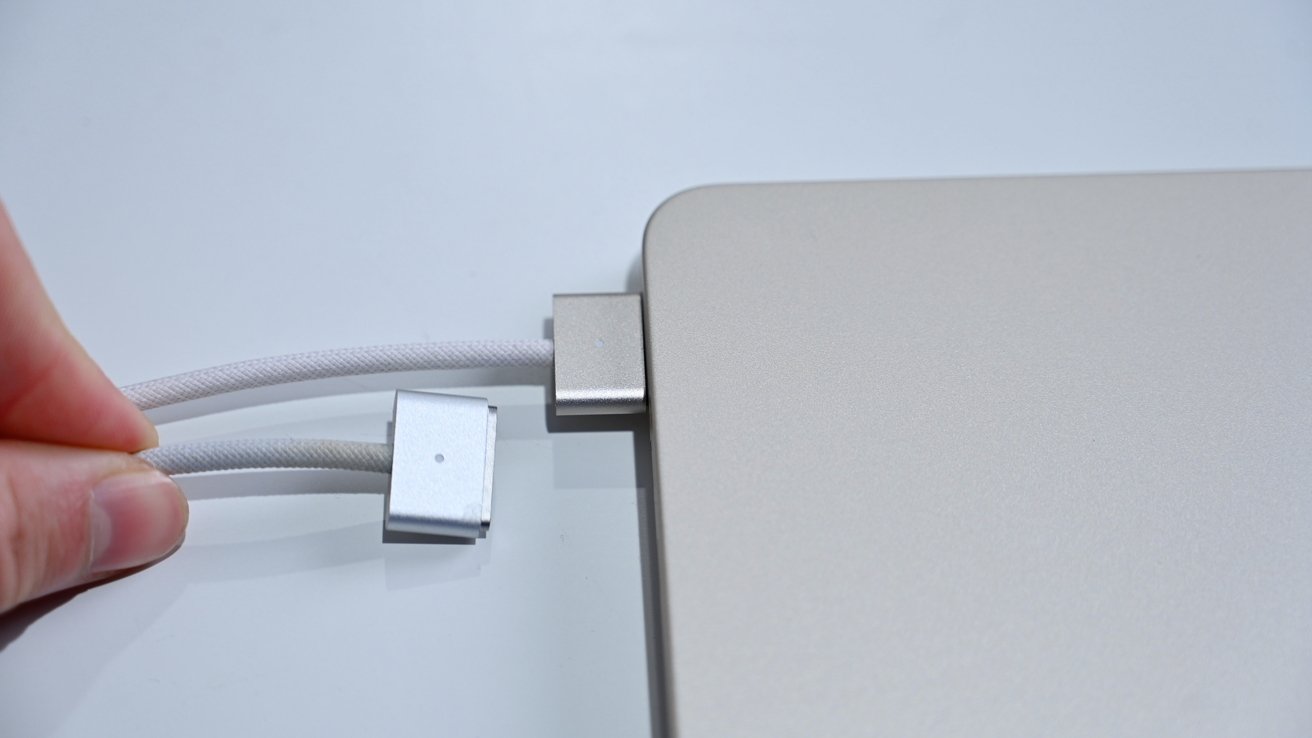 The color-matched MagSafe 3 cable
MagSafe 3
has joined the party for the MacBook Air, so you can now recharge using a dedicated connection. You can still use one of the Thunderbolt ports for charging, such as using a dock's power delivery capabilities, but if you're using a standard outlet charger, you're not sacrificing a data connection to recharge.
One more notch
One element that has transitioned from the Pro models to the MacBook Air is the updated display, which is both a blessing and a curse.
The screen has been bumped up from a 13.3-inch Retina display to a 13.6-inch Liquid Retina version. It's complete with a slightly taller resolution of 2,560 by 1,664, giving it a pixel density of 224ppi.
The 2022 MacBook Air has a larger display
It's also including support for 1 billion colors, Wide Color (P3), a fairly typical 500 nits of brightness, and True Tone. It's still using LED rather than miniLED, so you're not getting the ultra-high contrast ratios or high HDR brightness levels, but it's bright enough for most typical users.
As part of Apple's war against thick bezels, the MacBook Air now sports thin versions on the side and the top. However, this latter element brings in the controversial part of modern MacBook displays: the dreaded notch.
That notch enables the
FaceTime HD
camera to be positioned correctly, but it does cut into the display estate. This isn't really a problem, as all it does is cut into the menu bar on the desktop, and for fullscreen apps, it's discretely hidden by supportive blacked-out sections.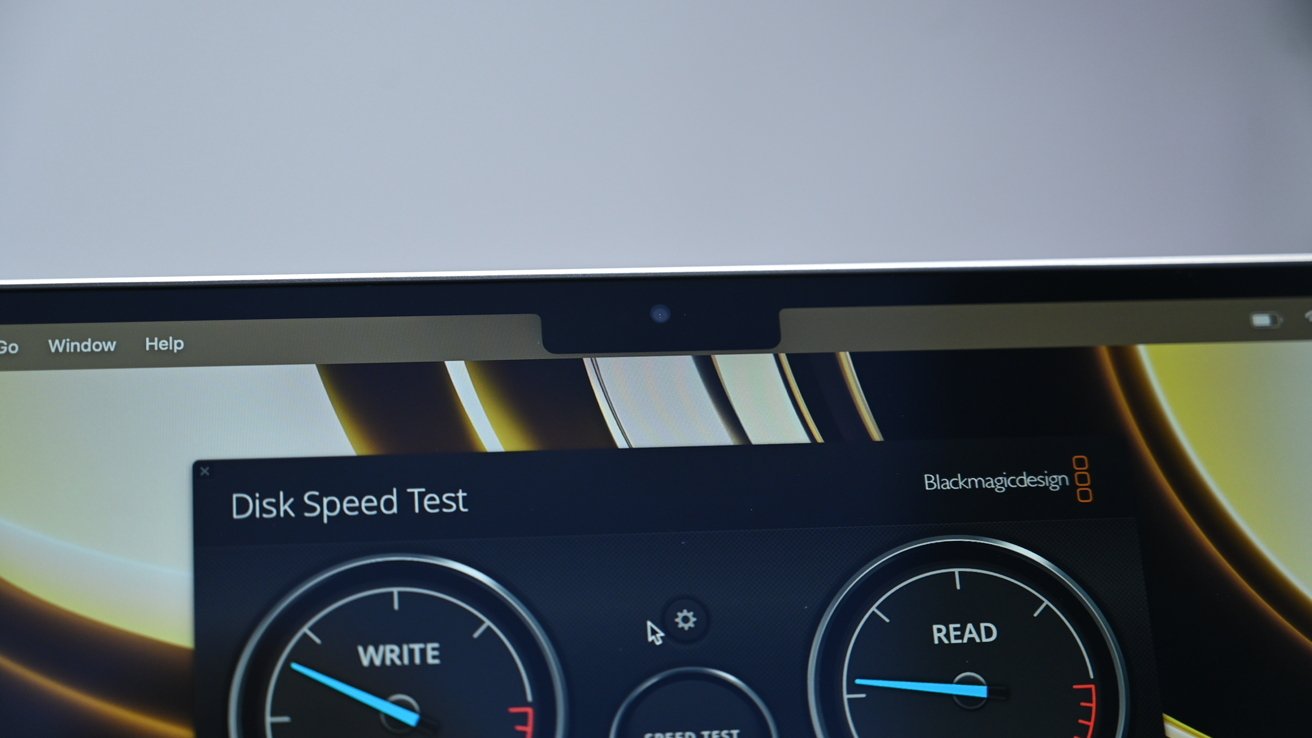 The new notch and upgraded camera
This latter state brings the overall usable resolution back down to the same level as the M1 MacBook Air. Since it only consumes part of the menu bar on the desktop, you're still benefiting from the extra pixel rows overall, and it shouldn't be a problem except for the pickiest user.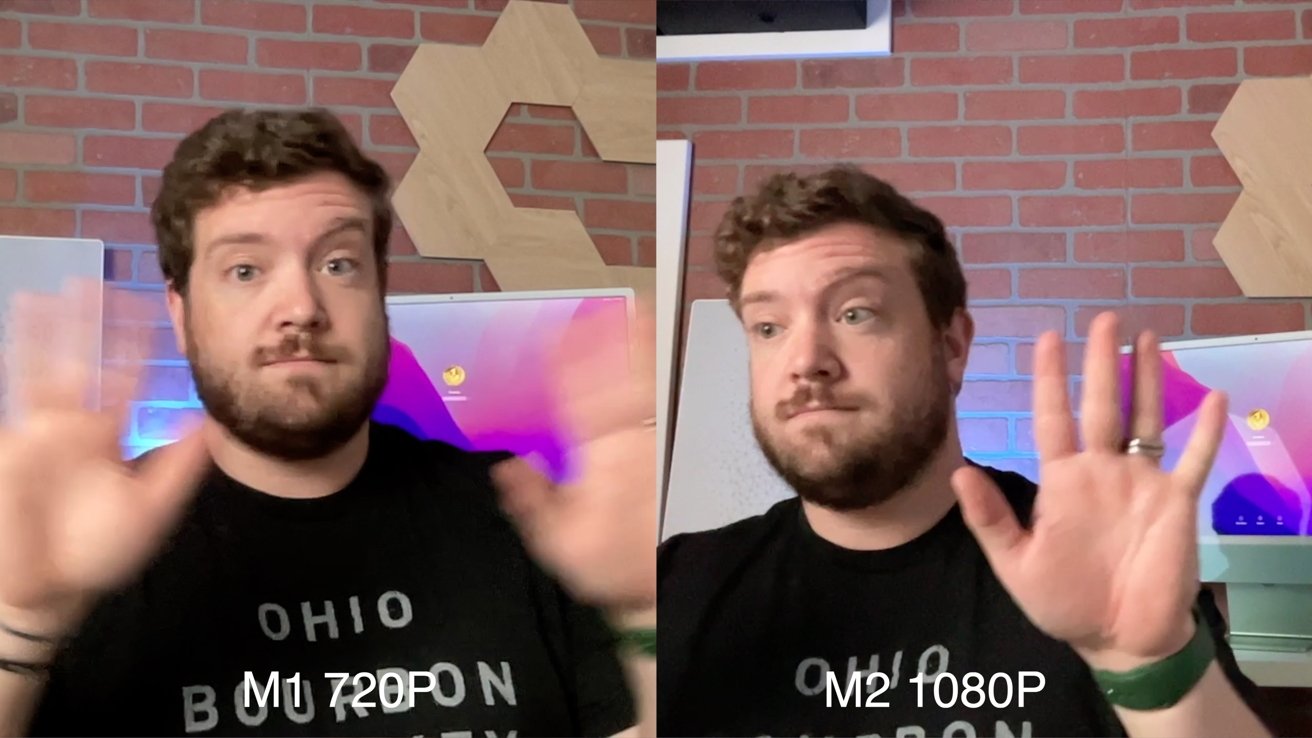 MacBook Air camera compare
That camera is still a FaceTime HD one instead of a True Depth array, so there are no depth mapping benefits yet. However, Apple did finally move to improve the camera from 720p to 1080p, one boosted by the onboard advanced image signal processor with computational video, which will be a welcome change for home workers.
Below the display is Apple's backlit 78-key (U.S.) or 79-key (ISO)
Magic Keyboard
, complete with 12 full-height function keys, four arrow keys in an inverted-T arrangement, and
Touch ID
in the corner. Below is the Force Touch trackpad with Force click and multi-touch gesture support.
These haven't gone through any major changes, but they probably don't need anything to be done to them at this stage.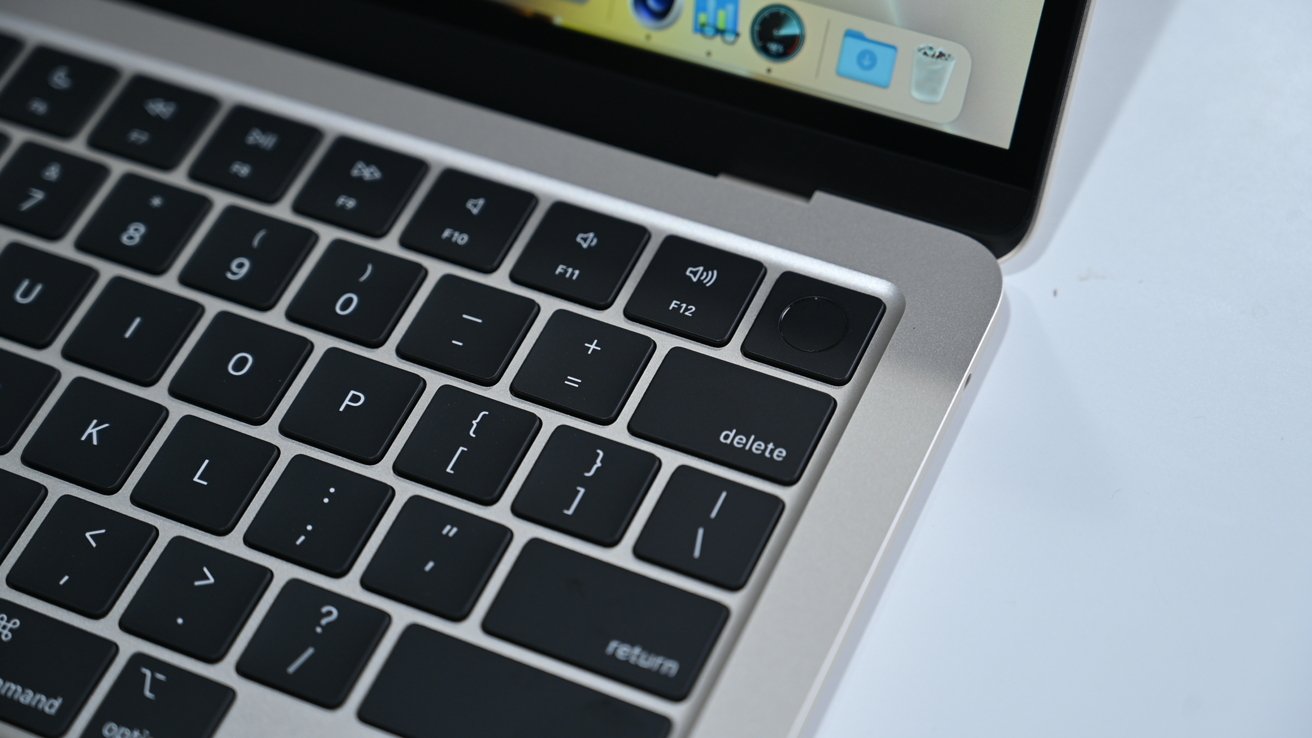 MacBook Air keyboard
The slight change Apple made is expanding the size of the function keys. They're no longer short rectangles but full-sized keys. In use, they're easier to hit dead-center as you quickly reach to adjust your music playback, lower the volume, or authenticate via Touch ID.
From M1 to M2
The main reason for the changes is the inclusion of the M2 system-on-chip, the first of a new generation of Apple Silicon chips. While still presumably the entry-level option of the M2 range, it stands to offer quite a few improvements over the M1.
For a start, while it has the same 8-core structure of four performance cores and four efficiency cores, it also runs about 18 percent faster than the M1.
The GPU has also been updated, so instead of choosing a 7-core or 8-core version, you have options for 8-core and 10-core GPUs. Again, Apple claims there is a 35-percent performance improvement just for the GPU.
Memory bandwidth for the Unified Memory has also increased from 68.25GB/s in the M1 to 100GB/s in the M2. It's a nice upgrade, but not as close to the 200GB/s of the M1 Pro as we would like.
The existing 8GB and 16GB memory options have been joined by a third, providing 24GB. Again, it's not quite the 32GB we would expect, but it's still a welcome addition.
Even the Neural Engine has been given a boost, using the same core count as the M1 version but running 40% faster overall. The image signal processor has been updated in the M2, granting it better image noise reduction, which should considerably improve the higher-resolution webcam.
A significant departure with the M2 is the inclusion of the Media Engine, Apple's system for hardware video encoding and decoding. While you had to get an M1 Pro for this in the previous generation, Apple's included it in the M2.
Able to handle 8K H.264 and HEVC video, as well as ProRes 4K and 8K video, the Media Engine can considerably speed up video exports.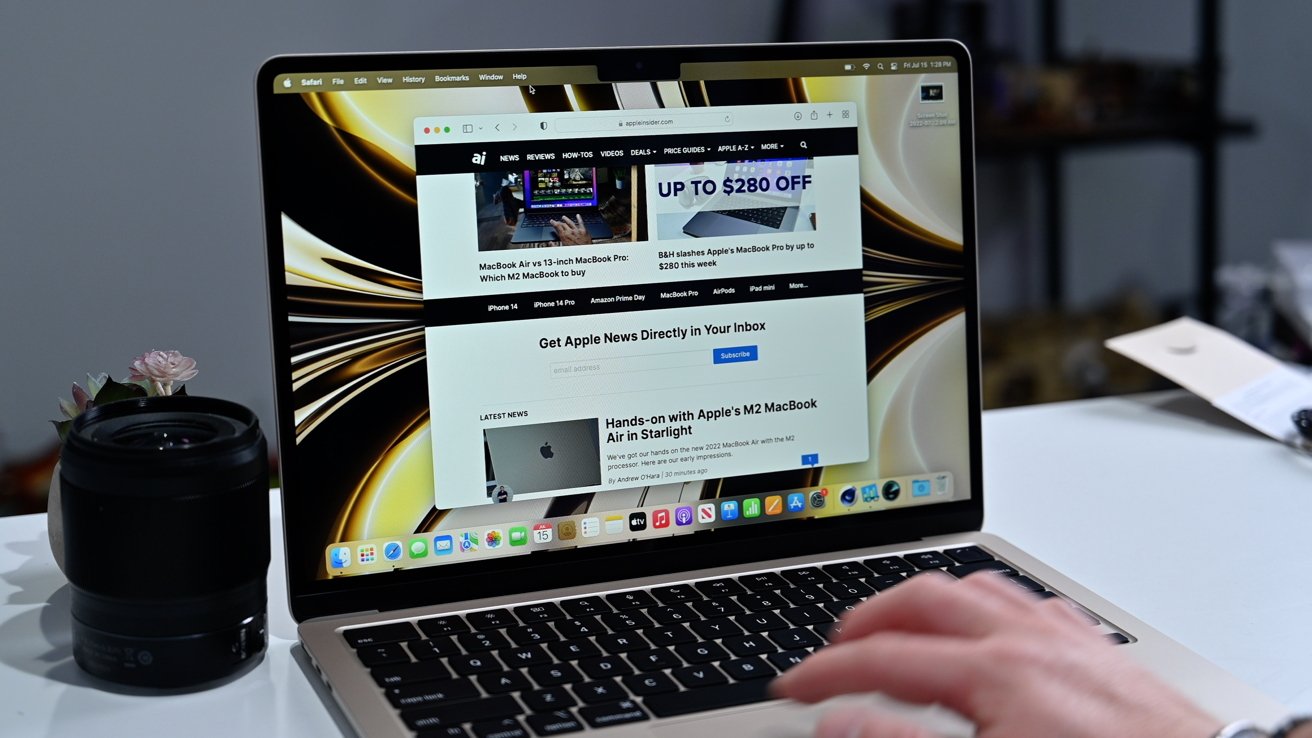 The new and fast MacBook Air
The only real drawback to this is the passive cooling of the MacBook Air. While the MacBook Pro lineup offers fans for active cooling, you're limited to heating the MacBook Air's aluminum casing, which typically involves reduced potential processing due to thermal throttling.
For most brief workloads, this won't be a problem. Thermal throttling does threaten performance when under high sustained workloads, such as intensive video edits or if you're gaming, but this is far outside the scope of most typical MacBook Air usage.
If you're using a Mac for these sorts of tasks, you'll probably spend more and get an actively-cooled 14-inch MacBook Pro at the least.
Storage options start at a 256GB SSD for the base model, with 512GB, 1TB, and 2TB options available. Going for the 10-core GPU starts you out at the 512GB level.
Frustratingly, one video feature has made a return for the M2 from the M1. Along with the built-in display, it only supports one external 6k 60Hz monitor, handled via one of the Thunderbolt ports. The M1 Pro and higher broke free of this limitation, but seeing it return in the M2 is saddening.
Performance, speed, and thermals
Turning to benchmarks, our M2 MacBook Air scored 1,898 in the single-core Geekbench 5 test and 8,941 in the multi-core version. Our M1 MacBook Air scored 1,693 and 7,195 on the single and multi-core, respectively. Those are respectable gains for the M2.

The M2 MacBook Air outperforms the M1 version in Geekbench's main tests.
Since Apple has increased the clock speed on the M2, we see that improvement in the single-core and multi-core tests despite the M2 still being an 8-core chip. Cinebench revealed the same with 1,581 and 8,360 single- and multi-core scores.

The M2 MacBook Air's Cinebench 23 results
We also ran the Affinity Photo benchmark, which taxes both the CPU and GPU. In the combined multi-core CPU test, the MacBook Air reached 765, while the GPU scored 10,397.

Affinity Photo tests for the M2 MacBook Air
For comparison, the M2 13-inch MacBook Pro yielded 12,206 for the GPU test with its ten cores.
In the Speedometer browser benchmark, testing produced 398 runs per minute. This is perfectly on par with the 13-inch MacBook Pro, seemingly without any hit to performance.

The M2 MacBook Air's Speedometer result is practically the same as the 13-inch MacBook Pro
On graphics, the M1 model reached 20,284 on the Geekbench Compute benchmark running with Metal, while the M2 scored 26,123. This is a more notable result as the M1 used an 8-core GPU, the high-end model of the time, while the M2's 8-core GPU is the new low-end model.
Geekbench's Metal results show the M2 MacBook Air outpaces the M1 with each using 8-core GPUs.
The M2's GPU is better than the M1's with equal core counts, because of Apple's improvements. If you opt for the 10-core GPU M2, you'll see an even higher graphical performance.
Throttling and storage bottlenecks
By the time you read this, the wailing and gnashing of teeth about "thermal throttling" by a segment of the Apple review base has already begun.
Barring some kind of fan curve problem, which this machine does not appear to have, this has been and always shall be an issue generated by folks who believe in clicks and views over anything else. And, they will generate that traffic by sacrificing accuracy, context, and the actual, real-world hardware and usage.
This content is generated by the click-hungry either generating bespoke tests with a conclusion in mind rather than making that conclusion based on real-world data. Or, they're thinking about what a computer's theoretical maximum performance could be in an ideal world where you can ignore friction and fire spherical chickens for the sake of easy math, more than they do actual use-cases.
Benchmarks with 100 Chrome tabs while rendering a video and doing intensive disk I/O isn't remotely real-world. Skipping the Media Engine when encoding media to prove a point just proves that traffic is addictive, and doesn't say anything accurate about the hardware.
As has been the case for 20 years or more, a chip will get hot and slow down temporarily until it cools. The machine does not spontaneously combust, cartoon flames will not erupt from the keyboard, it won't automatically cause some kind of neurological disorder that attracts palms to foreheads in thumbnails, nor does it imply any kind of engineering failure.
We tested the base 256GB model of the M2 MacBook Air, and when we ran it through the Blackmagic Disk Speed Test, we saw similar results as with the M2 13-inch MacBook Pro. Namely, a decrease from the last-generation model.
The 2020 MacBook Air saw write speeds of 2,689 MB/s and read speeds of 2,248 MB/s. The 2022 MacBook Air now only has 1600 MB/s for the write speed and 1158 MB/s on the read speeds.
With the MacBook Pro, these slower SSD speeds only applied to the base storage configuration and the 512GB and higher were all faster. We typically advise not to buy the base storage so this should be a non-issue for most users, but it is unfortunate that the slower speeds exist at all.
Like we've said so many times before, if your time is that valuable and you need that absolute peak performance, get a
Mac Studio
or larger MacBook Pro. With the upgrades to the
13-inch MacBook Pro
or MacBook Air, you'll need to do those calculations as you're already in the price range anyway.
And, you already know going into this review that you need the hardware that's actually designed with those long runs in mind. We can't imagine that this computer will be paired with a $10,000 8K HDR camera.
A higher power
MagSafe isn't the only power-related change to the M2 MacBook Air. The battery has been updated, with an increased 52.6-watt-hour lithium-polymer battery instead of the 49.9-watt-hour version.
As for how long you get to use it for, that hasn't changed. On a single charge, Apple claims it can last for up to 14 hours of wireless web access, or up to 18 hours of Apple TV app movie playback, the same as the previous one.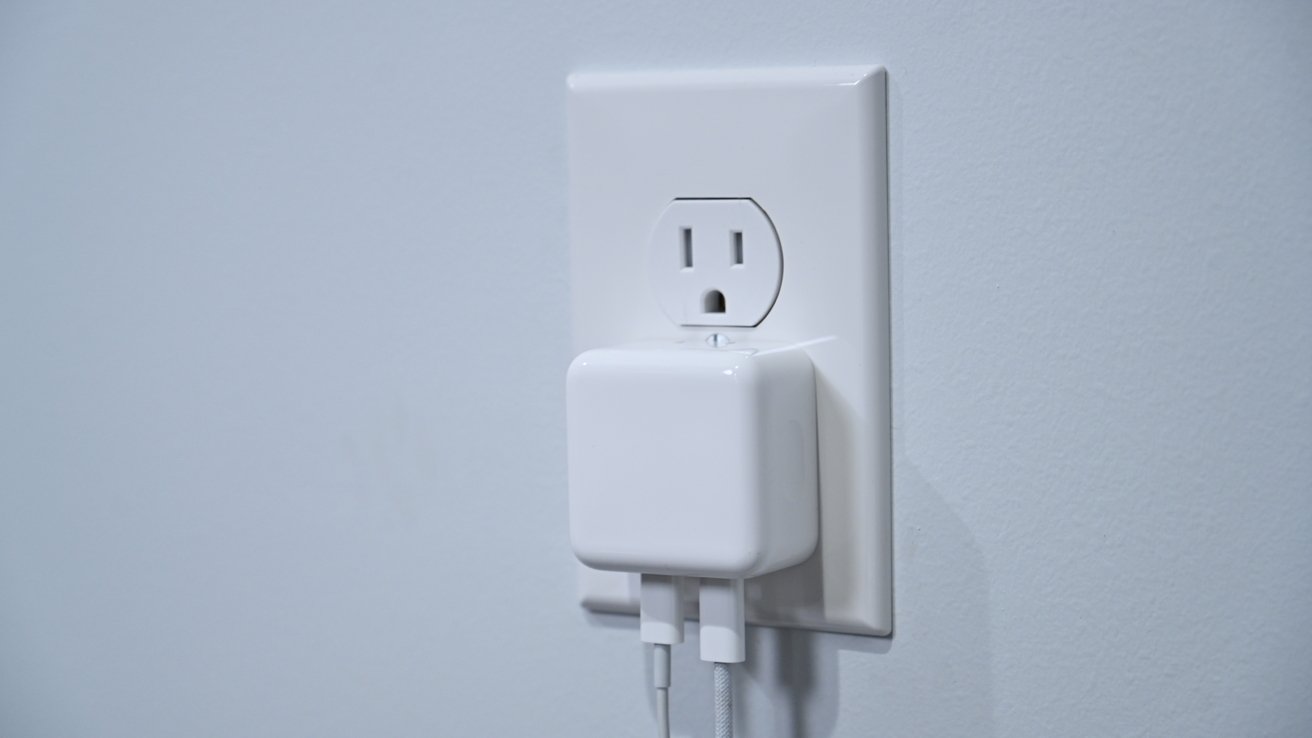 35W Dual Output Power Adapter
Another thing that has changed is the power adapter, as you can switch out the unchanged 30W USB-C Power Adapter you get with the base-spec model for a new 35W Dual USB-C Port Compact Power Adapter if you go for the 10-core GPU and 512GB of storage.
As the name suggests, you get another USB-C port, so you could feasibly recharge an
iPhone
at the same time as the MacBook Air.
If you happen to have a higher wattage of charger, such as the 67W USB-C Power Adapter, the MacBook Air has a fast-charge capability.
Audio and networking
Yet another change that can't be seen in the MacBook Air is the audio, with the stereo speakers switched for a four-speaker system. There's still support for Wide Stereo Sound and Spatial Audio through speakers when listening to Dolby Atmos.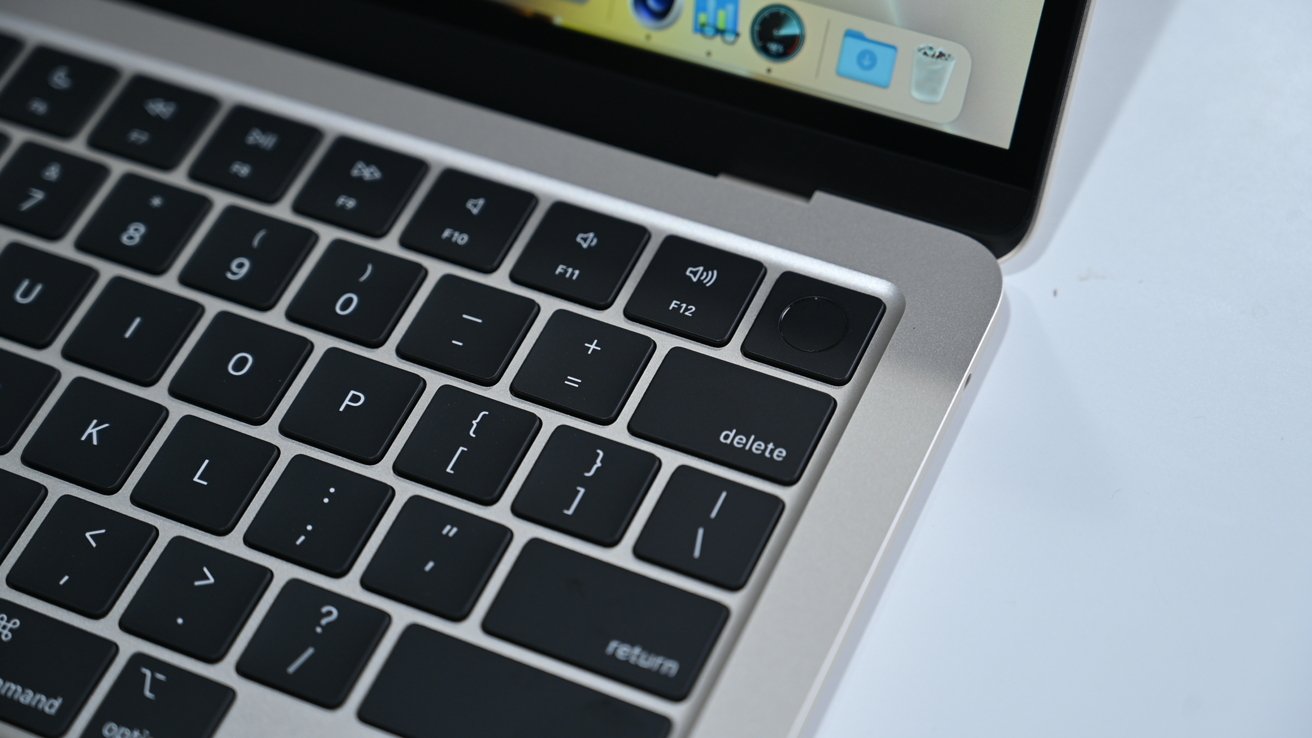 Keyboard with no speaker grille on the side
Apple did remove the grilles on either side of the keyboard, which is probably for the best. They tended to trap dust, and the change hasn't impacted the audio quality negatively.
There's also support for Spatial Audio with dynamic head tracking with compatible
AirPods
models. If you are an audiophile, there's support for high-impedance headphones with the 3.5mm headphone jack.
Getting audio in hasn't changed, with Apple continuing to use a three-mic array with directional beamforming.
Despite so much being updated, Apple is still sticking to including Wi-Fi 6 support, as well as Bluetooth 5.0. This does still mean you can connect to pretty much any modern network or device, so long as the supportive infrastructure is in place, but you're not going to benefit from Wi-Fi 6E or Bluetooth 5.1 if they're available.
The (current) best M2 choice
The M1 MacBook Air was an excellent example of the compact notebook form factor. The M2 version continues the story.
Compared to the M2 13-inch MacBook Pro, the M2 MacBook Air is the better overall package by a wide margin. With Apple's thorough modernization of the classic lightweight MacBook Air, there are very few reasons anyone should go for the Pro over the Air.
Setting aside the M2 stablemate comparison, the M2 MacBook Air is a very good notebook in its own right. It's still qualifying for the "Air" suffix by being extremely light and powerful, but it does so by departing from its wedge-like lineage.
As we've said for about six years, nearly every workload applied by almost every user is single-core and a burst process. The processor isn't running long enough, hot enough, for any of this to make a real difference to the vast majority of Mac users looking at this price point.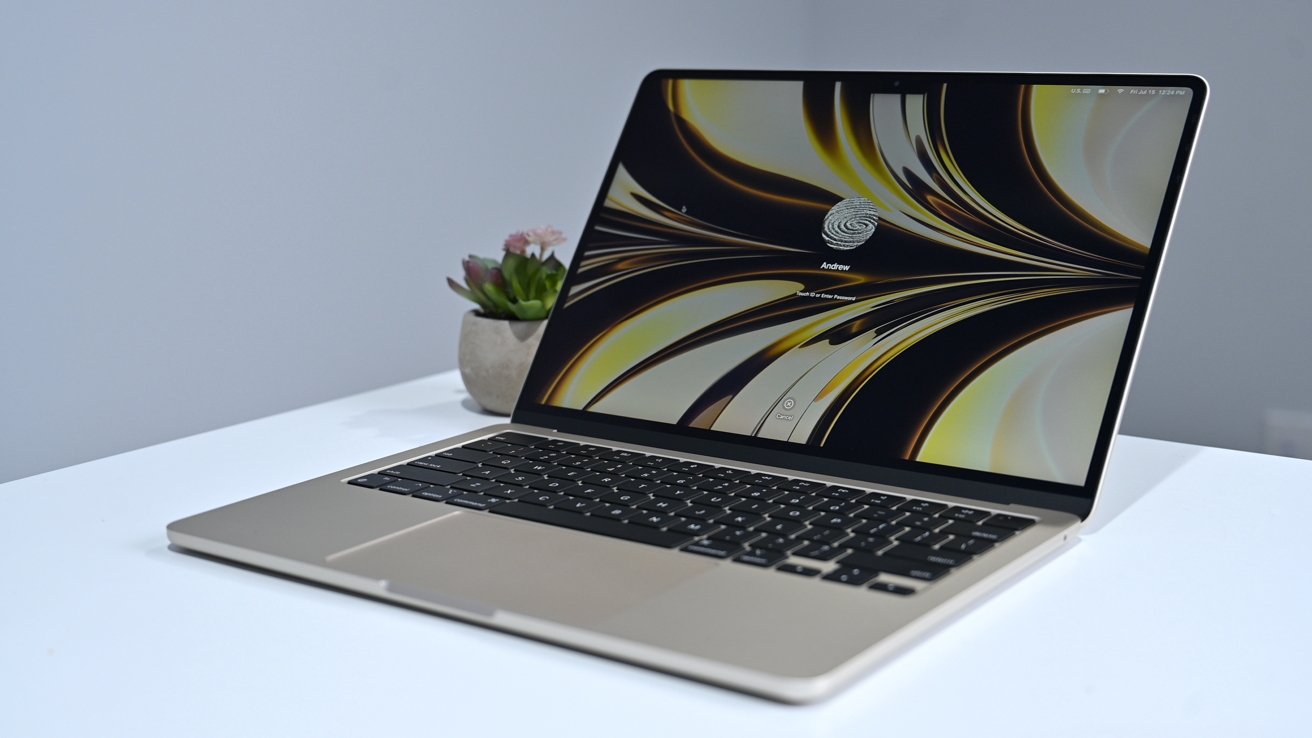 M2 MacBook Air
If you render videos, compile code, do fluid dynamics calculations, and the like, the lack of a fan versus the M2 13-inch MacBook Pro will make a tiny difference in how long the job takes to complete. Reviewers using those applications and utilities to benchmark these computers are being disingenuous to appeal to an audience that they've cultivated to expect those.
If you're word processing, getting your email, doing most gaming, or just about anything else other than calculations that need the extremely long runs of computational grunt, it will not be noticeable or matter much, even if you can perceive the difference.
Change is not always good. But, it certainly is here.
MacBook Air with M2 processor pros
New redesign feels thinner and is lighter than last-gen
Decent performance improvements, especially with graphics, for the M2
Better value than 13-inch MacBook Pro with M2
MagSafe 3 addition frees up an additional port
Plenty of minor improvements to audio, camera, keyboard, and more
Larger and brighter screen
New 24GB memory option
MacBook Air with M2 processor cons
Display notch
Slow SSD speeds on base model
256GB is not enough entry-level capacity, especially with M1 Air still around
Score: 4.5 out of 5
, or 3.5 out of 5 for folks with long processing runs. If that's you, get a 14-inch MacBook Pro or Mac Studio instead.
Where to buy
Apple's M2 MacBook Air starts at $1,199 and is available to purchase from the resellers below. You can also compare prices and check for
M2 MacBook Air deals
in our
M2 MacBook Air Price Guide
.
14-inch MacBook Pro Price Guide
.
Read on AppleInsider