iPhone 14 Pro review: The best power & camera to cost balance
Posted:
in iPhone
edited September 17
The
iPhone 14 Pro
adds an always-on display, 48MP camera, and a new user interface paradigm to an already outstanding smartphone line -- but the already excellent iPhone 13 Pro looms large.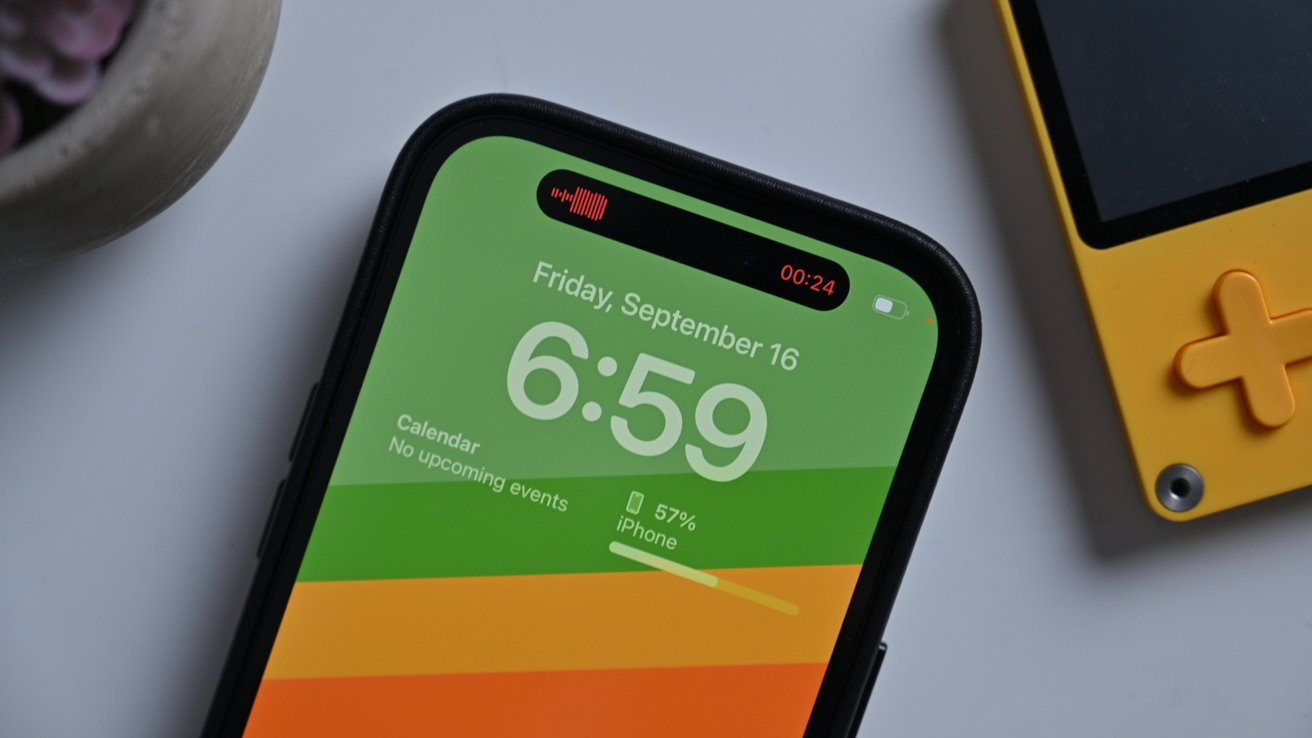 Dynamic Island on iPhone 14 Pro
Apple's annual refresh of its flagship smartphone saw the debut of the iPhone 14 Pro, the smaller of the two Pro-level smartphones for 2022. As usual, Apple brings several changes to the product line, including quite a few frequently-rumored and much-needed additions.
The iPhone 14 and iPhone 14 Plus are discussions for another day. The iPhone 14 Pro is where Apple's annual upgrade cycle properly starts.
Similar looks, different inside
From the outside, the iPhone 14 Pro doesn't give you many clues that it is a new smartphone. Apple hasn't made any major alterations to the design of the smartphone. The iPhone 14 Pro looks like the
iPhone 13 Pro
, which in turn borrowed its design from the
iPhone 12 Pro
.
That means you get a stainless steel chassis between front and back glass, protected with Ceramic Shield glass. The back glass is frosted, like the 2021 models, rather than glossy.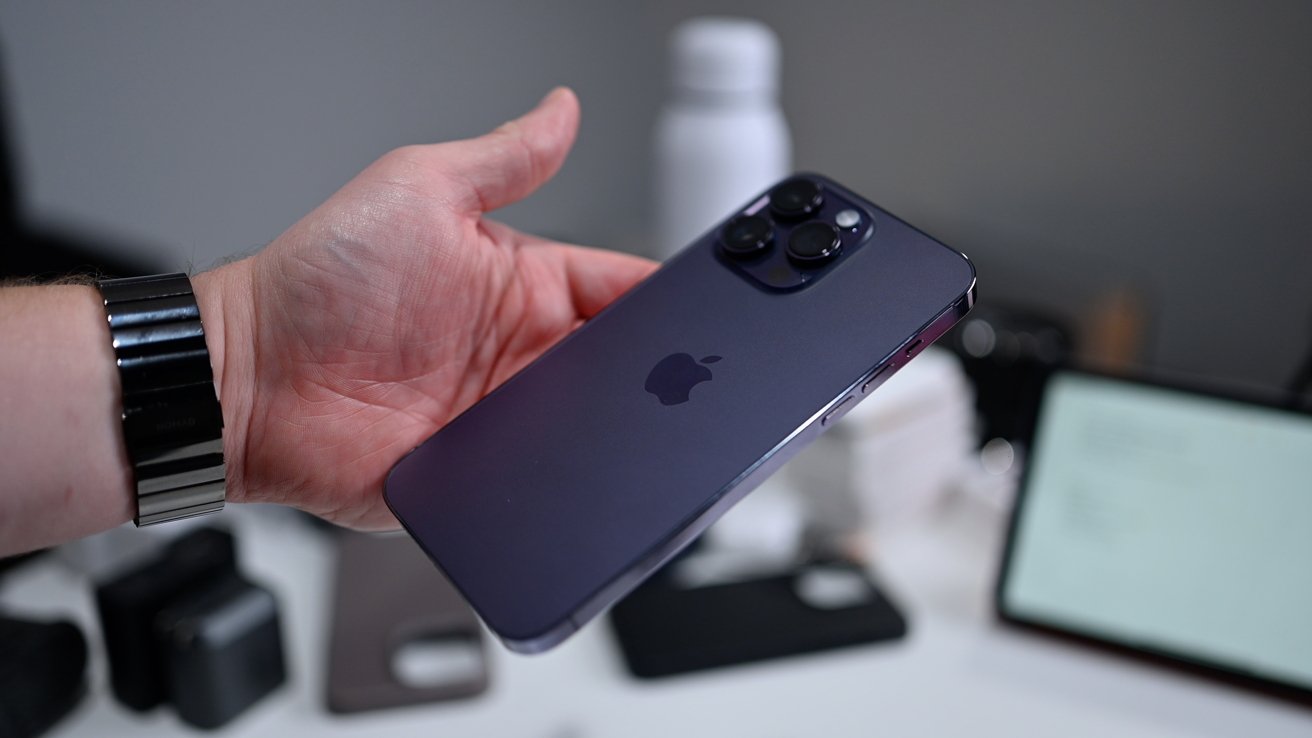 Deep Purple iPhone 14 Pro Max
This time around, buyers will choose from four colors, with Space Black, Gold, and Silver accompanied by Deep Purple.
The few changes that are visible from the outside are also extremely minimal. At 5.81 inches tall and 2.81 inches wide, it's ever so slightly taller and slimmer than its predecessor but also a smidgeon thicker at 0.31 inches.
It's also gained a bit of weight, inching up to 7.27 ounces. But again, this is not a massive change, and most people won't even notice.
Apple continues to rate the iPhone 14 Pro as IP68 for water and dust resistance, so it can survive at a depth of 6 meters for up to 30 minutes.
Always-on display
The front of the iPhone 14 Pro offers the first set of obvious indicators that there's something different about the model than previously -- an always-on display.
When not in use, instead of going black, the display becomes dimmer and more muted in appearance but doesn't go completely black unless you entirely shut down the iPhone. Using a combination of ProMotion's 1Hz refresh rate, automated settings for the new Lock Screen, and other factors, the screen can now stay on constantly.
It does dim, and it seems like how far down it dims depends on how bright you had the screen before it slept. It's not a giant difference between max brightness on the screen and minimum, but it is perceptible.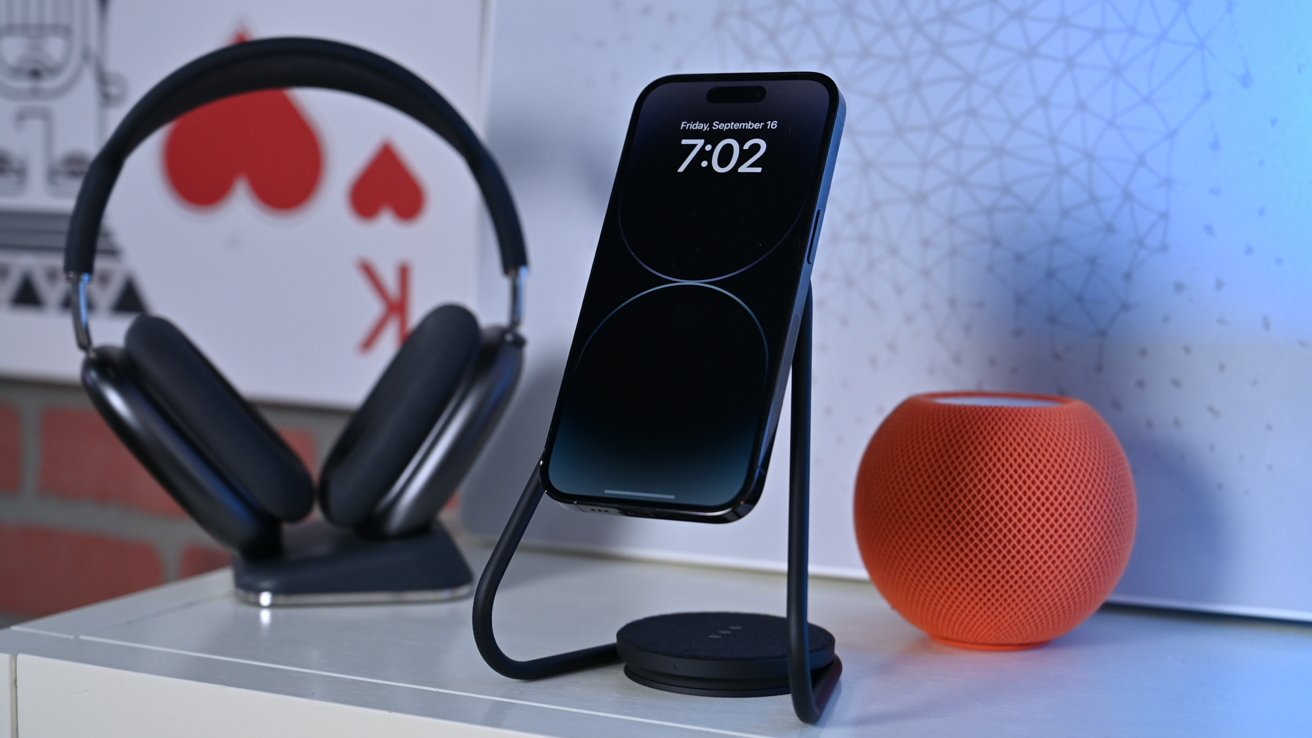 Always on display dimmed
Much like the always-on
Apple Watch
screen, the iPhone display is handy for at-a-glance information. Not only can you see the time, but also a selection of widgets.
And speaking of that Apple Watch, if you have yours on, and you walk away from your phone for a few minutes, it turns off the screen - mostly. In a house-sized environment, we had to be about as far away from the phone as possible on other ends of the house, for this to work reliably.
If you leave your phone at home, then obviously, it will turn off the screen. But in that scenario, you probably have your phone with you anyway.
And yes, you can turn this off in the Display & Brightness control panel if it's a problem for you. There's nothing else you can do with it in settings right now other than turn it on or off, and we hope that there will be more granular settings as
iOS 16
evolves, or more models get the feature.
The screen is still a 6.1-inch OLED-based Super Retina XDR display, complete with a 2 million:1 contrast ratio, Wide Color (P3) support, HDR capabilities, and ProMotion's 120Hz adaptive refresh rate system, but there's surprisingly more here.
The resolution is very slightly higher than the previous model, at 2,556 by 1,179 pixels. This only works to be a few more pixels in either direction, but the pixel density is still maintained at 460 pixels per inch.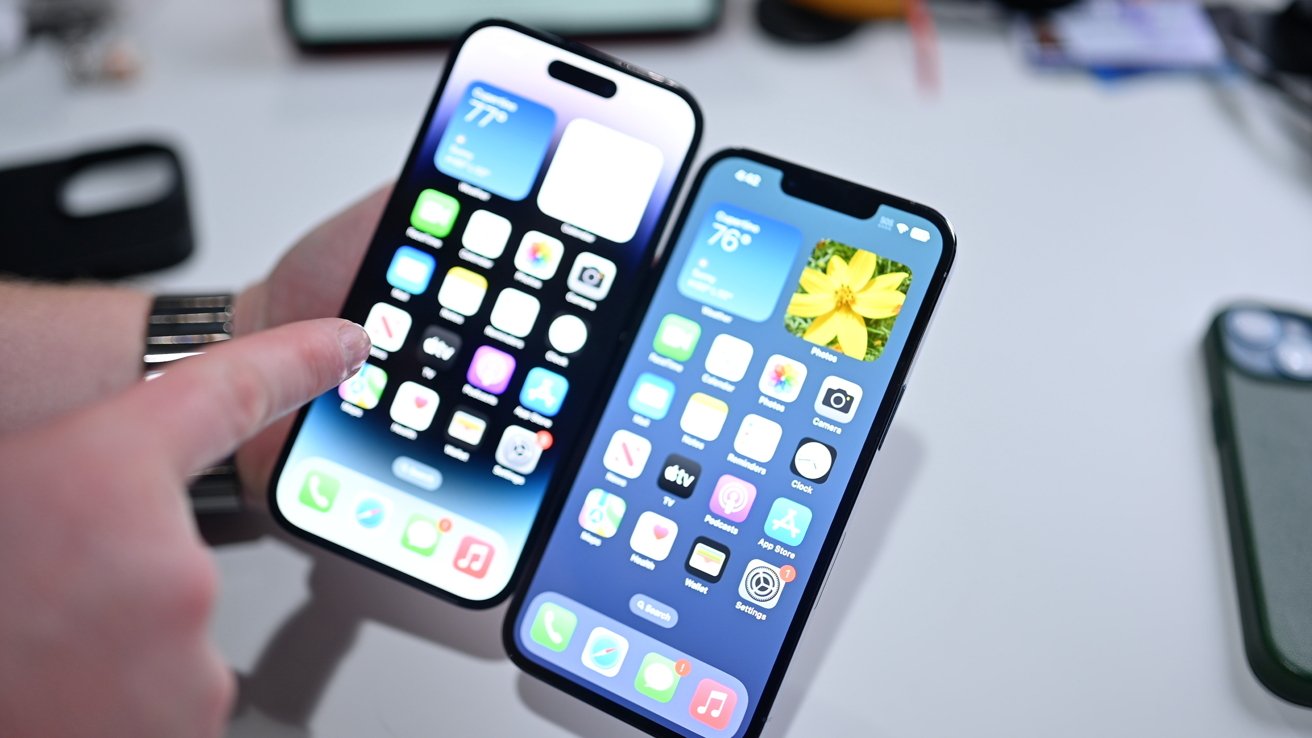 iPhone 14 Pro max brightness (left) compared to iPhone 13 Pro (right)
For typical content, it still has a 1,000 nit max brightness, but the 1,200 nits of HDR is now 1,600 nits. If you're using it outdoors, the screen can even hit 2,000 nits as it tries to counter the sun's brightness.
We tried this a few times, and it's nearly instant. If you're using your phone and walk outside, you can see the shift, and it does make the phone more usable.
It also makes the iPhone a hair hotter. It's hard to control the variables to see how much hotter, given that you're already outside and the sun is beating on the device.
This will impact your battery, though. We'll see with time how useful it is, and what impact frequent use has on the battery.
From notches to islands
The rumor mill was right about one big front-facing feature for 2022, and that's the lack of a notch on the display. The often derided design feature isn't gone but repurposed and disguised by clever UI work.
The display still has some gaps, but takes the form of a pill-and-hole, allowing the TrueDepth camera array to function normally. It's a smaller array, too, by 31%, with a proximity sensor working from behind the display to save space.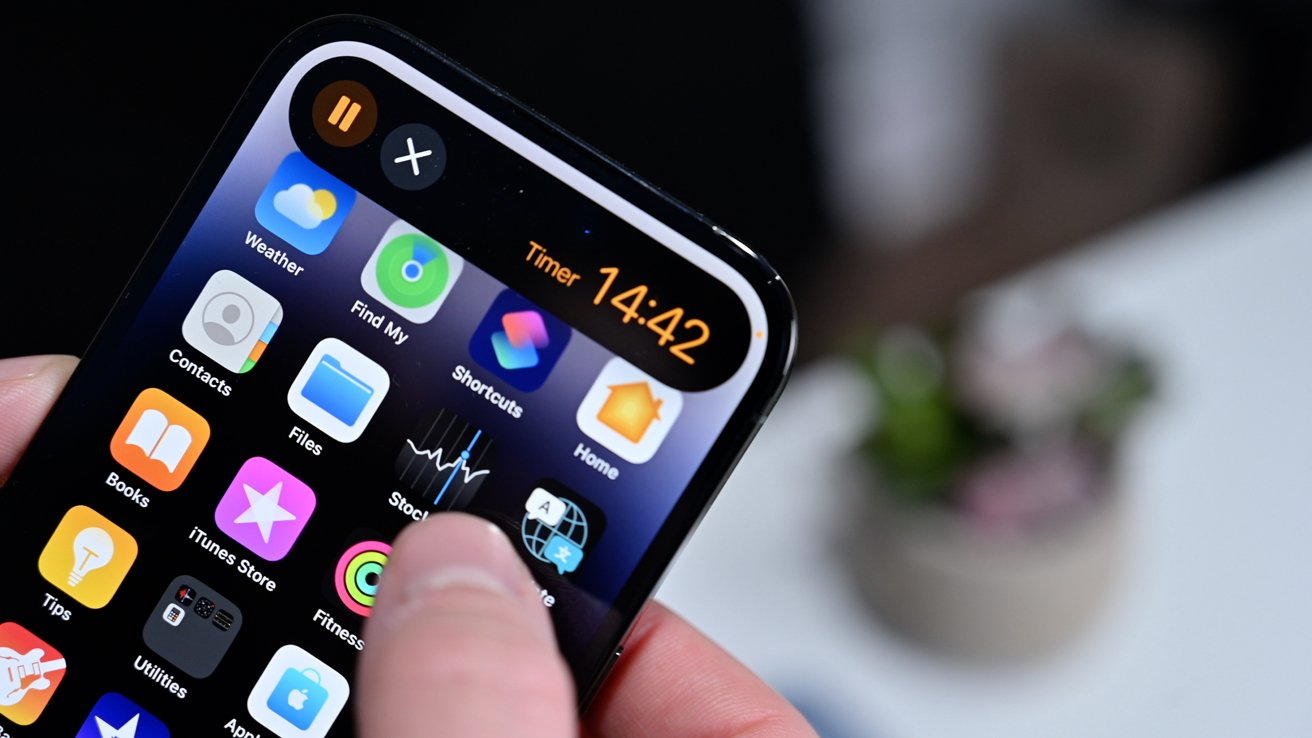 Opening the timer on the Dynamic Island
However, Instead of simply leaving the space above these holes black in the form of a notch, as usual, Apple instead incorporated them into Dynamic Island.
Usually taking the form of a small black oval surrounding the cutouts, the Dynamic Island can expand to the sides to provide small pop-up indications or grow in size to provide more detail or controls.
This is very clever, and obvious upon retrospect. It hides the i-shaped cutout in plain sight but reframes it from being a permanently-displayed display wasteland to being part of a more helpful notification system.
It's a great bit of software-based sleight of hand. We've already seen a few games that use it, and some really fun wallpapers.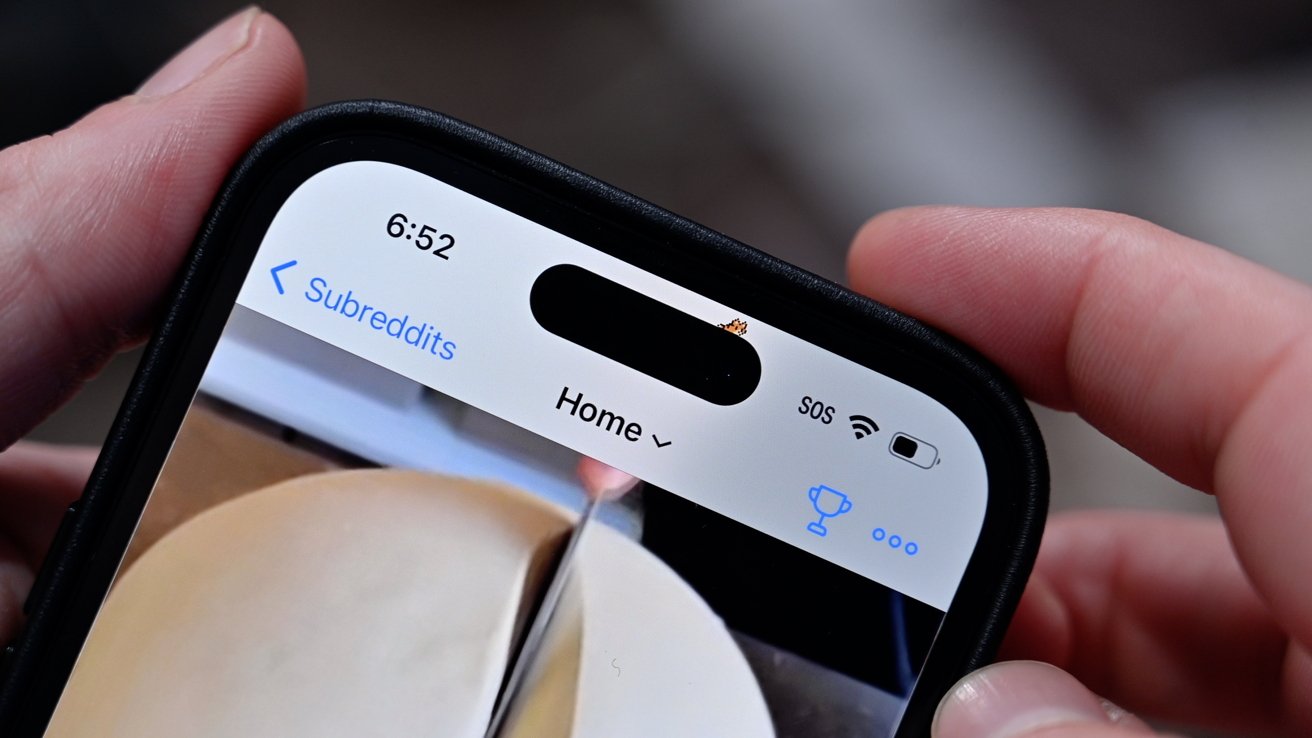 A tiny cat sits above the Dynamic Island in the Apollo app
But, it's pretty sparse right now. It's also pretty passive, mostly used as an info display from another app, on top of the one you're using. This is fortunate, because if those interactions were required, it would turn what is barely a one-hand use device into a two-handed one, with all the accessibility problems that come with that.
This all said, we're looking forward to seeing how developers can fully leverage it in the future. And, like almost everything else on a Pro iPhone, it will trickle down to other iPhones in time.
Chip changes
On the inside of the iPhone 14 Pro, Apple has shifted to the A16 Bionic chip, which is unsurprising given that happens each year. But as the iPhone 14 reuses the version of the A15 included in the iPhone 13 Pro models, it may be a chip that the 2023 non-Pro iPhone could end up using down the line.
The A16 consists of a six-core CPU with two performance and four efficiency cores and a five-core GPU. This is the same setup as the A15, but with a faster CPU that uses nearly 16 billion transistors, with a GPU that has 50% more memory bandwidth.
Then there's the 16-core Neural Engine, which is now capable of 17 trillion operations per second and an advanced image signal processor for managing photographs and video tasks.
And as far as that speed, you may have already seen some benchmarks floating around from event day. Benchmarking performed on the day of an event are done on-the-sly by folks at the event, and generally shouldn't be relied upon given the environment.
The good news is, the A16 Bionic is very, very fast, and is a big jump over the A15. While the A15 Bionic in the iPhone 14 non-pro models is a bit faster than the iPhone 13 A15, the A16 beats them all.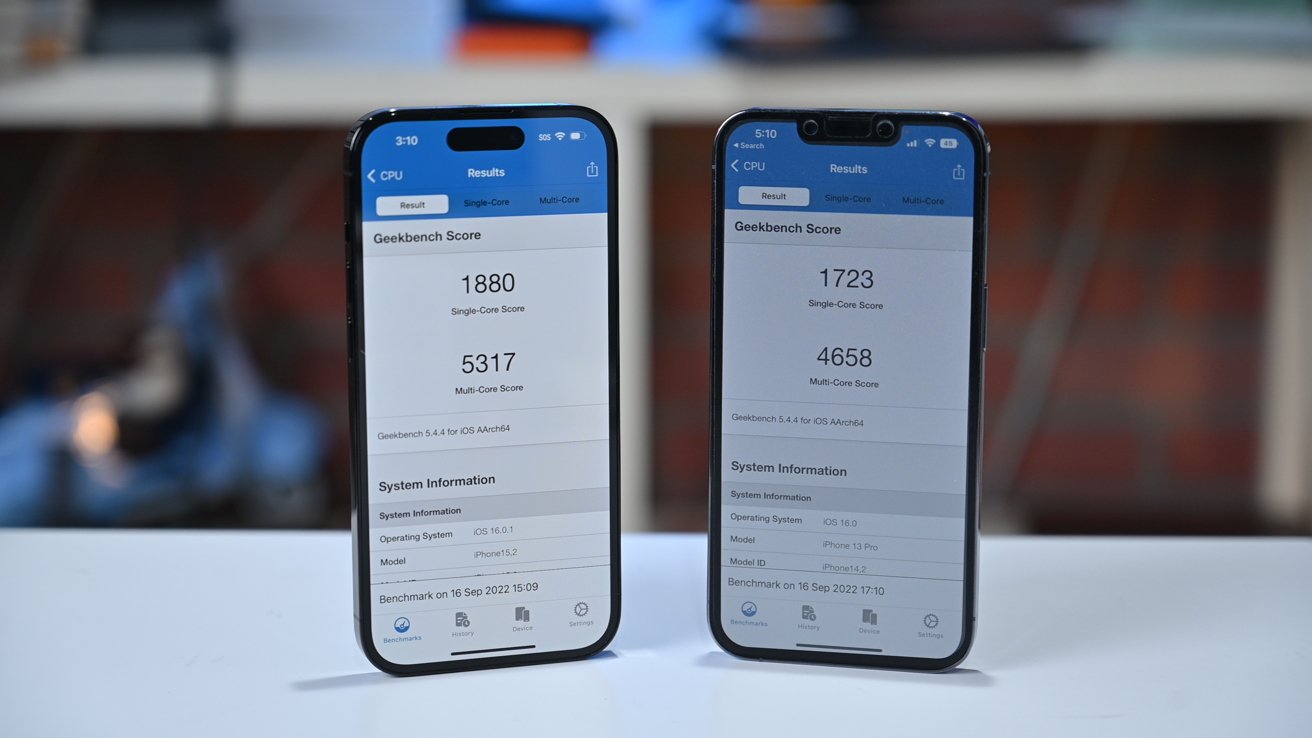 Geekbench 5 results on iPhone 14 Pro (left) and iPhone 13 Pro (right)
In the go-to Geekbench 5 benchmark, the iPhone 13 Pro pulled a 1,723 and a 4,658 on the single and multi-core tests. The new iPhone 14 Pro managed 1,880 single-core and 5,317 multi, easily besting the previous-generation chip while both were running iOS 16.
Geekbench has a graphics test too. In that graphics-focused Compute benchmark, the iPhone 14 Pro scored 15,739, more than the iPhone 13 Pro's 14,401.
When pitting the two devices against one another in the Antutu benchmark, iPhone 14 Pro scored a 897,708 compared to the iPhone 13 Pro's 767,863. Antutu reported the biggest gains in the GPU, memory, and UX categories with the CPU only showing a modest increase in this particular test.
Of course, these are benchmarks. Your own mileage for performance may vary.
This all said, flagship iPhones have been powerful enough for most of the smartphone using population for some time -- and that's probably why the non-pro iPhone 14 has a CPU which is only slightly better than the iPhone 13.
Much more on that in a few days, though.
More Megapixels
Probably the biggest news about the iPhone 14 Pro is that Apple has finally started moving away from 12-megapixel camera sensors. Well, at least for one of them.
The Wide camera, now referred to as "Main," has a 48-megapixel sensor, four times the resolution of the 12-megapixel versions still in use in the Telephoto and Ultra Wide cameras.
The Main camera uses a "Quad-Pixel" sensor, in that the pixels are arranged in quads of identical color-sensing elements. This gives advantages, such as each quad acting as a huge pixel in a 12-megapixel image or acting more traditionally for a 48-megapixel picture.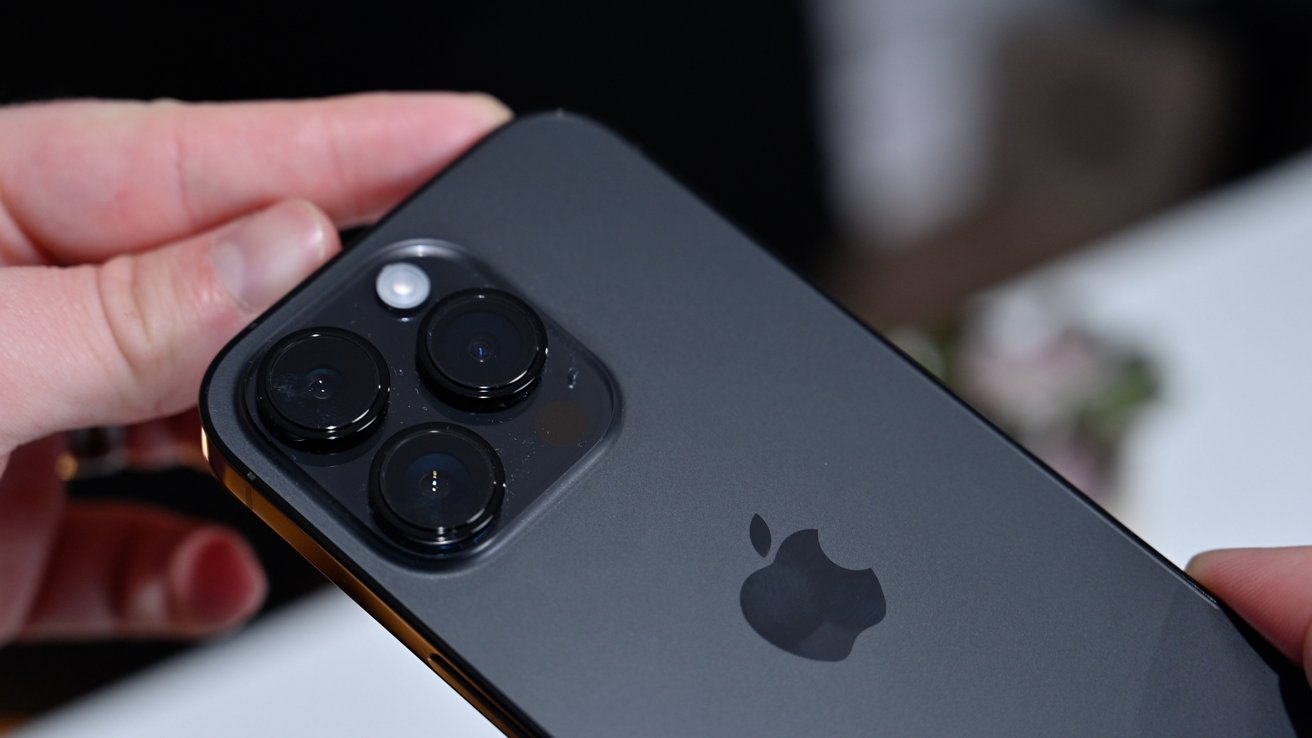 iPhone 14 Pro camera
The Main lens also has a seven-element lens compared to the others' six-element versions, and a second-generation Sensor-Shift OIS system. Telephoto also has OIS.
While there are three cameras and lenses at play, the traditional three optical zoom levels of 0.5x, 1x, and 3x are joined by a fourth, 2X, thanks to the massive sensor. By using the central 12MP area of the lens, it matches the fourth zoom level while still classifying as an optical zoom as it's merely a crop of a larger image.
There's also Apple's new Photonic Engine, a change to the image pipeline that puts the Deep Fusion computational photography smarts far earlier in the process, preserving more data in the image.
The upshot is that Apple says that the iPhone's Main and Telephoto cameras are twice as good in producing low-light photographs, with the Ultra Wide being three times better. In the real world, that's harder to see.
Photographs also benefit from the usual collection of features, including Night Mode, Portrait Mode with Portrait Lighting, Photographic Styles, Macro, and Apple ProRAW.
We'll be doing more detailed work and specific demonstrations of the cameras going forward. There are improvements, and they can be seen year-over-year -- yet minute for most.
Apple's software handles most of the work making those 48MP shots into 12MP images in most cases, and you can toggle this in Apple's camera app for some uses and instead save massive ProRES files at about 100 megabytes per image. Most users will be fine with this, but camera apps that will use the straight 48 megapixels are already available and ready to go for day one.
But, those images will come off the phone pretty slowly if you rely on a wired connection. Lightning is still limited to just-over USB 2 speeds. Be patient, or use a good Wi-Fi connection.
What we recommend overall is this -- trust Apple's Photonic Engine and Deep Fusion, to start. Once you figure out what you like and what you don't, if you need more than a simple point-and-shoot experience, you can easily upgrade to a third-party app that gives you more direct control of the entire system.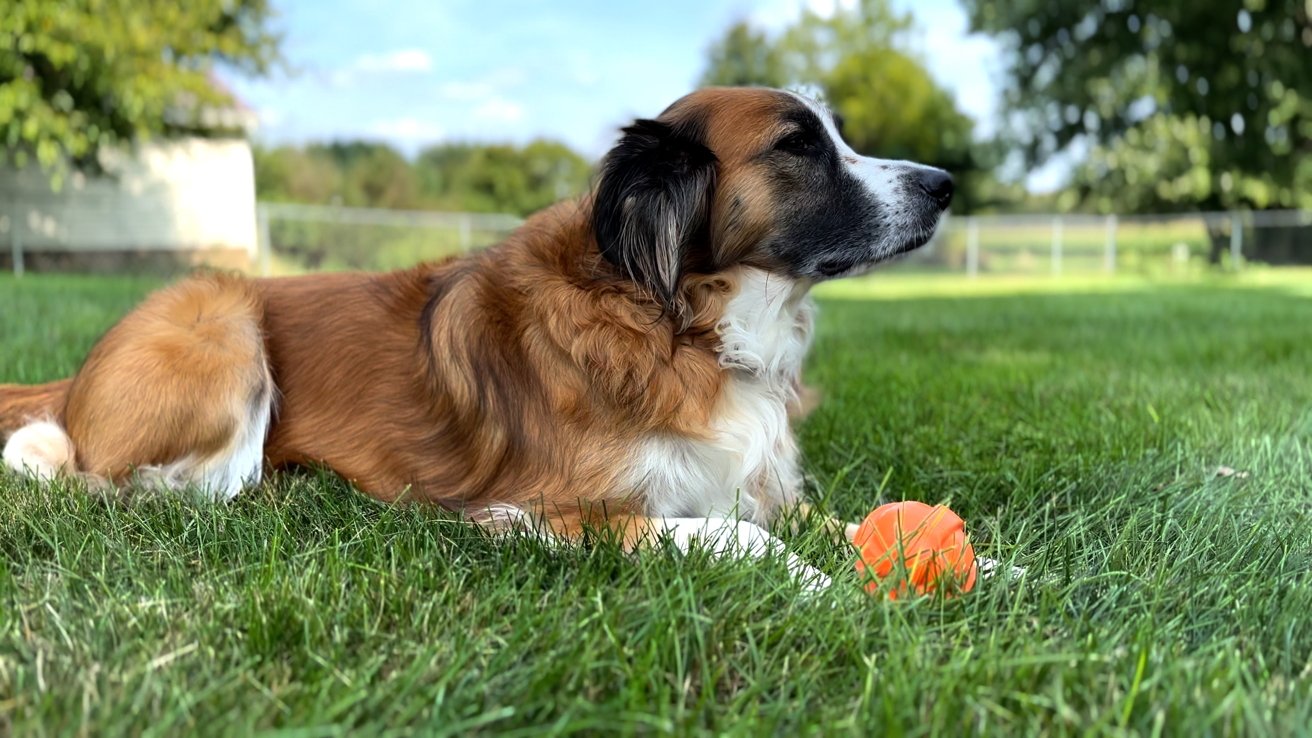 Cinematic Mode looks much better in 4K
The improvements aren't just limited to photographs. You can still get 4K video at 60fps, including ProRes at 30fps and HDR at 60fps, but the Cinematic Mode now stretches to 4K HDR at 30fps.
Slo-mo video at 1080p at 240 frames per second remains, along with Time-lapse video with stabilization, audio zoom, stereo recording, and sensor-shift OIS, but Action Mode also joins the latter.
Action Mode uses the entire sensor and onboard processing to smooth out footage being shot even more. Almost as if you're filming by placing the iPhone 14 Pro into a gimbal, except you're doing it free-hand.
To test this, we chased our dog around like a wobbly toddler, iPhone 14 Pro in hand. Despite the uneven ground, haphazard movements, and an incredibly agile dog, the footage came out shockingly smooth.
A gimbal is still going to be the ideal solution for those who need the best stabilization, and when using one, it won't require as much lighting as Action Mode does. For the overwhelming majority of the user base, Action Mode will be more than sufficient.
Around the front, the TrueDepth camera also gets some improvements, with a new autofocus system allowing multiple subjects to be focused on simultaneously. Apple says that bigger aperture allows 38% more light to be gathered, reducing noise and improving low-light shots.
Speaking of low light, the new Adaptive True Tone flash redesigns the usual light-producing element to make it more useful. Using an array of nine LEDs in a variety of patterns, the flash can fire in different ways, depending on the focal length of the photograph.
The end result is a twice-as-bright flash on Telephoto images and more uniform light for Ultra Wide shots. Again, this is nice, but like every other new feature on the iPhone camera, what can be squeezed out of this greatly depends on the skill of the photographer.
We'll be talking about this feature in-depth and how it compares to professional gear very soon.
In case of emergency
Obviously, an iPhone has communications technology. It's implied by "Phone" after the i.
Wi-Fi is the same speed as the iPhone 13 Pro, and while Bluetooth 5.3 is here, there's not much to practically do with it yet that Bluetooth 5 didn't do. This will likely become more important later in the iPhone lifecycle, though.
There are two headline items in Apple's launch related to safety communication outside of simple wireless, Wi-Fi, and Bluetooth.
First, there's Emergency SOS via Satellite, which is self-descriptive. If you happen to run into trouble somewhere in North America where you don't have cellular coverage, such as an off-grid cabin on a mountain, you can summon help using your iPhone.
This is not StarLink, where satellites mock a cell tower. This is literally, point-to-point communication from the iPhone to the satellite.
Rather than a phone call or a full text message, the iPhone will ask questions about the situation, then it will tell you to point it at a satellite. Once a connection is made, the answers, along with the iPhone's location, Medical ID, and battery level, are sent to the satellite.
That message is then sent to an emergency service provider, but if they don't take text, it will go to an Apple-operated emergency relay center who will place the call on the user's behalf.
The physics of this is obviously complex. Even over that short minute, you'll have to move the phone in a small arc to stay aligned with the satellite. Some napkin orbital math suggests that users will need about a 2-degree traversal of the phone as the message is sent, and a 5-degree one in obscured environments like a tree canopy.
However, Apple isn't going to have the service operational at launch, with it going live in November. Also, Apple says it will be free for two years, though it isn't clear what happens after that point.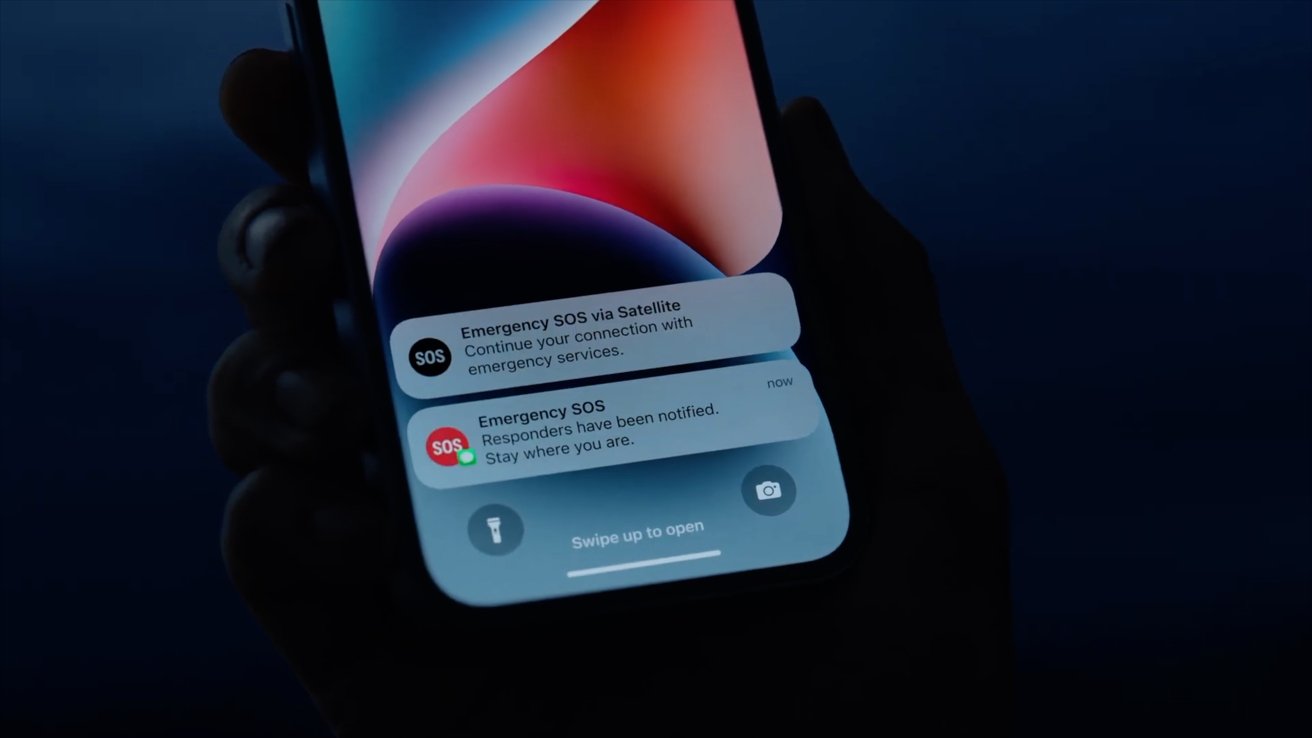 Emergency SOS over Satellite is arriving in fall of 2022 in the US
This may not be full-blown satellite calling, but given it's for emergencies and using a very low-bandwidth technology, it's still a lot better than being stranded in the middle of nowhere without any communications at all.
Continuing the theme, Crash Detection is a feature that will trigger an emergency SOS response if it detects a severe car crash. Onboard sensors detecting barometric changes, shifts in speed and direction, loud noises, and other elements will determine if a collision has occurred, prompting the iPhone to respond.
Again, this is a feature for hopefully rare situations. It's one you hope you won't use but will be glad it exists if it's needed.
We're expecting testimonies shortly after launch about live-saving rescues enabled by the technology.
All day, no tray
As is typical, the iPhone 14 Pro boasts a hefty battery life. In terms of usage, it can manage up to 23 hours of video playback for footage stored locally, lowering it to 20 hours if you're streaming that video. Audio playback can reach up to 75 hours.
We got in this ballpark in our testing. All-day lifetime isn't even a question, you'll get that easily.
To get power back into the lithium-ion battery, you still have the choice of
MagSafe
up to 15W, Qi at up to 7.5W, or using the Lightning port and a power adapter.
This last option is the fastest of the trio, with Apple claiming the iPhone 14 Pro can manage up to 50% charge in 30 minutes of charging when using a 20W or higher adapter.
While Lightning is around for one more year, one thing that's gone in the U.S. is the SIM tray. Instead, Apple expects the use of the iPhone 14's dual eSIM support rather than a physical SIM card.
This may be an annoyance for people who are used to swapping physical SIMs, especially if they travel abroad, but since most people don't touch the SIM once it is installed, it's probably a good feature for people to forget about.
We've been testing the iPhone 14 Pro since Tuesday, courtesy the same testing facilities we've used in the past. Even then, under almost no load from a pile of iPhones arriving on Friday, we had some trouble getting the eSIM activated through T-Mobile.
The day after release, on September 17, the carriers are still struggling a bit under the load with a series of unclear variables on how hard the migration is for you. Anecdotally, T-Mobile seems to be having the most problems, with AT&T the least.
Expect a SIM to eSIM migration to take a few more hours than you want, regardless of carrier. We expect this will clean up in time, but early adopters should expect a wait.
Models shipped outside the US continue to support one physical SIM and one eSIMs. Given the continued adoption of eSIMs and being able to swap them electronically, it may not be that way for much longer.
Should you buy the iPhone 14 Pro?
As usual for Apple, the iPhone 14 Pro is a significant upgrade from the previous year's model. Again, there are core performance improvements that everyone expects, but this time, the other included changes are pretty substantial.
The always-on display, Emergency SOS via Satellite, Crash Detection, and the long-awaited move to 48-megapixels for the camera system are great additions on top of the standard performance improvements.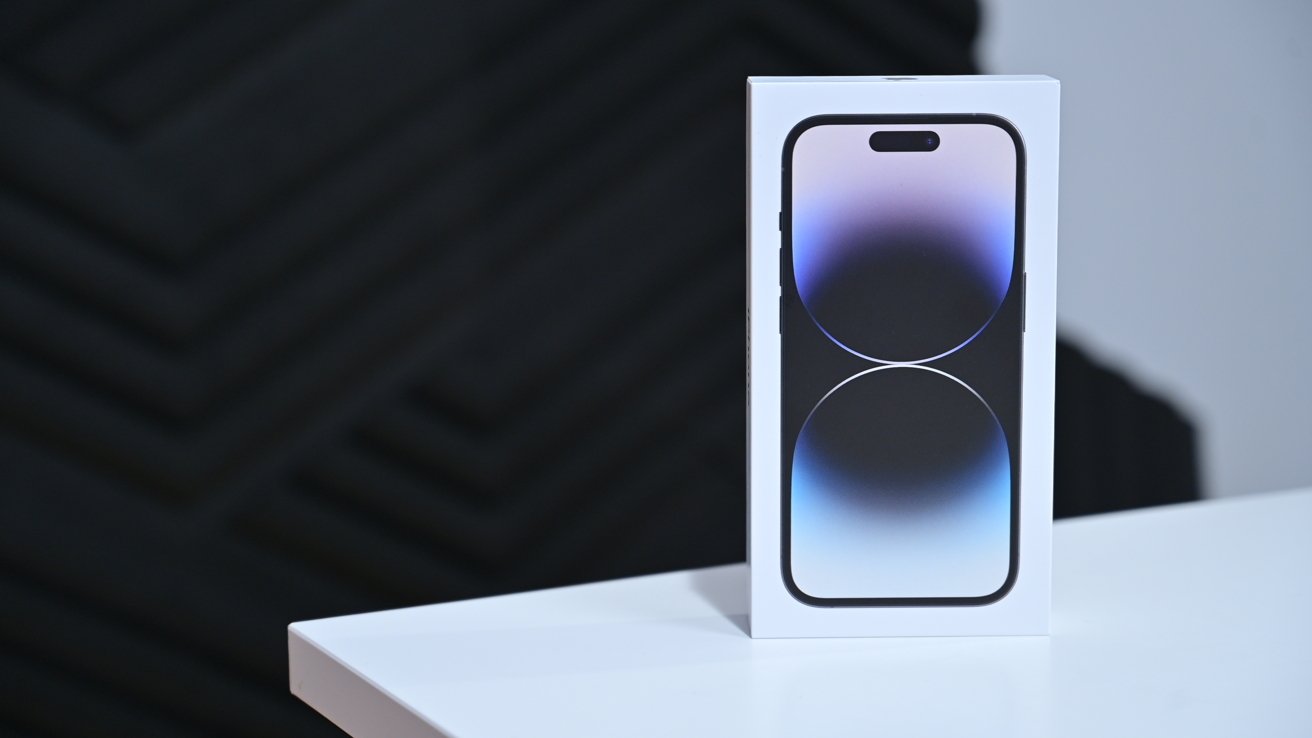 iPhone 14 Pro box
They're not small additions, either. Seeing widgets on the always-on display will increase the number of times you look at the iPhone per day, much like you'd check an Apple Watch on your wrist for notifications. Muscle and user habits still make you wonder at a glance if the phone is working right since it's still on long after you put it down, until you remember that always on.
That 48MP camera sensor jump is far beyond just making a bigger picture, as there's much more to unpack for the iPhone's imaging capabilities. It's a vast improvement for pros, and it's better for casual users. We'll discuss it more for the "pro" workflow soon.
Apple's best iPhone in the 2022 range in the iPhone 14 Pro, yet again. We feel it is the best balance of power and hold-ability in the range overall for most users.
But, it's not a giant jump over the iPhone 13 Pro. The biggest year-over-year we've seen was the iPhone 7 to the iPhone X and this isn't close. This isn't even the same gap in what you get after a year, as there was between the
iPhone 11
and iPhone 12.
As usual, if you have the year-ago phone, the choice to upgrade depends on many factors. If you have the iPhone upgrade program, it's a no-brainer.
If you've got a phone older than that year that it's been since the iPhone 13, or anyone who was going to get a base-model iPhone 14 before Apple confirmed the smaller-than-usual changes should seriously consider getting the iPhone 14 Pro instead. It has more now over the non-Pro model than it ever has.
Barring catastrophe, it will last a year longer before you start getting the itch for a new one because yours is slow.
iPhone 14 Pro - Pros
Always-on display
High performance A16 Bionic
Upgraded 48MP camera
Notch traded for Dynamic Island
Long battery life
Crash Detection
Emergency SOS via Satellite
iPhone 14 Pro - Cons
Reused physical design, again
One 48MP camera sensor, but two 12MP sensors
Still Lightning, no USB-C
Rating: 4.5 out of 5
Where to buy the iPhone 14 Pro
Apple's iPhone 14 Pro is available for purchase, with wireless providers
AT&T
and
Verizon
offering incentives on the latest devices. Visible is also offering a
free $200 prepaid card
and free AirPods 3 at the time of publication when you sign up for service and purchase an iPhone 14 Pro. See
Visible.com
for terms and conditions pertaining to the offer.
For the latest
iPhone deals
, be sure to head over to our
iPhone 14 Pro Price Guide
.
If you have a used iPhone, you can also check out our
Apple trade-in deals
for exclusive cash bonuses on pre-owned devices, putting more money in your wallet for a new iPhone 14 Pro.
Read on AppleInsider