Apple Watch Series 8 review: Another year, another Apple Watch
Apple Watch Series 8
is a jack of all trades for your average user, though a lack of new features is a bit more apparent than in years past.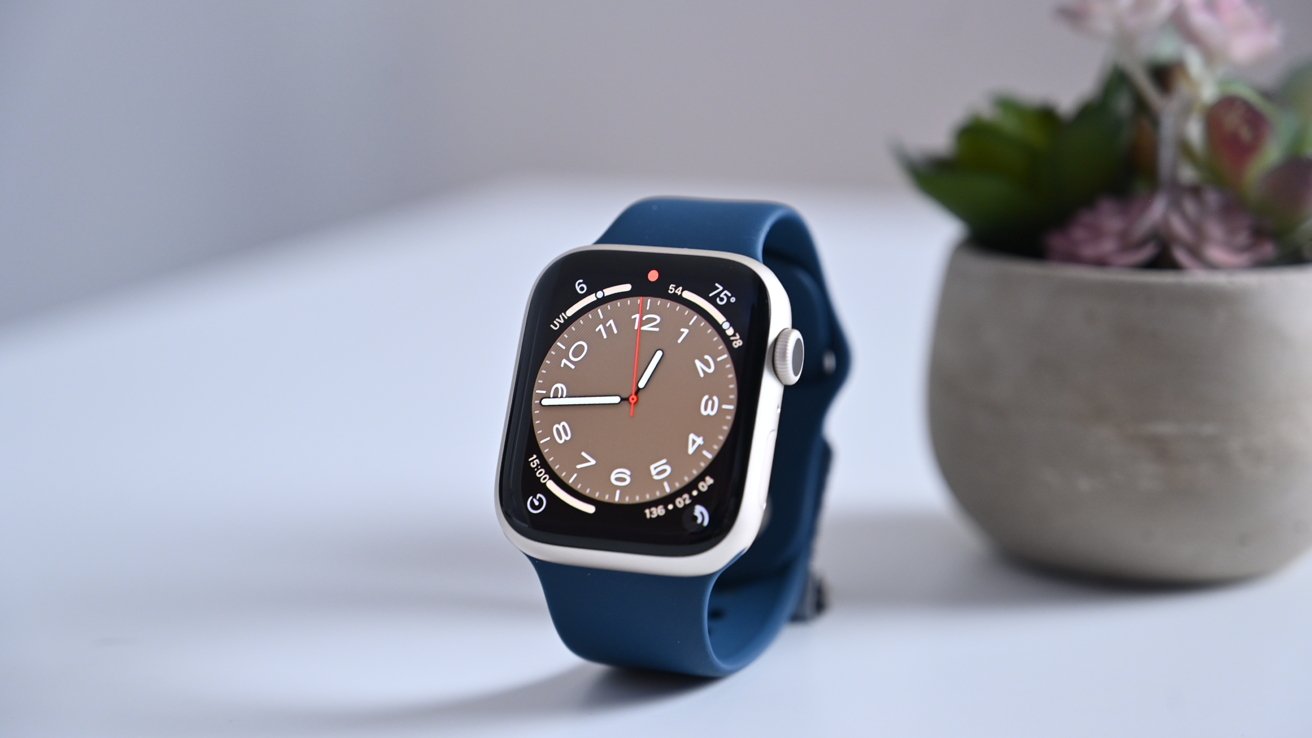 Apple Watch Series 8 45mm in silver
The rate of iteration on the standard
Apple Watch
seems to be slowing. The biggest changes in 2022 come from
watchOS 9
which delivered long-awaited features such as low power mode, improved workouts, and better tracking with the Compass app.
Even though there are fewer flashy features in the Apple Watch Series 8, it is still the smartwatch to beat.
Pick out your Apple Watch
Even with the addition of the
Apple Watch Ultra
to the lineup, users have fewer choices this year than they typically would. Which is probably for the best.
The Apple Watch Series 8 can be picked up in Midnight, Starlight, silver, and (Product)RED if you opt for the aluminum and if the stainless steel is more your style, there are gold, silver, and graphite to choose from.
Titanium is now solely reserved for Apple Watch Ultra owners and the green and blue versions of the aluminum Apple Watch are a thing of the past. Not to mention the discontinuation of the Nike Edition.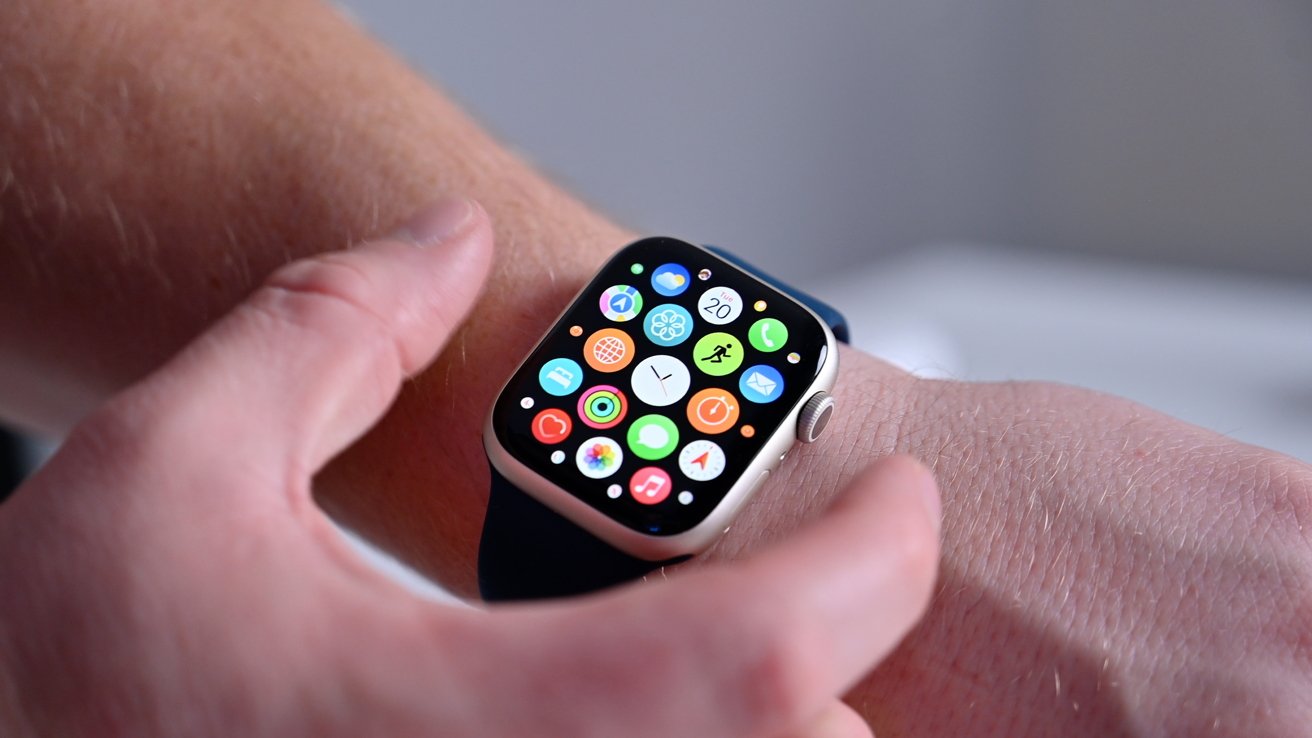 Lots of apps on our Apple Watch Series 8
When choosing your Apple Watch, you can pair it with any of the Nike bands, including the stainless steel versions.
With the Nike Edition gone by the wayside, titanium no longer available, and two colorways being discontinued, there are far fewer options for users at retail.
But, silver is back. This much-requested color was absent last year as Apple transitioned to Starlight. The slight gold hue was a put-off to people who wanted a more neutral silver -- and they seem to have had their requests heard.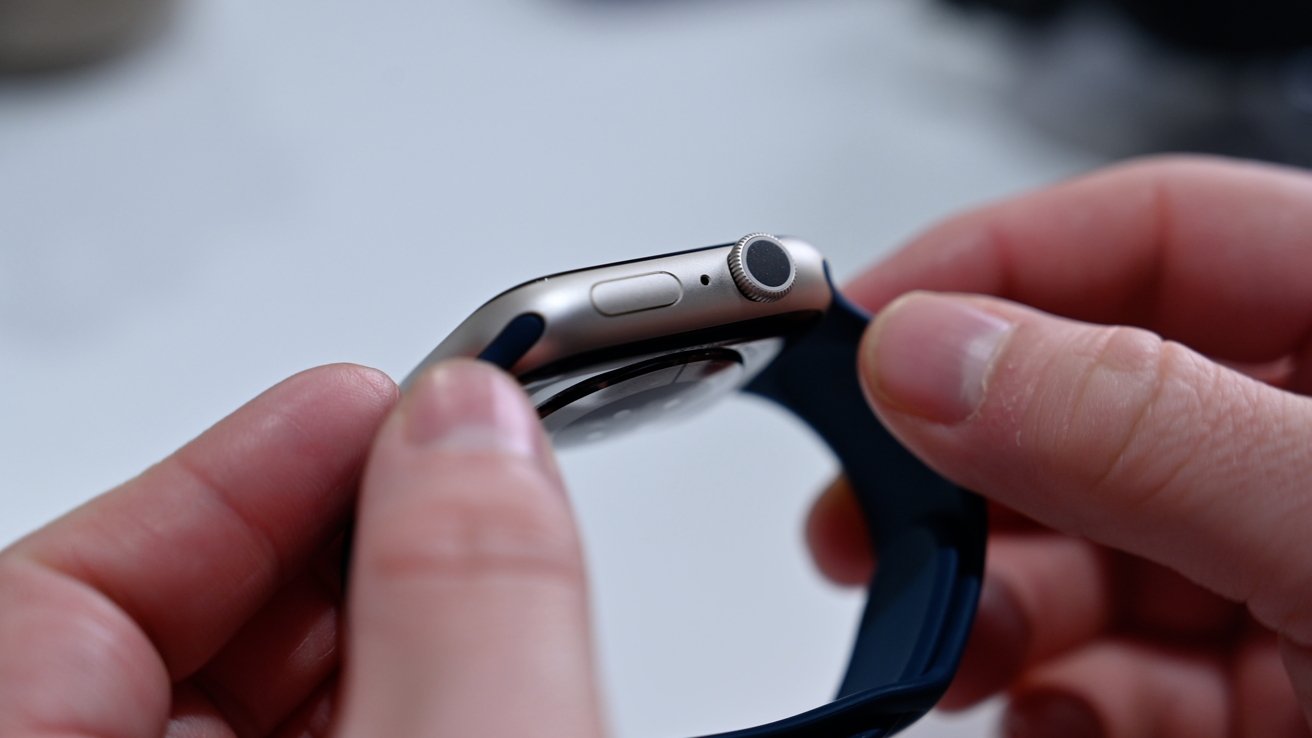 Silver Apple Watch Series 8
We're taking a look at the 45mm silver aluminum Apple Watch Series 8.
A solid recipe for success
Apple Watch has been following a reliable recipe for success for the past few years, with incremental improvements bolstered by ever-improving software.
This year,
watchOS 9
was a great update for new and existing owners. Low power mode can nearly double the promised battery life of your Apple Watch, enough for a weekend getaway depending on your usage.
There's a host of new workout features such as triathlon and duathlon support, the ability to race yourself while running, and new workout views with heart rate zones, Activity rings, and more.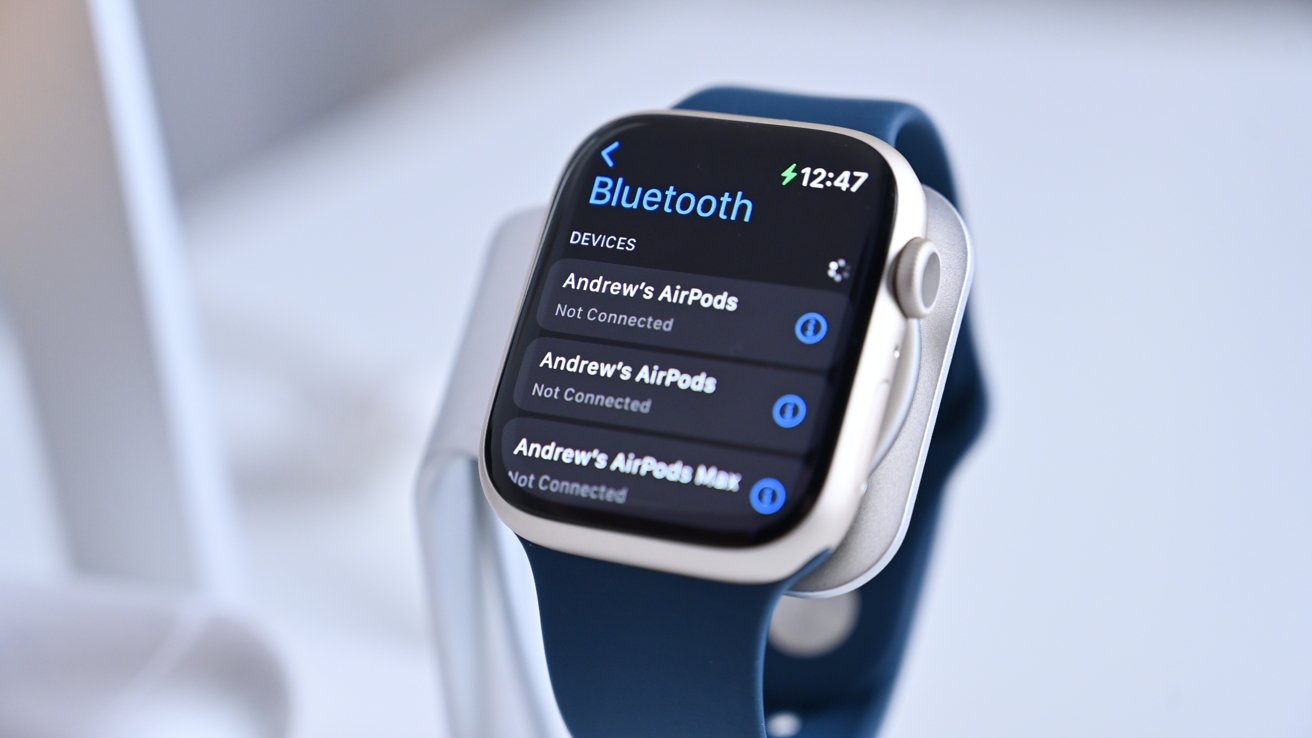 Even if Apple Watch Series 8 doesn't have that rumored redesign, it works with the same bands it has supported for years, works reliably, and is more capable than the Apple Watch before it.
What is actually new
Let's talk about what is new, instead of harping on Apple's tried-and-true technology.
Crash detection is one of those new features, and it's one Apple openly says it hopes you never have to use. There is no denying that in some instances, this new crash detection will most certainly save a life.
It works by tying into a host of sensors integrated into the Apple Watch. First, it relies on the all-new accelerometer that can detect sudden changes in speeds up to 256 g.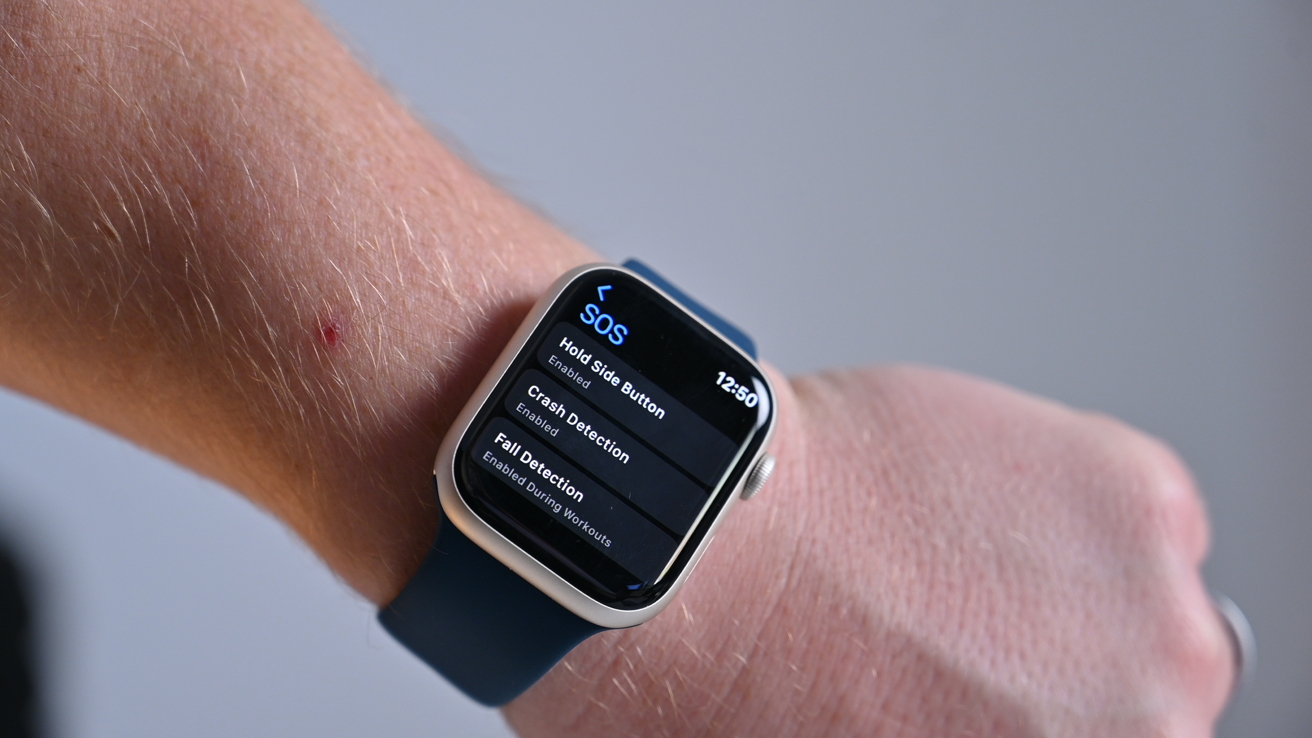 Crash detection toggle on Apple Watch Series 8
Then there is the updated gyroscope that will detect when there has been a sudden shift in motion -- such as when suffering an impact to the front, rear or side.
The barometer will detect a shift in air pressure caused by airbag deployment. Finally, the microphone listens for loud sounds that accompany a crash. All of this comes together to (hopefully) reliably detect when you've been in an automobile crash.
Should a crash be detected, your Apple Watch will fire up, asking you if you're ok. If it can't get you to respond, it will automatically call emergency services with your location and send an alert to your emergency contacts. Granted, you need a cellular Apple Watch or your
iPhone
nearby for this to work.
Crash detection is a fantastic feature to bring to Apple Watch and is an incredible example of Apple fully utilizing the existing sensors by applying creative software. It will only be a matter of time before we start hearing stories of people saved by this addition.
The Apple Watch Series 8 runs on a new S8 SiP, but you won't any real speed boost here. The S8 relies on the same CPU as the S7 found in the Series 7 Apple Watch.
As we opened apps, navigated the watch, and typed, we noticed no lag, which is precisely our experience on the Series 7 too. The S8 just includes Apple's new sensors we outlined above, as well as the upgraded Bluetooth 5.3 radio.
The last new feature Apple is touting is its temperature sensor, or rather, its pair of sensors. Apple placed two temp sensors in Apple Watch Series 8 -- one against your wrist and the other the screen, used for measuring surroundings.
These sensors don't act like a traditional thermometer, though. You won't see an alert emerge from the top of your Apple Watch telling you that you've run a fever and should check with your doctor.
Instead, Apple provides two primary use cases for temperature sensors.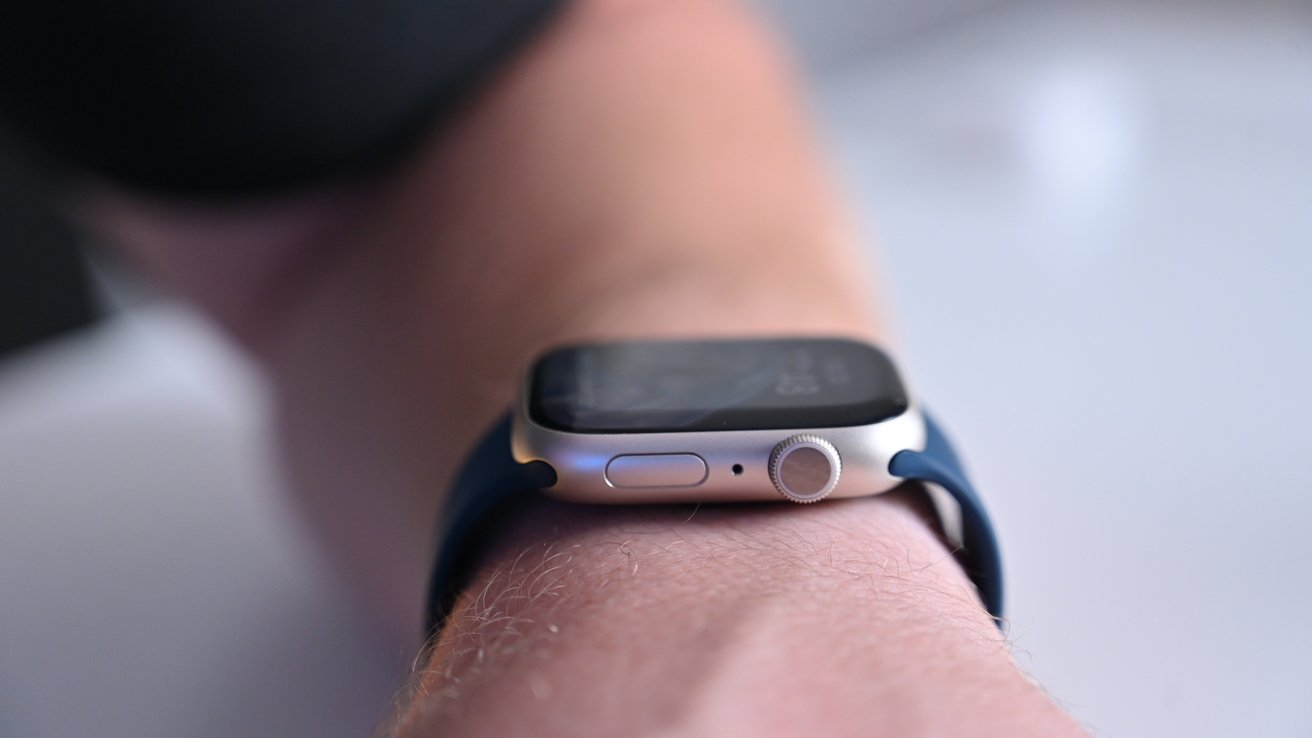 Side view of Apple Watch Series 8
There are typical body temperature deviations during certain points in a menstrual cycle that may indicate ovulation. The Apple cycle tracking app uses data from this sensor to determine ovulation, retroactively.
Otherwise, the temperature sensor will track a wearer's body temp overnight, assuming you wear your Apple Watch to bed. We've been using our Apple Watch for sleep tracking for years so this was no issue.
After several days of data collection, Apple Watch was then able to flag when our body temperature deviated by roughly two degrees or more from our baseline measurements. This can be indicative of illness, stress, diet, exercise, alcohol, and more.
This feels like a very Apple approach. Rather than overpromising to its users, Apple has hedges its bets and only delivers what it can be confident about.
Far too many fitness trackers make dubious claims backed by questionable science and Apple has made a concerted effort to steer clear of this pitfall.
We wouldn't be surprised to see Apple add additional benefits to the temperature sensor via software going forward, and developers will ultimately help tell the full tale. As of September 2022, it's another nice-to-have metric
Apple's biggest Apple Watch problems
With its wearable, Apple has a few issues to tackle. Sensors are becoming increasingly difficult to integrate into the tiny body of the Apple Watch -- or they're prohibitively expensive -- and Apple isn't competing with more dedicated fitness trackers.
One of the most oft-rumored sensors Apple has been exploring is a glucose monitor. We've been
adamant
that anyone expecting this in the near future, should temper their expectations.
Wearing the Apple Watch Series 8
A non-invasive glucose monitor is still years away from showing up in Apple Watch and even then, it's more likely it will be general values and not something as accurate as a prescribed monitor like the Dexcom G6 or Medtronic Enlite.
Apple settled this year for something more feasible: a temperature sensor. Still, Apple is being cautious here only using it for background readings at night and retrospective ovulation predictions.
Then we have the problem of Apple's lack of competition with more dedicated fitness trackers. Garmin's Fenix line is a favorite for weekend warriors and triathletes that want something more powerful than what Apple Watch offers.
In this case, though, Apple did have an answer. It just wasn't the Apple Watch Series 8. It's the Apple Watch Ultra, and we'll leave that conversation for a different review
Should you buy the Apple Watch Series 8?
Annual upgraders are going to upgrade anyway. There isn't necessarily a killer feature that makes this a must-have upgrade from the Series 7 or even the Series 6. It's meant to be the best, most capable Apple Watch for your average user, and be readily available -- which the Apple Watch Ultra will probably not be for a while.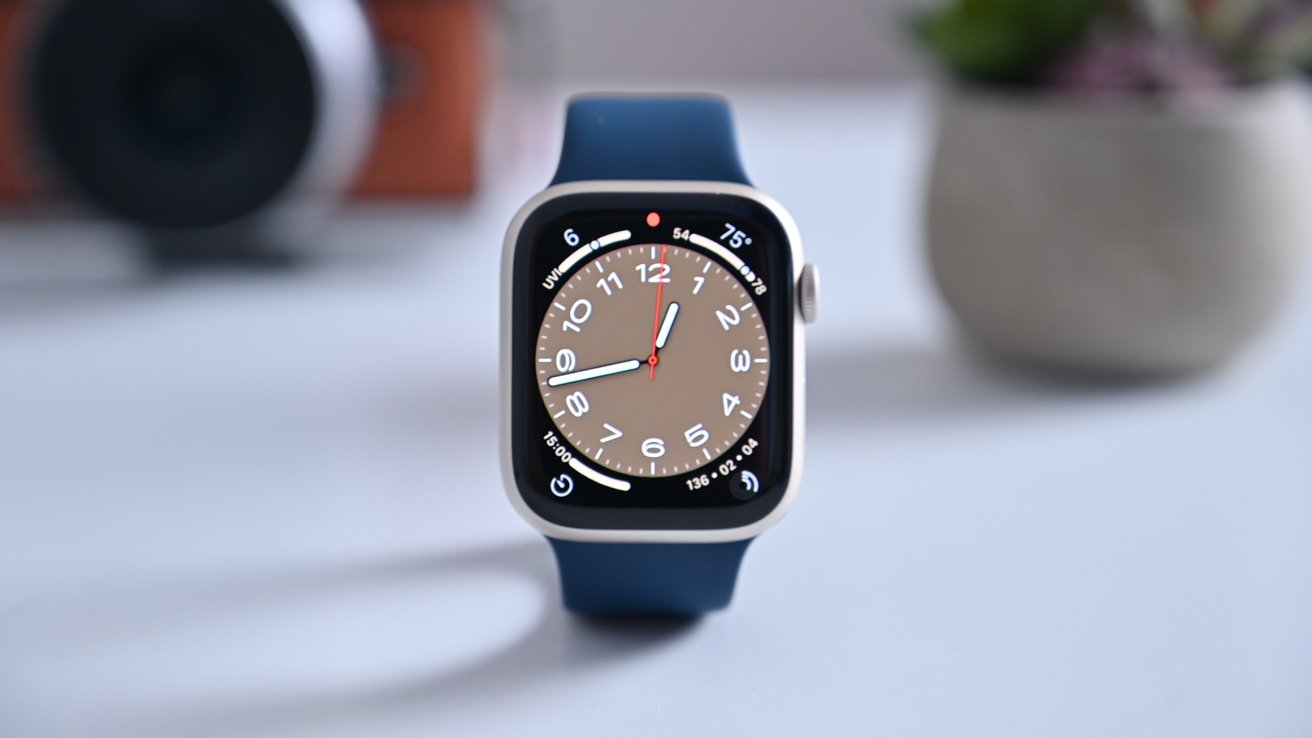 Apple Watch Series 8
The new Apple Watch Series 8 now sits in the middle of the lineup. It's (barely) more capable than the new Apple Watch SE which we will be talking about soon, but won't set you back as much as the Apple Watch Ultra.
For most people, that's the sweet spot.
Apple Watch Series 8 - Pros
Still the best smart watch for everyday user


Unique use for temperature sensor


Crash detection isn't flashy, but lifesaving


All-day battery life


Lots to love with watchOS 9
Apple Watch Series 8 - Cons
Few reasons to upgrade over Series 7, Series 6, or maybe even the Series 5


Most watchOS 9 features coming to older watches such as low power mode
Rating: 4 out of 5
Where to buy the Apple Watch Series 8
The Apple Watch Series 8 is on sale now, with exclusive
Apple Watch deals
available when you tack on AppleCare.
Save $15 on AppleCare when you
shop through this activation link
at Apple Authorized Reseller Adorama and enter promo code
APINSIDER
in the same browsing session. Need help with the code? Here's
how to activate it
.
You can also order the Series 8 at
Amazon
and
Best Buy
, with easy price comparison at your fingertips in our
Apple Watch Series 8 Price Guide
.
Read on AppleInsider