How to decide between two HomePods or a Sonos system for a home theater
Upgrading your home theater speakers for a great movie experience is easy to do, but it can be hard to decide which route to take. Let's look at the choice between a pair of HomePods and a dedicated Sonos system.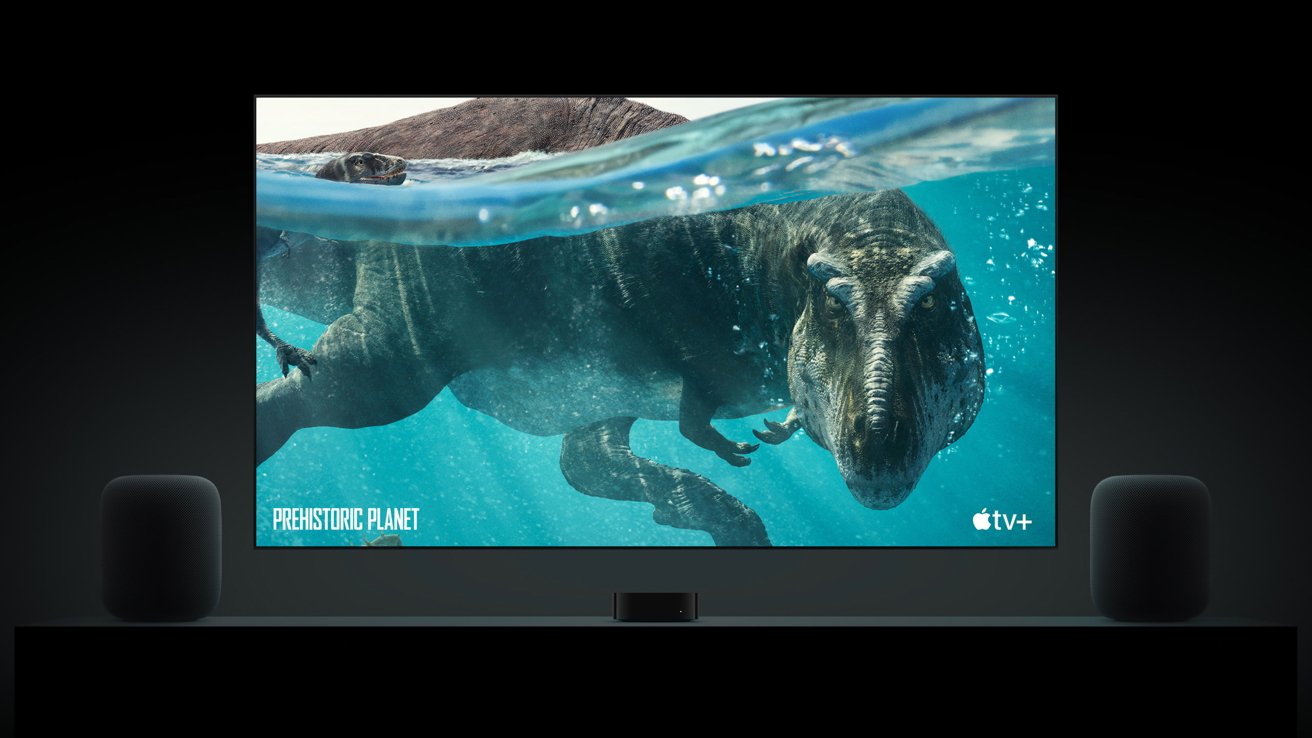 HomePods for home theater
Once Apple updated the
HomePod
line to support eARC (HDMI ARC) it became even more compelling to connect the wireless speakers to a TV -- you just need an
Apple TV 4K
(second generation) or later.
That means around $600 will get you a pair of
new HomePods
for your TV that support Spatial Audio (Dolby Atmos) without needing to mess with a receiver or connection cables.
Once you're willing to spend $600, however, there is a question of whether you should be considering other wireless sound options.
Sonos is among the most popular options and offers a range of speakers that connect wirelessly, support
AirPlay
2, and plenty of other compelling features to pair with a TV setup.
HomePods vs Sonos system - setup
Going with a wireless home theater system from Sonos will require a physical connection to your television in some way. The Arc and Beam soundbars can use HDMI or optical, while
Ray
is relegated to optical only.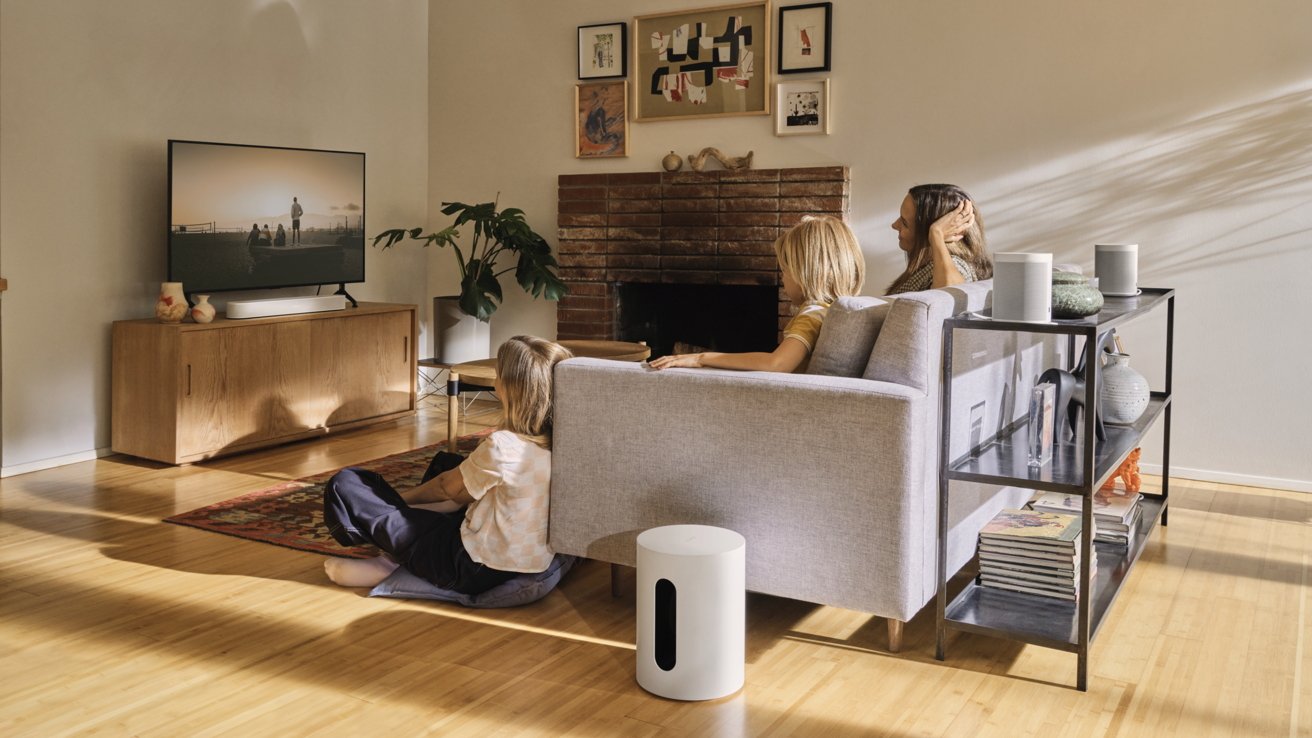 Sonos Beam, Sub Mini, and two rear speakers
Once you have a Sonos soundbar connected, the rear speakers and subwoofer will be wirelessly connected, from wherever you place them in the room.
The second-generation Arc and Beam both support Dolby Atmos. Arc has two dedicated up-firing speakers to enhance the spatial audio technology.
Arc and Beam support voice control with their included microphones. Of course, all of the soundbar options also support listening to music, either through the Sonos app or AirPlay 2, while the TV is not being used.
While you can connect a single HomePod or
HomePod mini
to an Apple TV 4K for home theater audio, we'll focus on the HomePod stereo pair with a Apple TV 4K models that have support for other devices connected through the TV set with eARC.
Similarly, two HomePod minis might be sufficient for a small bedroom, but
only the bigger
HomePods support 5.1 surround, 7.1 surround, and Dolby Atmos.
A stereo pair of HomePods forgoes the wired connection to a TV, so there is a little more flexibility for the placement of the two speakers.
HomePods support Dolby Atmos, but they don't have any up-firing speakers embedded within their cylindrical shape.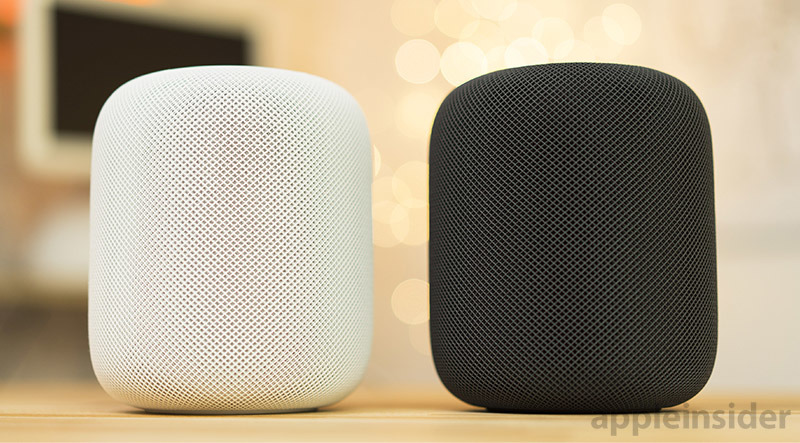 Two HomePods
A stereo pair two HomePod speakers is also the most that can be linked to a home theater system. The setup does not support rear speakers or a subwoofer, yet.
That means while it's powerful for a two-speaker configuration, it remains limited compared to Sonos' options, which can be added to piecemeal at a later date.
For example, you can start with a Sonos soundbar and rear speakers first and then add a subwoofer later, if you want.
HomePods vs Sonos System - sound
From the entry-level Ray soundbar to Arc, each of the options provide compelling sound quality for different-sized rooms. We've tried each Sonos soundbars, and all delivered a much larger and fuller presence than their designs suggest.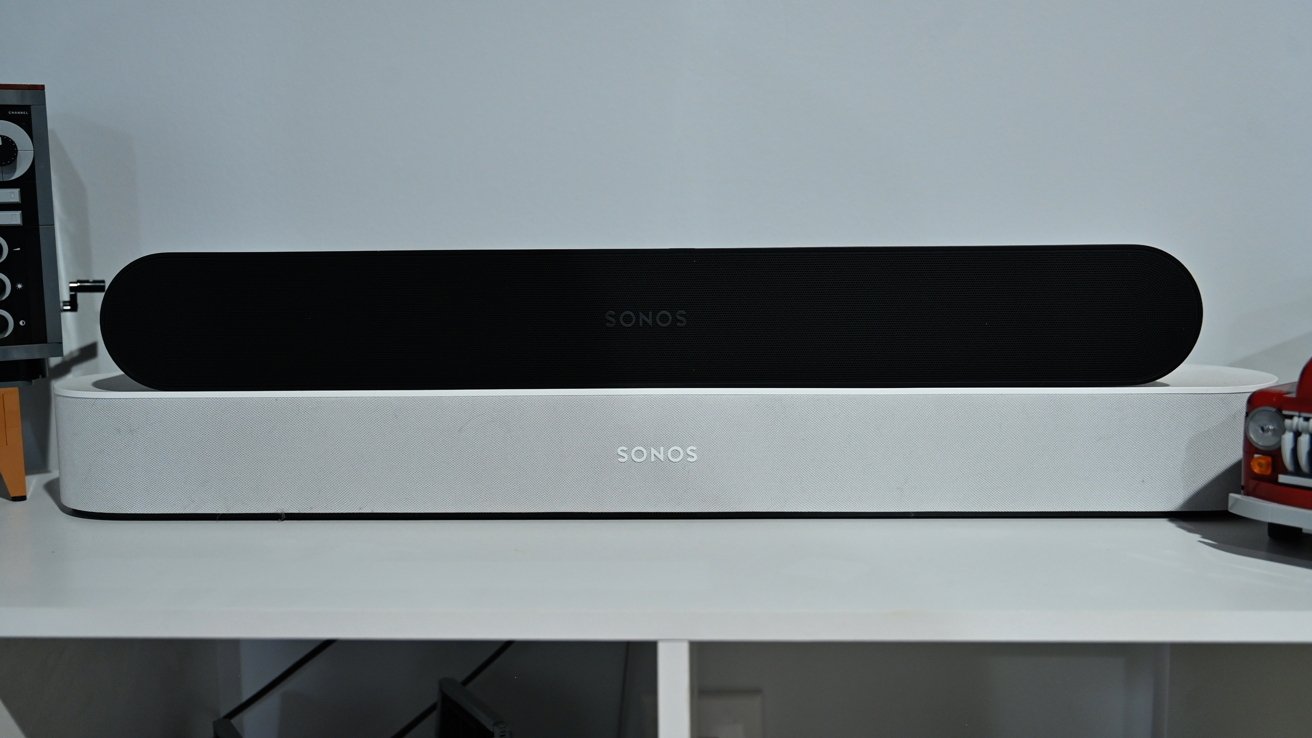 Sonos Ray vs Sonos Beam
Similarly, a pair of HomePods don't occupy much physical space, but can fill large rooms with booming sounds.
Sonos supports a dialog mode for clearer speech and a night mode for reduced peaks during quiet times. We've found these sound features helpful over time.
HomePods can reduce loud sounds to avoid disturbing other people, through the
Apple TV
box, but there is no dedicated speech mode for more audible or boosted dialog.
In terms of volume and fullness, Sonos Ray and a single HomePod are close to equivalent. In our estimation, Beam didn't quite match the two paired HomePods. Arc was able to exceed two HomePods for this type of comparison.
HomePods vs Sonos system - considerations
Some items to consider about using HomePods versus a Sonos system
Sonos has apps for Android, iOS, Mac, and Windows. AirPlay doesn't have the same compatibility.


If you don't have a capable Apple TV box, you'll need to factor in that cost too.


Sonos has its own voice assistant for audio functions.


HomePod connects to Apple's Home app for smart home functionality.


HomePod (second generation) has temperature and humidity sensors inside.
HomePods vs Sonos system - pricing
Sonos
soundbars
range from $279 to $899 -- with a $449 option in the middle. A Sub Mini costs $429 and the bigger Sub costs $749.
The cheapest wireless rear speakers are the Ikea and Sonos
Symfonisk line
which starts at $119 each.
An entry-level Sonos home theater system with a Ray soundbar and two Symfonisk bookshelf speakers starts at $517.
This will save a little bit of money compared to two HomePods at $598. This could also provide more immersive sound around the room, but it won't support Dolby Atmos.
A more complete home theater option, practical for an average-sized living room, is going to cost closer to $1,200 with a Beam, Sub Mini, and two One SLs. This configuration will trump a stereo pair of HomePods in every way, but for double the price.
The truth is there's not really a good direct comparison between two HomePods used for a home theater setup and a Sonos system meant for the same purpose.
Hopefully, Apple adds additional speakers to the HomePod line with home theater in mind, in the future.
Here's what you should buy
People seeking a home theater speaker system should
consider Sonos speakers first
. There is better compatibility for a wider range of TVs and home theater setups.
The ability to add wireless rear speakers, and even up to two Subs, is a tremendous benefit for a growing system in the future.
It's an optimistic feeling to believe that Apple better supports home theater use with its speakers, and for the potential of future updates and releases, but there's no guarantee that will come to fruition.
On the other end of the spectrum, someone who's planning on having a new HomePod near their TV and doesn't have a speaker system should entertain the idea of pairing a second HomePod to pair.
Going from one full-sized HomePod to a stereo pair
sounds more substantial
than simply going from one to two. The boost in bass and fidelity is impressive, and would be a good low-cost way of taking the step towards a better home theater setup.
Read on AppleInsider