Rumor: Apple has made mockups of iMessage for Android with 'Material Design'
Whether or not it's ever released, Apple has allegedly toyed internally with the idea of releasing iMessage for Android, going as far as to make mockups for the text messaging client in Google's "Material Design," according to a new report.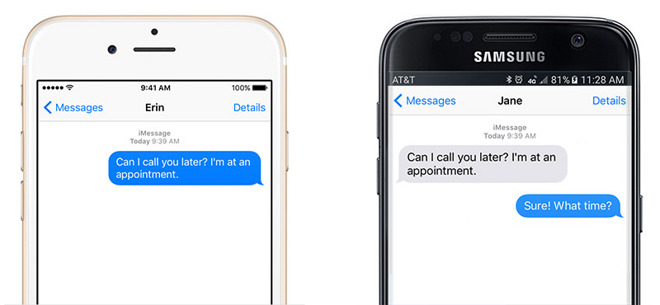 Citing anonymous sources, John Gruber of
Daring Fireball
said
this week
that various Android iMessage mockups have circulated within Apple. The concepts have had varying user interface designs, with some adhering to Android-consistent Material Design, while others replicated iOS on Android.
The details were dropped as an aside while Gruber spoke of the "stickiness" of Apple's iMessage platform. iMessage is exclusive to Apple devices, including iOS and macOS.
Gruber cautioned that iMessage for Android may never actually be released. But he pointed to the alleged mockups as a sign that it's at least possible.
Such a move would not be unprecedented for Apple --?last year, the company brought its Apple Music subscription service to Android devices.
In a footnote, he also acknowledged that late Apple co-founder Steve Jobs promised
back in 2010
that FaceTime video chat would become an open standard, available for other platforms and services to integrate. Of course, that never happened.
Gruber said FaceTime remains Apple-exclusive for a variety of reasons, including engineering concerns, and a patent infringement lawsuit from VirnetX which
forced the company
to develop workarounds.
"So I don't think we're ever actually going to see FaceTime as an open standard," Gruber said. "But I think the sentiment that drove Jobs to want it to be an open standard applies to the idea of releasing iMessage for Android. Apple doesn't need to rely on platform-exclusive lock-in."
Earlier this year, in what ultimately turned out to be a bogus rumor, it was claimed that Apple was planning to debut
iMessage for Android
at its annual Worldwide Developers Conference in June.
Such a move would not be unprecedented for Apple --?last year, the company brought its
Apple Music subscription service
to Android devices. It features elements of Google's Material Design.