How to get television to your Apple TV without using a streaming service
Tired of paying monthly fees for subscription streaming apps? AppleInsider shows you what you need to watch TV live on your Apple TV with a digital tuner and an app.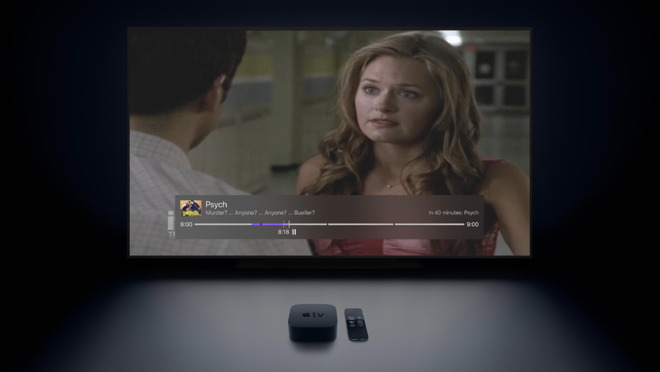 When it comes to watching shows on your
Apple TV
, you've got choices. Streaming apps offer you endless options. Some are free with your cable subscription, like Food Network, HGTV, and Comedy Central. Then there are others that require a subscription of their own such as Hulu or Netflix.
If you haven't noticed yet, the common thread amongst all those apps is you need some sort of paid subscription. However, if you have an TV tuner that can stream to your local network (sometimes called an IP tuner), you can actually watch live TV, play/pause/rewind/fast forward live TV, and even record shows.
Getting Started
A digital tuner works with several apps including Plex, and Channels. Let's take a more in-depth look at the latter and how you can watch and control live TV on your Apple TV.
To start, you need the
Channels app
on your Apple TV, an IP tuner such as the
HD HomeRun
, and an
antenna
.
Once you've connected your antenna to your HD HomeRun, and then that into your router, you are all good to go.
Simply launch Channels on your Apple TV, and your tuner should be discovered automatically since they are on the same network.
The first time you connect the tuner to Channels, it will ask you to scan for available networks. This will find what your antenna is able to receive, and will assign then network names and titles within the Channels app.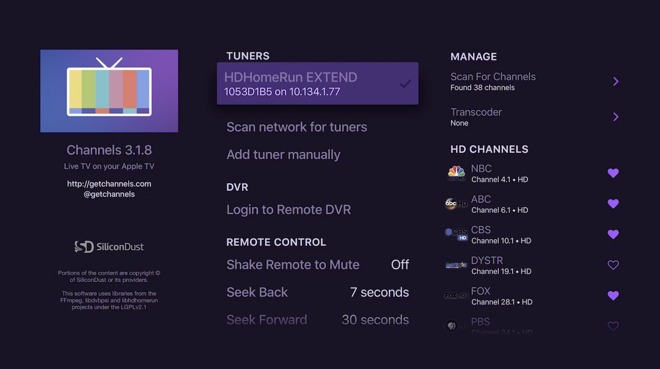 Within the settings portion of the app, you are also able to choose your favorites, which gives them priority placement on the channel selector.
Watching TV
When you go to tune into a show, you've got two options.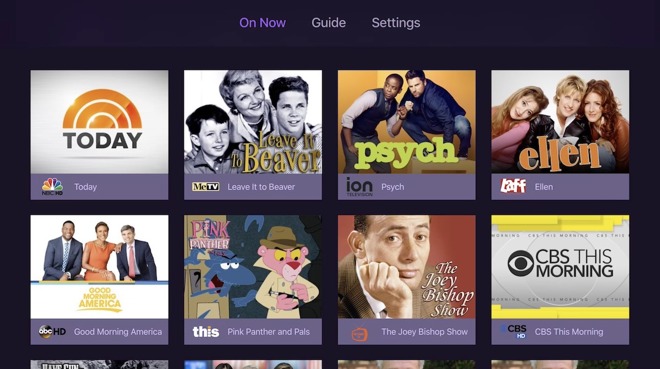 You can view the "On Now" tab which shows cover art and a title for all of the shows currently airing. Alternatively, you can view the more traditional "Guide" tab to see a grid of all channels, what is on now, and what will be on in the future.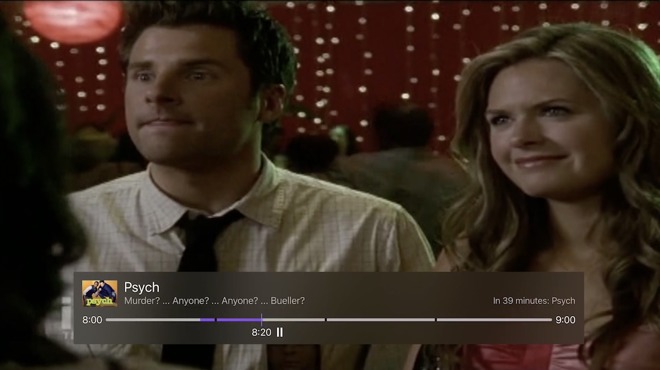 While watching a show, Channels gives you to the option to pause for up to 90 minutes. It will highlight a portion of the progress bar in purple to designate the area that has been cached, and you can rewind to any portion of that cached play time.
In real use, it means you can pause when you get up to go grab some snacks, then fast forward through the commercials when you return.
The advanced Siri remote also has a few tricks. You can click to the left to jump back 7 seconds, maybe to pick up a line you didn't hear. Then you can click to the right to jump forward 30 seconds, perhaps to jump through a commercial. These values can be customized in settings for regular TV, as well as different values specifically for sports.
A swipe down from the top while watching brings down your "Favorites Guide" with all your preferred channels, and what is currently airing on them. It also gives you a description of what you are watching, what is coming up next, and when that next show starts.
Our favorite little trick is when you shake the remote, it will automatically mute the volume.
Aas long as you've got decent bandwidth and solid signal strength, you can stream HD TV that looks as good as any streaming app. It also supports full 5.1 surround sound, multiple languages, closed captions, and VoiceOver.
Channels DVR
When it comes to advanced options, Channels also supports cloud DVR, though, it will run you $8 per month. It runs locally in your home, so you do need storage, as well as a computer or supported NAS device to run it. Once set up, you can access it at home, or while on the go.
If you want to record multiple shows beyond what one tuner allows, you can just add a second (or third) HD HomeRun tuner to your network and Channels will take advantage of all of them. More tuners mean more simultaneous recording.
Plex
Channels is a fantastic option, but it isn't your only one. There are quite a few additional apps that can support digital tuners, with the most popular being
Plex
. The past year or so Plex has been building out its live TV functionality to include support for digital tuners, even adding guide and DVR features.
If you are already a Plex user, then this may be the option for you.
Get Watching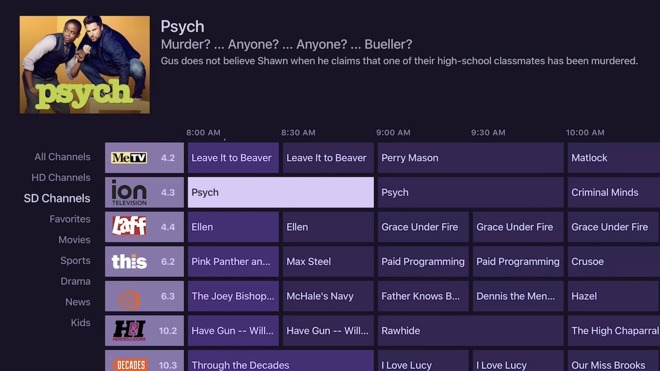 The Apple TV is quite the capable device. We're still impressed with the quality and capabilities you can get with just a tuner and an app when it comes to live TV.
Setup is also so dead simple, with installation getting as technical as "plug the tuner into the router", that anyone can handle it.
If you want to try this setup for yourself, the HD HomeRun tuner is available on
Amazon for roughly $67
, and you have quite a few options for antennas. You could pick up a
basic antenna for as low as $20
or a
Terk one that is stronger for $45
.
You can download the
Channels app from the App Store
on your Apple TV for $24.99.