HomeKit support now available in four more GE air conditioning window units
There are more options for GE air conditioning units compatible with HomeKit than first thought, as the electronics giant has confirmed other models in its AC range support Apple's smart home platform alongside the AHP08LX Energy Star 115 volt Electronic Room Air Conditioner that shipped earlier this week.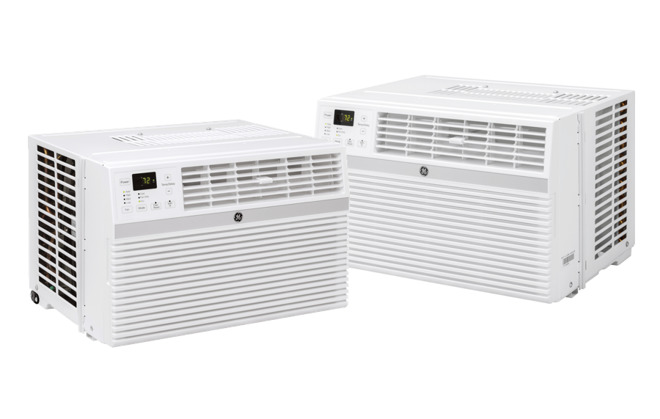 The
AEC08LX
,
AEC10AX
,
AEC12AX
, and
AHP10LX
models all use GE's WiFi Connect technology, allowing the air conditioners to work with Google Home, Amazon Alexa, and IFTTT, as well as Apple's HomeKit. The
AHP08LX
, revealed as on sale on April 23, was the first to be reported to have HomeKit support.
GE
advised
to
The Verge
the AEC08LX, AEC10AX, and AEC12AX do support HomeKit, despite the product pages not mentioning the compatibility alongside the other smart home frameworks, and will be updating the online documentation to reflect the fact. The AHP10LX product page does specify it has HomeKit support.
All five air conditioning units are able to be controlled by verbal command using Siri, and can also be used with other HomeKit devices in scenes. For example, a scene can be set up to run when
one or more people
are at home, automatically turning off when the house is empty and turning back on when a user returns.
The AEC models offer three cooling and fan speeds, a remote control, and an energy saver mode, as well as connectivity over Wi-Fi connect, with the main differences being the maximum cooling capacity, ranging from 8,000 BTU to 12,000 BTU, and the room size they are intended for use within. The three air conditioning units are available from The Home Depot, priced at between $229 and $329, depending on capacity.
The AHP10LX is sold in Lowes alongside the AHP08LX and offers a similar feature set as the previously-announced unit, but expands the output from 8,000 BTU to 10,000 BTU. The AHP10LX has an MSRP of $329, compared to the AHP08LX's $269 price tag.
Where to buy
GE's line of HomeKit-enabled air conditioners can be purchased at Home Depot or Lowe's. Prices start at $249.