The best Thunderbolt 3 eGPU enclosures for the 2019 13-inch MacBook Pro
Posted:
in macOS
edited September 2020
We've been talking about external GPUs for a while, even before Apple decided to launch official support for the technology. As a result, we've used them all, and have a few we'd like to recommend if you're getting into the technology for the first time with your new 13-inch MacBook pro or MacBook Air.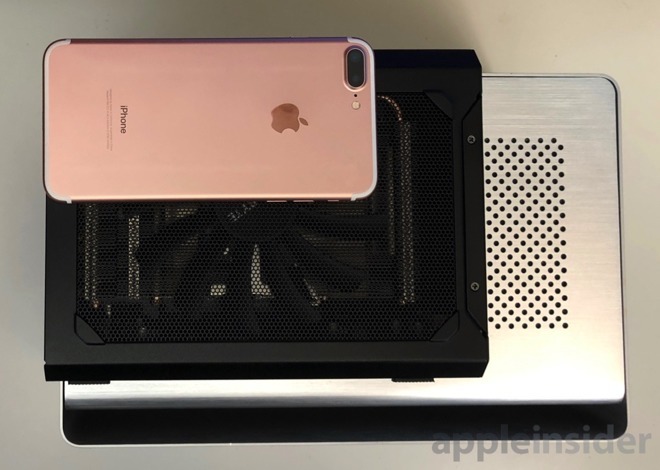 Editor's note: We ran this piece first in shortly after the 2018 MacBook Pro was announced. Given the refresh of the 13-inch MacBook Pro and the slight upgrade to the MacBook Air, we've revised the piece on July 12 to reflect that, and to refine data on a few choices.
In short, an eGPU enclosure allows you to connect a powerful PCI-E graphics card to your Thunderbolt 3-equipped Mac in macOS High Sierra through macOS Mojave. Some contain just a PCI-E graphics card, and some have additional connectivity.
Of the enclosures we've tested over the
last three years
, we have a few favorites. And, if you're like us, you can use the eGPU on your Mac to work during the day, and connect it to a Thunderbolt 3-equipped Windows PC for other purposes.
But before we get going, be advised that the 18-inch cable that comes with the enclosures is useless. They work, but they are universally just too short to be useful. Plan on spending
$60 or so
for a longer, high-speed cable.
Best for high power video cards
Sonnet eGFX Breakaway Box 650
Sonnet wasn't first to market with an eGPU case, but they were the first one anointed by Apple -- and remain so. Sonnet's enclosure was used to demonstrate the technology at the 2017 WWDC, and was included in Apple's bundle that was sold to developers to get them on-board with the technology.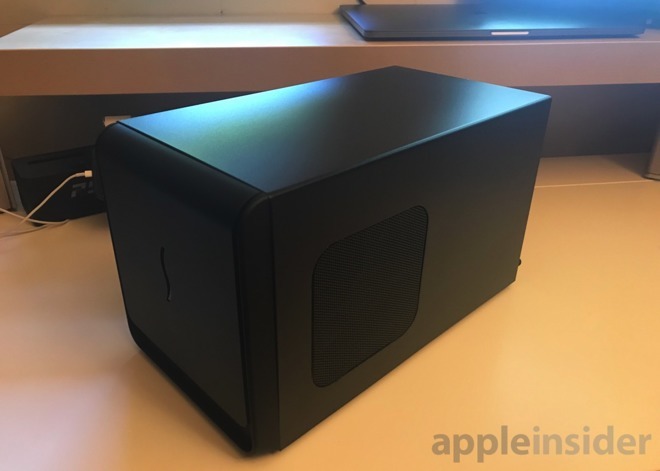 There are a number of Sonnet eGPU enclosures now, but the best one is the Sonnet 650 with the beefier power supply. That enclosure, like the Razer, can take the cards that demand the most power like the Vega 64, and if you're adventurous, workstation cards or the Nvidia 1080ti.
The Sonnet eGFX Breakaway Box 650 retails for $399, but is on sale for
$365 at B&H
.
Other units with lighter power supplies suitable for the Vega 56 and RX580, and possibly less charging support for the connected MacBook Pro
sell for $259
.
Razer Core X
Razer is a big name in PC gaming, and has recently decided to explicitly support Apple with some of its products, the Razer Core X being the most notable one.
Core X is the first of Razer's Core eGPU lineup to explicitly feature Mac support, and sits below the Core V2 on the company's product totem pole. The enclosure sports a beefy 650-watt ATX power supply, up from the custom 500-watt slim form factor PSU found in the Core V2.
To install a GPU, users simply slide the component drawer out from the aluminum chassis, pop a compatible card into the PCIe slot and lock it down with a thumb screw. No tools are required for installation.
The Sonnet is a bit quieter than the Razer high-power eGPU is, but the Razer Core X is easier to get in and out of. It's really up to you which is more important.
The Core X
retails for $299
.
Best eGPU for connectivity
Mantiz Venus MZ-02
The $379 Mantiz MZ-02 eGPU enclosure has five USB 3.0 type A ports, a Gigabit Ethernet port, and a 2.5-inch mounting plate for a SATA drive. It can accommodate PCI-E cards needing up to 375W, and provides a full 87W of charging power back to the connecting computer, assuming it hasn't been adapted to an older version of Thunderbolt.
Putting in a card is relatively easy, with a tool-less panel that pops off. The unit can accommodate cards up to 310mm long, 140mm high, and 50mm deep meaning that it will fit most of the larger cards on the market.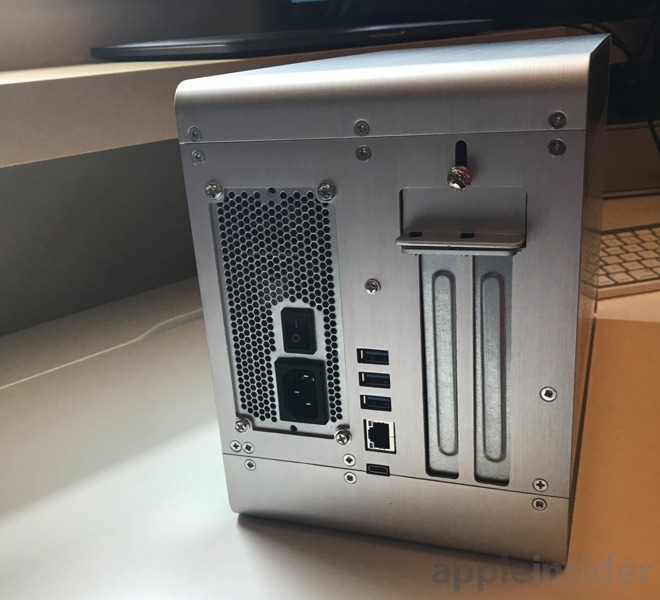 It is the most stylish of all of the enclosures we've reviewed, and fits right in to a professional environment. The aluminum enclosure is constructed well, and finished precisely.
The Mantiz Venus MZ-02 eGPU enclosure retails for $379, but is generally offered
from Amazon for $299
. If you're looking at a dock, you can get the Mantiz eGPU instead for not much more money.
A solid second choice here is Razer's Core X Chroma. They've added Gigabit Ethernet and USB-A to the enclosure, but our initial testing we're not that happy about how the USB ports sometimes don't reconnect after the host Mac goes to sleep and the non-configurable illumination in macOS. Depending on your workflow, this may or may not be a problem for you, and we'll keep looking at that going forward.
The Core X Chroma
retails for $399
.
A choice of just two eGPUs for USB-C or Thunderbolt 3 displays
Blackmagic eGPU
Accompanying the refreshed MacBook Pros in 2017, Blackmagic worked with Apple to develop a pair of all-in-one units. The first model sports an AMD Radeon Pro 580 GPU with 8 gigabytes of memory, plus four USB-A ports.
Either model is all-in-one design, which means that it is non-upgradable. The tradeoff, however, is that the unit is built to be quiet and have a smaller footprint than general-purpose eGPU enclosures. It is by far, the quietest eGPU that we have tested yet.
This first version costs $699 but if you have a Thunderbolt display, like the
LG UltraFine 5K
, or the USB 3.1 type C LG UltraFine 4K, it's one of relatively few options.
Blackmagic eGPU Pro
To go with a batch of Thunderbolt 3-equipped Macs during its October special event, Apple launched an updated "Pro" model of its existing BlackMagic eGPU. The biggest change is the inclusion of a more powerful GPU, this time the Radeon RX Vega 56 with 8 gigabytes of HBM2 memory.
Externally, it is extremely similar in appearance and construction to the non-Pro version, consisting of an all-in-one aluminum enclosure. The connectivity options are also familiar, including two Thunderbolt 3 ports, four
USB 3
ports, and a HDMI 2.0 port, but this model adds in a DisplayPort 1.4 connection.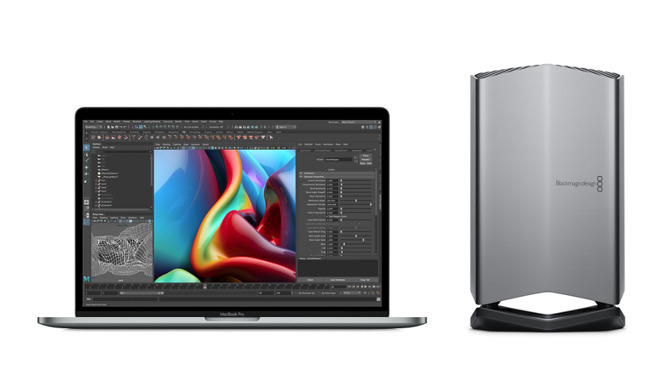 The Blackmagic eGPU Pro isa priced at
$1,199
. This is $500 more than the non-Pro version, but the performance increase in return is likely to offset the extra outlay for users who need that much graphical power.
Set and Forget
Sonnet eGFX Breakaway Puck RX 570
To make the Puck so small in size, Sonnet used an external power supply that is nearly as big as the Puck itself. The Mac-compatible model contains a Radeon RX570, which cannot be upgraded or removed from the enclosure.
When looking at the size, the Puck box measures roughly 6 inches-by-5.12 inches, standing 2 inches tall. Even incorporating the external power supply, the unit is much smaller than any other eGPU we've tried, minus the next entry in this list.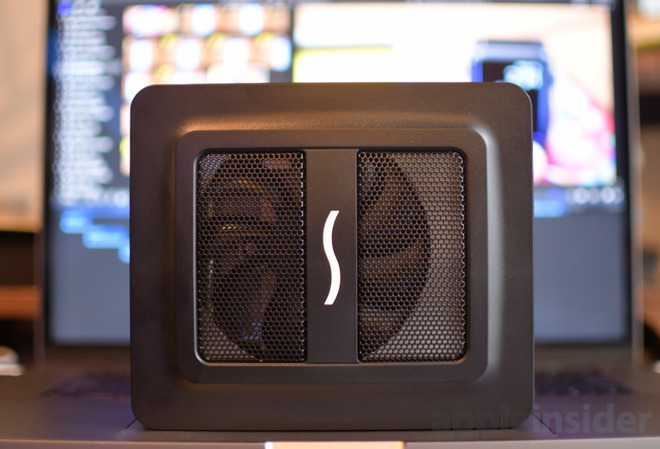 And, an optional VESA bracket will allow you to bolt it to the back of your monitor, if you want it out of the way.
The Sonnet Radeon RX570 eGFX Breakaway Puck is available
at Adorama
for $499.