Apple discontinues sales of iPhone X, 6S, 6S Plus and SE
Posted:
in iPhone
edited December 2019
Apple added three new models to its iPhone lineup on Wednesday, but subtracted several older versions, including former flagship iPhone X and the popular small-format iPhone SE.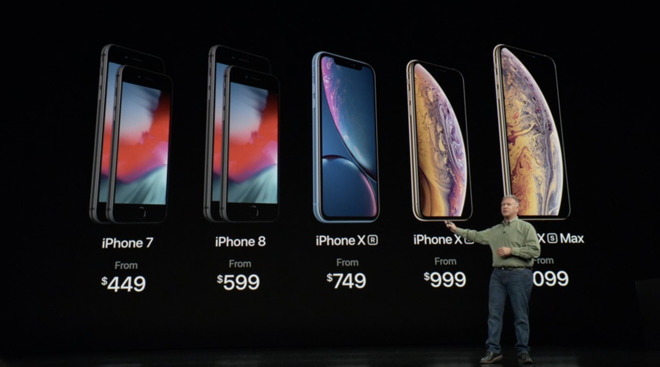 Apple on Wednesday took the wraps off of its latest iPhones,
debuting the iPhone Xs, iPhone Xs Max and iPhone XR
as this year's hardware introductions. The company will continue to offer the iPhone 7 and iPhone 8, as well as the
iPhone 7 Plus
and 8 Plus, for those looking to enter the ecosystem at a lower price point.
However, the new hardware marks an end of sales for certain devices. Most notably, the iPhone X, introduced in 2017 as Apple's flagship, is no longer listed as part of the Apple lineup. The release of the three new models, with offer most of the iPhone X's main features, have made the 2017 model redundant. Near the end of the keynote, Tim Cook referred to the 2018 iPhones "taking the breakthroughs of iPhone X even further than before, and making them available to even more people."
In addition,
the former Apple.com page for the iPhone 6S and 6S Plus
now redirects to the main Apple homepage, indicating that they have been discontinued as well, at least in the United States. The
same is true of the iPhone SE.
This means, among other things, that Apple no longer sells any iPhones with headphone jacks. It also means that the iPhone 7 and 7 Plus, unveiled just two years ago in September 2016, are now the oldest iPhones sold by Apple.
Back in April, analyst Neil Campling
declared that "the iPhone X is dead" due to a lack of consumer interest.
It is indeed dead, but not for the reasons Campling claimed.
Keep up with AppleInsider by downloading the AppleInsider app for iOS, and follow us on YouTube, Twitter @appleinsider and Facebook for live, late-breaking coverage. You can also check out our official Instagram account for exclusive photos.