Huawei HiSilicon Kirin 980 more than a year behind Apple's A12 Bionic in performance
Following Apple's A12 Bionic powering iPhone XS and iPhone XR models, Huawei has released its own custom 7nm ARM System on a Chip. But despite using the same fab process, Huawei's Kirin 980-powered Mate 20 Pro flagship lags far behind Apple's iPhone XS A12, turning in performance scores well below last year's A11 iPhone X.
Huawei's Kirin 980 isn't just behind Apple's A12 Bionic, it's also struggling to keep up with last year's A11
Apple in the SoC War
Apple's introduction of new iPhones this fall included the announcement of its new
A12 Bionic chip
, with significant CPU and GPU core advancements, as well as a major advancements of its Neural Engine NPU and Image Signal Processor, a faster Secure Element powering Face ID, improvements to its memory and storage controllers, and fabricated using the most sophisticated fabrication technology available for production mobile semiconductors: 7nm.
Initial SPEC2006 benchmarking by Andrei Frumusanu for
Anandtech
concluded
that the A12 Bionic wasn't just faster than other mobile chips including Samsung's Exynos 9810 and 8895 or Qualcomm's Snapdragon 845 and 835, but actually bumping up toward the performance of desktop processors.
That report stated that Apple had delivered "one of the most major performance jumps in recent generations," and said the company was "really underselling the improvements" it had made to its custom CPU core design.
Only one other gunslinger in the 7nm shootout
However, as the first 7nm SoC used in a mobile device, Apple's A12 Bionic really needs to be compared against am SoC built to the same process, as shrinking the size of circuits just by itself can deliver gains in performance and efficiency.
Qualcomm and MediaTek, two of the largest SoC producers, were reported in September to have postponed their own 7nm chip launches until 2019. UMC is thought to have shifted its investments into "mature" and specialty process nodes while Globalfoundries has put its own 7nm FinFET technology development on indefinite hold.
Samsung is believed to be working on its own 7nm process in an attempt to win back orders from Apple that had transitioned away to TSMC over the last few years. Intel is several years behind in its own effort for 10nm, but promises that they will arrive in volume in 2019.
The only other chip designer to have completed a 7nm SoC in mobile production is Huawei's fabless design subsidiary HiSilicon. Both Apple and Huawei are using TSMC to fabricate their custom chip designs. However, 7nm itself isn't a benchmark for performance. Apple has been besting the performance of rival SoCs built using the same process for years.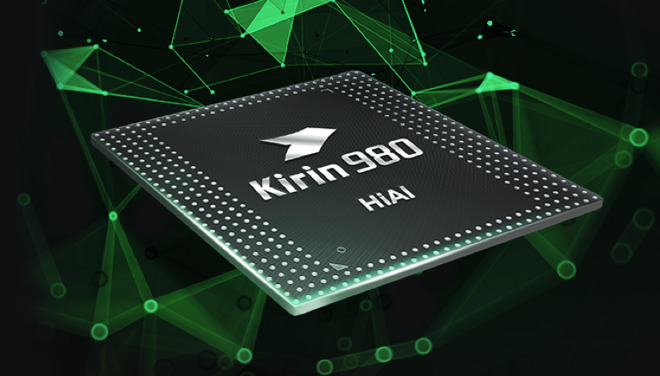 Kirin's 980 SoC, portrayed as if a modular desktop CPU
While Apple designs its own
CPU and now GPU cores
, Huawei's Kirin 980 uses reference design cores designed by ARM: Cortex-A76 and A55 architecture CPU cores and ARM's Mali-G76 GPU. Huawei also added dual ISPs and NPUs (the neural processor unit) and integrates a Cat.21 modem, similar to Qualcomm's Snapdragon. In contrast, Apple continues to use an external modem from Intel.
Kirin 980 isn't even beating all the Androids
Writing for
PhoneArena
, Victor Hristov
compared
performance benchmarks of the Kirin 980 against Apple's A12 Bionic. While Huawei targeted its chip to beat Qualcomm's Snapdragon 845, in GeekBench single core scores Huawei's Mate 20 Pro fell behind Samsung's Galaxy Note 9 (powered by an 845), in addition to both Apple's latest iPhone XS and even last year's iPhone X.
The Mate 20 Pro's Kirin 980 was significantly faster than other premium-priced Androids like Google's Pixel 3XL, which also uses a Snapdragon 845, but comes with less RAM than either the Note 9 or Mate 20 Pro. Android requires lots of RAM; Apple's iPhones were faster with less RAM.
Source: Victor Hristov, PhoneArena.com
In multi-core benchmarks, the Mate 20 Pro pulled ahead of other Androids but was still significantly behind last year's iPhone X. In the combined CPU/GPU score from AnTuTu, Huawei's Mate 20 Pro turned in a benchmark above iPhone X but far behind Apple's latest XS.
In the GPU-specific GFXBench scoring, Huawei's Mali graphics showed performance distantly lagging both iPhone X and newer iPhones. The site noted that Huawei's chip "strangely produces vastly different results with every run of this benchmark," noting that it used only the highest scores it produced, which were still not competitive with Apple's custom GPU-- or even the similar Mali graphics used by Samsung's Note 9.
Hristov wrote that "the Mate 20 Pro with the Kirin 980 is a big step forward for Huawei," but that while it was "the fastest chip on Android in most areas, but it's no match for the Apple A12 Bionic."
Beyond benchmarks
While benchmarks have historically shown various competitors inching ahead of each other with each new chip produced, Apple has been unique in increasingly pulling ahead of its rivals, in large part due to its relentless investment in new silicon technologies. These include the A7's jump to a 64-bit architecture and last year's A11 Bionic introducing both Apple's first custom GPU and the all-new Neural Engine, custom silicon devoted to machine learning features.
The development of new technologies and fabrication process are expensive. Android phone makers once had a number of chip makers to choose from, but as Google pushed its licensees downmarket to produce ever cheaper devices with only basic GPUs and commodity parts, the market for sophisticated processors has shrunk.
Texas Instrument's
OMAP
architecture and Nvidia's
Tegra
once powered flashy Android flagships, but after a series of product flops, both companies exited the mobile space entirely.
That has left Qualcomm and smaller chip makers to service the demand for mobile chips. But rather than Android makers pooling their resources to tackle Apple's lead, individual licensees have pursued their own chip development, notably Samsung's Exynos and Huawei's HiSilicon subsidiary designing the Kirin series.
The extreme expense of these duplicative efforts is difficult to sustain unless they are contributing toward premium sales. Samsung's own efforts to sell high-end Galaxy S and Note models
has faltered
since its peak sales back in 2014. The fact that its mobile unit is now losing money makes it increasingly difficult to shovel more resources into the speculative development of high-end chips.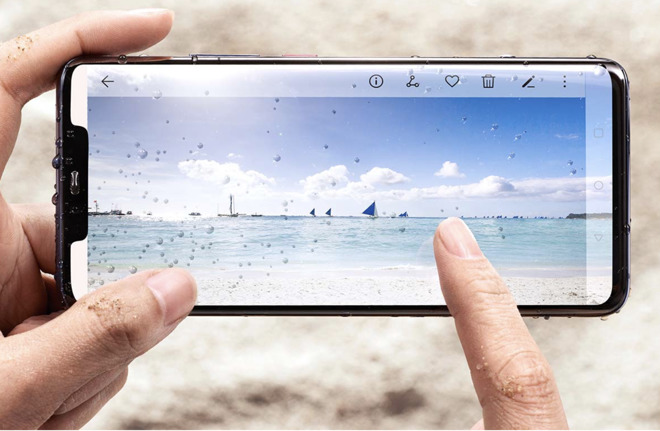 Huawei's expensive new Mate 20 Pro flagship copies Apple's design and price, but sells in a market where Androids are cheap
Huawei is
just now trying
to sell devices priced like a Galaxy Note or Apple's iPhone lineup, and the Kirin 980 was hoped to rival Apple's latest chip tech in sophistication. Yet Huawei still only makes a
tiny fraction
of the profits of Samsung, let alone Apple.
Meanwhile, Apple continues to sell well over 200 million high-end iPhones every year, along with premium iPad and iPad Pro models that pay for the development of ever faster custom silicon design.
Not even Samsung ships a comparable number of premium phones. In fact, Apple has solidly owned the majority of sales of
premium phones
not just in the U.S. but even in China, where a variety of brands exist and sell lots of units, but generate very little profit because they are focused on huge volumes of low-end models.
Year after year, Apple's harvest of the majority of premium phones and tablets that are sold globally is funding advanced development of mobile processors, their GPUs, new specialized processors like the Neural Engine, and advanced memory and storage controllers. What was once Apple's primary competition in SoCs, Qualcomm, is now running into licensing fights throughout the industry even as Android makers who have set their targets on selling premium devices peel away to work on their own custom chip designs.
That indicates that Apple is not just ahead this year by more than a year of development, but will continue to break away and advance not just in SoCs targeting smartphones, but also in chips optimized for tablets, for wearables and other new product categories, where no Android maker has established any commercially significant, profitable business at all.