Review: Zyxel MultyX is a decent Airport Extreme replacement for the home, with a big conf...
Now that the AirPort is completely gone, there's an opening for easy to configure and reliable networking hardware. Zyxel's Multy X system is fast, with excellent hardware -- but not without some rough edges.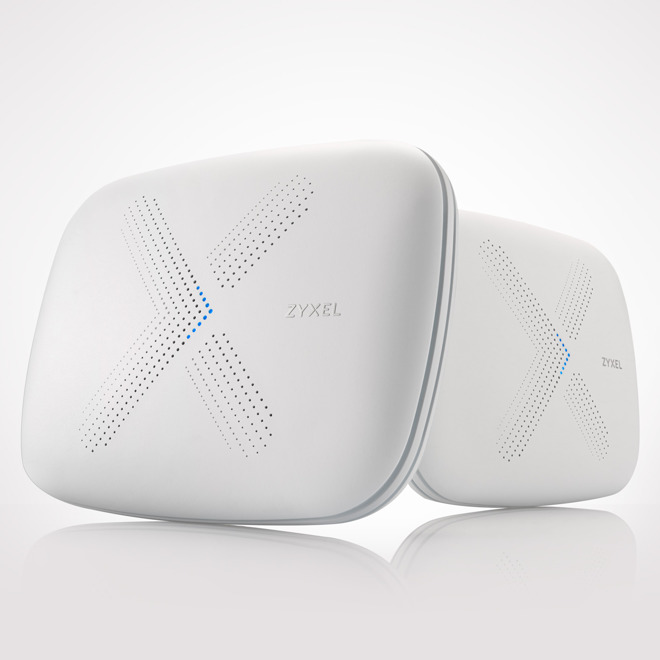 By the numbers
The Zyxel Multy X is what Wi-Fi networking types call an "AC3000" system. As such, the unit has a 5Ghz radio with up to 1733Mbps speeds used for backhaul between the mesh node and the main unit. For the device-facing radios like your iPhone, you get 5Ghz up to 866Mbps and 2.4Ghz up to 400Mbps. When you sum all these numbers, you get 2999, which is nominally 3000.
On the wired side, it delivers one gigabit WAN port and three gigabit LAN ports. The specific CPU in the unit isn't really relevant, but it has 4GB of eMMC and 512MB of RAM. Each unit of the pair in the box weighs just under 2 pounds, and are a sizable 9.3 x 7 x 2 inches.
The Good
The Zyxel Multy X has excellent signal strength and speeds. It performed excellently in some of the most demanding environments we could find in the environs we tested it in. We used it alternately in the same environ as the
Amplifi HD
mesh system we examined, and found that it consistently delivered better speed to connected devices.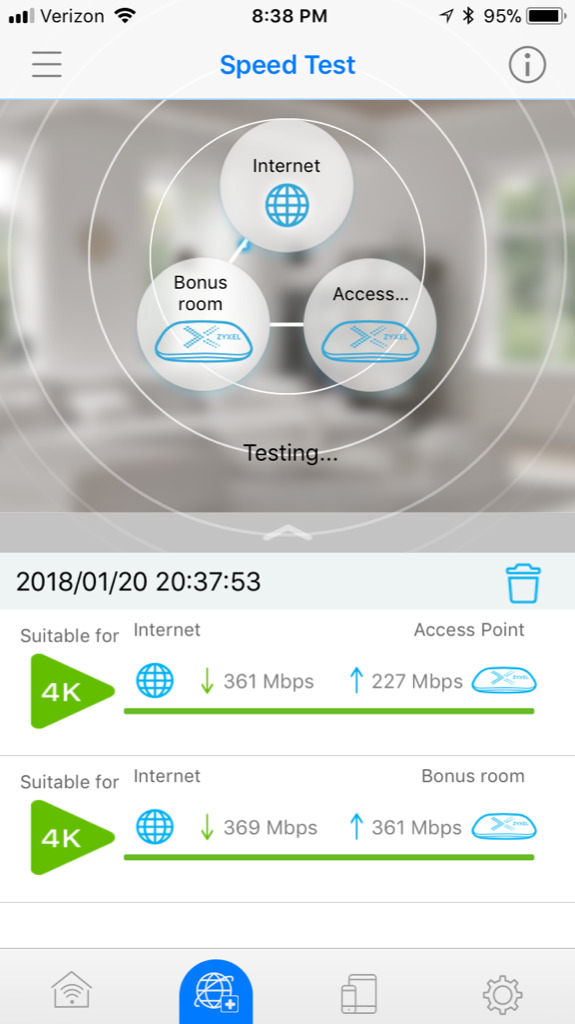 Zyxel's Multy X app provides a decent amount of features, including speed tests, checking the bandwidth and signal strength between base and nodes, and parental controls for blocking a device or limiting access to specific times. The parental controls cover the required basics: setting time limits, and blocking a device, but they don't go further: you can't block specific content like YouTube or Facebook, for example.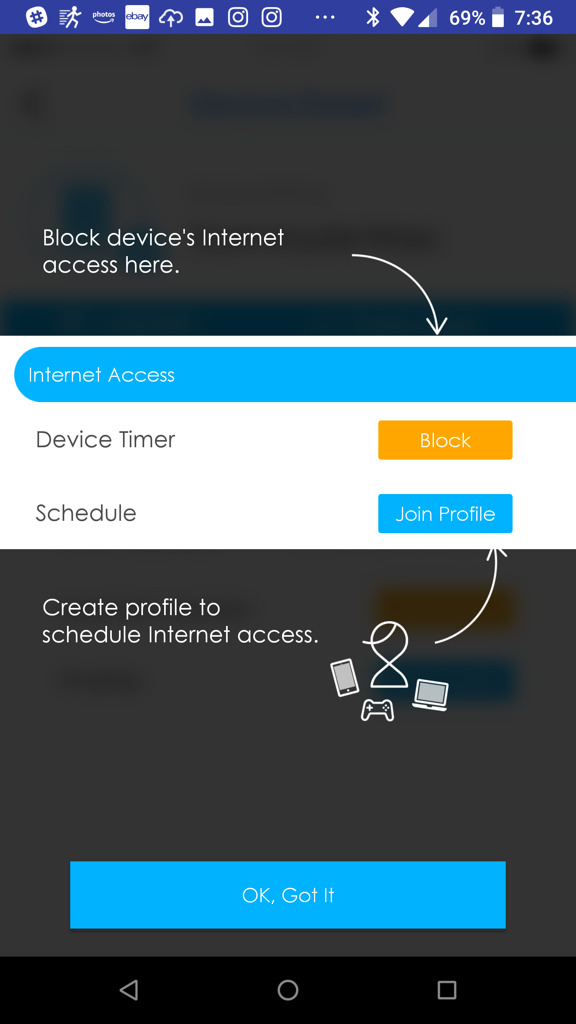 Parental controls
A QR code scanning feature allows for a simple to share Wi-Fi credentials. The iPhone reads the QR code, asks if you'd like to join the network, and then sets it up. We never thought we'd see a QR code implementation we'd like.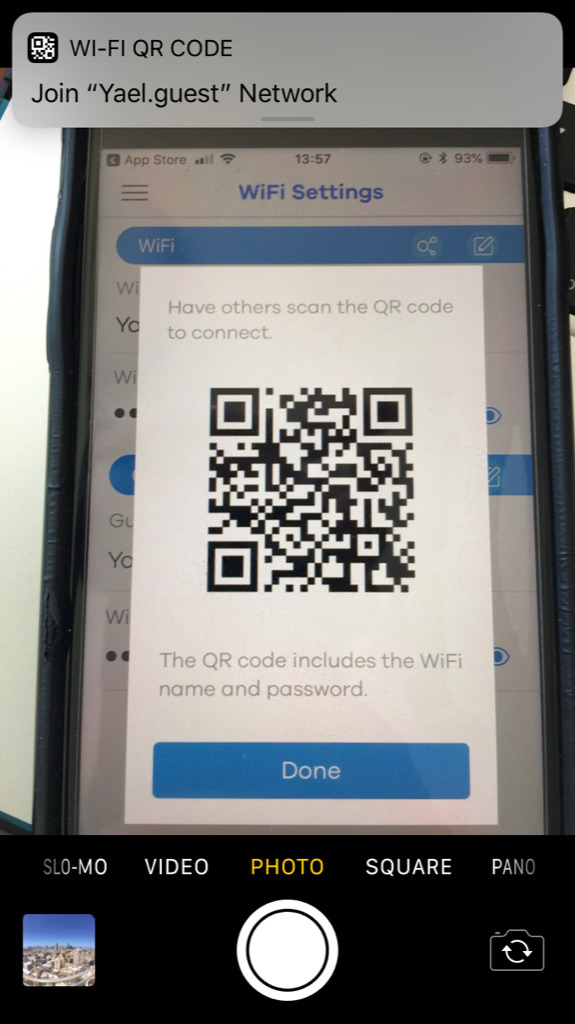 Wi-Fi settings recognized by QR code. Impressive.
Signal and speeds were excellent. For example, in our test home, the signal never adequately reached the back of the building. We tested with the default ISP provided Wi-Fi, a single Zyxel node, and then with both nodes installed. The signal dispersion was solved only by the introduction of the second node, although speeds were faster the minute we used the first node in place.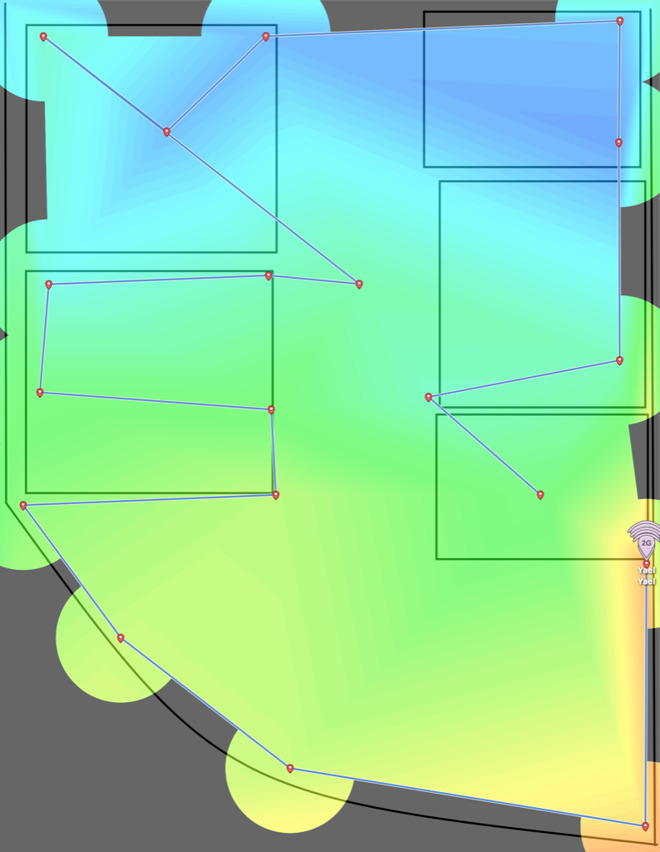 The default ISP Wi-Fi system shows that signal just can't reach the back of the house.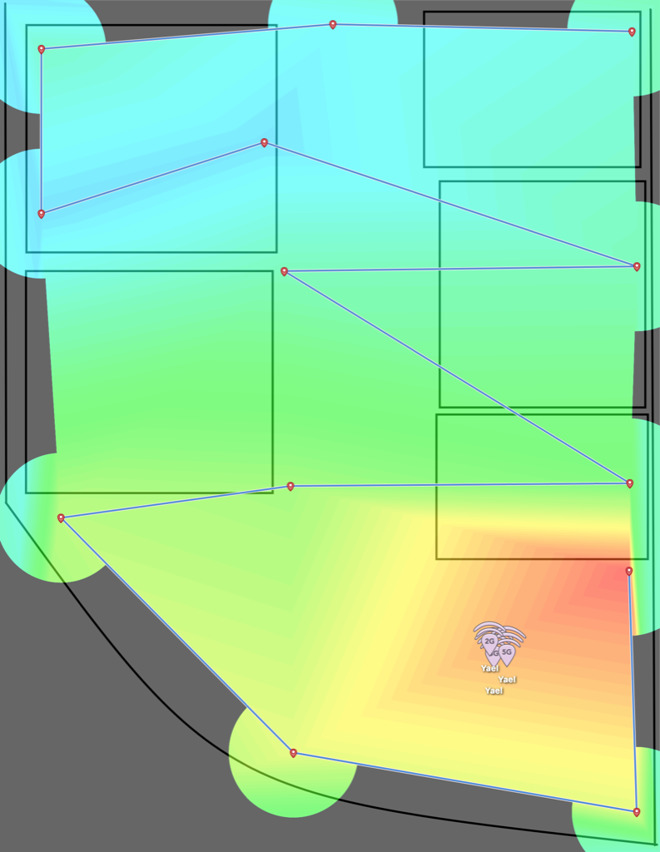 With one Zyxel node, we're still unable to reach the back of the house, but speeds went up markedly.
The bad
Initial setup is terrible on older devices. App setup starts by using Bluetooth Low Energy (BLE) to detect and transfer Wi-Fi name and password to the router. We were able to set up the router using iPhone 8 Plus on iOS 11.4 and Android 8.1.0 on a Nexus 6P.
On an iPhone 6 running iOS 11.4, the app crashed every single time that we tried to run the app to setup the router. We were successfully to run the app on iPhone 6, but only by creating a Zyxel cloud account, and controlling the routers remotely through the iPhone 6. Trying to do it without the Zyxel account failed every time.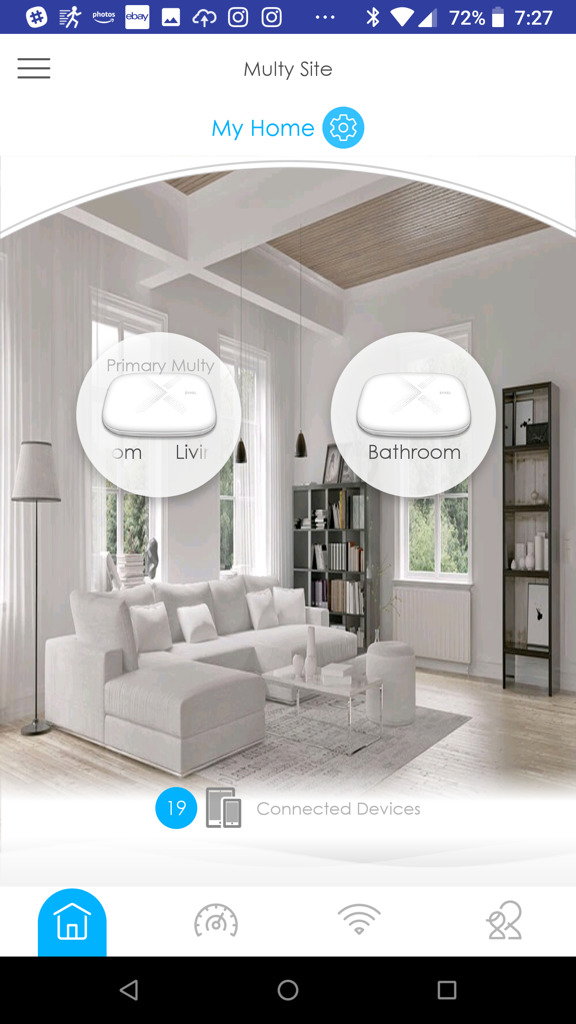 The home screen for the app, as seen from Android
Both the main unit and mesh node are identical hardware. This can make things confusing if you find that you tear down the network and put it back in place as we do during testing. For most users, that won't pose a problem after initial setup, though.
The system does not support wired backhaul, which seems strange, given that both units have a WAN port and three-port gigabit switch. For users with Ethernet installed in-wall, this is a firm strike against this system.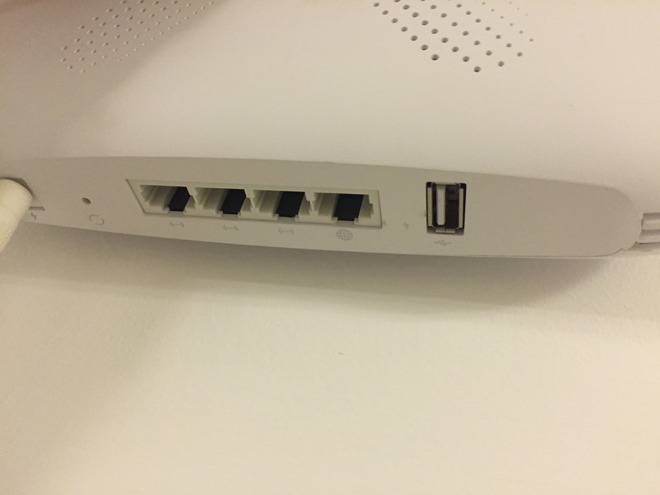 Ports! It's got ports!
The networking configuration lacks the ability to do anything like set the IP range, limit the number of addresses handed out, or do anything with DNS for the local IP like handing out a specific DNS server to DHCP clients.
When we test a number of routers, we tend to want to use the same SSID, password, and IP range, so that the growing number of client devices on the network just continue working without interruption and the Zyxel Multy X critically doesn't allow for this.
This can't be stated clearly enough, so let us say it again: you cannot change the IP range away from its default 192.168.212.1 setting. These are all things most routers allow, including the old AirPort Extreme.
Maybe that won't matter for you, but for people who have devices with reserved static local IP addresses like printers, network attached storage, some home medical equipment, and the like it is a problem. Multy X does allow you to reserve IPs for specific devices, they just have to be within the 192.168.212.xxx range.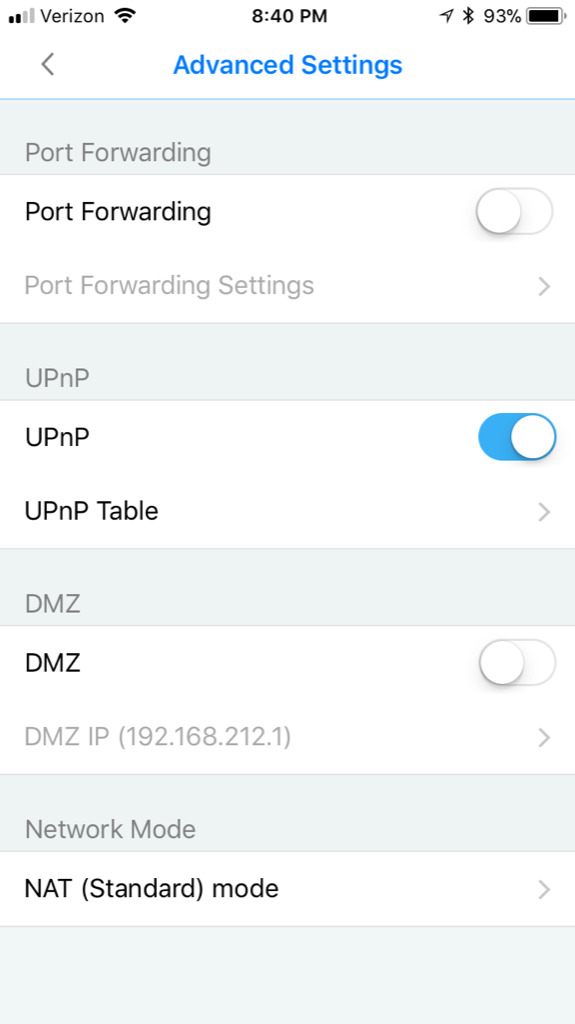 You do get some useful options
Decent hardware, problematic practical application
Once set up and functioning, it runs like a champ. Coverage reaches where it's most difficult to cover with a single unit. The speeds are as much as 30 percent better than with some other mesh systems we've tried recently.
The difficulty in setting it up with iPhone 6 app crashes, and the networking configuration limitations that come along with it make it great for users that don't need many options, but may find it limiting once they grow beyond those basics.
As such, as a "set and forget" solution in a relatively unchallenging network environment, we like the Multy X. It's not as good as the install evolves, or if you need more advanced configuration options.
Score: 4 out of 5 for a "set and forget" install with a new iPhone to execute the setup process. But, given the inflexibility of the IP range, and the problematic setup with older devices, it is a 2.5 out of 5 for everybody else. Should Zyxel fix some of the configuration and app issues, we'll revisit the score.
The Zyxel Multy X is available from
Amazon for $199 retail
.