Cook talks slumping iPhone sales in interview, to reportedly hold 'all-hands' meeting with...
After issuing an earnings forecast correction on Wednesday, Apple CEO Tim Cook sat down to discuss the anticipated revenue dip and a range of related topics including rising diplomatic tensions between the U.S. and China.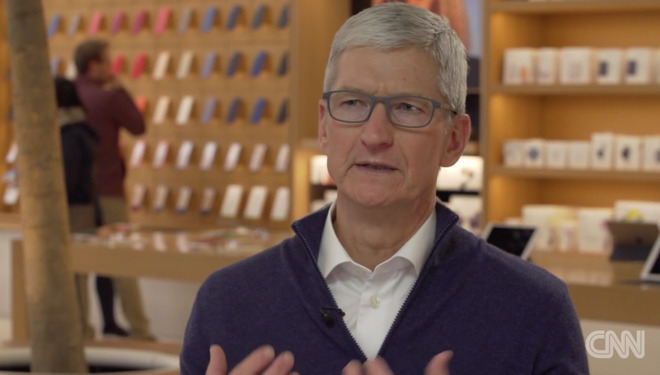 Apple CEO Tim Cook
The 13-minute interview with
CNBC
runs the gamut
-- Cook discusses everything from iPhone subsidies to Apple's trade-in program -- but it manages to put the surprise forecast cut into perspective.
On Wednesday, Cook
released a note
informing investors that revenue for the first quarter of 2019 will be billions of dollars shy of an original estimate from November. Quarterly results won't be released
until Jan. 29
, but Apple's revised guidance shows some major issues lay ahead for iPhone.
In the interview, Cook reiterated what he said to investors and put the blame for weak iPhone performance squarely on China. Apple's top brass noted a slowdown in the important Chinese economy heading into the second half of 2018, a situation worsened by recent trade disputes with the U.S.
"It's clear the economy began to slow there in the second half. And what I believe to be the case is that trade tensions between the us and China put additional pressure on their economy," Cook said.
Additionally, Cook also put some of the blame for weak quarterly results on supply constraints impacting an impressively diverse lineup of products launched over the past few months. "We had some supply constrains during the quarter. We had an unprecedented number of new products during the quarter. New watches, new iPad Pros. Most of these were constrained during the quarter," he said during the interview.
On a positive note, Apple services and wearables categories reached new highs during the holiday quarter. Services, which has been Apple's fastest-growing category over the past year, performed especially well over the past three months.
"This is incredibly exciting for us because so many things hit records in there," Cook said. "The App Store did, Apple Music hit a new record, Apple Pay hit a new record, our search ad product from the App Store hit a new record, iCloud hit a new record."
Moving on from the question of iPhone, Cook addressed growing uncertainty surrounding China, particularly his own safety during travel.
Recently, a Huawei executive Meng Wanzhou was taken into custody in Canada at the request of the U.S., leading many to wonder if China would target U.S. execs in retaliation. Cook, however, doesn't seem to share this fear.
"I was just there in October. I'm going back later this quarter. And so it's not something I'm even thinking about is the truth," he said.
The mounting pressure has Apple on the defensive, and the company is apparently trying to mitigate fears both externally and with employees. According to a report from
Bloomberg
, Cook will be
addressing
these concerns internally as part of a town hall meeting on Thursday.