Early render suggests 2019's 'iPhone XI' could have triple-lens rear camera
Posted:
in iPhone
edited January 2019
This fall's next flagship iPhone may come equipped with a triple-lens camera on the rear, according to a render said to be based on an early development leak.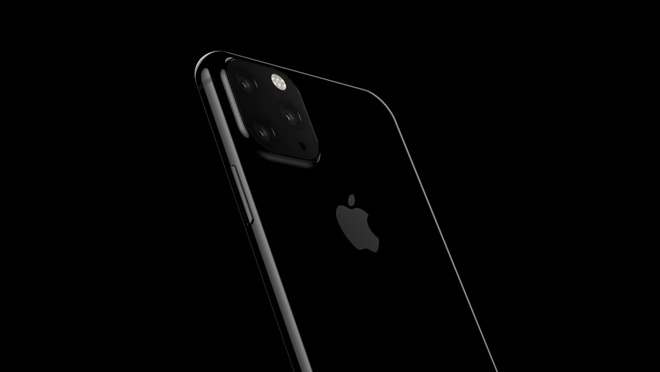 All of Apple's 2019 iPhones are still in the engineering validation testing (EVT) phase, and so specifications could shift,
cautioned
Digit.in
and well-known leak source OnLeaks. The company is thought to be targeting a September launch, as usual.
No concrete reason for a triple-lens design was mentioned, but it's speculated that the feature aligns with reports Apple is pursuing a
"time of flight" (TOF) system
. This would allow depth maps based on the time it takes light to bounce back to a sensor, much like radar or sonar.
The front-facing TrueDepth camera on the iPhone X, XS, and XR is dependent on a vertical-cavity surface-emitting laser, or VCSEL, which projects a grid of dots on a person's face. The technology is impractical for long distances though, and TOF can be more accurate.
Depth maps from rear-facing cameras could expand the possibilities for augmented reality on iPhones and make autofocus shooting faster and more precise.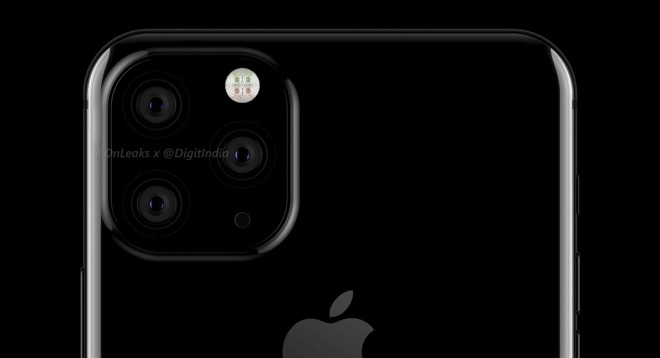 Cosmetically the OnLeaks render is likely not representative of Apple's ultimate plans, as the company prefers streamlined looks whenever possible. Additionally, it seems unlikely that Apple would sacrifice the internal volume where the third lens is located.