2018 iPad Pro getting push from new Apple promotional page
In an unusual marketing ploy, Apple has premiered a mobile-only website selling the 2018 iPad Pro, boiling its advantages down to four main points.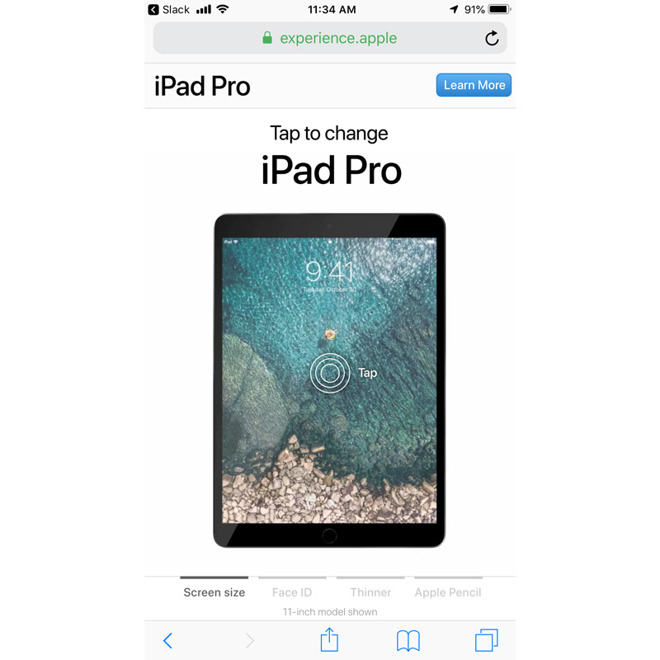 These are separated by
interactive tabs
labeled "Screen size," "Face ID," "Thinner," and "Apple Pencil." The first invites people to tap on an older Pro to reveal new screen dimensions, while swiping up in the Face ID tab "unlocks" the device.
Tilting in the "Thinner" tab triggers a rotating animation, and swiping under "Apple Pencil" demonstrates the second-generation Pencil's magnetic charging. Tapping a "Learn More" button in the upper-right corner of the screen takes people to the company's regular iPad Pro page where they can also buy the tablet.
Apple created a similar mobile site for the iPhone XS and XS Max last September. It's not clear why the company would take the same approach with the Pro, given that many potential buyers would be using a computer or earlier iPad, both of which can browse Apple's more comprehensive desktop site. The new mobile page requires Safari or Chrome, excluding some potential buyers.
Apple may be focusing on first-time iPad buyers, some of whom may not even have a desktop or laptop. It has tried to
position the iPad Pro as a laptop replacement
, though that angle has backfired with some reviewers who note that iOS 12 still lacks an open filesystem, and that it can be a guessing game as to which USB-C accessories are compatible.