Apple replaced 11M iPhone batteries under 2018 repair program, 9M more than average
Posted:
in iPhone
edited January 2019
At an all-hands employee meeting in January, Apple CEO Tim Cook revealed that some 11 million iPhone batteries were replaced as part of a special 2018 repair program, a figure up to 11 times what the company would have expected under normal circumstances.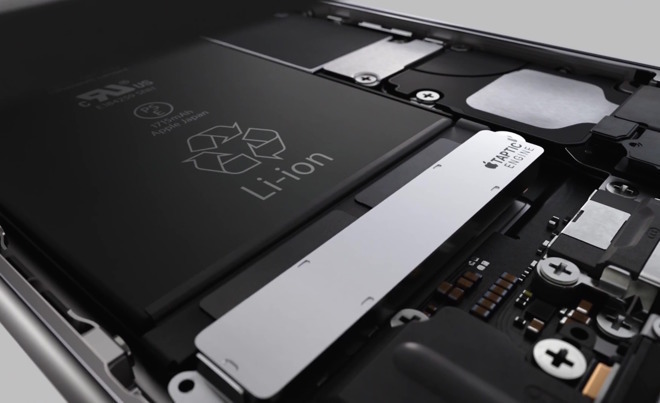 According to Daring Fireball's John Gruber, Cook informed employees of the
massive uptick
in iPhone battery replacements -- 11 million versus an anticipated 1-2 million -- during an
town hall meeting
on Jan. 3.
The new information sheds light on Apple's recent
revenue guidance revision
for the important December quarter. In a note to investors in January, Cook said Apple is anticipating revenue to come in at $84 billion, well below a forecast of between $89 billion and $93 billion issued last November.
While a slowdown in Chinese iPhone sales took the brunt of the blame for the miss, some responsibility was assigned to a weaker than expected hardware upgrade cycle.
"While macroeconomic challenges in some markets were a key contributor to this trend, we believe there are other factors broadly impacting our iPhone performance, including consumers adapting to a world with fewer carrier subsidies, US dollar strength-related price increases, and
some customers taking advantage of significantly reduced pricing for iPhone battery replacements
[emphasis added]," Cook wrote.
In light of Cook's statement at the all-hands meeting, it appears Apple underestimated the impact of the popular repair program that cut the cost of out-of-warranty battery replacements from $79 to $29. As Gruber points out, while Apple was aware of the increase in replacements over the course of 2018, said program's effect on iPhone sales likely went unrecognized until the annual upgrade cycle of fall 2018.
Apple
instituted the replacement program
at the end of 2017 in response to revelations that older versions of
iOS artificially throttled
the performance of iPhones with degraded batteries.
Operating a device with a worn battery can result in shorter running times and, as was the case with certain iPhones, random shutdowns under extreme loads. Apple quietly instituted a performance cap in iOS 10.2.1 to alleviate performance issues and keep older phones operational. Customers were not notified of the change, which led to a major kerfuffle
when it was discovered
that the peak performance of some iPhones would be artificially reduced under certain situations.
A series of
lawsuits
and
probes by governmental bodies
followed.
Apple apologized for what it characterized as a "miscommunication" in a letter to iPhone owners in late 2017. Directly resulting from the so-called "slowdown controversy" were a number of customer-facing initiatives including the creation of battery monitoring software and tools to disable CPU throttling implemented in current versions of iOS. The battery replacement program, which was part of Apple's response, kicked off in January 2018 and ran through December that year.