PCIe 5.0 standard gets ratified, could find a home in 2019 Mac Pro
The PCI-SIG standards body has ratified version 0.9 of the PCIe 5.0 connection specification, which could have implications for future Macs, particularly the upcoming modular Mac Pro.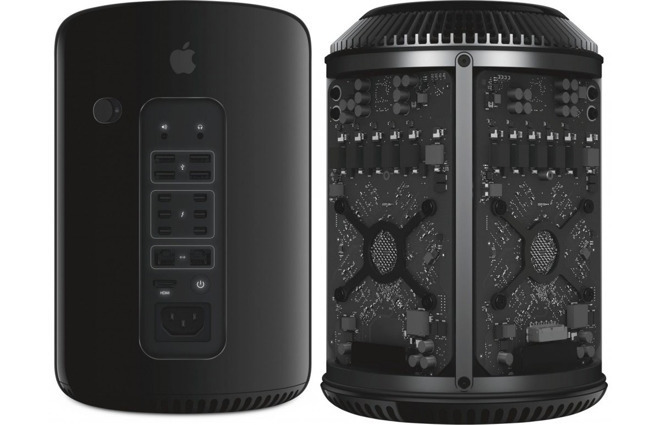 Apple's cylindrical Mac Pro from 2013.
The standard supports bandwidth up to 128 gigabytes per second, and clock speeds up to 32 gigahertz, PCI-SIG says. That's twice the performance of PCIe 4.0, but since 4.0 was only launched in 2017, the organization expects both standards to remain around for some time. PCIe 5.0 will be backwards-compatible with earlier hardware.
A final specification is due to be ratified later in the first calendar quarter of 2019. Manufacturers frequently begin design work well before that point though, making it probable that the first PCIe 5.0 products will ship to end-users at some point in mid-2019.
The cost of stepping up to PCIe 5.0 may make its first adopters businesses like data centers, researchers, render farms, and high-end "server-grade" equipment. Many desktops and laptops will hold on to PCIe 3.0 and 4.0 for the foreseeable future.
The 2019 Mac Pro
is slated to be "modular" but what that term means at present isn't exactly clear. PCIe encompasses more than just expansion slots, but offering PCIe 5.0 slots out of the box would help future-proof the computer, and potentially prove to the professional community that it's serious about meeting its needs.
Apple is also sometimes a vanguard of new connection technologies, being an early backer of USB, FireWire, and Thunderbolt.
Less likely is PCIe 5.0 showing up in other Macs such as the iMac 4K or iMac 5K lines any time soon -- and expansion slots for the pair certainly won't materialize. The company is already under fire for the growing cost of its products, which is
hurting profits in markets like China
.