Apple needs blockbuster acquisitions in gaming & video streaming to thrive, claims J.P. Mo...
To boost Services revenue, Apple should use its cash hoard to try to buy video streaming giant Netflix or video game publisher Activision despite neither being for sale, says analysts with J.P. Morgan.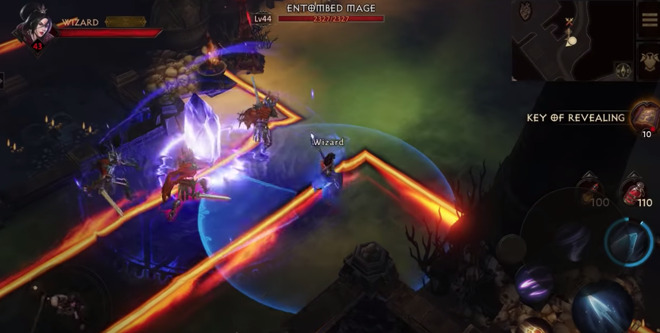 'Diablo Immortal,' an upcoming iOS game from Activision Blizzard, a publisher that could become a future acquisition target for Apple
A note to investors written by J.P. Morgan staff and seen by
AppleInsider
points out that Apple is in possession of a large amount of cash -- approximately $130 billion of net cash according to its most recent
quarterly results
. The company is said to generate $45 billion in cash flow per year after dividends, giving it a growing war chest for future use.
At the same time, Apple has stated it aims to be net cash neutral in the long-term, though has yet to provide a roadmap for how it would accomplish this goal. There is already a
stock buyback program
underway, which reportedly bought $62.9 billion in the first half of 2018, with analysts suggesting investors aren't complaining over the matter.
J.P. Morgan suggests that, for the remainder of Apple's cash pile, it should "use its balance sheet strength to insulate the business against often-seen disruptions in the technology landscape, some of which Apple itself has driven in the past." By insulation, the analysts mean acquiring firms in fields of interest that could offer strategic value and increased growth opportunities, especially in areas leveraging Apple's existing Services arm.
The analysts believe there are three areas where Apple could channel funds, which could prove beneficial in different ways.
First, it is suggested video gaming has numerous synergies with Apple's existing operations, including the hundreds of millions of gaming-capable iOS devices, as well as opening Apple up to other mobile devices and consoles, depending on its acquisition. It would also help Apple leverage an industry rapidly transitioning to mobile," as well as allowing the hardware needs of high-end gaming to help promote an accelerated replacement cycle.
Among potential targets for acquisition brought up in reports, the analysts propose Activision Blizzard to be the "best strategic fit," with the major publisher working in practically every area of the gaming ecosystem. The Blizzard element is also historically favorable, as the firm previously strived to offer its gaming releases on macOS as well as Windows, and has entered the
iOS realm
in recent years with more mobile releases planned.
Recent rumors have suggested Apple is considering launching some form of
gaming subscription service
, one that could offer access to multiple paid iOS titles for a monthly fee. Such a move could help increase its App Store revenues, as well as promoting paid-for games and other titles in a market dominated by free-to-play games.
A second area of interest is the smart home speaker market, which Apple already competes within with its HomePod. Investments in this field could promote high engagement with customers, synergies in driving Apple Music services, and help bring the company closer to its rivals in the market from its "currently lagging" position.
Sonos is identified as a prime target for purchase by Apple, due to its position as a premium home speaker system "relative to Amazon Alexa and Google Home," has a loyal customer base, and a robust international presence.
The third sector is in video content, with Apple potentially leveraging the growth in content consumption on mobile devices, as well as its already established platform for distribution via Apple Music and the TV app, and opportunities for Apple to earn revenue from advertising in its position as a content aggregator.
Apple has reportedly heavily invested in its own original video content efforts, spending at least a billion dollars on the project, which is tipped to launch sometime this year. Current rumors suggest there could be a
subscription service
or that the content could be offered to iOS device owners for free via the TV app, alongside subscriptions for third-party content sources.
Apple's ideal acquisition for video is said by the analysts to be Netflix, arguably the biggest paid video-on-demand service in the world today. Even so, it is admitted by the analysts that such a purchase won't happen as "Netflix is unlikely to be a seller for a modest premium."
The suggested purchases are thought to be of help to Apple's Services arm, which has seen reliable growth year-after-year, accounting for approximately $40 billion of revenues for the full year of 2018. The headwinds of the smartphone industry, which has led to a contraction of growth
for iPhone
, "are likely to drive a need for Apple to accelerate its Services offering" to head off the slowdown "in a more appreciable manner," the analysts claim.
While having a claimed $175 billion at its disposal could "buy a lot of growth," Apple doesn't have a history of making large acquisitions, J.P. Morgan notes. Apple instead prefers for "bolt-on" acquisitions, with a focus on bring crucial hardware technology in-house, and has been a very successful strategy for the company so far.
So far, Apple's largest acquisition has been for Beats, which it paid
$3 billion
for in 2014, whereas the typical purchase by the company is in the region of hundreds of millions.
"Apple's track record on acquisitions has made a lot of investors question the willingness of the current management team to explore large acquisitions," J.P. Morgan adds. It goes on to note that the Beats purchase itself wasn't just for hardware, as it also highlighted Apple's appetite for its Beats Music product and a need to grow its Services revenue, at a time when iTunes faced competition from Spotify and Pandora.
Hardware purchases are still an option while Services-related products are a better deal, the analysts add, with the possibility of technology-based acquisitions able to "drive synergies with certain services offerings and drive accelerated pace of growth."
Along with Sonos and other home platforms, it is proposed health platforms could also be a target, with Peloton a likely candidate if Apple invests in that direction.