Examining Angela Ahrendts' five-year tenure as head of Apple Retail
Angela Ahrendts came to the Apple Stores with a history in fashion retail, and brought a track record of revitalizing failing firms. AppleInsider details how Tim Cook came to hire her and what the state of Apple Retail was when she took over.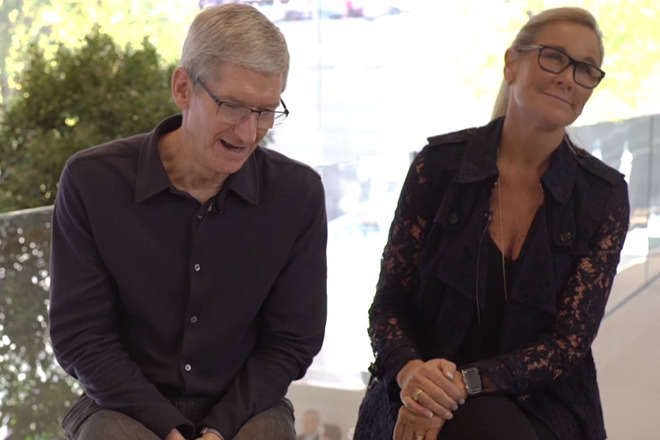 Tim Cook with Angela Ahrendts
When
Angela Ahrendts steps down
from Apple as Senior Vice President of Retail in April 2019, she will have completed five years at the helm of all of the company's stores -- both physical and online. While Apple does also earn money from services and other business activities, the alterations that she's made in the stores are central to the rise of the company into being the world's most profitable firm.
These Apple Stores have been lauded as retail successes since their very beginnings, and externally they had appeared to be doing well even before Ahrendts joined. Yet in practice, the years before her arrival were marked with problems. Her official predecessor only lasted nine months in the job before being replaced by Cook who acted as a caretaker head of retail alongside his duties as CEO.
One of Cook's tasks in the job was to find a permanent head of retail -- and it was not a quick search. From when ex-Dixons retail boss John Browett was made an
ex-Apple retail one too
, the company took a year to replace him. He left in October 2012 and on Oct. 14, 2013,
Apple announced that Angela Ahrendts had been appointed
. She would take up her position in the spring of the following year.
"I am thrilled that Angela will be joining our team," said Cook at the time. "She shares our values and our focus on innovation, and she places the same strong emphasis we do on the customer experience."
For her part, she said that she "admired the innovation and impact Apple products and services have on people's lives and hope in some small way I can help contribute to the company's continued success and leadership in changing the world."
The Apple Store's long road
Before Browett there had been Ron Johnson, hired by Steve Jobs in 2000 specifically for Apple's move into retail. Johnson was therefore responsible, with his team and Jobs, for the
gigantic initial success of the Apple Stores
.
Later, after leaving to unsuccessfully transform JC Penney,
he spoke to CNBC in 2015
about Ahrendts having taken over.
"I'm Angela's biggest fan," he said. "I knew her before she came to Apple. I had the chance to meet her in London. The teams love her at Apple. They love her leadership."
Ahrendts' own road
Prior to Apple, Angela Ahrendts was best known for being the CEO of Burberry. This is a London-based luxury fashion business that was founded in 1856 and she took charge of it in 2006.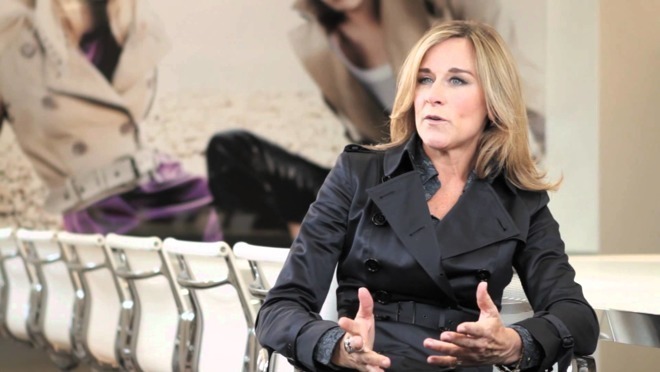 Ahrendts at Cannes
The firm was then exactly 150 years old but it was also in trouble. It was in a situation that was remarkably similar to how Apple was before Steve Jobs returned.
Both companies were long-standing pioneers of their industry and yet were in severe decline. Both companies saw that their name was carrying less and less weight and as both were selling high-price items, that was significant.
You know that when Jobs famously returned to Apple, he ditched the firm's confusing mix of products and simplified it. In the late '90s, he focused Apple on just four products: when Angela Ahrendts joined Burberry, she decimated the company's line.
Then while purposely limiting what Burberry sold, she also bought back licenses that the company had previously sold for fragrances and beauty products. It was the fashion equivalent of Apple shutting down the Mac clones.
In 2010,
Wall Street Journal writer Nancy Hass
described her as "transforming [the then] 154-year-old Burberry into a technologically savvy international powerhouse."
By the time she left for Apple, Ahrendts reported increased the value of Burberry's shares three times over to approximately $9 billion.
Later, talking to Fortune she credited Apple not so much for its business lessons but specifically for its Macs and iOS. "In interviews, I would say that we turned the company around because of Apple, because of all that their technology enabled us to do all over the world."
Inevitable
Ahrendts was a highly successful CEO, and she knew the value of what Apple makes. That might have made her an obvious choice in the minds of headhunting firm, but she says that Tim Cook told her he had more reasons to hire her.
"The very first time we chatted," she said, "it was an honor to meet him, but my mission was to talk him out of me. So I said don't believe everything you read: I am not a techie. Honestly, ask my daughter, I am absolutely not. And he was so calm. He just shook his head and said, 'I think we have 10,000 of those, I think we're covered there.'"
"At one point [Tim] just looked at me and said, 'You know you're supposed to be here.' And I said, how do you know that?"
"Because I watched your TED talk," said Cook. "And trust me, you're supposed to be here."
New broom
There's a difference between launching something and keeping it going. When you're not the person who launched it, you can have a temptation to make radical changes to stamp your mark and that's what Browett had done. Ahrendts seemed happier to make her changes more subtly and less visibly.
She appeared to predominantly build up Apple's internal systems for running and developing retail before she moved to launch the Today at Apple idea of turning stores into meeting places. In 2015 she did tell the
Bailiwick Express
that: "We are starting to test some new concepts in some of the new stores. I haven't spoken publicly at all about it because these are pilots and these are tests.
"We're just piloting some things, and I think the overarching thing is I think you can expect the stores to become hopefully a little calmer, but yet a little more dynamic, and maybe slightly more aligned to the same feeling you get when you go into our products. Because maybe the store is really just a giant product."
Sales
Together the entire retail operation, both physical and online stores, is really more of a machine for selling high volumes of products. When Ahrendts joined, Apple was earning $37.04 billion net income annually from all its revenue sources, according to
Statista.com
. The latest available figures say that for 2018, the total net income was $59.53 billion.
It's hard to separate out retail from all of Apple's revenues but you can count the stores. In 2013, there were 416 Apple Stores around the world and by the end of 2018 there were 506.
You don't get to those volumes and this increase by sticking to your fan base. Apple Retail has changed dramatically over Ahrendts's reign and if she's done it with less of an obvious sledgehammer than others, she's still done it.
Technology to sell technology
Shortly before announcing her departure,
Ahrendts elaborated on this idea
of making change and told
Vogue Business
about how the aim is to both utilize technology and create something more than a supermarket for Apple gear.
"We don't talk a lot about it but there are thousands of beacons behind those walls," she said. The beacons are what enable the Store to tell you to wait at the iPad table when you're picking up an order. "As we renovate every store we update all of the technology. We don't want to be gimmicky, but stores need to become living, breathing spaces, not just two-dimensional boxes."
Vogue Business
also asked her about the difference between being CEO of Burberry and head of retail at Apple. "I'm only one person," she replied. "I just set the vision and I am the connector - I am the enabler if you will. The common denominator for me is always the people. I love the fact seven of my directors at Burberry have gone on to be CEOs. You put together an amazing group of people, you all share the same vision and mission and purpose of something you want to achieve together."
Leaving
Apple doesn't tend to look back. Rather than announcing that
Ahrendts is leaving
, the company instead chose to reveal that Deirdre O'Brien is taking over retail and only then explained why. In the closing words of its
press release
, though, it did have Tim Cook pay tribute to O'Brien's predecessor.
"I want to thank Angela for inspiring and energizing our teams over the past five years," he said. "She has been a positive, transformative force, both for Apple's stores and the communities they serve. We all wish her the very best as she begins a new chapter."
And then Ahrendts got to comment. "The last five years have been the most stimulating, challenging and fulfilling of my career," she said. "Through the teams' collective efforts, Retail has never been stronger or better positioned to make an even greater contribution for Apple. I feel there is no better time to pass the baton to Deirdre, one of Apple's strongest executives.

Deirdre O'Brien takes over retail from Ahrendts
While Ahrendts will remain as senior vice president, retail, until April, O'Brien has already taken on a title combining her previous and new roles. Effective immediately, she is Apple's senior Vice President, Retail + People.
Keep up with AppleInsider by downloading the AppleInsider app for iOS, and follow us on YouTube, Twitter @appleinsider and Facebook for live, late-breaking coverage. You can also check out our official Instagram account for exclusive photos.