Hands on: Plugable USB-C NVMe drive enclosure brings cost-effective speed to external stor...
Posted:
in macOS
edited February 2019
Announced on Wednesday, Plugable's new NVMe SSD enclosure is tool-free, and utilizes the full speed of USB 3.1 type C generation 2.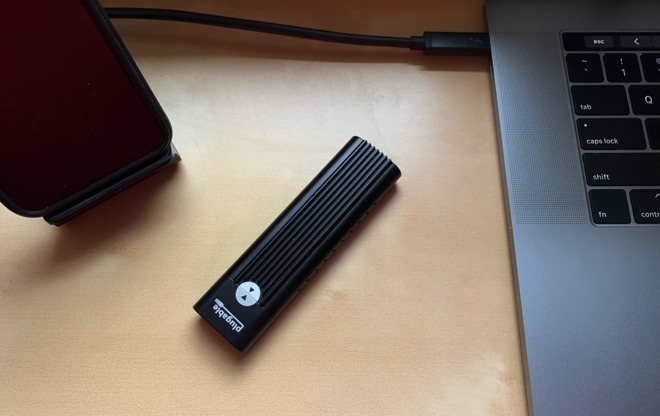 Plugable's new USB-C NVMe drive enclosure
Resembling the handle of a Phaser from the original "Star Trek" series, Plugable's new enclosure fits a standard M.2 NVMe drive, allowing for compact, and fast data transfer. The single connectivity port is a USB 3.1 type C generation 2 connector, allowing for up to 10 gigabits per second of data transfer at maximum.
The Plugable USB-C NVMe Enclosure opens with an end-mounted slide-lock. The user inserts a NVMe M.2 drive into the socket and a tensioned rubber peg holds it in place. The enclosure itself is a heat sink for the drive.
AppleInsider
was provided a unit for testing prior to release. Speeds approached that 10 gigabit per second maximum for USB 3.1 type C with both a 256GB Samsung 970 EVO, as well as a higher-end 512GB Samsung 970 Pro, and the case does support UASP to facilitate the speedy transfers.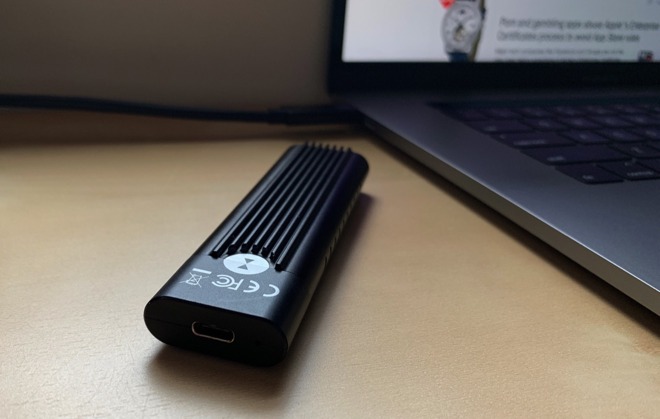 USB-C port on the Plugable enclosure
Both drives are capable of higher speeds in native slots in a PC, or Thunderbolt 3 enclosures, though. Fast storage demands a fast enclosure, but that can get expensive. Plugable's new USB-C NVMe enclosure isn't as fast as Thunderbolt 3 can be, but it is cost effective.
There are less expensive enclosures available, and we've tested a few along the way for one reason or another. However, most of them suffered speed degradation due to heat very rapidly, eliminating the value of the NVMe media versus less expensive SATA drives. We didn't see the same with the Plugable in our testing, even over multiple-hour workflows moving data on and off the drive continuously.
The Plugable USB-C NVMe USB 3.1 Gen 2 NVMe Enclosure
retails for $49.95 on Amazon
. It ships without a drive, but includes short USB-C to USB-C and USB-C to USB-A cables.