Huawei's debuts $2,600 foldable Mate X, hits new smartphone price record
Huawei has become the latest mainstream smartphone producer to reveal a folding smartphone, but the $2,600 Mate X takes a different approach from Samsung's recently-launched Galaxy Fold by putting the screen on the outside of the bend, rather than inside.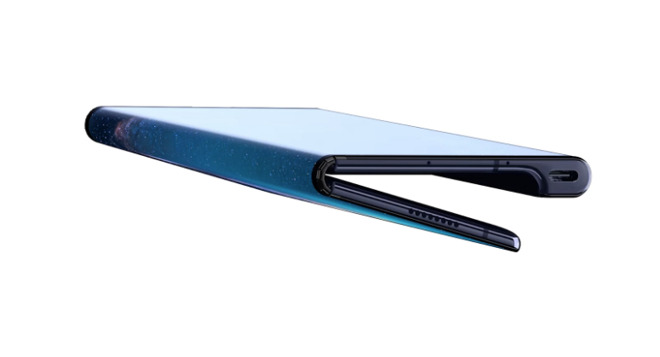 Revealed at Mobile World Congress, the
Huawei Mate X
is billed as a 5G-supporting foldable smartphone. Using a "Falcon Wing Mechanical Hinge," the device can switch between a 6.6-inch smartphone with OLED displays on the front and rear to a larger 8-inch tablet.
While the
Samsung Galaxy Fold
elects to put the screen on the inside of the bend, Huawei opted to place it externally, a decision that puts far less strain on the display from repeated bending. Such a move is also risky from a usability standpoint, as it means the screen is not as protected from other items, such as keys in a pocket, unlike the inward screen design.
The 2-in-1 device is quite thin by modern smartphone standards, measuring 5.4 millimeters at its slimmest point when unfolded. However, a large "camera bump" section is located on one edge and going the entire width of the device.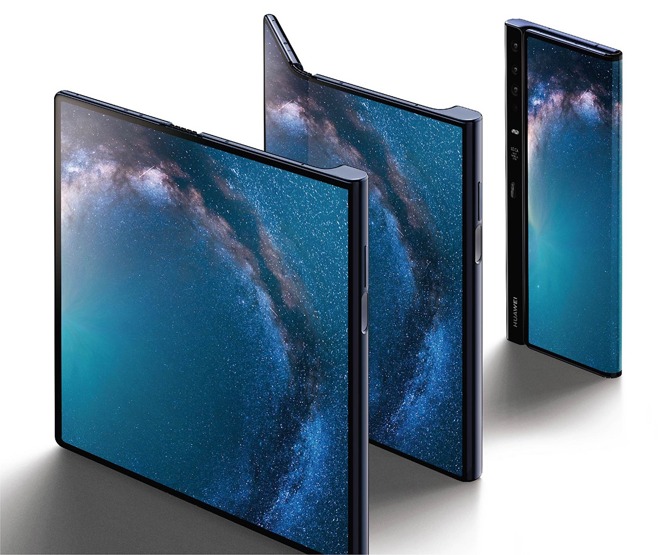 The device has a trio of cameras in said bump, and they are located only on one side of the device, with no sensors on the screen side when opened like a tablet. Users are able to take self portraits by folding the device and having the camera side face them, with the partial display showing the viewfinder right next to the cameras.
Inside the Mate X is a Kirin 980 processor and the 7-nanometer 5G Balong 5000 chipset, claimed to offer up to 4.6Gbps download speeds, and will support both SA and NSA architectures. While few details have been revealed about its internals, it does include a "Fingerbutton Power Button" for waking the device and authenticating the user, as well as a fast charge capability offering to recharge up to 85 percent of the 4,500mAh battery in just 30 minutes.
Arriving in June, the Huawei Mate X will start from 2,299 euros ($2,611), which is considerably higher than Samsung's sub-$2,000 device.
Apple has seemingly shown an interest in producing some form of foldable smartphone, one that analysts suggest could launch as early as
2020
. Rumors have also suggested that Apple has worked with LG on one such concept, with the two reportedly collaborating on a
flexible OLED display
that could be used in such a device.
Outside of rumors, patents and applications also serve as evidence of Apple's work in the field. It has numerous such filings relating to
flexible displays
,
wrap-around displays
, and
hinged devices
, as well as supporting ideas such as
stretchy substrates
for connecting components together, and how to enable
force gesture controls on flexible devices.