A public reluctant to use Apple Pay is being enticed by the Apple Card
Posted:
in iPhone
edited December 2019
Apple Card is a highly-attractive proposition for existing iPhone owners, and even those users reluctant to use a digital payments service are having second thoughts now that there the Apple Card, suggests a new survey.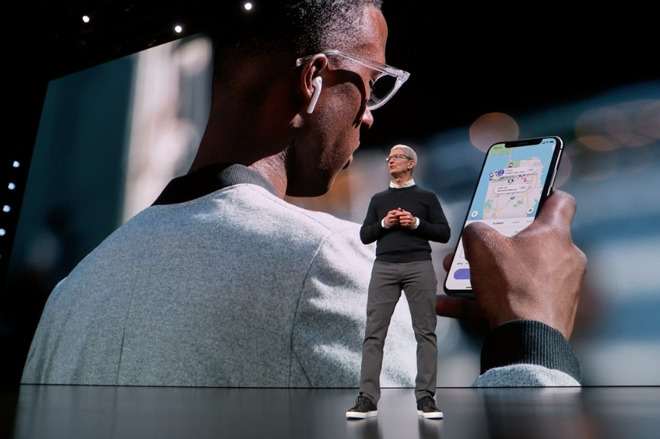 Apple CEO Tim Cook introducing Apple Card
Apple's foray into financial services, announced on Monday, could have a considerable audience of potential users in its existing iPhone customer base.
Apple Card
, which primarily operates on an iPhone and via Apple Pay, is apparently popular with iPhone owners, the primary target audience for the service.
A
survey
by
Business Insider
of 1,022 iPhone users asking if they were interested in applying for an Apple Card had 42 percent of respondents claiming they were "extremely interested, with another 17 percent being "very interested," and 13 percent "interested." The vast majority advised some level of interest, with only 15 percent admitting to not being interested in Apple Card at all.
The high amount of interest, especially on the more positive end of the scale, indicates Apple Card is an appealing prospect to its target audience.
In another question asking if users would be more likely to pay with a mobile payment system if they had Apple Card, similar positive results were revealed. 49 percent said they would be "much more likely" to use functions
like Apple Pay
, while 20 percent were "somewhat more likely," and 11 percent "a little more likely."
Just 13 percent claimed they would be "no more likely" to use
Apple Pay
if they had Apple Card, and 7 percent admitted they were not interested in Apple Pay at all.
As customers signing up to Apple Card would be able to use it via Apple Pay on the same day as being accepted without having to wait for the physical card component, it is expected Apple Card will help boost Apple Pay usage over time.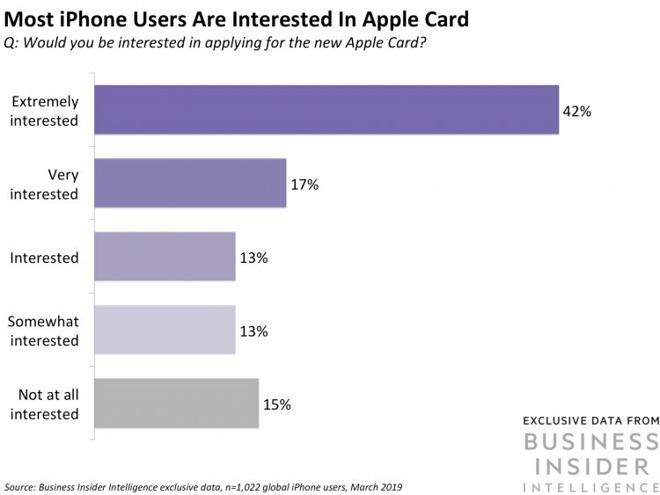 In terms of what customers find attractive in Apple Card, 31 percent felt the lack of fees was the best feature. As announced on Monday, there will not be any late, annual, international, or overlimit fees for the card, nor penalty interest for going over spending limits.
Tiered rewards is also an important element to 23 percent of those surveyed, with a further 9 percent singling out the Daily Cash rewards redemption. Customers will be provided a percentage of their purchases to an Apple Pay Cash account every day, which can be used to pay off balances or used for other transactions.
The physical card supplied to customers is also quite popular, with 18 percent finding it to be the most attractive feature. The card will be unusual in that it will be made from titanium, have no visible card number, CVV security code, expiration date, nor signature.
Despite the deep integration with the Wallet app, the management features of the card are less of a selling point than first thought. Only 7 percent thought the card's privacy and security features were the most important part, while 4 percent considered the automatic categorization of purchases for easier tracking was the best feature.
Produced in partnership with Goldman Sachs, Apple will be making Apple Card available to qualified customers in the United States this summer. A rollout to
other countries
is also planned for after the US launch.