Hands-on with Apple's new Core i9 iMac 5K with Vega graphics: benchmarks and first impress...
Now that we have a new line of iMacs, we've upgraded the 27-inch iMac 5K with the 8-core i9 Intel processor and the Radeon Pro Vega 48 graphics for ultimate performance. Our first impressions with this new machine are very promising, so let's check out the benchmarks that back them up.
Apple refreshed the new iMac line just days before its March 25th "its show time" Apple News+ services-centric event. While that event grabbed a lot of headlines, desktop users were thrilled to see a much-needed spec bump to the iMac.
We already
delved into the 4K base model
and found the upgrades were decent enough for the low-end model. That didn't stop us from splurging on the much more powerful 27-inch however.
Specs and design
We also picked up the
larger iMac 5K
with the 8-core 3.6GHz Intel i9 processor, Radeon Pro Vega 48 graphics, and 16GB of RAM.
All of that is internal as the exterior is largely unchanged from what we've seen before. The design still looks good, but with large bezels and a significant "chin," it seems near enough time for a refresh and is catching some heat for not having a new look. We understand -- it just looks a bit dated at this point after it debuted four years ago in 2015.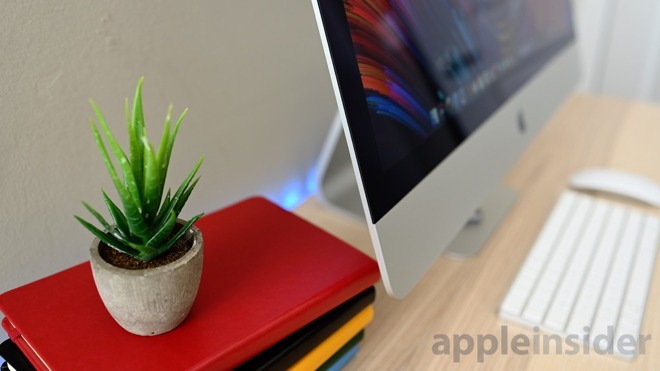 27-inch iMac 5K
Also on this machine is a 2TB Fusion drive and 2GB of VRAM.
This machine ran us $3349.00 before tax -- but at press time can be had
on sale for $3,149
with coupon code
APINSIDER
.
Benchmarks
To start, we ran Geekbench 4. Our machine garnered a single thread score of 6313 and a multi-core score of 32954. These are pretty solid numbers, especially compared to the base iMac Pro. This model beats the base iMac Pro in single-core, and barely loses out on the multi-core test. This bump in performance is due to more cores and higher frequencies rather than any change in the actual chip architecture compared to years past.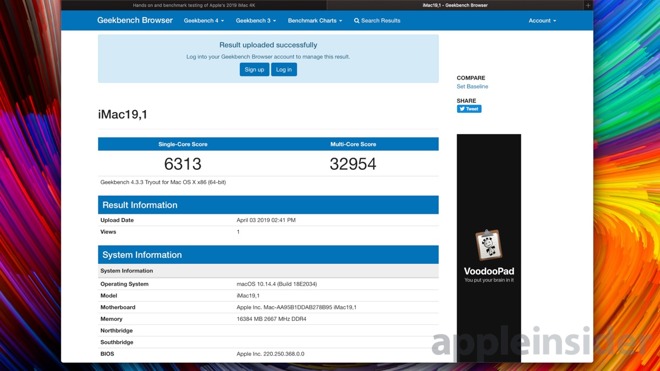 27-inch iMac 5K Geekbench scores
Benchmarks are controversial. They are never a direct correlation to any individual's workflow. And, they keep changing as computer power grows and paradigms shift. Specifically, an
AppleInsider
testing stalwart, Cinebench now has an R20 version, completely incompatible with results from the R15 version.
The newer R20 version has increased the workload complexity, increased the memory use, and adopted the latest rendering engine from Cinema 4D R20 which ultimately will give us much better and accurate results. We'll be using this going forward, rather than the R15.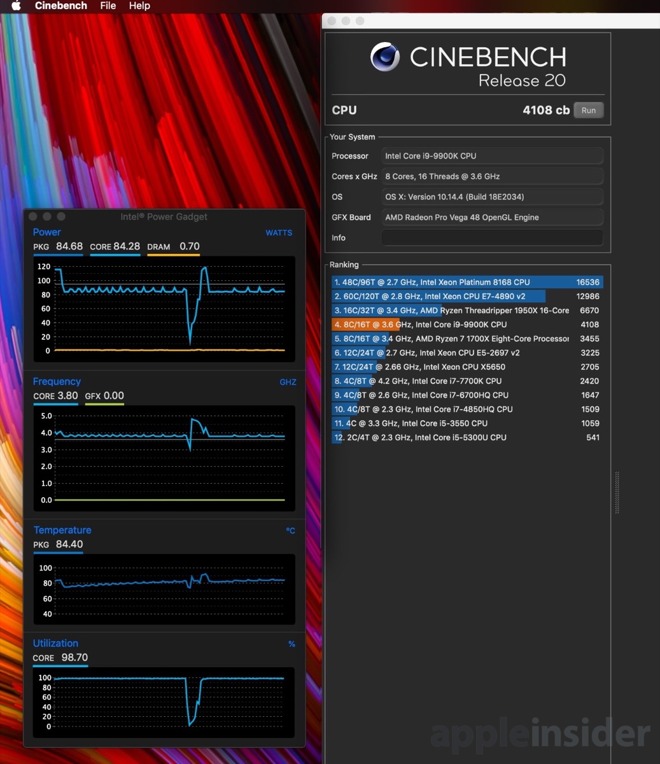 27-inch iMac 5K Cinebench R20 scores
Our 2019
iMac 5K
earned 4108 on Cinebench R20. Most importantly, monitoring the CPU with Intel Power Gadget, we saw no hint of thermal throttling below the rated speed of the machine. It never dipped below the advertised frequency even after running the test back-to-back-to-back and the heat increased.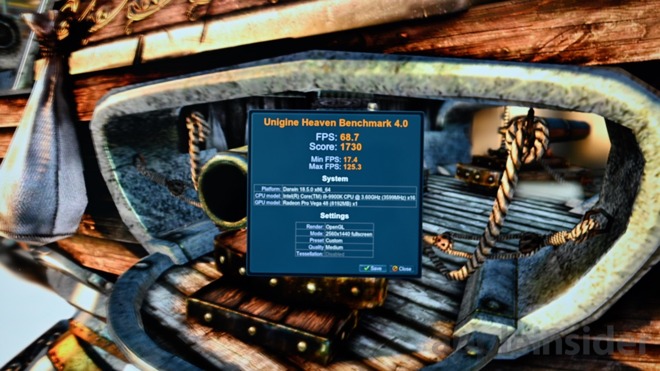 27-inch iMac 5K Unigine Heaven scores
Following this, we ran the Unigine Heaven Benchmark 4.0 which is primarily a gaming benchmark, but still a good indicator of graphics performance. We kept the settings by default and ran the test a few times. We earned an average FPS of around 68 FPS and a max of a whopping 125.3. Those Vega graphics really pay off.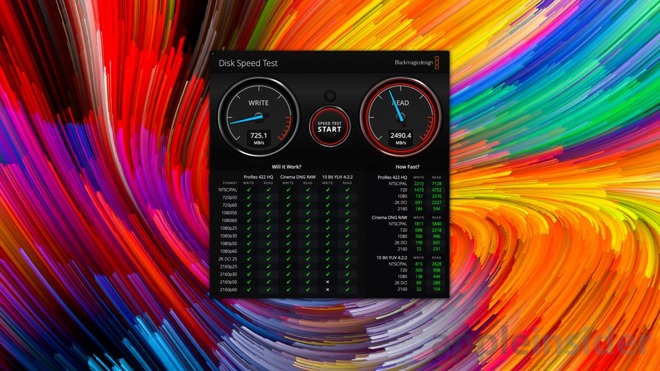 27-inch iMac 5K BackMagic disk speed test
As we mentioned, this unit has the 2TB Fusion Drive. It is a good mix of capacity and performance garnering 725 MB/s average write speeds and 2490 MB/s read speeds in the BlackMagic disk speed test. To boost these numbers further, you could opt for a smaller internal SSD and use some external Thunderbolt 3 storage for additional capacity. That is likely what we'd do if we were to build this machine again.
We will continue to test this machine out and will have a full review coming soon, so stay on the lookout for even more coverage of the new 2019 iMac line.
How to save up to $150 on 2019 iMacs
This machine has so far impressed us -- especially when it comes to comparing against the iMac Pro. If you are in the new market, and don't need the potential warranty-voiding upgradability of the iMac Pro's processor, this is a powerful machine that gets you near the same performance at a much lower cost.
Apple's new 2019 27-inch iMac 5K is also currently
$50 to $150 off
at Apple authorized reseller Adorama with coupon code
APINSIDER
. Prices start at just $1,949 for the CTO models after the coupon discount, with full step-by-step instructions for redeeming the code available in our
savings guide
.
For a full rundown of the latest deals and product availability, be sure to visit our
27-inch iMac 5K Price Guide
, which is updated throughout the day.
2019 iMac 5K deals